Index of All Cemeteries
Alphabetical Index of All Burials
Previous Page
Use the following to search across all the cemeteries listed.
Example: "Smith, Roger" (yes, use the quotes)
240 SNOW FAMILY CEMETERY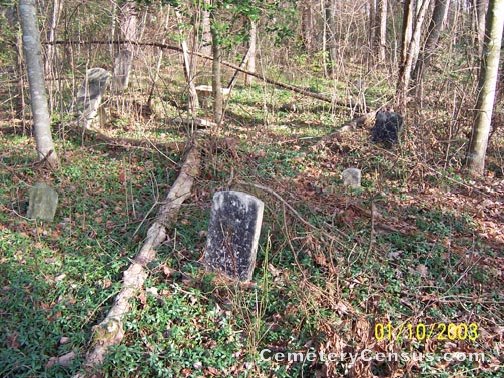 Location - 1104 Cody Trail Rd, Dobson, Surry Co., NC.

Coordinates: 36d 21m 57.3s N; 80d 42m 53.9s W Click here for Google maps

Directions: From intersection of US Hwy 601 and E. Atkins St in Dobson (at highway overpass), go south on Hwy 601 about 1 mile and turn right on Cody Trail Rd and go .3 miles. There will be two brick homes on the right and a hay field on the left. There are two large posts that probably make a gate that you can drive thru and park. Standing in the entrance between the two posts and looking South, the cemetery is at about the eleven o-clock position and about 700 yards from the gate.

View #2 of the cemetery.

Surveyed by Joe Hicks on October 1, 2006.
Township or district: Dobson.
Public or Private: Private property.
GPS Accuracy (ft.): 18.
Elevation above sea level (ft.): 1103.
Status of cemetery: Abandoned.
Surry County Parcel Number: 4995-00-56-6792.

Notes 2010: There are several field stones among a lot of ground hog holes. Cemetery is quite abandoned and the most startling thing is the survey ribbons that might mean a division or an impending sale of the property.


Snow, Frances (b. 30 Jun 1850 - d. unknown)

Snow, Matilda (b. 13 Jan 1826 - d. 29 May 1897)

Snow, Sarah E. (b. 1871 - d. 187?)
daughter of Thomas M. Snow and Susan Plutina Snow

Snow, T. S. (b. 17 Dec 1874 - d. 22 Nov ????)

Snow, Thomas M. (b. 6 Nov 1848 - d. 11 Apr 1915)
Husband of Susan Plutina Snow (she buried at Snow Hill Baptist Church)

Snow, William (b. - d. )
(no dates) son of William and A.S. Snow
Web page updated 14 July 2016
Index of All Cemeteries
Alphabetical Index of All Burials
Previous Page