Index of All Cemeteries
Alphabetical Index of All Burials
Previous Page
Use the following to search across all the cemeteries listed.
Example: "Smith, Roger" (yes, use the quotes)
229 UNKNOWN CEMETERY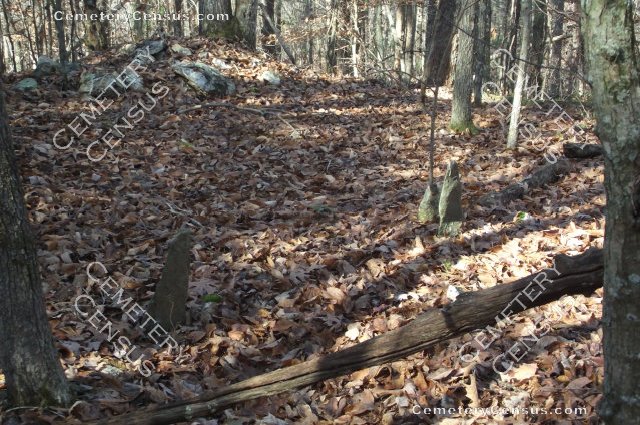 Location - off All Seasons Lane, Shoals, Surry County.

Coordinates: 36d 16m 28.5s N; 80d 31m 52.0s W Click here for Google maps

Directions: From intersection of US Hwy 52 and NC Hwy 268 in Pilot Mtn, go south on US Hwy 52 for 5 miles and take the Pinnacle exit. At stop sign, turn right on Perch road and go 1.45 miles. Then turn right on Stony Ridge Rd and go 2.8 miles until it dead ends into Shoals Road. Then turn left on Shoals Road and go about 2.4 miles until you get to Butner Road which is just past the old Shoals Baptist Church cemetery on the right. Turn right on Butner Road and go about 0.6 miles and turn right on John Mickles Road. Then go about 0.2 miles and turn left on All Seasons Lane which is a dirt road. After about 50 yards pull over and park on the right on what was once an old tobacco road. Follow that road into the woods for about 200 yards and the unknown graves are up on a bank looking to the northwest. There are 15-20 rough hewn field stones or those from slate all standing upright without any names or carvings. Mr. Mack Mickels showed Bob Carter the graves and said the cemetery might have been for native Indians but has never known cemetery to have a name.

Please do not copy this data and post to other cemetery sites. Although facts like births and deaths are not copyrighted, genealogy integrity suggests you give reference sources of the data. Any photos provided "ARE" copyrighted so do not copy and post or use them without the owner's permission.

As with any research, if you notice factual errors please send an email for a correction. Many thanks go to Mack Mickels, a retired local resident, for his willingness to show the cemetery.

Photographed and surveyed by Bob Carter and Mack Mickels in November 2012.

Township or District: Shoals
Public or Private: Private
GPS Accuracy (ft): unknown
Elevation above sea Level (ft): abt 1100
Status of Cemetery: Abandoned

Mr. Mack Mickels at the cemetery.
View #2 of the cemetery. View #3 of the cemetery. View #4 of the cemetery.
View #5 of the cemetery. View #6 of the cemetery.


Web page updated 14 July 2016
Index of All Cemeteries
Alphabetical Index of All Burials
Previous Page