Index of All Cemeteries
Alphabetical Index of All Burials
Previous Page
Use the following to search across all the cemeteries listed.
Example: "Smith, Roger" (yes, use the quotes)
223 SALEM FORK BAPTIST CHURCH CEMETERY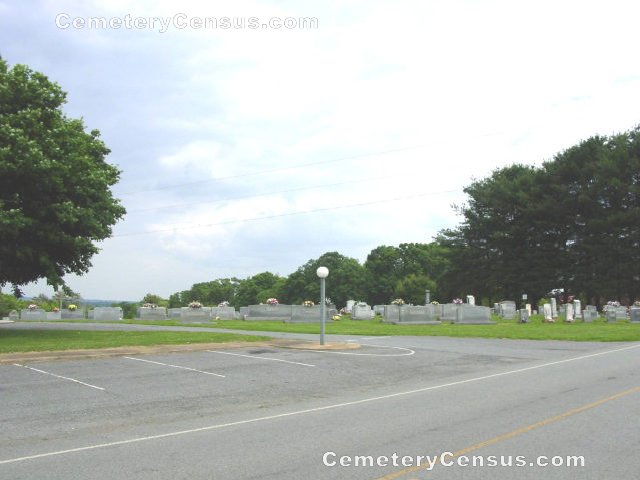 Location - 555 Twin Oaks Rd, Dobson, Surry Co., NC.

Coordinates: 36d 23m 00.8s N; 80d 46m 33.2s W Click here for Google maps

Directions: From intersection of Main St and Kapp St (old courthouse square) in Dobson, go west about 3 miles on Kapp St (changes to Zephyr Rd) and turn left on Twin Oaks Rd (just before I-77). Then go about .5 mile and church and cemetery will be on the left.

View of the church.

Surveyed by Andy Hennis on April 6, 2006.
Township or district: Dobson.
Public or Private: Public Access.
GPS Accuracy (ft.): 11.
Elevation above sea level (ft.): 1376.

Surveyed and photographed by Jack Luffman on March 25, 2010. Surveyed from right to left beginning next to the road.


Axsom, Carol S. (b. 1 Apr 1935 - d. reserved)
Wife of Robert W. Axsom. Row 12

Axsom, Robert W. (b. 21 Apr 1931 - d. reserved)
Husband of Carol S. Axsom. Row 12

Benge, C. C. (b. 1 Apr 1895 - d. 5 Jul 1994)

Benge, Ida E. (b. 9 Nov 1896 - d. 10 Aug 1978)

Benge, Infant (b. 1 Aug 1921 - d. 1 Aug 1921)
Daughter of C. C. and Ida Benge. Row 4

Benge, Martha Jewel (b. 15 Nov 1930 - d. 15 Dec 1930)

Benge, Robert Lee (b. 19 Jun 1910 - d. 19 Jul 1919)
Son of C. C. and I. E. Benge. Row 4

Benge, S. L. (b. 23 Jun 1851 - d. 8 Mar 1924)

Brendle, Jay Arvil (b. 15 Aug 1951 - d. 29 Aug 2003)
Husband of Lana Wood Brendle. Row 12

Brendle, Lana Wood (b. 18 Jan 1950 - d. reserved)
Wife of Jay Arvil Brendle Married 27 Aug. 1972. Row 12

Brindle, Jasper Elmer (b. 12 Apr 1914 - d. 20 May 1975)
Husband of Stella C. Brindle. Brindle Family marker. PFC US ARMY. Row 2

Brindle, Stella C. (b. 31 Dec 1911 - d. 10 Jun 1988)

Brown, Gurney Lee, Sr. (b. 28 Mar 1911 - d. 7 Dec 1994)

Brown, May H. (b. 3 Jun 1918 - d. 1 Apr 1967)

Cave, Daryl Philmon (b. 27 Jun 1937 - d. 10 Feb 2003)
"God needed a bee keeper". Row 13

Cave, Paul Arlin (b. 25 Sep 1998 - d. 16 Oct 1998)

Collins, Elijah Hal (b. 3 Mar 1912 - d. 13 Mar 1969)
Husband of Maxie Mozell White Collins. Collins Family marker. NC S SGT US ARMY WW-II. Row 7

Collins, Jonas F (b. 29 Aug 1909 - d. 26 Jun 1963)
Husband of Vernice Collins. Collins Family marker. N C. TEC4 107 PORT MAR MAINT CO WW-II. Row 7

Collins, Maxie Mozelle White (b. 22 Oct 1914 - d. 23 Jul 1983)

Collins, Vernice (b. 29 Nov 1916 - d. 3 May 1993)

Colon, Clarence M. (b. 23 Feb 1928 - d. 12 Apr 1928)

Colon, Gracie J. (b. 21 Jan 1896 - d. 1 Sep 1928)

Cook, Boyd "Bud" (b. 15 Aug 1937 - d. reserved)
Husband of Carolee W. Cook. Row 12

Cook, Carolee W. (b. 22 Sep 1938 - d. 8 Nov 1997)
Wife of Boyd Cook. Row 12

Crouse, Amy Janeah (b. 10 Mar 1968 - d. 12 Mar 1968)
Daughter of Mr. and Mrs. Jack Crouse. Row 6

Dellinger, Joan W. Holyfield (b. 31 Jul 1956 - d. reserved)
Wife of Max Bennett Dellinger, Sr.. Row 11

Dellinger, Max Bennett, Jr. "Ben" (b. 15 Jan 1982 - d. 17 Sep 2001)
Son of Max and Joan Dellinger. Row 11

Dellinger, Max Bennett, Sr. (b. 9 Jun 1956 - d. reserved)
Husband of Joan W. Holyfield Dellinger. Row 11

Dimmette, Lottie Fowler (b. 31 Dec 1903 - d. 23 Oct 1972)

Dowell, Ann Sykes (b. 26 Jun 1928 - d. 31 Jan 1999)

Draughn, Alta (b. 14 Dec 1928 - d. 27 Feb 1996)

Draughn, Irvy E. (b. 10 Apr 1908 - d. 31 Oct 1988)
Husband of Lola W. Draughn. Row 4

Draughn, Lola W. (b. 5 May 1913 - d. 8 Dec 1989)
Wife of Irvy E. Draughn. Row 4

Edmonds, Mollie Fowler (b. 29 Jun 1901 - d. 4 Aug 1936)

Eldridge, Charles Randolph "Randy" (b. 18 Sep 1946 - d. 18 Feb 2010)

Fallin, Algie F. (b. 27 Dec 1904 - d. 13 Jul 1987)
Wife of Ernest Fallin. Row 11

Fallin, Betty Smith (b. 27 Jun 1937 - d. reserved)
Wife of Ocie Lee Fallin. Row 12

Fallin, Charlie N. (b. 19 May 1871 - d. 29 May 1939)
Husband of Mary Elizabeth Fallin. Row 2

Fallin, Ernest (b. 23 Dec 1903 - d. 15 Nov 1971)
Husband of Algie F. Fallin. Row 11

Fallin, Flora Etta (b. 27 Jan 1893 - d. 4 Aug 1917)
Daughter of C. N. and M. E. Fallin. Row 2

Fallin, Gertis Williamson (b. 11 Oct 1909 - d. reserved)
Wife of James Dallis Fallin. Row 8

Fallin, Hardin H. (b. 23 Sep 1868 - d. 21 Sep 1950)

Fallin, Infant (b. - d. )

Fallin, J. D. Jr. (b. 22 Nov 1927 - d. 5 Apr 1991)

Fallin, James Dallis (b. 19 Dec 1905 - d. 4 Jan 1980)
Husband of Gertis Williamson Fallin. Row 8

Fallin, Mary Elizabeth (b. 10 Jul 1869 - d. 17 Mar 1919)
Wife of Charlie Fallin. Row 2

Fallin, Maude S. Freeman (b. 18 Oct 1897 - d. 8 Mar 1926)
Wife of Walter H. Fallin. Row 2

Fallin, Ocie Lee (b. 3 Aug 1931 - d. reserved)
Husband of Betty Smith Fallin. Row 12

Fallin, Viola Emeline (b. 16 Jan 1916 - d. 28 Apr 1943)

Fowler, Annie (b. - d. )

Fowler, Bertha (b. - d. )

Fowler, Carl Ervin (b. 27 May 1915 - d. 30 Aug 1915)
Son of L. G. and M. A. Fowler. Row 3

Fowler, Connie Hollyfield (b. 24 Apr 1905 - d. 26 May 1963)
Wife of Henry Clinton Fowler. Row 9

Fowler, Earnest Lee (b. 8 Jun 1897 - d. 5 Dec 1973)

Fowler, Henry Clinton (b. 2 Sep 1898 - d. 19 Nov 1983)
Husband of Connie Hollyfield Fowler. Row 9

Fowler, Infant (b. 27 Apr 1916 - d. 29 Apr 1916)
Son of C. W. and Blanche Fowler. Row 5

Fowler, James H. (b. - d. 19 Dec 1907)
stone broken DOB unreadable. Row 3

Fowler, Jasper Clinton (b. 14 Jan 1921 - d. 16 Feb 1921)
Son of Isaac Clinton Fowler and Mildred Arizona Walker Fowler. Planted stone. Row 3

Fowler, Lula Cave (b. 27 Sep 1901 - d. 7 Jun 1981)

Fowler, Luther "Luke" (b. 7 Sep 1944 - d. 28 May 1996)
Husband of Margaret Wilson Fowler. Row 9

Fowler, Margaret Wilson (b. 23 Mar 1944 - d. reserved)
Wife of Luther "Luke" Fowler. Row 9

Fowler, Martha Elizabeth (b. 18 Apr 1848 - d. 7 Jun 1925)

Fowler, Rachel Emma (b. 30 Oct 1874 - d. 23 Jun 1911)
Wife of William Henry Fowler. Row 5

Fowler, Rufus (b. - d. )

Fowler, William Henry (b. 24 May 1871 - d. 5 Oct 1937)
Husband of Rachel Emma Fowler. Row 5

Fulk, Andrew Guston (b. 8 Nov 1917 - d. 20 Oct 1918)
Son of C. H. and R. E. Fulk. Row 6

Fulk, Luzarah Elizabeth (b. 8 May 1915 - d. 19 Jun 1918)
Daughter of C. H. and R. E. Fulk. Row 6

Fulk, Nora Alma (b. 1 Sep 1919 - d. 20 Apr 1922)
Daughter of C. H. and Etta Fulk. Row 6

Funderburk, DeWitt Roland, Jr.(Ron) (b. 6 Nov 1940 - d. 16 Feb 1979)

Gillespie, Dorothy M. (b. 16 Jul 1924 - d. 24 Feb 1972)
Wife of Walter M. Gillespie. Row 10

Gillespie, Linda L. (b. 6 May 1952 - d. 25 Aug 1985)

Gillespie, Walter M. (b. 6 May 1927 - d. 2004)
Husband of Dorothy M. Gillespie. Funeral Home marker. Row 10

Gillispie, A. Zebedee "Zeb" (b. 7 Jun 1922 - d. 12 Nov 1989)

Gillispie, Maurice W. (b. 6 Apr 1921 - d. 14 Sep 1993)
Wife of A. Zeb Gillispie. Footstone marker. Row 10

Gwyn, Christopher W. (b. 21 Jun 1950 - d. 5 Dec 1997)
Husband of Mary K. Gwyn. Row 12

Gwyn, Mary K. (b. 30 Jul 1951 - d. reserved)
Wife of Christopher W. Gwyn. Row 12

Gwyn, Timothy Delbert (b. 15 Feb 1966 - d. 15 Feb 1966)

Harrison, Ida Eveline (b. 15 Jun 1900 - d. 24 Aug 1942)

Harrison, Loree (b. 1 Jan 1940 - d. 27 Aug 1940)
Daughter of Rev. B. H. Harrison. Row 2

Haymore, Mary Isabella (b. 11 Mar 1921 - d. 21 Jun 2011)
Wife of Samuel Hasten Haymore - Daughter of James Harden Branch and Mary Bet Jones

Haymore, Samuel Hasten (b. 3 Dec 1920 - d. 2 Nov 2010)
Husband of Mary Isabella Branch - Son of William Edgar Lee Haymore and Lucy Frances Draughn

Hicks, Grady Thomas (b. 9 Sep 1918 - d. 24 May 2007)

Hicks, James Arthur (b. 28 Jul 1884 - d. 24 Sep 1970)
Husband of Laura Victoria Hicks. Row 8

Hicks, Laura Victoria Mooney (b. 1885 - d. 1933)
Wife of James Arthur Hicks. Daughter of Walter D. Mooney and Elizabeth Jane Hardy. Row 8

Hicks, Lucy Doub (b. - d. )

Hicks, Violet White (b. 18 Feb 1920 - d. 8 Jan 2005)
Wife of Grady Thomas Hicks. Row 12

Holder, Bessie Florence Perry (b. 9 Nov 1902 - d. 29 Sep 1920)
Was married to C. H. Holder 21 Dec 1919. Row 3

Holder, Infant (b. - d. )

Holder, Viola (b. - d. )

Holt, Allison Victoria (b. 23 Oct 1985 - d. 22 Oct 1986)

Holt, America Drucilla (b. 16 Nov 1887 - d. 25 Aug 1934)

Holt, Bertha C. (b. 9 Apr 1926 - d. 18 Jan 2009)
Wife of James M. Holt Wed 5 Dec 1946. Row 9

Holt, Carrie Ruth B. (b. 2 Jun 1927 - d. 22 Sep 2003)
Wife of W. Claude Holt Wed 14 Jan. 1952. Row 9

Holt, D. Wilson (b. 8 May 1893 - d. 20 Feb 1970)
Husband of Lela G. Holt. Row 8

Holt, Emory Weldon (b. 12 Nov 1879 - d. 17 Apr 1953)
Husband of America Drucilla Holt. Holt Family marker. Row 8

Holt, Ervin Gence (b. 15 Jun 1930 - d. 25 May 1978)
Husband of Mary Helen M. Holt. Row 9

Holt, Gomery Dairell (b. 14 Jan 1935 - d. 25 Oct 1999)

Holt, Infant (b. 12 Aug 1920 - d. 15 Aug 1920)
son of E. W. and M. D. Holt. Row 8

Holt, James H. (b. 12 Aug 1856 - d. 13 Oct 1933)
Husband of Nancy Jane Holt. Row 8

Holt, James Jr. (b. Jul 1959 - d. Jul 1959)
Infant Son of James and Bertha Holt. Row 9

Holt, James M. (b. 16 Jul 1927 - d. 30 Apr 1983)

Holt, Janice Ann (b. 28 Jan 1965 - d. 30 Jan 1965)
Daughter of Mr. and Mrs. James Holt. Row 9

Holt, Lela G. (b. 4 Mar 1901 - d. 7 May 1969)
Wife of D. Wilson Holt. Row 8

Holt, Louisa E. (b. 9 Jul 1904 - d. 21 Jan 1991)
Wife of Ottis Holt. Row 8

Holt, Mary Helen M. (b. 19 Mar 1931 - d. reserved)
Wife of Ervin Gence Holt. Row 9

Holt, Nancy Jane (b. 7 Oct 1856 - d. 30 Jan 1946)
Wife of J. H. Holt. Row 8

Holt, Nuten (b. 14 Sep 1907 - d. 1 Jan 1913)
Son of E. W. and M. D. Holt. Row 8

Holt, Ottis (b. 3 Dec 1905 - d. 14 Sep 1939)
Husband of Louisa E. Holt. Row 8

Holt, W. Claude (b. 24 Mar 1921 - d. 16 Nov 1992)
Husband of Carrie Ruth B. Holt. Row 9

Holyfield, Floyd (b. 13 Jun 1920 - d. 28 Nov 1999)
Husband of Gracie Viola Holyfield. Holyfield Family marker. PVT US ARMY WW-II. Row 9

Holyfield, Gracie Viola (b. 10 Oct 1917 - d. 13 Apr 1963)

Holyfield, Infant (b. 21 Apr 1946 - d. 21 Apr 1946)
son of Floyd Viola Holyfield. Row 9

Holyfield, Infant (b. 25 Jun 1960 - d. 25 Jun 1960)
Son of Ted and Edith Holyfield. Row 3

Johnson, Loree White (b. 16 Jun 1923 - d. reserved)

Johnson, Thomas Edward (b. 25 May 1923 - d. 10 Jan 2000)
Husband of Loree White Johnson. Johnson Family marker. S SGT US ARMY AIR FORCES WW-II. Row 7

Jones, Dora White (b. 15 Sep 1886 - d. 27 Feb 1966)

Key, Helen Holt (b. 11 Aug 1948 - d. 28 Jan 1992)

King, Francis J. (b. 20 Sep 1887 - d. 30 Nov 1955)
Husband of Mary F. King. Row 5

King, Mary F (b. 19 Mar 1894 - d. )
No DOD. Wife of Francis J. King. Row 5

Long, James S. (b. 3 Mar 1853 - d. 5 Jan 1928)
Husband of Sarah L. Long. Row 4

Long, S. Alice (b. 9 Feb 1885 - d. 2 Mar 1907)
Daughter of James S. and Sarah L. Long. Row 4

Long, Sarah L. (b. 3 Aug 1858 - d. 5 Aug 1948)
Wife of James S. Long. Row 4

Lundy, Emmett Cleveland (b. 20 Aug 1884 - d. 9 Jul 1950)
Husband of Verna Lois Scott - Son of Martin A. Lundy and Sarah E. Axsom. Lundy Family marker. Row 3

Lundy, Emmette Leo (b. 26 Sep 1925 - d. 2 Jul 1969)

Lundy, Verna Lois Scott (b. 2 Jan 1899 - d. 18 Nov 1985)
Wife of Emmett Cleveland Lundy - Daughter of John Wesley Scott and Rebecca Moser. Lundy Family marker. Row 3

Martin, Claude (b. 29 Jan 1939 - d. 25 Aug 2002)
Husband of Geraldine Martin. Row 12

Martin, Geraldine (b. 6 Jan 1939 - d. reserved)
Wife of Claude Martin. Row 12

Martin, Spencer C. (b. 28 Oct 1909 - d. 22 Oct 1913)
Son of T. H. and Bessie Martin. Row 4

McCann, Rebecca Ann Wall (b. 2 Mar 1939 - d. 8 Mar 2010)

Morris, Joan Elizabeth (b. 19 Nov 1940 - d. reserved)
Wife of Rapheus "Bobby" Morris. Married 14 May 1960. Row 11

Morris, Liz (b. - d. )

Morris, Rapheus "Bobby" (b. 25 Nov 1934 - d. 29 Apr 1992)

Moser, Carry F. (b. 1876 - d. 1915)
Wife of Jasper L. Moser. Frontside of marker. Row 6

Moser, Howard Onetus (b. 28 Feb 1915 - d. 8 Aug 1915)

Moser, Jasper L. (b. 1868 - d. 1919)
Husband of Carry F. Moser. Frontside of marker. Row 6

Moser, Lela A. (b. 1893 - d. 1919)

Moser, Robert Floyd (b. 18 Apr 1910 - d. 25 Jun 1911)

Muncus, Andy T. (b. 28 Jun 1896 - d. 26 Sep 1979)

Muncus, Barbara Jurney (b. 21 Jul 1932 - d. 5 Jan 2005)
Wife of Noah Muncus. Row 11

Muncus, Esther W. (b. 2 May 1894 - d. 16 Jan 1957)

Muncus, Marie N. (b. 27 Jun 1916 - d. reserved)
Wife of Rollin A. Muncus Married 31 Jan 1942. Row 12

Muncus, Martha V. (b. 13 Mar 1927 - d. 12 Jan 1929)

Muncus, Noah (b. 7 Jan 1931 - d. 27 Apr 2005)
Husband of Barbara Jurney Muncus. Row 11

Muncus, Ozell Brown (b. 19 Oct 1923 - d. reserved)
Wife of Victor Wendell Muncus Wed 15 Nov. 1938. Row 10

Muncus, Rollin A. (b. 16 Jan 1921 - d. 20 Nov 2006)
Husband of Marie N. Muncus. Row 12

Muncus, Victor Wendell (b. 23 Nov 1916 - d. 7 Feb 1987)
Husband of Ozell Brown Muncus. Row 10

Nichols, Ann P. (b. 30 Jul 1930 - d. )

Nixon, Caleb (Rev.) (b. 18 Mar 1902 - d. 19 Jul 1988)
Husband of Mamie W. Nixon. Row 10

Nixon, Lawrence N. (b. 21 Jan 1928 - d. 11 Apr 1975)
Husband of Lois S. Nixon. Row 11

Nixon, Lois S. (b. 31 Dec 1924 - d. reserved)
Wife of Lawrence N. Nixon. Row 11

Nixon, Mamie W. (b. 11 Nov 1902 - d. 19 Nov 1972)
Wife of Rev. Caleb Nixon. Row 10

Perry, John Ray, Sr. (b. 15 Aug 1909 - d. 14 Mar 1993)
Husband of Lydia C. Perry. Row 9

Perry, Johnny Ray, Jr. (b. 6 Jun 1943 - d. 11 Aug 1955)

Perry, Lydia C. (b. 9 Feb 1921 - d. 16 Oct 1977)
Wife of John Ray Perry, Sr.. Row 9

Perry, Martha Mae (b. 3 May 1877 - d. 21 Nov 1947)

Perry, Marvin A. (b. 26 Jul 1904 - d. 13 Nov 1980)

Perry, Pearl V. (b. 23 Oct 1906 - d. 15 Nov 1997)

Perry, S. V. (b. 24 May 1874 - d. 28 Apr 1934)

Reece William Harold (b. 20 Feb 1919 - d. 12 May 1999)
Husband of Violette W. Reece PFC US ARMY WW-II 42ND DIV MP'S Military marker. Row 9

Reece, Violette W. (b. 13 Mar 1922 - d. reserved)
Wife of William Harold Reece. Row 9

Ridgen, Millard C. (b. 8 Dec 1894 - d. 5 Jan 1984)
Husband of Rosella P. Ridgen. Row 2

Ridgen, Rosella F. (b. 19 May 1898 - d. 5 Oct 1982)
Wife of Millard C. Ridgen. Row 2

Roberson, Alma White (b. 23 May 1911 - d. 3 Jul 1989)
Wife of Thomas Avery Roberson. Row 10

Roberson, Thomas Avery (b. 11 Nov 1904 - d. 22 Jan 1997)
Husband of Alma White Roberson. Row 10

Rollins, Amber Eileen (b. 24 Jul 1970 - d. 8 Mar 1972)

Scott, Arvil Kester (b. 4 Apr 1895 - d. 1 Oct 1949)
Husband of Nora Samuel Scott. Scott Family marker. Masonic emblem. Row 5

Scott, Clifford Odell (b. 20 Mar 1922 - d. 30 Apr 2006)
Husband of Frances G. Scott. Scott Family marker. PVT US ARMY WW-II. Row 5

Scott, Frances G. (b. 26 Jul 1926 - d. reserved)

Scott, Graham O. (b. 6 May 1923 - d. 10 May 1969)

Scott, Gregory K. (b. 12 Aug 1951 - d. 15 Apr 1991)
Husband of Helen H. Scott. Row 5

Scott, Gregory Marion (b. 5 Feb 1980 - d. 28 Jul 2000)

Scott, Helen H. (b. 16 Sep 1953 - d. reserved)
Wife of Gregory K. Scott. Row 5

Scott, Joe Bill (b. 29 Apr 1905 - d. 23 May 1967)

Scott, Nora Samuel (b. 2 Jun 1897 - d. 17 May 1981)
Wife of Arvil Kester Scott. Scott Family marker. Eastern Star emblem. Row 5

Scott, Rebecca Moser (b. 17 Apr 1871 - d. 17 Dec 1936)

Scott, Rex A. (b. 17 Mar 1934 - d. 13 Mar 1981)

Scott, Robert Wesley (b. 15 Mar 1903 - d. 14 Dec 1962)

Scott, Wesley (b. 7 May 1865 - d. 31 May 1949)

Simmons, Adolf (b. - d. )

Spann, James Ronnie (b. 2 Jul 1944 - d. 28 Apr 2002)

Spann, Linda F. (b. 20 Aug 1947 - d. reserved)
Wife of Ronnie J. Spann. Row 12

Unknown, ?? (b. - d. )

Vestal, Loraine P. (b. 23 Dec 1923 - d. reserved)
Wife of W. Sanford Vestal. Row 11

Vestal, W. Sanford (b. 11 Apr 1916 - d. 27 Aug 1987)
Husband of Loraine P. Vestal. Row 11

Wall, Alma (b. 10 Feb 1917 - d. 9 Mar 1917)
Daughter of W. H. H. and Lucinda D. Wall. Row 6

Wall, Dulcie Scott (b. 2 Jun 1900 - d. 13 Jan 1994)
Wife of Wm. McKinley Wall. Row 5

Wall, Infant Daughter (b. 8 Apr 1932 - d. 8 Apr 1932)
Daughter of Wm. McKinley and Dulcie Wall. Row 5

Wall, William McKinley (b. 18 Oct 1897 - d. 28 Sep 1977)
Husband of Dulcie Scott Wall. Row 5

Welborn, Treva May Muncus (b. 8 Jun 1932 - d. 3 Jan 1997)

Whitaker, Floyd E. (b. 28 Mar 1886 - d. 26 Oct 1918)

Whitaker, Jonie Roosevelt (b. 10 Feb 1940 - d. 20 May 2002)

Whitaker, Mammie E. (b. 18 Aug 1912 - d. 17 Jan 1923)

Whitaker, Martha Ida (b. 17 Nov 1891 - d. 18 Mar 1916)
Wife of F. E. Whitaker. Closeup of inscription. Row 6

Whitaker, Minnie L. (b. 9 Sep 1908 - d. 21 May 1909)
Daughter of F. E. and M. I. Whitaker. Closeup of inscription. Row 6

White, Albert Ray (b. 8 Jul 1924 - d. 7 Jun 1996)

White, Alton D. (b. 21 Mar 1937 - d. 28 Feb 1941)
Son of N. B. and Roxie White. Row 7

White, Benton Paul (b. 4 Sep 1942 - d. 14 Jul 2009)
funeral home marker. Row 12

White, Brenda J. (b. 24 Jan 1950 - d. reserved)
Wife of Ivan G. White. Row 12

White, Byrd Jasper (b. 30 Mar 1875 - d. 20 Mar 1918)
Son of T. J. and Joanna White. Row 7

White, Carrie E. (b. 1880 - d. 1955)
Wife of Jones E. White. Row 7

White, Clinton W. (b. 17 Nov 1912 - d. 5 Apr 1958)
Son of William and Sallie White. White Family marker. NC CPL 2138 BASE UNIT AAF WW-II. Row 3

White, Columbus M. (b. 19 Jan 1919 - d. 7 Feb 1919)
Son of J. A. and Stella White. Row 7

White, Columbus P. (b. 12 Aug 1886 - d. 7 Jan 1917)
Husband of Elsie Scott White. Row 7

White, Cromwell J. (b. 3 Apr 1914 - d. 24 Apr 1914)
Son of J. A. and Stella White. Row 7

White, Elgin G. (b. 27 Mar 1922 - d. 5 Aug 1922)
Son of J. A. and Stella White. Row 7

White, Elsie Scott (b. 22 Oct 1891 - d. 21 Sep 1975)
Wife of Columbus P. White. Row 7

White, Etta Hodges (b. 24 Sep 1927 - d. reserved)
Wife of Albert Ray White. Row 11

White, Grace Ine (b. 1908 - d. 1915)

White, Grady C. (b. 23 Jul 1917 - d. 22 Nov 1962)

White, Infant (b. - d. )
son of J. E. and Etter White. Row 7

White, Ivan Gale (b. 10 Oct 1944 - d. 31 Jan 2002)

White, James Abe (b. 17 Sep 1891 - d. 16 Jun 1967)
Husband of Stella Holyfield White. White Family marker. Row 8

White, James Rayton (b. 1859 - d. 1937)

White, James Thomas (b. 19 Jul 1952 - d. 8 Jul 1974)

White, Jessie Virginia Holt White (b. 31 Aug 1929 - d. 15 May 1974)
Wife of John Reuben White. Row 9

White, Joanna (b. 25 Jul 1852 - d. 6 Jun 1910)
Wife of T. J. White. Row 7

White, John Reuben (b. 8 May 1932 - d. 2 Jul 2006)
Husband of Jessie Virginia Holt White. Row 9

White, Jones E. (b. 1879 - d. 1955)
Husband of Carrie E. White. Row 7

White, Mary Sue (b. 18 Jan 1948 - d. 12 Jun 1965)

White, N. Brady (b. 12 Aug 1889 - d. 23 Jul 1947)
Husband of Roxie L. White. Row 7

White, Paul (b. 31 Mar 1914 - d. 17 Jun 1971)

White, Paul Lee (b. 21 Jun 1914 - d. 26 Nov 1916)

White, Ralph T. (b. 24 May 1925 - d. 12 Mar 1984)

White, Roxie L. (b. 6 Oct 1893 - d. 17 Jan 1976)
Wife of N. Brady White Row7

White, Ruby Alice (b. 1 Jun 1915 - d. 2 Jan 1979)

White, Sallie S. (b. 10 Mar 1889 - d. 12 Apr 1971)

White, Stella Holyfield (b. 20 Jan 1895 - d. 19 Jan 1977)

White, T. J. (b. 9 Apr 1851 - d. 8 Mar 1922)
Husband of Joanna White. Row 7

White, Thomas Jasper (b. 14 May 1915 - d. 5 Feb 1935)

White, William T. (b. 21 Nov 1883 - d. 30 Sep 1961)

White, Winfred S. (b. 17 Jun 1919 - d. 21 Dec 1957)

Williams, J. Worth (b. 6 Sep 1935 - d. reserved)
Husband of Lucille W. Williams. Row 12

Williams, Lucille W. (b. 16 Sep 1936 - d. reserved)
Wife of J. Worth Williams. Row 12

Williamson, C. C. (b. 17 Aug 1852 - d. 13 Mar 1940)

Williamson, E. A. (b. 15 Jul 1904 - d. 31 Aug 1937)

Williamson, R. A. (b. 10 Apr 1898 - d. 8 Jan 1919)
Son of C. C. and B. A. Williamson. Row 1

Williamson, Sheba Ann (b. 15 Apr 1865 - d. 24 Apr 1938)

Willmoth, Clayton (b. 10 Jun 1930 - d. 18 Nov 1941)
Son of Bob and Cassie Wilmoth. Row 2

Wilmoth, Anna Rose Zephyr (b. 12 Dec 1899 - d. 21 Aug 1985)

Wilmoth, Billy Gray (b. 3 Jul 1945 - d. 31 Mar 1974)

Wilmoth, Bob (b. 29 May 1906 - d. 21 Sep 1980)
Husband of Cassie Wilmoth. Row 2

Wilmoth, Cameron G. (b. 10 May 1920 - d. reserved)
Husband of Delphia Viola Wilmoth. Row 8

Wilmoth, Candice Ann (Cricket) (b. 15 Mar 1971 - d. 15 Nov 1978)

Wilmoth, Cassie (b. 27 Mar 1913 - d. 20 Dec 1997)
Wife of Bob Wilmoth. Row 2

Wilmoth, Columbus Jackson (b. 6 Apr 1874 - d. 21 Mar 1963)
Husband of Mary Adline Wilmoth. Row 1

Wilmoth, Delphia Viola (b. 9 Jan 1921 - d. 23 Jan 1986)
Wife of Cameron G. Wilmoth. Row 8

Wilmoth, Grat (b. 10 May 1920 - d. 15 Sep 2005)

Wilmoth, James Porter (b. 19 Aug 1910 - d. 29 Jun 1991)

Wilmoth, Lela Bessie (b. 10 May 1916 - d. 13 Apr 1982)

Wilmoth, Mary Adline (b. 11 Jul 1875 - d. 8 Oct 1961)
Wife of Columbus Jackson Wilmoth. Row 1

Wilmoth, Mazy Ellen (b. 5 Mar 1913 - d. 31 Jul 1996)

Wilmoth, Naomi E. (b. 7 Feb 1911 - d. 20 May 1984)
Web page updated 14 July 2016
Index of All Cemeteries
Alphabetical Index of All Burials
Previous Page