Index of All Cemeteries
Alphabetical Index of All Burials
Previous Page
Use the following to search across all the cemeteries listed.
Example: "Smith, Roger" (yes, use the quotes)
211 PLEASANT UNION BAPTIST CHURCH CEMETERY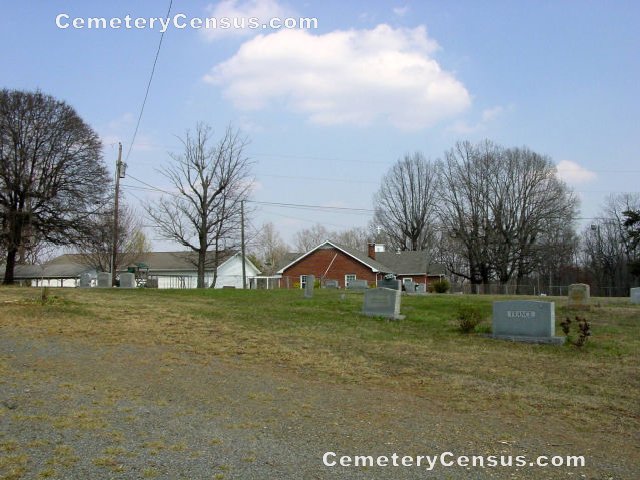 Location - Reely Cook Rd, Dobson, Surry Co., NC.

Coordinates: 36d 25m 14.9s N; 80d 48m 22.9s W Click here for Google maps

Directions: From intersection of Main St and Kapp St (Old Courthouse Square) in Dobson, go west on Kapp St (changes to Zephyr Rd) for 4.5 miles where road forks. Take the right fork which is Cross Roads Church Rd (SR 1338) and go 1.8 miles and turn left on Reely Cook Rd. Cemetery and church will be on the right.

View of the church.

Surveyed by Andy Hennis on April 6, 2006.
Township or district: Franklin.
Public or Private: Public Access.
GPS Accuracy (ft.): 13.
Elevation above sea level (ft.): 1412.

Surveyed and photographed by Jack Luffman on November 8, 2009.

There are several burials in the cemetery, obvious from ground depressions, that are not marked with monuments or stones.


Bowles, Callie (b. 6 Mar 1889 - d. 21 Nov 1971)
Son of Petter and Mary Bowles. Row 2
Husband of Callie Bowles. Row 1
NO DOD Wife of Siav Bowles. Row 3
Husband of Sarah Jane Bowles. Row 3
Husband of Grace May Cockerham. Row 5
Wife of Enoch Cockerham. Row 5
SGT US ARMY PERSIAN GULF. Row 5
CPL US MARINE CORP. Closeup of inscription. Row 7
NO DOD Wife of J. Harvey Dobson. Row 6
Wife of Franklin DeWitt Dobson. Row 6
Husband of Tenna P. Dobson. Row 7
Husband of Dorothy Mae R. Dobson. Row 6
Husband of Ada L. Dobson. Row 6
S SGT US ARMY WW II. Row 8
Wife of Earnest T. L. Dobson. Row 7
Wife of Thomas Allen France, Sr. Married 7 Sep 1953. Row 1
Wife of Robert France. Row 5
Husband of Dorothy Bowles France. Row 1
Husband of Nettie J. Gentry. Row 5
Wife of Lacy W. Gentry. Row 5
planted field rock. Row 7
funeral home marker. Row 5
Web page updated 14 July 2016
Index of All Cemeteries
Alphabetical Index of All Burials
Previous Page