Index of All Cemeteries
Alphabetical Index of All Burials
Previous Page
Use the following to search across all the cemeteries listed.
Example: "Smith, Roger" (yes, use the quotes)
208 PINE RIDGE BAPTIST CHURCH CEMETERY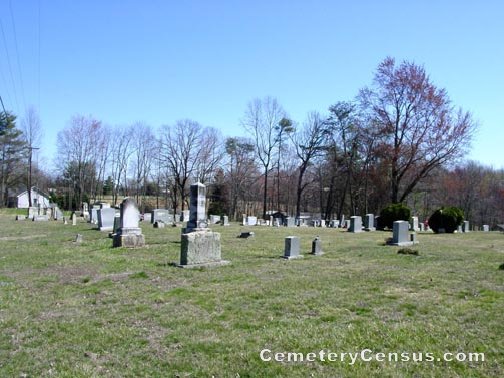 Location - Pine Ridge Rd (SR 1396), Mt. Airy, Surry Co., NC.

Coordinates: 36d 29m 58.5s N; 80d 43m 08.6s W Click here for Google maps

Directions: From intersection of US Hwy 52 N and NC Hwy 89 W (W. Pine St.) in Mt. Airy, go west on W. Pine St for 5.5 miles and turn right on Pine Ridge Rd (at caution light). Then go .1 mile and the cemetery is on the left and the church is on the right.

View of the church.

Surveyed by Andy Hennis on April 6, 2006.
Also known as: New Hebron Cemetery.
Township or district: Stewart's Creek.
Public or Private: Public Access.
GPS Accuracy (ft.): 15.
Elevation above sea level (ft.): 1300.

Survey in 2012.


Alderman, Adeline (b. Jul 1894 - d. 24 Jun 1936)
Alderman, Cabel Walter (b. 14 Feb 1884 - d. 1 Oct 1971)
Alderman, Cana Luther (b. 14 Jul 1873 - d. 16 Mar 1954)
Alderman, Clyde Edgar (b. 6 Jan 1907 - d. 9 Jan 1968)
Alderman, Eli Silvester (b. 3 Mar 1875 - d. 18 Sep 1948)
Alderman, Infant (b. 28 Jul 1916 - d. 28 Jul 1916)
Alderman, John D. (b. 20 Aug 1912 - d. 14 Sep 1926)
Alderman, Lula Freeman (b. 1 Jan 1879 - d. 30 Dec 1962)
Alderman, Mary Myrtle Danner (b. 20 May 1887 - d. 29 Jul 1916)
Alderman, Nancy Ada (b. 20 Mar 1881 - d. 27 Mar 1967)
Alderman, Solomon Richard (b. Jul 1843 - d. 24 Jul 1917)
Arrington, Gaither (b. 19 Apr 1921 - d. 23 Nov 1922)
Atkins, Lacy Lincoln (b. 18 Feb 1916 - d. 14 Oct 1948)
Baldwin, Jason Ross (b. 5 Jan 1982 - d. 5 Jan 1982)
Baldwin, Joe Howard (b. 26 Sep 1938 - d. 6 Dec 1998)
Barham, Howard Lee, III (b. 23 Oct 1961 - d. 23 Oct 1961)
Belcher, William Isaac Harrison (b. 22 Aug 1908 - d. 26 Apr 1994)
Belton, Carrie Amburn (b. 9 Apr 1893 - d. 29 May 1941)
Belton, Mary Willie Robertson (b. 29 Oct 1897 - d. 25 Feb 1925)
Bennett, Andrew J. (b. 2 Feb 1872 - d. 10 Feb 1941)
Bennett, Benjamin (b. 20 Nov 1803 - d. 27 Jun 1885)
Bennett, Charlie T. (b. 5 Jan 1907 - d. 3 Nov 1918)
Bennett, Cora Lee (b. unknown - d. unknown)
Bennett, Dora E. Danner (b. 9 Jun 1878 - d. 22 Jun 1947)
Bennett, Grover J. T. (b. 18 Aug 1913 - d. 31 May 1970)
Bennett, Hattie Belle Flora (b. 27 Feb 1918 - d. 5 Sep 1918)
Bennett, Ila May (b. 22 Dec 1909 - d. 27 Sep 1913)
Bennett, Nancy M Patton (b. 10 May 1850 - d. 5 Nov 1929)
Bennett, Noah Calvin (b. Apr 1849 - d. 8 Sep 1932)
Bennett, Polly Jones (b. 1 Mar 1811 - d. unknown)
Bennett, Rebecca (b. 20 Sep 1835 - d. 20 Mar 1904)
Cain, Abbagail Marie (b. 24 Feb 2003 - d. 21 Nov 2007)
Cain, Cheyanne Patricia (b. 27 Mar 1999 - d. 21 Nov 2007)
Carson, Jerry Lane (b. 15 Aug 1948 - d. 28 Mar 2005)
Chandler, Fannie Martin (b. 5 May 1892 - d. 14 Jan 1971)
Chandler, George Ausborne (b. 2 Apr 1892 - d. 2 Nov 1986)
Chandler, Zachary Edward (b. 30 Sep 1865 - d. 7 Dec 1927)
Cherry, Claudia Irene Thore (b. 6 Jul 1911 - d. 1 Jun 1984)
Coleman, W. Ray (Rev.) (b. 21 Aug 1928 - d. 6 Apr 2005)
Collins, Charlie (b. 1872 - d. 24 Mar 1936)
Collins, Martin (b. 23 Oct 1886 - d. 25 Feb 1913)
Conlon, Destiny Ann (b. 1 Oct 2010 - d. 9 Jan 2011)
Cook, Eugene Franklin (b. 14 May 1904 - d. 17 Oct 1992)
Cook, Marian Lucille (b. 27 Aug 1915 - d. 2 Jul 1916)
Cook, Mary Louisa Gardner (b. 4 Jul 1879 - d. 20 Feb 1918)
Davis, Annie L. Bryant (b. 7 Apr 1923 - d. 8 Jul 2006)
Davis, Charles Larry (b. 27 Jan 1948 - d. 26 Mar 1948)
Davis, Michael Douglas (b. 13 May 1950 - d. 11 May 2002)
Davis, Patsy Jane (b. 18 Mar 1955 - d. 11 Aug 1955)
Davis, Robert Hoyle (b. 19 Mar 1921 - d. 22 Oct 2001)
Davis, Robert William (b. 11 Jun 1915 - d. 15 Jun 1915)
Davis, Roy Edgar (b. 26 Jan 1923 - d. 4 Aug 1980)
Davis, Thomas Troy (b. 17 Dec 1921 - d. 23 Sep 2001)
Dawson, Bertie Johnson (b. 13 Apr 1900 - d. 17 May 1993)
Dawson, Betty Lou (b. 11 Mar 1929 - d. 4 Jan 1945)
Dawson, Harvey Lee (b. 12 Jan 1918 - d. 10 Nov 1981)
Dawson, Oscar Lee (b. 24 Dec 1895 - d. 28 Mar 1934)
Dickson, Bobby Ray (b. 22 Feb 1946 - d. 19 Sep 2005)
Dosier, Lillian Mae Dobson (b. 3 May 1902 - d. 8 Nov 1973)
Dosier, Thomas Guy (b. 4 Jul 1898 - d. 9 Mar 1983)
Dunbar, Annie Maude Snow (b. 15 Mar 1921 - d. 18 Nov 1997)
Dunbar, Infant (b. 5 Mar 1955 - d. 5 Mar 1955)
Dunbar, Infant (b. unknown - d. unknown)
Dunbar, Infant (b. 4 Apr 1958 - d. 4 Apr 1958)
Dunbar, Jennie Amburn (b. May 1879 - d. 19 Feb 1941)
Dunbar, Lindsay Banner (b. 5 Dec 1882 - d. 7 Aug 1964)
Dunbar, William Frank (b. 15 Mar 1913 - d. 14 Jul 1998)
East, John William (b. 29 Jul 1956 - d. 12 Jan 1990)
East, Mary Inez McMillian (b. 15 Sep 1914 - d. 29 Jul 2004)
East, Pvt Wilford (b. 1 Jun 1910 - d. 21 May 1943)
East, Robert Earl (b. 18 Mar 1931 - d. 4 Feb 1987)
East, Rosa Candice Hill (b. 10 Jul 1877 - d. 3 Dec 1960)
East, Sarah Tickle (b. 23 Apr 1877 - d. 13 Oct 1947)
East, Wilburn (b. 1 Jun 1910 - d. 15 Mar 1977)
East, William Jefferson (b. 4 Jul 1876 - d. 24 Feb 1953)
Easter, Coy Ledford (b. 27 Feb 1926 - d. 22 Jan 1997)
Easter, Ida Marie Cagle (b. 26 Oct 1928 - d. 3 Oct 1993)
Edwards, Dwaine Mitchell, Jr (b. 24 Feb 1984 - d. 16 Mar 1984)
Edwards, Floyd Preston (b. 11 Sep 1847 - d. 26 Apr 1910)
Edwards, Mary Evelyn Gardner (b. 6 Jun 1850 - d. 20 Mar 1899)
Edwards, Roxie A White (b. 10 Dec 1879 - d. 5 Oct 1914)
Estes, Ruby Elizabeth Gardner (b. 9 Mar 1914 - d. 4 Jan 1998)
Estes, William Melvin (b. 28 Jul 1908 - d. 11 Aug 1981)
Flippin, Infant Boy (b. 23 May 1941 - d. 23 May 1941)
Flippin, Infant Girl (b. 23 May 1941 - d. 24 May 1941)
Freeman, Gracie Lee (b. 17 Nov 1924 - d. 22 Apr 1990)
Freeman, Laura Irene Marshall (b. 6 Jul 1927 - d. 6 Nov 1984)
Freeman, Myrtle Gertrude Akers (b. 20 Dec 1900 - d. 25 Jan 1991)
Freeman, Sallie Jane Phillips (b. 5 Mar 1882 - d. 31 Mar 1973)
Freeman, Sallie Norman (b. 1822 - d. 1909)
Freeman, Samuel Coke (b. 3 Jun 1876 - d. 13 Dec 1937)
Freeman, Samuel P (b. 1823 - d. 1904)
Freeman, William (b. 21 Mar 1899 - d. 4 Mar 1970)
Gardner, Addie Susan Norman (b. 28 Apr 1884 - d. 15 Jun 1964)
Gardner, Benjamin F. (b. 6 Jul 1926 - d. 6 Jul 1926)
Gardner, Buddy James (b. 22 Oct 1929 - d. 12 Mar 2010)
Gardner, Clara Jarrell (b. 1911 - d. 1 Jan 1931)
Gardner, Eugene Holt (b. 25 Sep 1886 - d. 2 Aug 1929)
Gardner, George A. (b. 30 May 1908 - d. 24 Mar 1913)
Gardner, George Boyd "Boss" (b. 16 Feb 1882 - d. 30 May 1955)
Gardner, Infant (b. 7 May 1904 - d. 21 May 1904)
Gardner, Infant Girl (b. 21 Mar 1944 - d. 22 Mar 1944)
Gardner, James D (b. 1870 - d. 1884)
Gardner, James Hudsell (b. 11 Feb 1906 - d. 7 Feb 1965)
Gardner, John Hardin Wade (b. Oct 1882 - d. 15 Apr 1934)
Gardner, John S. (b. 12 Apr 1926 - d. 2 Jul 1926)
Gardner, John William (b. 9 Nov 1848 - d. 12 Jun 1935)
Gardner, Joseph (b. 15 Nov 1915 - d. 26 Nov 1915)
Gardner, Larua V (b. 1928 - d. 2012)
Gardner, Lucy Edna (b. 1 Apr 1901 - d. 16 Jun 1917)
Gardner, Mary Elizabeth "Betty" Freeman (b. 6 Apr 1849 - d. 10 Jul 1931)
Gardner, Mary Ellen Cook (b. 4 Apr 1886 - d. 28 May 1916)
Gardner, Mollie Dunbar (b. 23 Jun 1879 - d. 4 Apr 1969)
Gardner, Nancy Spence (b. unknown - d. unknown)
Gardner, Robert Perry (b. 18 Feb 1939 - d. 4 Mar 1939)
Gardner, Samuel P (b. 1871 - d. 1897)
Gardner, Sarah Alverta R Lovins (b. 1855 - d. 1899)
Gardner, Wade (b. 7 Oct 1882 - d. 15 Apr 1934)
Gardner, William Jefferson (b. 17 Feb 1884 - d. 18 Feb 1923)
Gardner, William Riley (b. Apr 1844 - d. 1897)
Gillespie, Annie Nail (b. 9 Jan 1883 - d. 6 Jan 1960)
Golding, Donna Gay Prim (b. 16 May 1959 - d. 8 May 2008)
Gregory, Herbert T. (b. 30 Nov 1928 - d. 27 Jun 1929)
Gwyn, Eph (b. 15 Feb 1884 - d. 23 Feb 1972)
Gwyn, Phoebe Peak (b. 10 Apr 1889 - d. 29 Jun 1975)
Hall, Alma Lee (b. 16 Jul 1924 - d. 17 Jul 1925)
Hall, Eddie Russell (b. 24 Nov 1922 - d. 28 Oct 1923)
Hall, Herman Blue (b. 21 Oct 1926 - d. 17 Nov 1926)
Hall, Howard Moore (b. 25 Aug 1920 - d. 18 Dec 1920)
Hall, James Allen (b. 2 May 1925 - d. 10 Jan 1926)
Hall, James Madison (b. 20 Mar 1848 - d. 20 Mar 1922)
Hall, Mary G. Shelton (b. 24 Sep 1850 - d. 8 Apr 1922)
Hall, Wade H. (b. 8 Nov 1922 - d. 2 Feb 1930)
Hatfield, Myrtle Maxine Edwards (b. 8 Mar 1934 - d. 3 May 2001)
Hawks, Edith Austin Hill (b. 10 Sep 1906 - d. 10 Sep 1984)
Hawks, Gabriel "Goble" (b. 20 May 1906 - d. 5 Aug 1980)
Hawks, Myrtle Virginia Johnson (b. 24 Feb 1914 - d. 11 Mar 1999)
Hawks, Oliver Lester (b. 7 Apr 1892 - d. 14 Jun 1978)
Hawks, Roger Hollingsworth (b. 23 Apr 1912 - d. 26 Feb 1981)
Hawks, Rosa Elizabeth Martin (b. 11 Sep 1899 - d. 19 Aug 1976)
Hayden, Joshua W. (b. 22 Feb 2007 - d. 22 Feb 2007)
Haymore, Emma Lou Burnett (b. 22 May 1880 - d. 22 Apr 1914)
Hayslip, Sylvia Gaynell Payne (b. 22 Aug 1948 - d. 20 Feb 2010)
Hensley, Billy Thomas (b. 14 Jul 1939 - d. 8 Oct 2000)
Holt, Infant Girl (b. 19 Nov 1954 - d. 19 Nov 1954)
Holt, Lillian Marie Hawks (b. 4 Dec 1922 - d. 26 Feb 2002)
Holt, Nellie Mae Nester (b. 12 Nov 1935 - d. 17 Sep 1991)
Holt, Rufus, Sr (b. 30 Jan 1921 - d. 13 Nov 1989)
Holt, Walter Charlie (b. 25 Jul 1926 - d. 21 May 1988)
Jackson, Betty Teague (b. 1874 - d. 24 Jun 1953)
Johnson, Alice Virginia Hall (b. 23 Apr 1867 - d. 9 Sep 1934)
Johnson, Annie Juanita Dale (b. 27 Mar 1928 - d. 3 Jan 2009)
Johnson, Billy Carroll (b. 7 Jul 1938 - d. 4 Dec 1982)
Johnson, George Atkins (b. 23 Apr 1916 - d. 18 Apr 1934)
Johnson, Henry Rex (b. 2 Apr 1897 - d. 6 May 1927)
Johnson, James Henry (b. 26 Oct 1918 - d. 4 Sep 1987)
Johnson, Laura Alice Gardner (b. 1 Feb 1893 - d. 7 Apr 1933)
Johnson, Rev Brack, Jr (b. 28 Feb 1929 - d. 25 Mar 2007)
Johnson, Rev Hardin Atkins (b. 29 May 1891 - d. 29 Aug 1977)
Johnson, Sarah Ellen "Ella" Midkiff (b. 28 Aug 1897 - d. May 1979)
Kimble, Anabelle Viola "Minnie" Edwards (b. 10 Oct 1912 - d. 24 Sep 1993)
Kincaid, James Douglas (b. 8 Sep 1945 - d. 20 Jan 2005)
Linville, Robert Henry (b. 29 Apr 1920 - d. 20 Jul 1992)
Linville, Sarah East (b. 30 Nov 1899 - d. 14 Feb 1986)
Linville, William Hobart (b. 30 Mar 1899 - d. 2 Jun 1991)
Long, Rachel Thompson (b. 2 Mar 1894 - d. 1 Feb 1945)
Lynch, Donie Watson (b. 14 Apr 1895 - d. 13 Nov 1966)
Lynch, Floss D. (b. 2 Jun 1889 - d. 1 Jan 1935)
Lynch, Thomas Lincoln Lee (b. 11 Feb 1933 - d. 21 Oct 1979)
Lyons, Gilmer Lee (b. 5 May 1931 - d. 23 May 1931)
Lyons, Hendricks (b. 20 Dec 1925 - d. 24 Dec 1925)
Lyons, Ida Dawson (b. 23 Apr 1899 - d. 19 Sep 1982)
Lyons, Leroy Cleveland "Roy" (b. 9 Jun 1887 - d. 18 Jul 1961)
Lyons, Oscar A. (b. 20 Dec 1925 - d. 2 Sep 1947)
Maness, William B. (Rev.) (b. 20 Mar 1838 - d. 11 Feb 1885)
Marshall, Agnes Thore (b. 16 Oct 1904 - d. 5 Feb 1958)
Marshall, Charles William (b. 28 Dec 1898 - d. 22 Dec 1979)
Marshall, Claude Swanson (b. 22 Jul 1922 - d. 17 Dec 1999)
Marshall, Daisy C. (b. 6 Nov 1920 - d. 27 Jun 2008)
Marshall, James W. (b. 21 Jul 1920 - d. 1 Feb 2005)
Marshall, John H. (b. 31 Jul 1905 - d. 27 Aug 1957)
Marshall, Larry James (b. 7 May 1955 - d. 6 Nov 2010)
Marshall, Mary Davis (b. 17 Jun 1881 - d. 22 Jun 1971)
Marshall, Walter (b. 19 Sep 1924 - d. 4 May 1978)
Martin, James Randy (b. 19 May 1961 - d. 20 May 1961)
Mathews, Ida (b. 4 Nov 1928 - d. 29 Oct 1930)
Mathis, Lee (b. 1861 - d. 11 Nov 1927)
Miller, Jack C. (b. 1930 - d. 1984)
Miller, R. K. (b. 25 Jun 1919 - d. 13 Nov 2004)
Moore, Thomas Howard (b. 18 May 1925 - d. 13 Jun 1925)
Nail, Infant Son (b. unknown - d. unknown)
Nail, Jesse F. (b. 4 Jun 1875 - d. 3 Jun 1933)
Nail, John D. (b. 29 Nov 1847 - d. 15 Jun 1931)
Nail, Mary J (b. 25 Dec 1854 - d. 26 Feb 1935)
Nail, Sarah C. (b. 23 Jan 1878 - d. 2 Mar 1884)
Pack, James Vernon (b. 2 Apr 1941 - d. 5 Jan 1975)
Parker, Martha Hiatt (b. 12 Dec 1877 - d. 22 Nov 1918)
Peele, Anna Catherine Bennett (b. 1846 - d. 1 Sep 1914)
Phillips, Infant Boy (b. 2 Sep 1922 - d. 2 Sep 1922)
Potts, Wayne R. (b. 16 Jul 1951 - d. 10 Jan 2007)
Puckett, Henry Ray (b. 25 Aug 1926 - d. 28 Dec 1926)
Riggs, Susan Freeman (b. 26 Apr 1851 - d. 22 Aug 1934)
Scarberry, Thelma Irene (b. 4 Mar 1916 - d. 30 Apr 1989)
Shropshire, Guy (b. 15 Apr 1860 - d. 18 Jul 1929)
Shropshire, Infant Son (b. 22 Aug 1898 - d. 22 Aug 1898)
Shropshire, Lettie Freeman (b. 26 May 1861 - d. 6 Feb 1917)
Slate, Lettie G. (b. 13 Aug 1918 - d. 19 May 2004)
Slate, Thomas Wayne (b. 15 Dec 1938 - d. 16 Jul 1939)
Smoot, Birdine Ward (b. 26 Oct 1916 - d. 7 Aug 2003)
Smoot, James Pete (b. 13 Feb 1919 - d. 5 Oct 1987)
Smoot, John (b. 15 Oct 1876 - d. 9 Jan 1943)
Smoot, Mary (b. 16 Jan 1914 - d. 23 Mar 1938)
Smoot, Vadie A. (b. 22 Nov 1885 - d. 22 May 1947)
Sparks, Minnie B. (b. 23 May 1885 - d. 26 Jan 1940)
Sparks, Raymond E. (b. 3 Apr 1883 - d. 27 Jun 1939)
Sparks, Venetia Rachel (b. 8 Apr 1923 - d. 27 Feb 1925)
Stone, Fred Henderson (b. 3 Nov 1903 - d. 22 Apr 1967)
Stone, Huldah A. (b. 2 Aug 1909 - d. 28 Oct 1996)
Stone, Paul H. (b. 12 Aug 1905 - d. 16 Dec 1992)
Stone, Thelma G. (b. 1918 - d. 1989)
Taylor, Ben John (b. 3 Jul 1897 - d. 4 May 1984)
Taylor, Benjamin Ward (b. 28 May 1961 - d. 30 May 1961)
Taylor, Bud (b. 22 Jul 1866 - d. 2 Jun 1940)
Taylor, Harold "Harry" (b. 25 Oct 1933 - d. 26 Feb 2007)
Taylor, Jennie (b. 19 Jul 1876 - d. 14 Sep 1962)
Taylor, Mamie E. (b. 18 Dec 1895 - d. 17 Sep 1976)
Taylor, Ora Alvin (b. 16 Jul 1916 - d. 29 Mar 1963)
Taylor, Warren (b. 1914 - d. 1 Jun 1927)
Thompson, Alice Victorine Holder (b. 12 Jul 1916 - d. 29 Nov 1966)
Thore, Bernard D. (b. 1906 - d. 1977)
Thore, Charity (b. 3 Nov 1883 - d. 3 Aug 1957)
Thore, George Robert (b. 1 Nov 1878 - d. 25 Jan 1934)
Thore, James Lee (b. 26 Jul 1964 - d. 26 Jul 1964)
Thore, James Roscoe (b. 12 Aug 1917 - d. 23 Apr 1945)
Walls, Crystal Gail Draughn (b. 30 Jan 1978 - d. 28 May 2012)
Walls, Dora M. (b. 16 Sep 1937 - d. 10 Jan 2009)
Ward, Bertha (b. 9 Dec 1920 - d. 5 Mar 1921)
Whitlock, Martha Harbour (b. 30 Oct 1886 - d. 9 Jun 1970)
Williams, Irene Dawson (b. 26 Dec 1916 - d. 17 Mar 2001)
Woodward, Clifford Leroy (b. 19 Oct 1918 - d. 14 Jul 2002)
York, Bertha Gregory (b. 28 Apr 1888 - d. 12 Jan 1957)
York, Clara S. (b. 8 Oct 1915 - d. 2 Mar 2005)
York, Jessie Hall (b. 2 Sep 1905 - d. 18 Oct 1933)
York, Mary Estell (b. 9 Oct 1922 - d. 9 Oct 1922)
York, Mary J. (b. 5 Oct 1869 - d. 13 May 1932)
York, Mary Jane Myers (b. 25 Mar 1842 - d. 11 Jul 1918)
York, Thomas (b. 13 Mar 1860 - d. 15 Jun 1930)
York, Thomas Jesse (b. 1 Nov 1900 - d. 17 Sep 1967)
York, Wiley B. (b. 16 Aug 1885 - d. 1 Dec 1966)
York, William Howard (b. 4 Mar 1911 - d. 24 Mar 1964)
York, William L. (b. 29 Oct 1834 - d. 23 Oct 1911)
Web page updated 14 July 2016
Index of All Cemeteries
Alphabetical Index of All Burials
Previous Page