Index of All Cemeteries
Alphabetical Index of All Burials
Previous Page
Use the following to search across all the cemeteries listed.
Example: "Smith, Roger" (yes, use the quotes)
201 OPEN DOOR BAPTIST CHURCH CEMETERY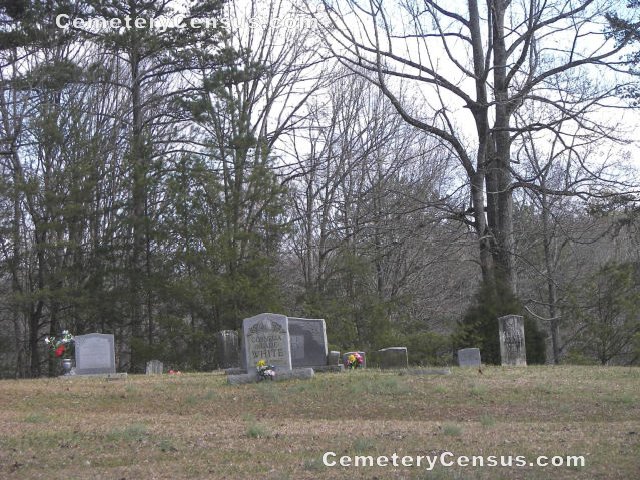 Location - Open Door Ch Rd, Elkin, Surry Co., NC.

Coordinates: 36d 18m 50.0s N; 80d 45m 46.9s W Click here for Google maps

Directions: From intersection of US Hwy 601 and NC Hwy 268 (Fairview Crossroads), go west on Hwy 268 for 1 - 1.5 miles and turn right on Stanley Mill Rd. Then go 1.2 miles and turn a sharp left on Open Door Church Rd. Go about another .2 miles and church and cemetery is on the left.

View of the church.

Surveyed by Joe Hicks on April 6, 2006.

Also known as: Stanley Family Cemetery.
Township or district: Marsh.
Public or Private: Public Access.
GPS Accuracy (ft.): 15.
Elevation above sea level (ft.): 1026.
Surry County Parcel Number: 4983-00-07-4783.

Surveyed and photographed by Jack Luffman on November 3, 2009.

There are quite a few burials in the cemetery, obvious from depressions in ground, that have no monuments or stones.


Brindle, Evang. Johnny Gray (b. 4 Feb 1941 - d. 6 Feb 1985)
Husband of Libby S. Brindle. Row 2

Brindle, Libby S. (b. 28 Feb 1945 - d. reserved)
Wife of Johnny Gray Brindle Married Oct. 8, 1966. Row 2

Clanton, Haley (b. 2004 - d. 2009)
Funeral Home Marker. Row 3

Cloer, Sherman I., Sr. (b. 1 Jun 1932 - d. 21 Mar 1993)

Coler, George W. (b. 23 Dec 1903 - d. 6 Jul 1980)

Coler, Mary E. (b. 15 Apr 1916 - d. 30 Apr 1979)

Freeman, Carolyn Rebecca (b. 19 Sep 1939 - d. 9 May 2009)

Freeman, Clarence (b. 24 Jan 1928 - d. reserved)
Husband of Lucreacy Freeman. Row 3

Freeman, Lucreacy (b. 20 Dec 1936 - d. 23 Jan 2000)
Wife of Clarence Freeman. Row 3

Hurt, Johnie (b. ???? - d. ????)

Hurt, Mary (b. ???? - d. ????)

Key, Samuel Chafan (b. 20 Apr 1832 - d. 20 Apr 1920)
Husband of Nancy White, m. 2 Sep 1855 in Surry - Son of John Andrew Key and Catherine Nellie Payne. CO A 28 REGT NC TRPS C. S. A.. Row 2

Lundy, Viola A. (b. 28 Feb 1883 - d. 30 Jul 1908)
Wife of E. C. Lundy. Row 5

Mayes, Edward S. (b. 20 Jul 1916 - d. reserved)

Mayes, Theo M. (b. 2 May 1918 - d. 4 Aug 1918)

Pierce, Larry J. (b. 1947 - d. reserved)

Pierce, Wanda L. (b. 1943 - d. reserved)

Queen, Dwayne Harold (b. 1966 - d. 1986)

Stanley, Brastic Millard "Brat" (b. 1 May 1888 - d. 6 Jun 1981)
Twin to William Rastus Stanley - Son of James Madison Stanley and Carrie Mae Payne Key. Row 7

Stanley, Brenda M. (b. 2 Feb 1948 - d. reserved)
Wife of Cecil J. Stanley Married Apr. 5, 1974. Row 7

Stanley, Cecil J. (b. 13 Dec 1943 - d. reserved)
Husband of Brenda M. Stanley. Row 7

Stanley, Frances "Franka" White (b. 19 Nov 1827 - d. 7 Nov 1910)
Wife of Jesse Smith Stanley - Daughter of Albert White and Margaret Moore, per K. Ned Beasley

Stanley, Infant (b. 1883 - d. 1883)
Daughter of James Madison Stanley and Mary Jane Kennedy

Stanley, J. Hughes (b. 18 May 1851 - d. ????)

Stanley, James Madison (b. 1858 - d. 1911)
Husband of 1) Mary Jane Kennedy, m. 13 Mar 1881 in Surry (she probably buried here too in unmarked grave) and 2) Carrie Mae Payne Key, m. 21 Feb 1884 in Surry - Son of John Edmond Stanley and Martha Jane White, per K. Ned Beasley. Row 7

Stanley, Jesse Smith (b. 29 Sep 1824 - d. 10 Jan 1906)
Husband of Frances "Franks" White - m. 13 Jan 1851 in Surry - Son of Thomas Stanley and Lucinda Mariam Pace, per K. Ned Beasley. Row 6

Stanley, John Edmond (b. 3 Nov 1814 - d. 3 Oct 1897)
Husband of Martha J. White - Son of Thomas Stanley and Lucinda Mariam Pace - grave not found but is buried here, per K. Ned Beasley

Stanley, John Hughs (b. 18 May 1851 - d. 18 Mar 1932)
Husband of Martha Ardella Phillips, m. 3 Feb 1876 in Surry - Son of John Edmond Stanley and Martha Jane White, per K. Ned Beasley

Stanley, Lucinda Mariam Pace (b. 1795 - d. 1860)
Wife of Thomas Stanley - Daughter of Edmond Marion Pace and Sarah Walker - grave not found but is buried here, per K. Ned Beasley

Stanley, Martha Ardella Phillips (b. 20 Jul 1852 - d. 1 Apr 1911)
Wife of John Hughs Stanley - Daughter of Jeremiah Phillips and Sabrilla Phillips per K. Ned Beasley. dates unreadable. Row 5

Stanley, Martha J. "Patsy" White (b. 6 Jan 1828 - d. 28 Dec 1907)
Wife of John Edmond Stanley - Daughter of Albert White and Margaret Moore - grave not found but is buried here, per K. Ned Beasley

Stanley, Nancy May Torkey (b. 1901 - d. 1908)

Stanley, Ranka (b. 19 Nov 1827 - d. 7 Nov 1910)

Stanley, Thomas (b. 1794 - d. 1860)
Husband of Lucinda Mariam Pace, m. 5 Feb 1814 in Surry - Son of Jesse Stanley and Mary Smith - grave not found but is buried here, per K. Ned Beasley

Stanley, William Rastus (b. 1 May 1888 - d. 19 Aug 1986)
Twin to Brastic Stanley - Son of James Madison Stanley and Carrie Mae Payne Key. Row 2

Tyson, Jack J. (b. 16 Aug 1915 - d. 27 May 1972)
N C. PFC US ARMY WW II. Row 6

Unknown, ?? (b. - d. )

Unknown, ?? (b. - d. )

Unknown, ?? (b. - d. ????)

Unknown, ?? (b. - d. )

Unknown, ?? (b. - d. )

Unknown, ?? (b. - d. )
funeral home marker. Row 2

Unknown, ?? (b. - d. )

Unknown, ?? (b. - d. )

Unknown, ?? (b. - d. )

Unknown, ?? (b. - d. )

Unknown, ?? (b. - d. ????)

Unknown, ?? (b. - d. )

Unknown, ?? (b. - d. )

Unknown, ?? (b. - d. )

Unknown, ?? (b. - d. )

Unknown, ?? (b. - d. )

Unknown, ?? (b. - d. )

Vandall, Isabella Cahill (b. 10 Nov 1935 - d. reserved)
Wife of Junior Edward Vandall. Row 4

Vandall, Junior Edward (b. 18 Dec 1927 - d. 8 Feb 2005)
Husband of Isabella Cahill Married June 3, 1951. Row 4

White, Annis Elizabeth (b. 4 Aug 1890 - d. 1 Jan 1916)
Wife of John Avery White. Row 4

White, Cornelia (Nealie) (b. ???? - d. ????)

White, Drewry David (b. 28 Apr 1859 - d. 27 Feb 1943)
Husband of 1) Etha Malinda Stanley, m. 10 Nov 1887 in Surry and 2) Plutina A. Burch, m. 25 Jul 1897 in Surry - no DOD but taken from FamilySearch.org - Son of James Pearson White and Mary Beasley. Row 6

White, Elle Elizabeth "Annis" White (b. 4 Aug 1890 - d. 1 Jan 1916)
Wife of John Avery White (he buried at Fairview Baptist Ch) - Daughter of Romulus S. White and Mary Jane Adams

White, Etha Malinda Stanley (b. 3 Nov 1860 - d. 28 Feb 1897)
1st Wife of Drewry David White - Daughter of John Edmond Stanley and Martha Jane White per K. Ned Beasley. Row 6

White, Floyd Ottice (b. 30 May 1909 - d. 22 Sep 1916)
Son of Drewry David White and Plutina A. Burch. Row 6

White, Infant (b. - d. )

White, Infant (b. - d. )
son of Albert and Nealie White. Row 1

White, Marvin (b. 28 Nov 1909 - d. 20 Jan 1910)
Son of John Avery White and Ellie Elizabeth White per K. Ned Beasley. Row 4

White, Plutina A. Burch (b. 23 Nov 1871 - d. 8 Feb 1955)
2nd Wife of Drewry David White - Daughter of Edmond Marion Pace and Sarah Walker - grave not found but is buried here per K. Ned Beasley. Row 6
Web page updated 14 July 2016
Index of All Cemeteries
Alphabetical Index of All Burials
Previous Page