Index of All Cemeteries
Alphabetical Index of All Burials
Previous Page
Use the following to search across all the cemeteries listed.
Example: "Smith, Roger" (yes, use the quotes)
197 OLD FREEMAN GRAVEYARD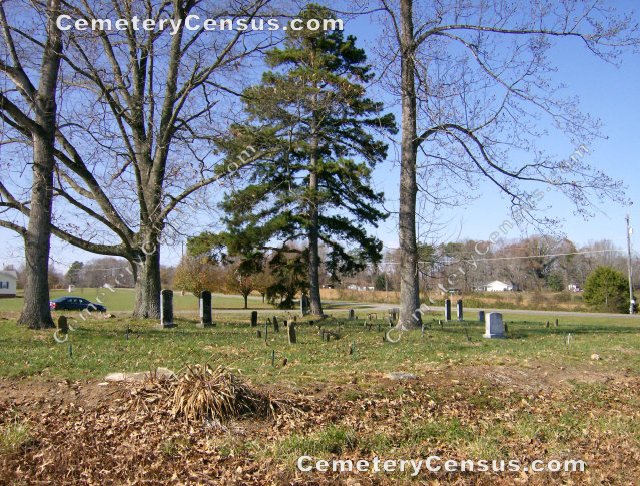 Location - at the Corner of Tom Jones Road and Coe Road, Ararat, Surry Co., NC.

Coordinates: 36d 22m 01.4s N; 80d 36m 54.3s W Click here for Google maps

Directions: From the intersection of U. S. 601 and Turkey Ford Road in Dobson, go east on Turkey Ford Road until it ends at Siloam Road (5 miles), turn right on Siloam Road and go 1.2 miles to Tom Jones Road on the left, follow Tom Jones Road for 0.9 mile to Key Road on the right. Cemetery will be on the east side of Key Road in a group of large trees.

Also known as Wall Cemetery and Wall-Tucker Cemetery. Don Rhyne is certain that "Old Freeman" is the correct name because 1) David and Jerusha Freeman were the first people buried here; David has 2 daughters buried here; and 3) David used to own the land.

Cemetery from intersection of Tom Jones Road and Coe Road; Reid section of cemetery; Tucker Section of cemetery; Wall section of cemetery; Don Rhyne with Monument of great-great grandfather Andrew Reid.

Surveyed by Andy Hennis on November 1, 2006. Photographed and surveyed by Don Rhyne and Jack Luffman on June 2, 2011.
Township or district: Eldora.
Public or Private: Private property.
GPS Accuracy (ft.): 13.
Elevation above sea level (ft.): 1113.
Status of cemetery: Well maintained
Surry County Parcel Number: 5925-00-46-4460.

Cemetery has been restored by SCGA member Don Rhyne. Caretaker is Don Rhyne. Contact Mr. Rhyne (SCGA member) for history, grave markings, and other desired information at 336-768-3648 or 336-829- 0139 or at 3730 Herchel Lane, Winston-Salem, NC 27106. Visitors are welcome. Take pictures as you please. Stone Rubbings are not permitted and any other activity is strictly prohibited. Property is checked twice a day by the Surry County Law Enforcement.

The property is owned by Gary Ray Bryant under the name Freeman Cemetery. Don Rhyne has 4 great-great-grandparents, 2 great-great-great grandparents, and 4 great-great-great-great grandparents buried here. There are approximately 12 Wall family members buried here, but most graves are uncertain as to who is buried there. All of these would be children or grandchildren of Crawford and Lucinda Wall. The cemetery has 57 burials, most of which are marked by field stones and names are unknown.


Bryant, A. B. (Abijah) (b. 13 Aug 1855 - d. 22 Oct 1915)
Husband of Jerusha Freeman
Husband of 1) Mary Wood Reid 2) Vick Reid 3) Vincy Ellen Tucker Reid
Daughter of Andrew and Vick Reid
Infant son of Andrew and Vick Reid
Infant son of Andrew and Vick Reid
Husband of Mary Freeman Reid
Wife of John Reid, daughter of David and Jerusha Freeman
1st Wife of Andrew Jackson Reid, Daughter Of Thomas Wood
2nd Wife of Andrew Jackson Reid
3rd Wife of Andrew Jackson Reid, Daughter Of R. D. and Mary Tucker
Infant son of Robert D. and Mary Tucker
Infant son of Robert D. and Mary Tucker
Daughter of Robert D. and Mary Tucker
Wife of Robert D. Tucker, Daughter of Crawford and Lucinda Wall
Husband of Mary Jane Wall Tucker
Husband of Lucinda Freeman Wall
Wife of Crawford Wall, daughter of David and Jerusha Freeman
Daughter of Crawford and Lucinda Freeman Wall
Web page updated 14 July 2016
Index of All Cemeteries
Alphabetical Index of All Burials
Previous Page