Index of All Cemeteries
Alphabetical Index of All Burials
Previous Page
Use the following to search across all the cemeteries listed.
Example: "Smith, Roger" (yes, use the quotes)
193 OAK GROVE BAPTIST CHURCH CEMETERY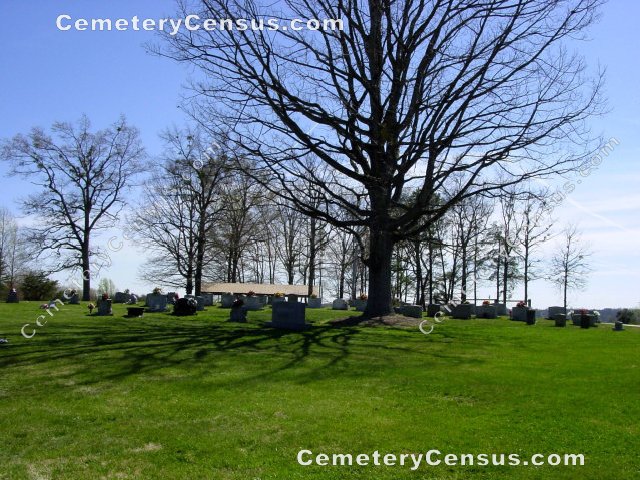 Location - 273 Oak Grove Ch Rd - Corner of Oak Grove Ch Rd (SR 1397) and Paul Isaacs Rd (SR 1481), Mt. Airy, Surry Co., NC.

Coordinates: 36d 28m 43.9s N; 80d 45m 14.5s W Click here for Google maps

Directions: From intersection of US Hwy 52 and West Pine St (NC Hwy 89) in Mt. Airy, go west on W. Pine St to the caution light in Pine Ridge. Turn left on Pine Ridge Rd and go .5 mile. Then right on Laurel Springs Church Rd and go 2.75 miles to the end of Laurel Springs Church Rd, then turn right on Oak Grove Church Rd and go .25 mile to the cemetery and church on the left.

View of the church.

Photographed and surveyed by Jack Luffman on November 22, 2010.

Surveyed by Andy Hennis on April 6, 2006.
Township or district: Stewart's Creek.
Public or Private: Public Access.
GPS Accuracy (ft.): 12.
Elevation above sea level (ft.): 1257.

336-352-3296.


Bandy, Barbara H. (b. 27 Apr 1936 - d. Reserved)
Wife of Roy Bandy Jr.. Row 3

Bandy, Roy Jr. (b. 6 Sep 1936 - d. 17 Sep 2006)
Husband of Barbara H. Bandy. US MARINE CORPS. Row 3

Bell, Eva Sue C. (b. 23 Oct 1938 - d. Reserved)
Wife of James E. "Ed" Bell. Row 5

Bell, James E. "Ed" (b. 5 Jun 1935 - d. 7 Apr 2006)
Husband of Eva Sue C. Bell. Row 5

Boyles, Minnie Hawks (b. 29 Nov 1876 - d. 10 Jun 1966)
Wife of Samuel E. Boyles. Row 8

Boyles, Nannie J. (b. 7 Aug 1883 - d. 18 Mar 1964)
Wife of Newton E. Boyles. Row 8

Boyles, Newton E. (b. 22 Dec 1874 - d. 8 Nov 1956)
Husband of Nannie J. Boyles. Row 8

Boyles, Samuel E. (b. 28 Dec 1869 - d. 24 Oct 1965)
Husband of Minnie Hawks Boyles. Row 8

Boyles, Samuel Eugene (b. 12 May 1918 - d. 10 Nov 1951)

Brooks, Shirley Jean (b. 12 Oct 1973 - d. 12 Oct 1973)

Cave, James Matthew (b. 7 Jan 1998 - d. 11 Dec 1993)

Cockerham, Andy C. (b. 16 Nov 1906 - d. 13 Jan 1995)
Husband of Ruby H. Cockerham. Row 6

Cockerham, Della Surratt (b. 19 Feb 1914 - d. 21 Feb 1984)
Wife of William Roy Cockerham, Sr.. Row 11

Cockerham, Dennis Caldwell (b. 22 May 1948 - d. 12 Aug 1996)

Cockerham, Eddie D. (b. 15 Jan 1955 - d. 15 May 2010)

Cockerham, Kelly R. (b. 20 Sep 1905 - d. 21 Feb 1991)
Husband of Maggie C. Cockerham. Row 10

Cockerham, Maggie C. (b. 13 Jun 1910 - d. 27 May 1995)
Wife of Kelly R. Cockerham. Row 10

Cockerham, Mary E. S. (b. 12 Sep 1881 - d. 1 Jul 1963)
Wife of Randall A. Cockerham. Row 10

Cockerham, Maynard W. (b. 21 Oct 1941 - d. 19 Jul 1990)

Cockerham, Randall A. (b. 12 Sep 1882 - d. 25 Dec 1963)
Husband of Mary E. S. Cockerham. Row 10

Cockerham, Ruby H. (b. 20 Mar 1920 - d. 7 Feb 1994)
Wife of Andy C. Cockerham. Row 6

Cockerham, William Roy Sr. (b. 1 Oct 1909 - d. 16 Sep 1981)
Husband of Della Surratt. Row 11

Collins, James S. (b. 13 Dec 1865 - d. 6 Jun 1946)

Collins, Mae H. (b. 16 Jul 1918 - d. 9 May 2003)
Wife of Samuel L. "Sam" Collins. Row 4

Collins, Samuel L. "Sam" (b. 23 Jan 1914 - d. 4 Aug 1998)
Husband of Mae H. Collins. Row 4

Dickens, Emmitt E. (b. 14 Nov 1883 - d. 29 May 1935)

Freeman, Charles Strickland (b. 29 Jan 1939 - d. 3 Mar 2010)
Husband of Patricia A. Isaacs Freeman. Row 8

Freeman, Charlie Mae Strickland (b. 11 Jun 1916 - d. 13 Feb 2003)
Wife of Lee Dix "Dick" Freeman,. Married 61 years. Row 5

Freeman, Laura Ann (b. 9 Nov 1969 - d. 9 Nov 1969)
Infant Daughter of Charles and Patricia Freeman. Row 8

Freeman, Lee Dix "Dick" (b. 9 Mar 1908 - d. 28 Dec 1995)
Husband of Charlie Mae Strickland Freeman. Row 5

Freeman, Patricia A. Isaacs (b. 8 Jun 1938 - d. Reserved)
Wife of Charles Strickland Freeman. SGT US ARMY VIETNAM Military marker. Row 8

Fultz, Kevin Andrew (b. 14 May 1982 - d. 11 Nov 2005)

Gentry, Jack C. (b. 1884 - d. 1968)
Husband of Linda J. Gentry. Row 9

Gentry, Linda J. (b. 1888 - d. 1960)
Wife of Jack C. Gentry. Row 9

Gentry, Roland J. (b. 28 Feb 1916 - d. 25 Apr 1917)
Son of J. C. and Linda Gentry. Row 9

Gillespie, James Leroy (b. 20 May 1930 - d. 22 Jul 1997)
Husband of Teresa "Tee" Hulon Gillespie. Gillespie marker. CPL US ARMY KOREA. Row 6

Gillespie, James R. Pete (b. 1905 - d. 1957)
Husband of Stella Ramey Gillespie. Mason. Row 10

Gillespie, Stella Ramey (b. 1909 - d. 2008)
Wife of James R. Pete Gillespie. Row 10

Gillespie, Teresa "Tee" Hulon (b. 3 Jan 1935 - d. Reserved)

Hawks, Delta C. (b. 2 Apr 1944 - d. Reserved)
Wife of Donald O. Hawks. Row 11

Hawks, Donald O. (b. 15 Apr 1940 - d. 25 Dec 1973)
Husband of Delta C. Hawks. Row 11

Hawks-Sehen, Betty Ruth (b. 9 Oct 1943 - d. 28 Feb 2007)

Hawks-Sehen, Kathleen H. (b. 7 Oct 1941 - d. Reserved)

Haynes, Maude P. (b. 19 Mar 1903 - d. 22 Mar 1995)
Wife of W. C. Haynes. Row 7

Haynes, W. C. (b. 16 Nov 1897 - d. 3 May 1973)
Husband of Maude P. Haynes. Row 7

Hill, Andrew Eugene (b. 14 Aug 1883 - d. 18 May 1978)
Husband of Susan Lawrence Hill. Row 9

Hill, Dakota (b. 18 Aug 1889 - d. 22 Feb 1950)

Hill, Jackie P. (b. 22 Mar 1885 - d. 18 Oct 1970)

Hill, James Patrick (b. 6 Oct 1960 - d. 30 Jan 1984)
"His quest for knowledge was sustained by his love and courage." Hill marker. Row 9

Hill, Maude Johnson (b. 14 Mar 1919 - d. 28 Dec 1994)
Wife of Taze Allen Hill. Row 11

Hill, Susan Lawrence (b. 24 Dec 1896 - d. 7 Feb 1996)
Wife of Andrew Eugene Hill. Row 9

Hill, Taze Allen (b. 11 Apr 1925 - d. 10 Jan 1974)
Husband of Maude Johnson Hill. Row 11

Hodges, Delmah D. (Rev.) (b. 23 Jul 1906 - d. 24 Jun 1966)

Hodges, Harold Young (b. 14 Jul 1927 - d. 18 May 1994)

Hodges, Lelia D. (b. 15 Aug 1905 - d. 31 Dec 1993)

Hodges, Richard Dale "Dicky" (b. 15 Dec 1954 - d. 6 Mar 2006)

Hodges, Vickie Lynn Durham (b. 18 Dec 1957 - d. 31 Dec 2009)

Holt, Judy Lou (b. 5 Apr 1944 - d. 31 Mar 2010)

Hudson, Byron M. Jr. (b. 18 Nov 1912 - d. 25 Aug 1991)
Husband of Dorothy Strickland Hudson. PVT US ARMY AIR CORPS WW-II. Row 5

Hudson, Dorothy Strickland (b. 10 Dec 1917 - d. Reserved)
Wife of Byron M. Hudson, Jr.. Row 5

Isaacs, Alice Boyles (b. 9 May 1914 - d. 24 Aug 2004)
Wife of Paul Noah Isaacs. Row 8

Isaacs, Paul Noah (b. 29 Jan 1907 - d. 8 Jul 1993)
Husband of Alice Boyles Isaacs. Row 8

Johnson, Billy Gray (b. 6 Apr 1946 - d. 28 Jan 1979)

Johnson, Brack Sr. (b. 15 Dec 1882 - d. 6 Sep 1975)
Husband of Laura B. Johnson. Row 10

Johnson, Laura B. (b. 28 Dec 1892 - d. 8 Jun 1983)
Wife of Brack Johnson, Sr.. Row 10

Johnson, Monica Elizabeth (b. 15 Feb 1980 - d. 15 Oct 1995)

Jones, Ella H. (b. 22 Oct 1928 - d. 25 Feb 2005)
Wife of Wallace D. Jones. Married 21 Jan 1952. Row 7

Jones, Emma J. (b. 22 Aug 1895 - d. 3 Jul 1982)
Wife of W. Paul Jones. Row 7

Jones, W. Paul (b. 19 Aug 1893 - d. 6 Mar 1926)
Husband of Emma J. Jones. Row 7

Jones, Wallace D. (b. 26 Jun 1922 - d. 20 Sep 1979)

Long, Gertrude Jones (b. 13 Nov 1920 - d. Reserved)
Wife of McAdoo Elvin Long. Row 7

Long, McAdoo Elvin (b. 16 Oct 1917 - d. 2 Aug 1989)

Lowe, Media Cockerham Pilgrim (b. 2 Jan 1914 - d. 9 Dec 2002)
Wife of Amos F. Pilgrim. Row 7

Marsh, Christine T. (b. 7 Apr 1947 - d. 7 Apr 1999)
Wife of J. Phillip Marsh. Married 11 Nov 1967. Row 12

Marsh, J. Phillip (b. 30 Oct 1947 - d. Reserved)
Husband of Christine T. Marsh. Row 12

McMillian, Carrie Elizabeth Horton (b. 25 May 1931 - d. 6 Mar 2012)
Wife of Coy Monroe McMillian - b. Carroll Co, VA and Daughter of Tommy Horton and Nellie Mae Norman

McMillian, Irene S. (b. 18 Sep 1912 - d. 30 Jul 1984)
Wife of Paul McMillian. Row 10

McMillian, Paul (b. 21 Jul 1910 - d. 4 Feb 1976)
Husband of Irene S. McMillian. Row 10

Palmer, Hattie Cooke (b. 25 Jan 1887 - d. 21 Jul 1958)

Palmer, Owen (b. 27 Jun 1893 - d. 18 Apr 1970)

Palmer, William Henry (b. 10 Oct 1915 - d. 16 Jul 1965)

Park, Coy Mack (b. 19 Aug 1917 - d. 20 Jun 1988)
Husband of Vera Jarrell Park. US MERCHANT MARINE WW-II Military marker. Row 7

Park, Vera Jarrell (b. 25 Sep 1922 - d. 26 Dec 2008)
Wife of Coy Mack Park. Row 7

Pilgrim, Amos F. (b. 20 Feb 1894 - d. 26 Apr 1968)
Husband of Media Cockerham Pilgrim Lowe. GEORGIA PFC US ARMY WW-I Military marker. Row 7

Ramey, Claude W. (b. 14 Jul 1912 - d. 8 Nov 1980)
Husband of Imogene I. Ramey. Row 11

Ramey, Ernest Jimmy (b. 13 Jan 1938 - d. 18 Jan 1999)

Ramey, Imogene I. (b. 31 Aug 1911 - d. 7 Oct 1978)
Wife of Claude W. Ramey. Row 11

Ramey, Mary Faye (b. 4 Dec 1943 - d. Reserved)
Wife of Ernest Jimmy Ramey. Row 2

Richards, Loraine P. (b. 10 Jun 1919 - d. Reserved)
Wife of Robert Richards. Row 6

Richards, Robert (b. 1 Mar 1915 - d. 12 Sep 2001)
Husband of Loraine P. Richards. Row 6

Riggs, Mary Frances Hodges (b. 5 Sep 1942 - d. 29 Jul 1986)

Rigney, Mary Lou C. (b. 16 Jan 1930 - d. Reserved)
Wife of Matthew Rigney. Row 12

Rigney, Matthew (b. 1 Nov 1926 - d. 14 Feb 1999)
Husband of Mary Lou C. Rigney. SGT US ARMY AIR FORCES WW-II Military marker. Row 12

Simmons, Morris "Rex" (b. 14 Jan 1938 - d. 6 Jun 2005)
Husband of Nina Mae C. Simmons. Row 10

Simmons, Nina Mae C. (b. 8 Feb 1942 - d. Reserved)
Wife of Morris "Rex" Simmons. Row 10

Snow, Calvin W. (b. 7 Feb 1932 - d. 23 May 1990)
Husband of Mamie C. Snow. Row 7

Snow, Eliza Collins (b. 25 Mar 1887 - d. 6 Apr 1975)

Snow, Ella Lee (b. 1877 - d. 1961)
Wife of Gideon H. Snow. Row 9

Snow, Gideon H. (b. 1869 - d. 1947)
Husband of Ella Lee Snow. Mason. Row 9

Snow, Mamie C. (b. 17 Apr 1936 - d. Reserved)
Wife of Calvin W. Snow. Row 7

Snow, Robert A. (b. 1 Dec 1914 - d. 13 Mar 1955)

Snow, Robert Lee (b. 18 Feb 1880 - d. 20 Dec 1932)

Snow, Ruth Mae (b. - d. )

Sparger, Lee R. (b. 31 May 1892 - d. 15 Feb 1945)
Husband of Sallie Sparger. Row 9

Sparger, Sallie (b. 11 Feb 1894 - d. 20 Aug 1944)
Wife of Lee R. Sparger. Row 9

Stanley, Jobie (J. W.) Jr. (b. 12 Aug 1939 - d. 3 Jul 1988)

Stanley, Jobie William Sr. (b. 28 Mar 1919 - d. 10 Nov 1987)
Husband of Maggie East Stanley. Row 7

Stanley, Maggie East (b. 10 Apr 1923 - d. Reserved)
Wife of Jobie William Stanley, Sr.. Row 7

Swift, Harvey (b. 19 Feb 1907 - d. 15 May 1994)
Husband of Wavey Mayes Swift. Row 7

Swift, Harvey Jackson (Jack) (b. 19 Dec 1932 - d. 26 Feb 1986)
Husband of Ivylyn Jarrell (Beck) Swift. CPL US ARMY KOREA Military marker. Row 7

Swift, Ivylyn Jarrell (Beck) (b. 8 Dec 1935 - d. Reserved)
Wife of Harvey Jackson Swift. Row 7

Swift, Wavey Mayes (b. 1 Feb 1907 - d. 3 May 1983)
Wife of Harvey Swift. Row 7

Underwood, Carrie A. (b. 1 Nov 1938 - d. 18 Oct 1998)

Watson, Judy Faye (b. 4 Sep 1946 - d. 20 Aug 1994)

Woods, Kathryn Bryant (b. 14 Jan 1967 - d. Reserved)
Wife of Timothy Daryl Woods. Married 30 June 1990. Row 6

Woods, Timothy Daryl (b. 18 Sep 1965 - d. 18 May 2001)
Husband of Kathryn Bryant Woods. Row 6
Web page updated 14 July 2016
Index of All Cemeteries
Alphabetical Index of All Burials
Previous Page