Index of All Cemeteries
Alphabetical Index of All Burials
Previous Page
Use the following to search across all the cemeteries listed.
Example: "Smith, Roger" (yes, use the quotes)
192 NORMAN-HARRIS FAMILY CEMETERY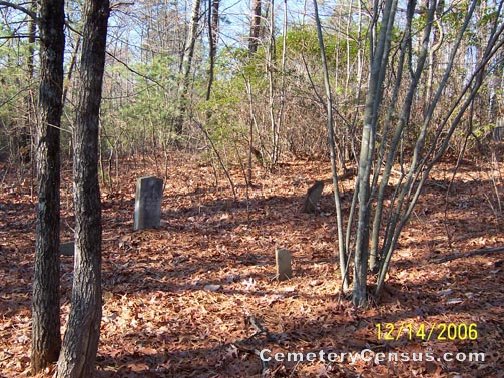 Location - Off Royal Rd, Mountain Park, Surry Co., NC.

Coordinates: 36d 24m 54.7s N; 80d 53m 02.0s W Click here for Google maps

Directions: From 4 way stop in Mt. Park take the north branch SR#1301 and at Y take Union Hill Church Road LH side of road, and go for 2.3 miles. Just past the second Union Hill Church there is a dirt road on RH side that is Royal Road SR#1324. Go onto that road for 1.2 miles to 720 Royal Road on RH side of road. There is a small farm lane that is Holly Hollow lane that crosses creek and there will be a gate that is sometimes locked. (Owner at 720 Royal Road has key and if available will open gate and give directions). Once past gate travel along creek and gardens bearing to the right .3 mi. until reaching another crossing and gate. From there one must walk rest of way following trail along creek for .3 mile going up a 4-wheeler trail to left into a group of pine trees and following until a growth of "Oaks" appears. Markers are in this area.

View #2 of the cemetery.

Surveyed by Joe Hicks on December 6, 2006.
Township or district: Bryan.
Public or Private: Private property.
GPS Accuracy (ft.): 19.
Elevation above sea level (ft.): 1502.
Status of cemetery: Transitioning to abandonment.
Surry County Parcel Number: 4947-00-54-4382.

Ansel P. Norman (b 1832, d. 1924) Co A, 28th NC Inf, CSA, W. N. Norman (Father of Elder E. O. Norman) (b. 1861, d. 1885 - age 24 years), Joel Harris (Co B, 2nd VA Res, CSA).


Harris, Joel (b. - d. )
Co. B, 2nd VA Reserves, CSA

Norman, Ansel P. (b. 1832 - d. 1924)
Co. A, 28th N.C. Infantry, CSA. "At Rest"

Norman, W. N. (b. 1861 - d. 1885)
son of Ansel P. Norman, father of Elder E.O. Norman, age 24, buried on or near this place.
Web page updated 14 July 2016
Index of All Cemeteries
Alphabetical Index of All Burials
Previous Page