Index of All Cemeteries
Alphabetical Index of All Burials
Previous Page
Use the following to search across all the cemeteries listed.
Example: "Smith, Roger" (yes, use the quotes)
187 NEW LIFE BAPTIST CHURCH and CEMETERY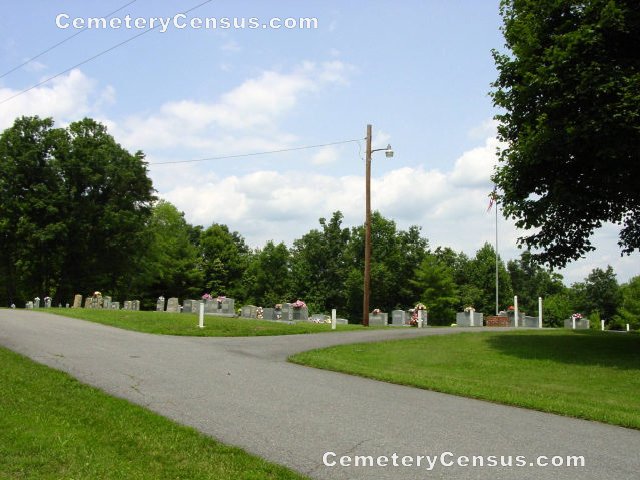 Location - Off 411 New Life Ch Rd (SR 1405), Mt. Airy, Surry Co., NC.

Coordinates: 36d 27m 09.0s N; 80d 48m 11.0s W Click here for Google maps

Directions: From intersection of Prison Camp Road (SR 1345) and Haystack Road (SR 1331), go west on Haystack for 2.5 miles and turn left on New Life Church Road (SR 1405). Then go .6 miles and church and cemetery are on the left.

View of the church.

Surveyed by Joe Hicks on January 1, 2007.
Township or district: Franklin.
Public or Private: Public Access.
GPS Accuracy (ft.): 17.
Elevation above sea level (ft.): 1414.
Surry County Parcel Number: 4968-00-98-6225.

Surveyed and photographed by Jack Luffman on March 18, 2010. Main portion of cemetery was surveyed first, going from left to right beginning with the row nearest the road. Those graves between the driveway and the road were surveyed last.


Amburn, Bessie Norman (b. 25 Jan 1913 - d. 14 Jan 1993)
Wife of Herman Jesse Amburn Married 9 June 1935. Row 5
Husband of Bessie Norman Amburn. Row 5
Husband of Rachel K. Atkins. Row 3
Husband of Dorothy H. Atkins. Row 2
Wife of Charlie M. Atkins. Row 2
Wife of Billy H. Atkins. Row 3
Wife of James O. Bartley. Row 3
Husband of Helen Lowe Bartley. Row 3
Wife of Frank J. Bombe Married 20 Jan 1923. Row 4
Husband of Bertha Lampin Bombe. Row 4
Husband of Brenda A. Brady. Row 6
Infant dau. of Mr. and Mrs. Herman Casstevens. Row 2
small planted stone. Row 1
small planted stone. Row 1
Wife of Paul H. Casstevens. Row 1
Husband of Nancy J. Casstevens. Row 1
Husband of Molly F. Chapman. Row 2
Wife of Coleman C. Chapman. Row 2
TEC5 US ARMY WW-II. Row 2
Wife of Grady Easter Goings. Daughter of Charlie Marshall Atkins and Dorothy Ida Hodges Atkins. Row 6
Husband of Aileen Aykins Goings. Son of Emmett Monroe Goings and Betty Elizabeth Mayes Goings. CPL US ARMY WW-II Military marker. Row 6
Wife of William Monroe Goings. Row 6
Husband of Laura Faye Atkins Goings. Row 6
Son of William Monroe and Laura Faye Atkins Goings. Row 6
Husband of Virgie R. Hicks. Row 4
Wife of Jasper O. Hicks. Row 4
Wife of Winfred Leo Hodges. Row 1
Husband of Mary L. Hodges. Row 2
Wife of James L. Hodges, Sr.. Row 2
Wife of Odoul A. Holder. Row 1
Husband of Maude H. Holder. Row 1
Husband of Rebecca D. Isom. Row 5
Wife of Charles Isom, Jr.. Row 5
Infant son of James and Frances Leonard. Row 4
Wife of James Crissie Lowe. Row 4
Husband of Annie L. Fowler Lowe. Row 4
Wife of James C. Lowe, Jr.. Row 4
TEC 5 US ARMY WW-II. Row 6
Infant Son of James C. Jr. and Rachel W. Lowe. Row 4
Wife of Kyle John Mays. Row 3
Husband of Matilda Booth Mays. Row 3
Husband of Ella Hicks Mays. Row 3
Wife of Henry Grant Mays. Row 3
Husband of Mary D. Hodges McCann. Row 5
Wife of Grover McKinley McCann. Row 5
Husband of Flossie G. McCraw. Row 5
Wife of William F. McCraw. Row 2
Wife of Arnold W. McCraw. Row 5
Husband of Ethel F. Chapman McCraw. Row 2
Husband of Josephine McCraw McMillan. Row 5
Wife of Elbert Chester McMillan. Row 5
Wife of Preston C. Norman. Row 2
Husband of Mary E. Norman. Row between road and drive
Wife of James E. Norman. Row between road and drive
Husband of Catherine Cox Norman. Row 2
Daughter of Ed and Fannie Oakley. Row 1
Son of Robert T. and Mary Jane Oakley. Row 1
Wife of T. Claude Oakley. Row 1
Unnamed children of Ed and Fannie Oakley. Row 1
Wife of Robert T. Oakley. married 3 Feb 1878. daughter of Abrose and Mary Willey. Row 1
Husband of Margret Jane Willey Oakley. married 3 Feb 1878.. Row 1
Husband of Effie I. Oakley. Row 1
Wife of James William Overton Married 21 Dec 1929. Row 5
Husband of Dorothy Simmons Overton. Row 5
Wife of Coy L. Russell Married 19 Nov 1938. Row 5
Husband of Bertha M. Russell. Row 5
Husband of Una Hudson Seal. Row 4
Wife of Roy Ray Seal. Row 4
Husband of Ethel Hodges Simpson. Row 4
Wife of Delmer G. Simpson Married 28 Apr 1957. Row 4
son of John and Odell Snow. Row 3
Husband of Nellie H. Snow. Row 3
Wife of James W. Snow. Row 3
Husband of Winifred Taylor Stanley PVT US ARMY WW-II. Row between road and drive
Wife of Ralph Edward Stanley. Row between road and drive
Wife of J. Floyd Wood. Row 4
Wife of M. Glenn Wood. Row 6
Husband of Celestia Poole Wood. Row 4
Web page updated 14 July 2016
Index of All Cemeteries
Alphabetical Index of All Burials
Previous Page