Index of All Cemeteries
Alphabetical Index of All Burials
Previous Page
Use the following to search across all the cemeteries listed.
Example: "Smith, Roger" (yes, use the quotes)
184 NEW HOPE BAPTIST CHURCH CEMETERY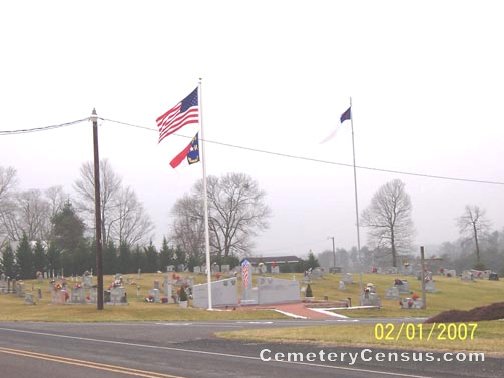 Location - Prison Camp Rd, Dobson, Surry Co., NC.

Coordinates: 36d 26m 25.5s N; 80d 45m 15.4s W Click here for Google maps

Directions: From the intersection of Main St and Kapp St in Dobson, go north on Main St (Old Hwy 601) for .5 mile and turn left on Prison Camp Rd (SR 1345) and then go about 5 miles. Cemetery will be on left just prior reaching John Wright Lane.

Surveyed by Joe Hicks on April 6, 2006.
Township or district: Dobson.
Public or Private: Public Access.
GPS Accuracy (ft.): 14.
Elevation above sea level (ft.): 1270.
Surry County Parcel Number: 4988-00-33-6891-501.

Partial survey in 2012.


Angel, Ellen Clark (b. 30 Jan 1911 - d. 30 Oct 1933)
Bennett, Betty White (b. 28 Sep 1887 - d. 13 Aug 1973)
Bennett, Henderson (b. Nov 1835 - d. 3 Oct 1919)
Bennett, Jerry Columbus (b. 7 Dec 1868 - d. 20 Apr 1964)
Bennett, Katherine Brickell (b. 13 Aug 1854 - d. 28 Sep 1930)
Bennett, Sarah "Sallie" Whittington (b. 25 Sep 1834 - d. 23 Sep 1901)
Blevins, Daisy Easley (b. 26 May 1899 - d. 29 Jan 1965)
Brooks, Ira Lee (b. 8 Dec 1878 - d. 9 Jul 1949)
Brooks, John Walter (b. 27 May 1897 - d. 8 Apr 1969)
Brooks, Victoria Virginia (b. 6 Mar 1899 - d. 22 Oct 1962)
Brown, Leon Elmer (b. 28 Jul 1921 - d. 26 Jun 1990)
Burchett, Sarah Jane Vestal (b. 8 Nov 1854 - d. 12 May 1931)
Callaway, Robert Byrd (b. 10 Mar 1871 - d. 23 Feb 1953)
Calloway, Claude Bryant (b. 18 Sep 1896 - d. 31 May 1960)
Calloway, Glen L. (b. 30 Oct 1920 - d. 20 Sep 1946)
Clark, Mary Howard (b. 18 Feb 1878 - d. 16 May 1923)
Collins, Bessie Haynes (b. 17 Apr 1900 - d. 18 Jun 1966)
Collins, Charles E. (b. 1896 - d. unknown)
Collins, Richard Franklin (b. 1 May 1947 - d. 20 Feb 2009)
Collins, Sandra Snow (b. 13 Nov 1944 - d. unknown)
Cummings, Artelia Vashti Gillispie (b. 1842 - d. 6 Aug 1918)
Edwards, Anna Mae Lawson (b. 8 Jun 1909 - d. 11 Aug 1934)
Edwards, Everett Eugene (b. 23 Aug 1933 - d. 8 Mar 1934)
Freeman, Julia (b. 1891 - d. 2 Aug 1938)
Freeman, Pattie (b. 1859 - d. 18 Jan 1938)
Freeman, William Hardin (b. Oct 1845 - d. 5 Jul 1918)
Gordon, Cecil (b. 23 Sep 1911 - d. 25 Jun 1974)
Griffin, Lena (b. 15 May 1928 - d. 15 May 1928)
Gwyn, W. M. (b. 26 Jul 1846 - d. 16 Apr 1917)
Haynes, Mitta Viola Park (b. 11 May 1872 - d. 1 Jan 1908)
Haynes, Robert Sidney (b. 30 Dec 1850 - d. 9 Sep 1907)
Hedgecoe, Ida Wright (b. 8 Sep 1879 - d. 22 Apr 1952)
Hedgecoe, John Henry (b. 9 Jun 1896 - d. 27 May 1953)
Hicks, William Daniel (b. 1 Oct 1850 - d. 7 Apr 1934)
Hodge, Callie Eldora Hicks (b. 11 Aug 1882 - d. 23 Dec 1935)
Hodge, Columbus (b. 12 Jan 1880 - d. 8 Mar 1922)
Hodge, Mary E. Benge (b. 22 Jun 1932 - d. 8 Oct 1975)
Hodge, Sidney Joseph (b. 7 May 1940 - d. 15 Apr 1954)
Hodges, Conrad Lee (b. 23 Sep 1937 - d. 28 May 2010)
Hodges, Dolly Oakley (b. 24 Sep 1850 - d. 16 Dec 1928)
Hodges, Henry Mosley (b. 30 Jan 1876 - d. 15 Jun 1948)
Hodges, Louis Curtis (b. 18 Dec 1932 - d. 20 Aug 1999)
Hodges, Nancy Catherine Jarvis (b. 9 Nov 1880 - d. 12 May 1971)
Holst, Elmer (b. 12 Oct 1928 - d. 18 May 2011)
Holst, Juanita Helen McCraw (b. 9 Feb 1927 - d. Feb 2012)
Johnson, Jimmy L (b. 22 Sep 1943 - d. 12 Oct 1998)
Johnson, Mary Juanita Reeves (b. 15 Mar 1927 - d. 30 Jun 2009)
Jones, Ada (b. 4 Sep 1880 - d. 3 Jun 1916)
Jones, Beulah Mae (b. 24 Oct 1911 - d. 8 Jul 1912)
Jones, Daniel Mack (b. 18 Sep 1850 - d. 5 Sep 1924)
Jones, Eliza J. Gwyn (b. 2 Aug 1850 - d. 22 Feb 1916)
Lawrence, Etta Mae Smith (b. 18 Apr 1896 - d. 28 Feb 1976)
Lawrence, Graham Smith (b. 9 Jul 1921 - d. 5 Sep 2008)
Lawrence, Henry Clay, III (b. 5 Apr 1888 - d. 12 Jan 1976)
Lawrence, Henry Davis (b. 22 Jun 1925 - d. 1 Feb 2004)
Lawrence, Lori Davis (b. 17 May 1963 - d. 30 Oct 1995)
Lawrence, Mary Elizabeth Bryant (b. 26 Sep 1922 - d. 15 May 1974)
Lawson, Bertie (b. 24 Oct 1918 - d. 8 Nov 1918)
Lawson, Monnie Elizabeth (b. 22 Feb 1911 - d. 12 Nov 1918)
Lawson, Pearl Cordelia (b. 5 Sep 1913 - d. 19 Oct 1918)
Lawson, Rena E. (b. 29 Dec 1922 - d. 20 Feb 1923)
Lawson, Robert Lewis (b. 1 Mar 1915 - d. 16 Oct 1918)
Lawyer, Thomas Irvin (b. 30 May 1913 - d. 11 May 1972)
Lewellyn, James Robert (b. 14 Jan 1908 - d. 21 Jan 1956)
Lewellyn, Lera Eugene (b. 6 Feb 1938 - d. 10 Feb 1938)
Lewellyn, Richard Jackson (b. 12 Apr 1863 - d. 29 Oct 1924)
Long, Hazel May (b. 18 Jun 1923 - d. 7 Aug 1923)
Long, Raye (b. Feb 1927 - d. 26 Jul 1927)
Lundy, Cheryl Elizabeth (b. 9 Jul 1956 - d. 9 Dec 1956)
Lyons, Charles Clancy (b. 16 Jan 1939 - d. 9 Dec 2009)
Mathews, Opal May (b. 4 Apr 1925 - d. 7 May 1925)
Mathews, Robert A. (b. 13 Feb 1900 - d. 4 Feb 1966)
McIntire, Jefferson (b. 16 Apr 1893 - d. 7 Mar 1943)
Melton, William Eldridge (b. 12 Oct 1890 - d. 10 Nov 1969)
Mitchell, Effie Cranzola Sigman (b. 6 May 1892 - d. 26 Nov 1989)
Mitchell, Frederick Ralph (b. 20 Feb 1913 - d. 11 Mar 2007)
Mitchell, Marjorie Maurea "Margie" Moore (b. 23 Jul 1915 - d. 16 Jan 1985)
Moore, Brenda Gay (b. 8 Apr 1957 - d. 10 Apr 1957)
Moore, Wayne Folger (b. 7 Apr 1933 - d. 17 Sep 1957)
Nations, John Thomas (b. 22 Sep 1875 - d. 11 May 1935)
Nations, Sarah Etta Mayes (b. 26 Feb 1888 - d. 28 Oct 1970)
Nixon, David Gray (b. 27 Aug 1941 - d. 24 Sep 1941)
Nixon, Infant Boy (b. 6 Jan 1930 - d. 8 Jan 1930)
Park, Caleb Joseph (b. 19 Jun 1927 - d. 19 Dec 1938)
Park, Charles Cicero (b. 22 Feb 1865 - d. unknown)
Park, Conrad (b. 21 Aug 1922 - d. 27 Mar 1923)
Park, Emma R. Fallestine (b. Oct 1882 - d. 1 Jan 1925)
Park, George Hampton (b. 6 May 1904 - d. 21 Jun 1930)
Park, Gracie Lucille (b. 27 Mar 1914 - d. 29 Jan 1916)
Park, Henry Irvin (b. 25 Nov 1924 - d. 10 Jan 1925)
Park, Isaac Ausker "Os" (b. 13 Sep 1876 - d. 18 Jan 1967)
Park, Laura Frances Stone (b. 31 Mar 1883 - d. 10 Mar 1970)
Park, Lloyd Caldwell (b. 18 Feb 1879 - d. 1 Jul 1967)
Park, Mary Eliza Jones (b. 30 Sep 1886 - d. 17 Jan 1925)
Park, Mary Ellen (b. 16 Jan 1925 - d. 20 Jan 1925)
Park, Ora Alice Hicks (b. 22 Feb 1872 - d. 17 May 1949)
Park, William Ervin (b. 28 Feb 1874 - d. 1 Jul 1959)
Phillips, Foley (b. 20 Sep 1919 - d. 9 Jun 1938)
Poore, William A. (b. 1 Jun 1851 - d. 2 Mar 1925)
Ragan, Patricia Angela Wright (b. 2 Oct 1951 - d. 12 Nov 1971)
Riggan, Jackson Willis, Jr (b. 13 Mar 1921 - d. 20 Apr 1946)
Seay, Larry David (b. 4 Jun 1949 - d. 6 Jun 1949)
Shackelford, Flora May Shipwash (b. 8 Mar 1893 - d. 20 Apr 1926)
Shackelford, Susan Frances Peele (b. 21 May 1861 - d. 29 Jun 1948)
Snow, Betty Louise (b. 12 Dec 1937 - d. 12 Dec 1937)
Snow, David Jack (b. 9 May 1963 - d. 26 Mar 2005)
Snow, Don Mashburn (b. 26 Feb 1947 - d. 18 Mar 1995)
Snow, Flossie Lawrence Jewell (b. 7 Nov 1911 - d. 28 Nov 1993)
Snow, Infant Son (b. unknown - d. 28 Oct 1960)
Snow, Ora J (b. 11 Apr 1905 - d. 29 May 1980)
Snow, William Virgil (b. 4 May 1907 - d. 23 Apr 1997)
Stone, Ada E. Park (b. 17 Nov 1885 - d. 29 Jan 1942)
Stone, Arlis Wade (b. 27 May 1924 - d. 9 Jun 1970)
Stone, Byron Leo (b. 6 Apr 1922 - d. 6 Apr 1922)
Stone, C. Hampton (b. 12 Sep 1865 - d. 5 Sep 1915)
Stone, Charlie Franklin (b. 31 Oct 1878 - d. 17 Aug 1969)
Stone, Edith (b. 17 May 1917 - d. 22 Apr 1921)
Stone, Howard Henderson (b. 26 Apr 1913 - d. 26 Dec 1942)
Stone, Infant Boy (b. 28 Aug 1923 - d. 28 Aug 1923)
Stone, Infant Boy (b. 18 May 1920 - d. 18 May 1920)
Stone, Pauline (b. 15 Mar 1921 - d. 1 Oct 1932)
Stone, Susie Olive Jones (b. 9 Oct 1884 - d. 7 May 1967)
Stone, Walter H. (b. 7 Dec 1880 - d. 27 Mar 1952)
Willard, James T. (b. 22 Jul 1884 - d. 25 Mar 1923)
Willard, M. Lee (b. 6 Jan 1886 - d. 25 May 1918)
Wright, Alice Lenora Park (b. 13 Sep 1867 - d. 1 Feb 1951)
Wright, Annie Reece (b. 1 May 1875 - d. 26 Dec 1972)
Wright, Barbara Jean (b. 10 Dec 1939 - d. 13 Dec 1939)
Wright, Bobby Lee (b. 5 Apr 1943 - d. 16 Apr 1943)
Wright, Charlie Franklin (b. 2 Dec 1873 - d. 19 Oct 1958)
Wright, Ella Mae (b. 12 Nov 1932 - d. 11 Apr 1934)
Wright, Harold Gray (b. 31 Dec 1942 - d. 13 Mar 1943)
Wright, Infant Boy (b. 15 Feb 1915 - d. 27 Apr 1915)
Wright, Joseph Glenn (b. 10 Mar 1900 - d. 7 May 1967)
Wright, Lamie Ray (b. 6 Oct 1935 - d. 4 Dec 1935)
Wright, Laura Jarvis (b. 26 Jul 1883 - d. 17 Nov 1970)
Wright, Mary L. (b. 1 Aug 1932 - d. 27 Aug 1932)
Wright, Priscilla Wright (b. 19 Jan 1886 - d. 12 Jun 1918)
Wright, Raleigh Joseph (b. 24 Feb 1882 - d. 5 Mar 1965)
Wright, Robert Allen (b. 21 Jun 1904 - d. 1 Nov 1963)
Wright, Ruby (b. 21 Apr 1928 - d. 7 Sep 1931)
Wright, Stephen Grant (b. 22 Dec 1876 - d. 5 Jul 1941)
Wright, William Burton (b. 26 Apr 1912 - d. 20 Sep 1962)
Wright, William E. (b. 1865 - d. 18 Dec 1930)
Web page updated 14 July 2016
Index of All Cemeteries
Alphabetical Index of All Burials
Previous Page