Index of All Cemeteries
Alphabetical Index of All Burials
Previous Page
Use the following to search across all the cemeteries listed.
Example: "Smith, Roger" (yes, use the quotes)
183 NEW BETHEL BAPTIST CHURCH CEMETERY - WEST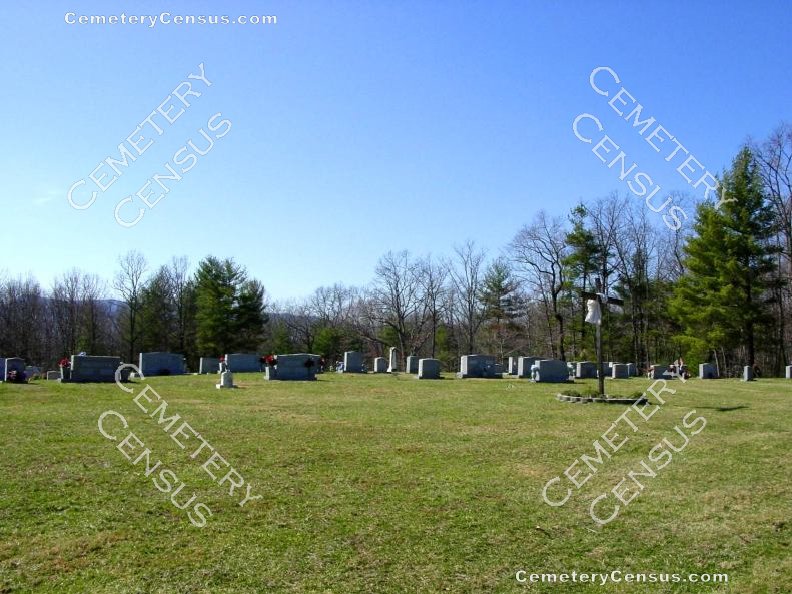 Location - Pipers Gap Rd (SR 1624), Mt. Airy, Surry Co., NC.

Coordinates: 36d 33m 12.7s N; 80d 42m 10.1s W Click here for Google maps

Directions: From intersection of US Hwy 52 N and NC Hwy 89 W (W. Pine St.) in Mt. Airy, go west on NC Hwy 89 for .7 miles to the stop light in Toast. Turn right on N. Franklin Rd (SR 1394) and take the first left on Pipers Gap Rd. Then go 5.4 miles to the south cemetery and church on the right. The west cemetery is across Pipers Gap from the Church.

View of the church. View of the North Cemetery which contains four graves.

Photographed and surveyed by Jack Luffman on November 19, 2010.
Surveyed by Andy Hennis on April 6, 2006.

Also known as: Lambsburg Baptist Church Cemetery.
Township or district: Stewart's Creek.
Public or Private: Public Access.
GPS Accuracy (ft.): 11.
Elevation above sea level (ft.): 1350.


Adame, Delorez Elizabeth (b. 20 Nov 1981 - d. 9 Dec 1981)
Daughter of Lupe and Jenny Golding Adame. Row 10
Wife of Jesse E. Amburn. Married 24 Nov 1958. Row 11
Husband of Ethel S. Amburn. Row 11
Wife of William (Bog) Berrier. Row 5
Husband of Stella E. Berrier. Row 5
Husband of Rachel M. Berrier. Row 5
Wife of Jack G. Berrier. Row 5
Wife of Howard J. Berrier. Row 5
Husband of Anna Rosa Berrier. Row 5
Wife of Jesse F. Blackburn. Row 3
Husband of Gertrude Bobbitt. Row 3
Husband of Erna Jean McCraw Bobbitt. CPL US ARMY KOREA Military marker. Row 6
Wife of Elmer Pose Bobbitt. Row 6
Wife of Edgar Bobbitt. Row 3
Wife of John Daniel Bowman. Row 1
Husband of Edith Mae Bowman. Row 1
Wife of Spencer L. Brewer. Row 3
Wife of Henry Willard "Hank" Bush. Row 2
Husband of Minnie I. Carson. Row 5
Wife of George W. Carson. Row 5
Husband of Stella H. Cleary. Row 10
Wife of Sandy R. Cleary. Row 10
Infant Son of Raymond C. and Kathy P. Edwards. Row 1
Wife of Raymond C. Edwards. Row 1
Husband of Kathy P. Edwards. Row 1
Wife of Rufus G. Frye. Married 3 Mar 1960. Row 4
Husband of Alice V. Frye Two Sons - Gray and Johnny. Row 4
Wife of Harlie S. Golding. Married 1 Nov 1947. Row 7
Wife of James H. Golding. Married 23 Dec 1948. Golding marker. North of Church
Husband of Hazel C. Golding. Row 2
Husband of Peggy S. Quesenberry Golding. Row 5
Husband of Beatrice M. Golding. Row 7
Wife of Emmitt P Golding. Row 2
Wife of Hansel Edward Golding. Daughter of Joe Bill Quesenberry, Sr. and Addis Leftwich Quensenberry. Row 5
Wife of Tony M. Gwyn. Row 12
Wife of Claud Hall. Row 2
Husband of Bessie Hall. Row 2
Wife of William L. Hastings. Row 10
Husband of Mattie P. Hastings. Row 10
Wife of T. Ray Hawks. Row 2
Husband of L. June Hawks. Row 2
Husband of Sallie Mae Hooker. Row 4
Wife of Guy A. Hooker. Row 4
Husband of Toni "Squaw" Wareing Hutchens. Row 8
Wife of Kenneth Wesley "Butterfly" Hutchens. Row 8
SSG US ARMY VIETNAM. Row 3
Son of Michael and Amanda Jenkins. Row 4
Wife of Larry C. Jenkins. Row 2
Husband of Frankie H. Tate Jenkins. Row 2
Wife of Homer Lee "Levi" Lyons. Row 11
Husband of Hilda Bonnise Lyons. Row 11
A Kind Loving and Generous Soul Forever in Our Memories. North of Church
Husband of Mary P. McCraw. Row 4
Wife of Jesse F. McCraw. Row 2
Wife of I. Glenn McCraw. Row 2
Husband of Laura Kathleen McCraw. Row 4
Husband of Ethel S. McCraw. Row 2
Wife of Howard Lee McCraw. Married 8 June 1959. Row 4
Wife of Ewell F. McCraw. Row 2
Wife of Ada McCraw. Row 4
Wife of Shady McCraw. Row 3
Husband of Opal M. McCraw. Sons - Cheryle and Keith. Military marker. Row 3
Husband of Nancy L. McCraw. Row 3
Wife of Merle O. McKinney. Row 9
Wife of James R. Meredith. Row 10
Husband of Berry R. Meredith. Row 10
Wife of Howard S. Norman. Row 5
Husband of Annie T. Norman. NORTH CAROLINA PVT 207 BASE USIT AAF WW-II Military marker. Row 5
Infant Daughter of Mr. and Mrs. Claude Pack. Row 5
Wife of Ralph H. Perry. Row 8
Husband of Dorothy V. Perry. Row 8
Husband of Sheila Snow Riffe. Row 7
Son of Michael C. and Sheila Snow Riffe. Row 7
Wife of Michael C. Riffe. Married 30 Mar 1973. "Sealed for Time and All Eternity - 13 Sept 1975". Row 7
Wife of Timothy G. (Tim) Simpson. Row 1
Husband of Gerlteen McCraw Simpson. Row 1
Wife of Glen A. Smith. Married 2 Oct 1973. Daughter-Nikki Glyn. Row 1
Wife not listed. Married 18 Feb 1972 - Parents of Stephen Harold Smith. Smith marker. US ARMY WW-II KOREA. Row 10
Mother of Thomas H. Snow. Row 5
Husband of Myrtle Irene Snow. SSGT US MARINE CORPS WW-II KOREA Military marker. Row 7
Husband of Nellie H. Snow. Row 6
Wife of James Hoke Snow. Row 7
Wife of Mac B. Snow. Married 12 Nov 1950. Row 6
Husband of Sylvia W. Snow. Row 10
Sister of Sheila Jo Snow. Row 6
Sister to Sharon Annette Snow. Row 6
Wife of Parlie I. Snow. Row 10
Son of Clarice S. Snow. Row 5
Wife of Jerry P. Surratt. Row 3
Wife of Lonnie Bryce Tate. Row 12
Wife of James C. Tate. Row 2
Husband of Dora Edwards "Teadie" Tate. Row 2
Husband of Bessie Irene Toombs Tate. Row 12
Wife of Robert G. Titan. Row 3
Husband of Laura J. Titan. Row 3
Wife of Warren W. Tolbert. Row 4
Husband of Hazel M. Tolbert. Row 4
Funeral Home Marker. Row 2
Funeral Home Marker. Row 7
Wife of J. Harley Venable. Row 8
Wife of Joe B. Venable. Row 8
Husband of Delia P. Venable. NORTH CAROLINA PVT H Q DET RECEPTION CEN WW-II Military marker. Row 8
Husband of Lethia Venable. Row 9
Husband of Eliza J. Venable. Row 8
Wife of James Venable. Row 9
Wife of Wiley Wayne Vernon. Married 16 June 1949. Row 10
Wife of Chester C. Vernon. Row 10
Husband of Carrie B. Vernon. Row 10
Wife of Clyde Melvin Vipperman. Row 4
Wife of James W. Whitt. Row 8
Wife of Wayne Thomas Williams. Row 3
Husband of Nancy Edwards Williams. Row 3
Web page updated 14 July 2016
Index of All Cemeteries
Alphabetical Index of All Burials
Previous Page