Index of All Cemeteries
Alphabetical Index of All Burials
Previous Page
Use the following to search across all the cemeteries listed.
Example: "Smith, Roger" (yes, use the quotes)
167 MOSLEY FAMILY CEMETERY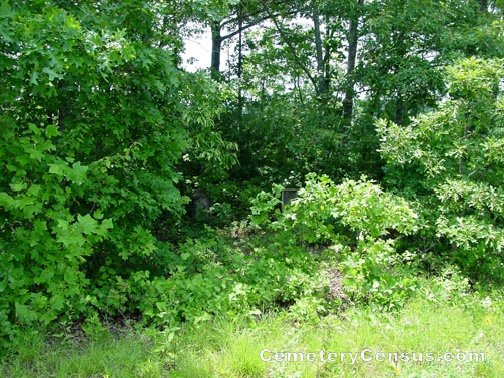 Location - End of East Branch Rd, Mt. Airy, Surry Co., NC.

Coordinates: 36d 28m 01.7s N; 80d 40m 05.3s W Click here for Google maps

Directions: From intersection of US Hwy 52 and US Hwy 601 (Rockford St) in Mt. Airy, go south on US Hwy 601 for 2.2 miles and turn right on McKinney Rd. Stay on McKinney and turn left on the second entrance to West Old McKinney Rd ( a loop road). Follow West Old McKinney Rd a short distance and turn right on East Branch Rd and then go to the gate at the end of the road and park. The cemetery is located in a large field in a grove of trees on private property and is a considerable distance from the gate. Follow path straight in front of the gate for about 275 yards, then bear right on the path for about 300 yards. Then bear slightly left (10 o'clock on the clock face) for about 300 feet to a single grove of trees.

Surveyed by Andy Hennis on June 29, 2006.
Township or district: Mt. Airy.
Public or Private: Private property.
GPS Accuracy (ft.): 12.
Elevation above sea level (ft.): 1225.
Status of cemetery: Abandoned.
Surry County Parcel Number: 5909-00-93-5148.

There are about 20 graves with some unmarked field stones and few marked stones. Nearly all are overgrown with foliage. Stones that can be read or partially read are as follows: James H. Mosley, b. Oct 28, 1836, d. Dec 26, 1900; Rebecca W. Mosley, b. Nov 13, 1845, d. Jan 28, 1897; Margret J. Peele, b. Aug 1, 1850, d. Mar 17, 1898; and an illegible stone with the following T. (F. or E.) Shackl???? (Shackleford?).


Mosley, James H. (b. 28 Oct 1836 - d. 26 Dec 1900)
Husband of Rebecca W. Mosley

Mosley, Rebecca W. (b. 13 Nov 1865 - d. 28 Jan 1897)

Peele, Margret J. (b. 1 Aug 1850 - d. 17 Mar 1898)

Shackelford, T. E. (b. 26 Jul 1806 - d. 19 Feb 1898)
Web page updated 14 July 2016
Index of All Cemeteries
Alphabetical Index of All Burials
Previous Page