Index of All Cemeteries
Alphabetical Index of All Burials
Previous Page
Use the following to search across all the cemeteries listed.
Example: "Smith, Roger" (yes, use the quotes)
157 LITTLE VINE PRIMITIVE BAPTIST CHURCH CEMETERY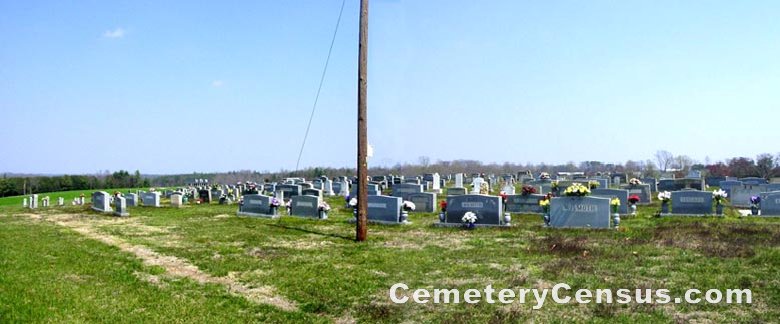 Location - Zephyr Rd, Dobson, Surry Co., NC.

Coordinates: 36d 23m 46.1s N; 80d 44m 56.6s W Click here for Google maps

Directions: From intersection of Main St and Kapp St (Old Courthouse Square) in Dobson, go west on Kapp St (changes to Zephyr Rd) for 1.6 miles and cemetery and church will be on the right.

View of the church.

Surveyed by Andy Hennis on April 6, 2006.
Township or district: Dobson.
Public or Private: Public Access.
GPS Accuracy (ft.): 11.
Elevation above sea level (ft.): 1255.

Burials survey in July 2012.


Akers, Edsel (b. 14 Mar 1946 - d. 1 Jan 1972)
Baker, Daniel Hubert (b. 5 Oct 1891 - d. 7 May 1974)
Baker, Rosa H Hicks (b. 26 Feb 1890 - d. 9 Nov 1940)
Beamer, Andrew Jackson "Andy" (b. 30 Oct 1856 - d. 19 Jul 1933)
Beamer, Edd Richard (b. 4 Apr 1902 - d. 10 Jul 1962)
Beamer, Jacob E. (b. 12 Jan 1912 - d. 28 Dec 1939)
Beamer, Lavora E. Riggan (b. 30 Mar 1874 - d. 25 Feb 1949)
Beamer, Marie (b. 11 Mar 1939 - d. 21 Dec 1939)
Beamer, Martha Annie Hodges (b. 15 Mar 1905 - d. 20 May 1999)
Beamer, Richard Brady (b. 11 May 1875 - d. 10 Mar 1949)
Beamer, Susan A. Freeman (b. 7 Oct 1870 - d. 27 Dec 1943)
Bennett, John Spencer (b. 8 Mar 1957 - d. 2 Jul 1984)
Bledsoe, Debra Childress (b. 18 Sep 1953 - d. 15 Jul 1974)
Blevins, Beverly Ann "Collins" (b. 10 Feb 1963 - d. 30 Apr 2011)
Branch, Betty Lucille (b. 24 Dec 1928 - d. 24 Dec 1928)
Branch, Bobby Jesse (b. 4 Feb 1942 - d. 15 Feb 1942)
Branch, Jess C. (b. 25 Sep 1905 - d. 7 May 1947)
Branch, Johnny Lee (b. 5 Apr 1934 - d. 15 Jan 1936)
Branch, Judy Fay (b. 18 Oct 1950 - d. 29 Dec 1950)
Branch, Myrtle Olene Adams (b. 18 Mar 1926 - d. 7 Sep 1986)
Branch, Nora Bell Hodge (b. 1903 - d. 17 Jan 1929)
Brendle, Jonie White (b. 2 Mar 1905 - d. 13 Jan 1958)
Brindle, James Raeford (b. 26 Jul 1943 - d. 22 Sep 1943)
Brintle, Donald Ray (b. 4 Feb 1939 - d. 17 Feb 1939)
Brooks, Alga Mitchell (b. 27 Aug 1901 - d. 6 May 1939)
Brooks, James H (b. 2 Apr 1864 - d. 3 Mar 1939)
Bryant, Infant Daughter (b. 1 Sep 1935 - d. 1 Sep 1935)
Bryant, Infant Daughter (b. 24 Nov 1928 - d. 24 Nov 1928)
Burton, Mittie C Williams (b. 20 Apr 1898 - d. 4 Sep 1997)
Butcher, Connard E (b. 29 May 1910 - d. 14 Jan 2000)
Butcher, Flora H (b. 8 Sep 1914 - d. 23 Nov 1985)
Butcher, Jewellene (b. 8 Oct 1943 - d. 19 Dec 1943)
Butcher, Larry Woodrow "Woody" (b. 2 Aug 1940 - d. 20 Jan 2010)
Butcher, Mary Jane Hedgecoe (b. 22 Feb 1854 - d. 1 Mar 1942)
Butcher, Shirley Childress (b. 4 Jun 1937 - d. 13 May 2012)
Butcher, Thelma Loree (b. 3 Jun 1935 - d. 12 Sep 1935)
Callahan, Annie Jane (b. 5 Jan 1941 - d. 5 Feb 1941)
Callahan, Betty Callahan (b. 6 May 1891 - d. 10 Jun 1931)
Callahan, Charlie W (b. 27 Dec 1874 - d. 18 Jun 1943)
Callahan, Florence A. (b. 19 Jan 1884 - d. 15 Feb 1962)
Callahan, Herman H (b. 9 Jul 1919 - d. 8 Dec 1952)
Callahan, Infant Daughter (b. 22 Jun 1932 - d. 22 Jun 1932)
Callahan, Infant Daughter (b. 12 Nov 1923 - d. 12 Nov 1923)
Callahan, Infant Daughters (b. 9 Jul 1920 - d. 9 Jul 1920)
Callahan, John Elmer (b. unknown - d. 8 Jan 1917)
Callahan, John Hugh (b. 10 Oct 1878 - d. 27 Feb 1949)
Callahan, John Morgan (b. 4 Nov 1880 - d. 28 Jan 1960)
Callahan, Julie Ann Slaydon (b. 29 Mar 1883 - d. 3 Nov 1940)
Callahan, Mary Ann Gillispie (b. 8 Nov 1905 - d. 17 Oct 1997)
Callahan, Pvt Robert (b. Sep 1844 - d. unknown)
Callahan, Sarah Frances (b. 2 Jul 1852 - d. 31 Dec 1932)
Callahan, Stella (b. 12 Aug 1917 - d. 13 May 1923)
Callahan, Stella Lee Williams (b. 26 Jun 1890 - d. 12 Nov 1923)
Callahan, William Edgar (b. 29 Oct 1908 - d. 6 Jan 1982)
Carpenter, Mattie (b. 30 Aug 1881 - d. 2 Mar 1963)
Cave, Cinda L (b. 12 Apr 1878 - d. 19 Jul 1958)
Cave, Dorothy Vernice Marsh (b. 1 Jun 1922 - d. 14 Mar 1975)
Cave, Ethie Smith (b. 12 Dec 1836 - d. 8 Dec 1919)
Cave, Jacob Reuben (b. 22 Aug 1871 - d. 18 Dec 1954)
Cave, James Ell (b. 4 Dec 1891 - d. 29 Sep 1959)
Cave, James M (b. 1957 - d. 1988)
Cave, James M (b. 13 Oct 1859 - d. 20 May 1921)
Cave, John (Pvt.) (b. - d. )

Cave, John T (b. 24 Dec 1876 - d. 25 Oct 1958)

Cave, Lillie Mary Mitchell (b. 26 Jul 1893 - d. 19 Jan 1952)

Cave, Martha E. McGee (b. Mar 1877 - d. 1918)

Cave, Mary Elizabeth Jones (b. 28 May 1860 - d. 8 Jun 1914)

Cave, Mary Frances "Mollie" Freeman (b. 22 Jun 1876 - d. 21 Dec 1953)

Cave, Mary Frances Hazelwood (b. 4 Sep 1869 - d. 22 Feb 1957)

Cave, Nettie A (b. 24 Feb 1902 - d. 22 Nov 1907)

Cave, Peggy F (b. 4 Jun 1906 - d. 23 Feb 1907)

Cave, Reuben C (Pvt.) (b. 27 Mar 1833 - d. 15 Nov 1905)

Cave, Ronnie Lee (b. 14 Sep 1952 - d. 17 Oct 1952)

Cave, Spofard (b. 24 Jun 1911 - d. 26 Jul 1994)

Cave, Vander (b. 27 Jul 1890 - d. 17 Aug 1970)

Cave, Victoria (b. 30 Jan 1915 - d. 17 Mar 2001)

Cave, Virda (b. 17 Jul 1891 - d. 12 Jul 1984)

Cave, William Harrison (b. 18 Mar 1893 - d. 25 Jun 1953)

Cave, William P. (b. 21 Oct 1866 - d. 26 Jun 1927)

Clifton, Green (b. 12 Aug 1856 - d. 1 Jun 1931)

Clifton, Nancy Rakes (b. 21 Jun 1855 - d. 26 Nov 1932)

Coalson, John Jackson (b. 1849 - d. 17 Mar 1945)

Collins, Claron (Rev.) (b. 29 Aug 1921 - d. 23 Feb 1998)

Collins, John Wesley (b. 13 Apr 1870 - d. 4 Feb 1947)

Collins, Nada White (b. 9 Aug 1923 - d. 7 May 1993)

Collins, Sallie Hedgecoe (b. 22 Nov 1858 - d. 6 May 1938)

Corder, Thomas (b. 30 Jun 1876 - d. 21 Oct 1942)

Creed, Nathan (b. 28 Dec 1849 - d. 5 Oct 1929)

Creed, Susan Hicks (b. 5 Apr 1860 - d. 5 Jun 1936)

Crissman, Mallory Martin (b. 1 Aug 1916 - d. 14 May 1973)

Crissman, Sheila Elizabeth Marion (b. 27 Mar 1917 - d. 18 Feb 1999)

Draughn, Aaron Frank (b. 20 Aug 1908 - d. 7 Jun 1975)

Draughn, Addie Lorene Wood (b. 20 Sep 1915 - d. 25 Jul 1966)

Edwards, Berry Ebin (b. 4 Mar 1883 - d. 19 Jan 1954)

Edwards, Dorothy Virginia Farmer (b. 24 Jan 1924 - d. 22 Jun 1991)

Edwards, Ethel Odessa (b. 18 Sep 1905 - d. 2 Mar 1962)

Edwards, John Madison (b. 15 Sep 1905 - d. 20 Mar 1962)

Edwards, Mick (b. 3 Apr 1927 - d. 24 Jan 1929)

Edwards, Susan Alice Wood (b. 3 Jan 1893 - d. 20 Jul 1949)

Elmore, Vista Sue (b. 14 Sep 1943 - d. 30 Mar 1996)

Finney, Dessie B (b. 23 May 1916 - d. 16 Nov 1991)

Finney, Fred G (b. 3 Mar 1903 - d. 9 Jun 1983)

Fowler, Infant Son (b. 26 Apr 1916 - d. 27 Apr 1916)

Fowler, John Henry (b. 12 Aug 1901 - d. 27 Apr 1965)

Fowler, Myrtle Cave (b. 29 Dec 1929 - d. 1 Sep 2011)

Freeman, Early Thomas (b. 23 Feb 1888 - d. 30 Jul 1948)

Freeman, Izetta Holyfield (b. 10 Feb 1875 - d. 1 Jan 1944)

Freeman, James Emory (b. 9 Sep 1893 - d. 9 Aug 1938)

Freeman, Joe David (b. 12 Jun 1873 - d. 14 Jul 1942)

Freeman, Lonzo O (b. 20 Apr 1916 - d. 23 Jun 1929)

Freeman, M. Sanford (b. 15 Mar 1901 - d. 21 May 1968)

Freeman, Martha Luemmie Snow (b. 30 Mar 1904 - d. 29 Apr 1979)

Freeman, Mary Ann Cave (b. 11 Jun 1874 - d. 4 Jan 1958)

Freeman, Paul Wendell (b. 27 Sep 1911 - d. 17 Nov 1974)

Freeman, Ruby White (b. 7 Nov 1923 - d. 3 Mar 1971)

Freeman, Vena White (b. 29 Jul 1920 - d. 6 Jun 1953)

Freeman, Wilburn (b. 4 Nov 1924 - d. 19 Jan 1925)

Fulk, Charlie Claborn (b. 7 Mar 1892 - d. 11 Feb 1962)

Garner, Dennis Tracy (b. 20 Sep 1942 - d. 20 Sep 1942)

Gillespie, Annie Adeline Marsh (b. 21 Oct 1882 - d. 28 Apr 1937)

Gillespie, Grover Cleveland (b. 17 Apr 1907 - d. 10 Jan 1944)

Gillespie, Henry Jacob (b. 6 Jun 1876 - d. 30 Nov 1920)

Gillespie, James Byrd (b. 10 Mar 1897 - d. 18 Oct 1970)

Gillespie, James Gray (b. 28 Mar 1881 - d. 20 Dec 1958)

Gillespie, John Wilson (b. 8 Oct 1874 - d. 24 Jun 1937)

Gillespie, Martha E (b. 9 Sep 1906 - d. 25 Mar 1980)

Gillespie, Martha Ellen White (b. 15 May 1881 - d. 1 Apr 1940)

Gillespie, Mary C. Beamer (b. 26 Nov 1847 - d. 8 Mar 1921)

Gillespie, Metter Hedgecoe (b. 1 May 1895 - d. 18 Nov 1965)

Gillespie, Richard Gilbert (b. 1924 - d. 2011)

Gillespie, Samuel Richard (b. 6 Feb 1891 - d. 13 Sep 1970)

Gillespie, Shepherd B (b. 18 Jun 1919 - d. 26 Dec 1967)

Gillispie, James T. (b. 3 Dec 1848 - d. 11 Nov 1921)

Gillispie, John (b. 8 Oct 1874 - d. 24 Jun 1937)

Gillispie, Matilda Lougene (b. 28 Jul 1941 - d. 15 Aug 1941)

Gillispie, Mazie Matilda Wilmoth (b. 27 Mar 1879 - d. 2 Apr 1975)

Gillispie, Thelma Cave (b. 2 Jul 1921 - d. 1 Feb 1947)

Gravely, Thelma Ethel Hudson (b. 5 Jan 1923 - d. 23 Jul 2007)

Griffin, Kenneth Wayne (b. 11 Nov 1947 - d. 18 Nov 1966)

Grose, Sidney "Pa" (b. 10 May 1943 - d. 12 Oct 2005)

Hamby, Dovie Moore (b. 30 Oct 1914 - d. 11 Mar 2007)

Hamby, Sidney McCree (b. 13 Apr 1915 - d. 6 Apr 1965)

Harris, Ruffin (b. 16 May 1866 - d. 23 Jul 1940)

Hayes, Claude Monroe (b. 10 Feb 1912 - d. 15 Feb 1959)

Haynes, Etta Hamlin (b. 23 Sep 1892 - d. 15 Jan 1974)

Haynes, John W. (b. 15 Oct 1854 - d. 4 Jun 1934)

Haynes, Mollie Luvada (b. 15 Jun 1885 - d. 12 Apr 1919)

Haynes, Sarah Frances Wilmoth (b. 24 Feb 1852 - d. 26 Aug 1920)

Haynes, William H. (b. 2 Sep 1889 - d. 13 May 1953)

Hazelwood, Austin (b. May 1909 - d. 6 Apr 1933)

Hazelwood, Austion (b. 1900 - d. 1924)

Hazelwood, Avery Harden (b. 8 Dec 1920 - d. 15 Oct 1961)

Hazelwood, Clarence R (b. 25 May 1932 - d. 11 Nov 1998)

Hazelwood, Eldora Creed (b. 6 May 1884 - d. 27 Nov 1969)

Hazelwood, Infant Daughter (b. 15 Mar 1929 - d. 15 Mar 1929)

Hazelwood, Jackie Dean (b. 28 Dec 1946 - d. 18 Sep 1951)

Hazelwood, John William Richard (b. 20 Jun 1884 - d. 9 May 1965)

Hazelwood, Paul J (b. 9 Jun 1935 - d. 12 Feb 1998)

Hazelwood, Pearl S (b. 2 Aug 1907 - d. 21 Aug 1988)

Hazelwood, Robert Andrew (b. 21 Dec 1937 - d. 23 Dec 1937)

Hazelwood, Robert M (Bobby), Jr (b. 21 Jul 1940 - d. 13 Feb 1998)

Hazelwood, Ted (b. 10 Apr 1912 - d. 10 Oct 1999)

Hazelwood, Winford Rudolph (b. 28 Apr 1922 - d. 27 Apr 1940)

Hedgecoe, Franklin Jackson (b. 6 Mar 1901 - d. 6 Nov 1966)

Hendricks, Harvey G (b. 26 Mar 1935 - d. 10 Dec 1992)

Hodges, Amelia Elizabeth Marion (b. 18 Feb 1898 - d. 5 Aug 1980)

Hodges, Bettie Jane White (b. 2 Dec 1878 - d. 22 Feb 1960)

Hodges, Charles Ray (b. 4 Aug 1945 - d. 11 Mar 1946)

Hodges, Cora Savannah Nichols (b. 20 Oct 1899 - d. 8 Oct 1970)

Hodges, David King (b. 1 Mar 1874 - d. 9 Sep 1966)

Hodges, Elector (b. 14 Jul 1904 - d. 21 Jan 1999)

Hodges, Infant Daughter (b. 12 May 1927 - d. 12 May 1927)

Hodges, James Samuel (b. 12 Mar 1878 - d. 26 Sep 1955)

Hodges, Johnny M. (b. Mar 1917 - d. 17 Feb 1919)

Hodges, Lillie Branch (b. 22 May 1884 - d. 9 Nov 1966)

Hodges, Matilda Frances Marion (b. 24 Sep 1869 - d. 29 Jun 1937)

Hodges, Richard Pless, Sr (b. 29 Apr 1901 - d. 1 Mar 1988)

Holder, Douglas Cleve (b. 22 Dec 1915 - d. 5 Mar 2011)

Holyfield, Rubin Jasper (b. 7 Jan 1937 - d. 5 Apr 1959)

Hooker, Bobbie Jean (b. 25 Feb 1955 - d. 18 Mar 1974)

Hooker, Ila Mae Holt (b. 11 Aug 1908 - d. 13 Nov 2003)

Hooker, William McKinley (b. 28 Feb 1904 - d. 7 Mar 1953)

Hudson, Ambrose Jackson (b. 12 Aug 1886 - d. 29 Dec 1968)

Hudson, Infant Son (b. 31 Oct 1923 - d. 31 Oct 1923)

Hudson, John R. (b. 2 Apr 1887 - d. 15 Oct 1936)

Hudson, Lonnie Ray (b. 13 Dec 1944 - d. 20 Apr 2004)

Hudson, Mallie Creed (b. 6 Apr 1893 - d. 1 Sep 1941)

Hudson, Pinkney Aaron (b. 17 Oct 1914 - d. 20 Oct 1923)

Hudson, Roy (b. 22 Feb 1922 - d. 12 Jun 1923)

Hutchens, Lustry Elizabeth White (b. 8 Mar 1891 - d. 14 Dec 1958)

Hutchens, Mary Emma (b. 11 Dec 1934 - d. 12 Feb 1935)

Hutchins, C B (b. 9 Jun 1893 - d. 27 Jun 1954)

Hutchins, Ella (b. 28 Mar 1891 - d. 1975)

Jenkins, Debbie Margaret Wood (b. 29 Oct 1894 - d. 12 Feb 1974)

Jenkins, Hiram Winfield (b. 31 Jul 1889 - d. 17 Aug 1962)

Jenkins, Howard (b. 14 Feb 1919 - d. 28 Oct 1990)

Jenkins, Thelma S (b. 5 Nov 1932 - d. 21 Dec 2002)

Johnson, Carl (b. Jun 1918 - d. 3 Dec 1920)

Johnson, Dorothy (b. 18 Nov 1922 - d. 11 Apr 1923)

Johnson, Joseph Earlie (b. 11 Nov 1894 - d. 31 Aug 1966)

Jones, Flora Ardella Marsh (b. 9 May 1896 - d. 4 Dec 1963)

Jones, Jack (b. Jun 1920 - d. 16 Dec 1922)

Jones, Jack (b. Jun 1920 - d. 16 Dec 1922)

Jones, Mittie Callahan (b. 16 Jan 1927 - d. 18 Jan 2000)

Jones, Troy A (b. 28 Nov 1928 - d. 18 Feb 2000)

Jordan, John (b. 10 Nov 1856 - d. 25 Dec 1951)

Jordan, John William (b. 10 Nov 1855 - d. 25 Dec 1951)

Keys, Myrtle Dillon (b. 1897 - d. 1970)

Linville, Barry Jackson (b. 15 Oct 1900 - d. 27 Dec 1966)

Linville, Claircy Wall (b. 3 Jun 1864 - d. 4 Feb 1946)

Linville, James Robert (b. 15 Jul 1872 - d. 18 May 1975)

Linville, Laura Marsh (b. 30 Jun 1880 - d. 19 Aug 1966)

Linville, William Henry (b. 6 Mar 1863 - d. 30 Mar 1953)

Love, Sarah Bidnesa Love (b. 12 Jun 1861 - d. 18 Apr 1939)

Marion, Cornelius Hampton (b. 4 Apr 1860 - d. 23 Sep 1942)

Marion, Hiram Franklin (b. 5 Dec 1914 - d. 6 Oct 1951)

Marion, J. W. "Bud" (b. 1870 - d. 10 Nov 1930)

Marion, Joel Monroe (b. 23 Jul 1924 - d. 22 Mar 1974)

Marion, Mary S (b. 15 Nov 1929 - d. 25 Feb 2006)

Marion, Mittie Cave (b. 2 Jan 1904 - d. 21 Dec 1943)

Marion, Nancy Ann Cave (b. 7 Dec 1866 - d. 22 Jan 1937)

Marion, Robert Jackson (b. 14 Sep 1912 - d. 3 Nov 1917)

Marion, Roy Dean (b. 14 Jul 1938 - d. 4 Apr 1959)

Marsh, Ben H. (b. 16 Oct 1893 - d. 24 Oct 1944)

Marsh, Kelly F. (b. 14 Jun 1916 - d. 2 May 1932)

Marsh, Leota Mary Payne (b. 24 Apr 1897 - d. 3 Apr 1972)

Marsh, Martha Elizabeth Cave (b. 18 Feb 1863 - d. 5 Oct 1940)

Marsh, Ruby Mandy (b. 9 Jul 1911 - d. 29 Nov 1915)

Marsh, William Jackson (b. 4 Jul 1855 - d. 4 Jul 1935)

Marsh, William R (Capt.) (b. 26 Jul 1920 - d. 8 Oct 1974)

Mayes, Betty Jo Widner (b. 3 Mar 1958 - d. 25 May 1984)

McGee, James Lemuel (b. 25 Apr 1845 - d. 6 Apr 1936)

McGee, Nancy E. Stanley (b. May 1847 - d. 1914)

Mitchell, Betty Frances Hanes (b. 23 Nov 1880 - d. 14 Oct 1963)

Mitchell, Dillard (b. 18 Mar 1866 - d. 18 Dec 1933)

Mitchell, George (b. 31 May 1903 - d. 13 Jan 1974)

Mitchell, Infant Daughter (b. 15 Jul 1930 - d. 16 Jul 1930)

Mitchell, John Henry (b. 28 May 1896 - d. 22 Dec 1961)

Mitchell, John Sherman (b. 26 Jun 1891 - d. 24 Apr 1951)

Mitchell, Lucy Ellen Hodges (b. 4 Jul 1891 - d. 5 Oct 1951)

Mitchell, Mollie Davis (b. 15 Mar 1860 - d. 30 Dec 1945)

Mitchell, Sally (b. 7 Sep 1868 - d. 14 May 1955)

Mitchell, Sandy (b. 5 Mar 1868 - d. 19 Aug 1942)

Mitchell, Warren (b. 10 Nov 1920 - d. 27 Mar 1921)

Mitchell, Welborn Howard (b. 12 Aug 1923 - d. 3 Jan 1924)

Molina, Alma Callahan (b. 19 Jul 1921 - d. 17 Sep 1979)

Molina, Raymond Edgar (b. 15 Jul 1916 - d. 10 Jan 2010)

Molina, Shirley Mae Hutchens (Mrs.) (b. 1 Mar 1954 - d. 16 Jun 2006)

Money, Lucy Frances Wilmoth (b. 2 May 1893 - d. 30 Mar 1967)

Moore, Ezekiel Franklin (b. 16 May 1909 - d. 22 Apr 1988)

Moore, Laura Jane Wilmoth (b. 14 May 1876 - d. 4 Feb 1963)

Moore, Myrtle Callahan (b. 15 Aug 1912 - d. 10 Aug 2000)

Moser, Curtis Oliver (b. 12 Sep 1954 - d. 15 Jan 1972)

Moser, Lera Pilson (b. 11 May 1912 - d. 16 Feb 1974)

Moser, Nancy E. "Nannie" Gillespie (b. 26 Aug 1882 - d. 7 Feb 1957)

Moser, Taft William (b. 24 Nov 1908 - d. 8 Sep 1976)

Moser, Terey E. (b. 24 Oct 1904 - d. 6 Apr 1907)

Murphy, Billie June (b. 5 Mar 1925 - d. 24 Apr 1939)

Nations, America Emily Mitchell (b. 4 Mar 1893 - d. 4 Feb 1972)

Nichols, Betty Gray (b. 9 Apr 1936 - d. 13 Apr 1936)

Nichols, Flora Hodges (b. 28 Mar 1905 - d. 1 Oct 1985)

Nichols, Henrietta Lawrence Linville (b. 15 Jun 1872 - d. 4 Mar 1955)

Nichols, Infant Daughter (b. 13 Apr 1933 - d. 13 Apr 1933)

Nichols, Myrtle Magaline (b. 26 May 1935 - d. 31 Jul 1935)

Nichols, Vada White (b. 1883 - d. 30 Oct 1926)

Nichols, Walter (b. 8 Aug 1902 - d. 6 May 1974)

Nichols, William Banner (b. 14 Feb 1874 - d. 24 Nov 1951)

Nixon, Matilda Hodge (b. 13 Jan 1882 - d. 4 Apr 1972)

Norman, Annie (b. 22 Feb 1914 - d. 13 Feb 1919)

Norman, Gertrude (b. 15 Feb 1919 - d. 12 Jun 1919)

Norman, Sara Ellen Freeman (b. 1883 - d. 15 Feb 1919)

Payne, Ben Gable (b. 15 Oct 1900 - d. 1 Jul 1946)

Payne, Charles W. (b. 3 Jun 1944 - d. 1 Jun 1961)

Payne, Janice Katrina (b. 19 Oct 1950 - d. 20 Nov 1950)

Payne, Jenette Ilmira Wood (b. 1 Jan 1904 - d. 19 Jun 1964)

Payne, John Martin (b. 19 Apr 1906 - d. 8 Oct 1962)

Payne, Michael (b. 6 Jul 1949 - d. 9 Oct 2009)

Payne, Robert M (b. 25 Jan 1963 - d. 12 Feb 1963)

Payne, William Manley (b. 11 Mar 1904 - d. 4 Oct 1948)

Potts, Lola Smith (b. 29 May 1907 - d. 24 Feb 1983)

Potts, Marvin William (b. 23 Apr 1912 - d. 14 Jan 1982)

Rector, Ola M Hendricks (b. 22 Dec 1919 - d. 11 Jul 2000)

Riggans, Infant Daughter (b. 25 Sep 1930 - d. 26 Sep 1930)

Riggans, J D (b. 6 Feb 1936 - d. 5 Nov 1953)

Riggs, Pleasant Wade (b. 20 Jan 1872 - d. 11 Feb 1953)

Simmons, James Riley (b. 25 Mar 1873 - d. 25 Dec 1949)

Simmons, Mary Louise Tilley (b. 2 May 1868 - d. 23 Aug 1931)

Simmons, Sallie A. Laster (b. 13 Feb 1879 - d. 28 Jun 1948)

Slaydon, James (b. 2 Apr 1859 - d. 20 Apr 1939)

Slaydon, James (b. 10 May 1926 - d. 7 Mar 1928)

Slaydon, Mary (b. 19 May 1897 - d. 17 Jun 1921)

Slaydon, Robert (b. 14 Sep 1852 - d. 22 Jun 1948)

Slaydon, Sermira Callahan (b. 17 Jun 1860 - d. 1 May 1933)

Smith, Joyce E. Nichols (b. 28 May 1940 - d. 2 Sep 2004)

Snider, Thomas A. (b. 6 Jul 1931 - d. 28 Jul 1936)

Snow, Charles William (b. 14 Dec 1883 - d. 19 Sep 1936)

Snow, Elizabeth Cave (b. 22 Feb 1841 - d. 12 Feb 1919)

Snow, Elmer S (b. 23 Aug 1914 - d. 28 Oct 1954)

Snow, Janet Kaye Gatewood (b. 22 Dec 1945 - d. 31 Dec 2011)

Snow, Jennie I (b. 5 Jan 1914 - d. 22 Jan 1992)

Snow, Lonnie (b. 5 Aug 1901 - d. 4 Feb 1966)

Snow, Lucy Ada Hodges (b. Apr 1910 - d. unknown)

Snow, Minnie Lee (b. 17 Dec 1904 - d. 3 May 1982)

Snow, Ossie Pearl Cave (b. 27 Feb 1909 - d. 1 Apr 2004)

Snow, Peggy Lou (b. 24 Dec 1934 - d. 16 Jun 1974)

Snow, Roy Dean (b. 3 Mar 1949 - d. 18 Oct 1972)

Snow, William Monroe (b. 16 Jan 1911 - d. 18 Oct 1990)

Sprinkle, Culbert Craig (b. 17 May 1915 - d. 12 Sep 1976)

Sprinkle, Jessie Allen (b. 8 Oct 1946 - d. 8 Oct 1946)

Sprinkle, Mary Magdaline "Maggie" Callahan (b. 28 Mar 1917 - d. 22 Mar 1952)

Stanley, Dora L. (b. 13 Sep 1910 - d. 28 Nov 1980)

Stanley, Timothy Jack (b. 24 Sep 1963 - d. 24 Sep 1963)

Stanley, William Edgar (b. 22 Apr 1885 - d. 1 Nov 1968)

Thacker, Richard Byrd (b. 19 Jan 1926 - d. 6 Oct 1950)

Thomas, Joseph Henry (b. 15 May 1887 - d. 15 May 1974)

Tickle, Houston (b. 1853 - d. 20 Jan 1944)

Walker, Rachel A Nichols (b. 12 Jan 1934 - d. 17 Jan 1958)

Wall, John William (b. 1906 - d. unknown)

Wall, Mollie A Payne (b. 1878 - d. 1960)

Wall, W Tom (b. 1871 - d. 1919)

Wall, Woodroe (b. 1918 - d. unknown)

Watson, John Roy (b. 3 Mar 1908 - d. 13 Jan 1999)

Watson, Minnie Mae Williams (b. 20 Apr 1898 - d. 11 Feb 1990)

Watson, Sarah Elizabeth Butcher (b. 26 Jun 1882 - d. 24 Feb 1955)

Watson, William Lacey (b. 16 Jun 1875 - d. 12 May 1949)

White, Billy Sam (Cpl.) (b. 14 Feb 1931 - d. 18 Aug 1979)

White, Cindy Luticia Cave (b. 12 Nov 1900 - d. 14 Aug 1962)

White, Clyder Edward (b. 17 Oct 1919 - d. 28 Mar 1989)

White, Glenn (b. 17 Nov 1922 - d. 4 Mar 1923)

White, Herman Leonard (Cpl.) (b. 8 Apr 1929 - d. 27 Mar 1992)

White, Hulda Freeman (b. 13 Mar 1897 - d. 19 Dec 1961)

White, James Madison (b. 29 Apr 1876 - d. 7 Sep 1946)

White, Jane (b. 27 Jan 1857 - d. 20 Oct 1945)

White, John (b. 20 May 1929 - d. 20 Sep 1929)

White, John Emory (b. 26 Mar 1890 - d. 22 Aug 1974)

White, Joseph Delbert (b. 28 Sep 1925 - d. 26 Sep 1999)

White, Junior Weldon (b. 14 Dec 1927 - d. 25 Apr 1962)

White, Lillie Victoria Nichols (b. 3 Mar 1871 - d. 21 Jul 1948)

White, Louise (b. 6 Apr 1906 - d. 22 Mar 1949)

White, Mae Jane Hill (b. 17 Aug 1910 - d. 17 Jul 1972)

White, Martha A. (b. 27 Sep 1904 - d. 11 Apr 1916)

White, Mary Bet Nichols (b. 12 Mar 1878 - d. 22 May 1948)

White, Mazie Williams (b. 18 Dec 1895 - d. 31 May 1963)

White, Millard F (b. 1927 - d. 1985)

White, Newton William (b. 2 Aug 1878 - d. 14 Dec 1961)

White, Posey Ann Cave (b. 3 Oct 1897 - d. 25 Jan 1960)

White, Rannie H (b. 9 Sep 1913 - d. 12 Sep 2011)

White, Richard "Dick" (b. Aug 1853 - d. 21 Aug 1921)

White, Robert Elmer "Bob" (b. 3 Oct 1895 - d. 10 Jan 1964)

White, Roy Sanford (b. 28 Nov 1934 - d. 20 Jul 2008)

White, Sarah Jane Mitchell (b. 14 Jun 1872 - d. 14 Oct 1964)

White, William Paul (b. 10 Dec 1918 - d. 20 Jul 1935)

White, William Yancy (b. 21 Aug 1877 - d. 24 Jan 1968)

Whittington, Peggy Lou (b. 6 Feb 1942 - d. 25 Jan 1943)

Widner, Kellus Gene (b. 26 Jul 1945 - d. 12 Apr 1973)

Williams, Grace Love (b. 3 Jan 1896 - d. 23 Dec 1962)

Williams, James Joshua (b. 9 Feb 1834 - d. 5 Oct 1927)

Williams, Nancy Ellen Hudson (b. 1 Oct 1861 - d. 28 Jun 1948)

Williams, Sarah Etta (b. 7 Oct 1885 - d. 25 May 1964)

Williams, Walter Folger (b. 15 Jul 1893 - d. 5 May 1973)

Wilmoth, Byrd (b. 24 Nov 1854 - d. 11 Jan 1930)

Wilmoth, Byrd William (b. 30 Jul 1902 - d. 4 Feb 1968)

Wilmoth, Ezekiel Alfred (b. 8 Mar 1884 - d. 12 Dec 1975)

Wilmoth, John Henry (b. 24 Jun 1899 - d. 12 Jan 1987)

Wilmoth, Laura Roseann Money (b. 9 Jan 1858 - d. 26 Apr 1939)

Wilmoth, Lena Bryant (b. 6 Apr 1886 - d. 12 Apr 1959)

Wilson, Betty Alice (b. 18 Apr 1916 - d. 12 Oct 1917)

Wilson, Florence Savana (b. 7 Mar 1921 - d. 26 Jul 1921)

Wilson, Gilbert Samuel Byrd (b. 22 May 1937 - d. 5 Oct 1937)

Wilson, Herbert Hoover (b. 28 Dec 1929 - d. 5 Jan 1930)

Wilson, Hulda Ann Jones (b. 1856 - d. 13 Nov 1925)

Wilson, Hulda Lurendie (b. 17 Apr 1923 - d. 7 Apr 1924)

Wilson, Infant Son (b. 15 Aug 1921 - d. 15 Aug 1921)

Wilson, James Spencer (b. 9 Jun 1933 - d. 10 Sep 1933)

Wilson, Lillie Savannah White (b. 18 Apr 1897 - d. 29 Oct 1937)

Wilson, Merlie (b. 1932 - d. 20 Jun 1932)

Wilson, Nannie (b. 17 Nov 1873 - d. 27 May 1939)

Wilson, Rosa Ellen Draughn (b. 26 Aug 1904 - d. 31 Dec 1949)

Wilson, Samuel H (b. 21 Aug 1889 - d. 30 Dec 1977)

Wilson, William (b. 15 Jul 1847 - d. 26 Jul 1929)

Wilson, William Lee (b. 31 Dec 1871 - d. 6 Aug 1925)

Wood, Bertha Jewel (b. 27 Jan 1929 - d. 1 Mar 1929)

Wood, Dorcas Lee Cave (b. 20 Oct 1876 - d. 10 Jan 1941)

Wood, Emma Linville (b. 9 Sep 1877 - d. 15 Nov 1959)

Wood, Evelyn White (b. 6 Sep 1899 - d. 2 Oct 1945)

Wood, Henry W. (b. 16 Jun 1872 - d. 6 Nov 1940)

Wood, Infant Daughter (b. 20 Oct 1926 - d. 4 Dec 1926)

Wood, James Robert "Bob" (b. 13 May 1901 - d. 15 Dec 1956)

Wood, John Henry (b. 22 Jul 1874 - d. 20 Sep 1953)

Wood, John Walter (b. 8 Oct 1930 - d. 14 Oct 1930)

Wood, Lella Wood (b. 22 Jul 1874 - d. 24 Dec 1952)

Wood, Linda Faye (b. 8 Apr 1966 - d. 14 Jan 1978)

Wood, Pate (b. 1 Jun 1874 - d. 19 Sep 1949)

Wood, Pete Bradely (b. 6 Oct 1969 - d. 14 Jan 1978)

Wood, Peter (b. 1920 - d. 1998)

Wood, Sallie Jane (b. 12 Dec 1849 - d. 13 Jan 1940)

Wood, Sandy Ross (b. 18 Sep 1874 - d. 3 Jul 1947)

Wood, Virgil (b. 30 Jun 1910 - d. 9 May 1940)

Wood, Wesley (b. 15 Jan 1900 - d. 4 Jul 1974)

Woodring, Tammy June (b. 25 Jun 1962 - d. 7 Sep 1962)

Yarber, Ryan Wayne (b. 22 Sep 1986 - d. 18 Dec 1986)
Web page updated 14 July 2016
Index of All Cemeteries
Alphabetical Index of All Burials
Previous Page