Index of All Cemeteries
Alphabetical Index of All Burials
Previous Page
Use the following to search across all the cemeteries listed.
Example: "Smith, Roger" (yes, use the quotes)
156 LITTLE RICHMOND PRIMITIVE BAPTIST CHURCH CEMETERY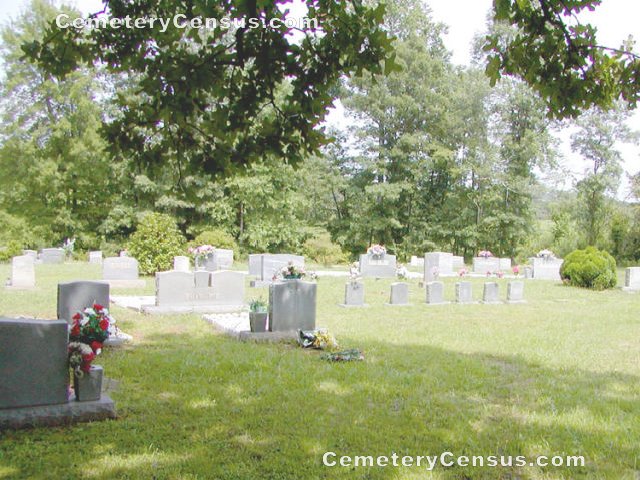 Location - Mt. Herman Ch Rd, Fairview, Surry Co., NC.

Coordinates: 36d 17m 54.7s N; 80d 44m 40.8s W Click here for Google maps

Directions: From intersection of NC Hwy 268 and US Hwy 601 (Fairview Crossroads), go west on Hwy 268 for 2.9 miles and turn left on Mt. Herman Church Rd. Go about .2 mile and church and cemetery will be on the left with cemetery behind the church.

View of the church.

Surveyed by Joe Hicks on October 1, 2006.
Township or district: Marsh.
Public or Private: Public Access.
GPS Accuracy (ft.): 15.
Elevation above sea level (ft.): 1111.
Status of cemetery: Clean and maintained.
Surry County Parcel Number: 4983-00-51-8906.

Surveyed and photographed by Jack Luffman on November 5, 2009. There are several obvious graves with no markers. Added photo in September 2010.


Bennett, Gracie Scales (b. 17 May 1911 - d. 10 Sep 1988)
SGT 554 TRANS TRK CO TC WW II. Row 4
Wife of Winston Boles. Row 4
Husband of Millie Boles. Row 4
Wife of P. H. Boyd. Footstone. (dates don't correlate on stones). Row 4
Husband of Martha Boyd. Row 4
Wife of Lee Chavis. Row 3
Husband of Daisy P. Chavis. Row 3
Husband of Larnell H. Cockerham. Masonic emblem. NC PFC US ARMY KOREA Military marker. Row 9
planted rock dates unclear. Row 11
Wife of R. Laymon Cockerham. Row 3
Wife of Quiler M. Cockerham. Row 9
Wife of W. W. Cockerham. Row 4
NC PVT US ARMY WW I. Row 11
Wife of Artis O. Cockerham. Eastern Star. Row 9
Husband of Effie F. R. Cockerham. Row 9
Husband of Della P. Cockerham. Row 3
NC PFC CO B 384 ENGINEERS WW II. Row 12
Husband of Ellen Martin. Row 4
Wife of William Cropps. Row 14
Husband of Annette R. Cropps. Row 14
Husband of Clara A. Cropps. Row 14
Husband of Helen Davis. married 8 Oct 1947. F1 US NAVY WW II Military marker. Row 2
Wife of Fred Davis Married 8 Oct 1947. Row 2
N. C. PVT US ARMY WW II. Row 13
Wife of Charlie Watson Gentry. Evelyn Gentry Howie daughter standing at the graves of her parents. Mrs. Howie is related to approximately one-third of the people buried at Little Richmond. Row 5
funeral home marker. Row 7
funeral home marker. Row 7
Wife of Nathaniel B. Houser. Row 7
Husband of Margaret H. Houser. Row 7
Husband of Nettie C. Hughes. Row 7
Wife of Joe F. Hughes. Row 7
age 96 (dates don't correlate to age). Row 4
Wife of Roy V. Penn, Jr.. Row 1
Husband of Kathy H. Penn. Row 1
Husband of Stella G. Phillips. Row 5
Husband of Roxie Ann Phillips. Row 5
Wife of Jonas T. Phillips. Row 5
Wife of DeWitt M. Phillips. Row 5
PFC US ARMY WW II KOREA. Row 15
N. C. PVT 346 LABOR BN QMC WW I. Row 15
Wife of Russell Scales. Row 12
Wife of Walter T. Scales. Row 11
N. C. TEC4 537 PORT CO TC WW II. Row 11
Husband of Mabel P. Scales. Row 12
Husband of Mary Alice Scales. Row 11
flower and planted stone. Row 11
funeral home marker. Row 14
funeral homemarker. Row 15
obvious grave but no marker. Row 12
obvious grave but no marker. Row 9
obvious grave but no marker. Row 9
stone labeled C (Probably Cockerham). Row 3
stone labeled C (Probably Cockerham). Row 3
stone labeled C (Probably Cockerham). Row 3
stone labeled C (Probably Cockerham). Row 3
stone labeled C (Probably Cockerham). Row 3
stone labeled C (Probably Cockerham). Row 3
stone labeled C (probably Cockerham). Row 13
stone labeled C (Probably Cockerham). Row 3
Web page updated 14 July 2016
Index of All Cemeteries
Alphabetical Index of All Burials
Previous Page