Index of All Cemeteries
Alphabetical Index of All Burials
Previous Page
Use the following to search across all the cemeteries listed.
Example: "Smith, Roger" (yes, use the quotes)
149 KENNEDY FAMILY CEMETERY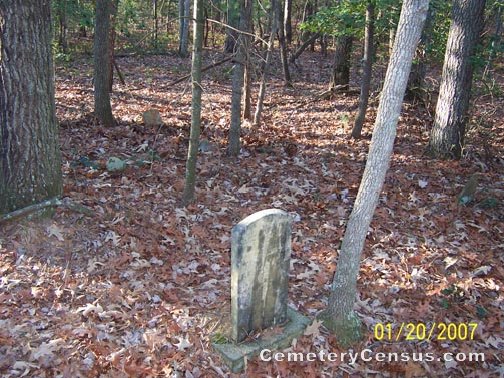 Location - 1830 Mtn Park/Zephyr Rd, Mountain Park, Surry Co., NC.

Coordinates: 36d 22m 01.2s N; 80d 52m 30.2s W Click here for Google maps

Directions: From intersection of Mtn Park Rd and Zephyr Rd in Mtn Park, go west on Zephyr Rd (SR 1315) for 1.4 miles and you will cross a creek. Immediately on the left is a dirt farm lane at 1830 Mtn. Park Rd. Go down that lane for abt .1 mile until you see a red barn on the left and an aluminum covered pack house on the right. As you face away from the red barn there will be some woods and the cemetery is in the woods about 1,000 yards and the cemetery will be located at about 11:00 o'clock as you enter the woods.

View #2 of the cemetery. View of an Unknown grave marker.

Surveyed by Joe Hicks on January 21, 2007.
Township or district: Bryan.
Public or Private: Private property.
GPS Accuracy (ft.): 20.
Elevation above sea level (ft.): 1340.
Status of cemetery: Abandoned.
Surry County Parcel Number: 4945-00-77-6226.

Known occupants are John Kennedy (b. 4-20-1800) and his wife Elizabeth (b. 4-7-1812, d. 2-26-1903); Susan Creed Kennedy (b. abt. 1829, d. 11-15-1903, age 74 - "Sleep Mother Dear and take your rest, God called you home, He thought it best"). The stone is thought to have been prepared by son Churchill Kennedy, Jr (thought to be buried here) who was also married to Susan Creed. One field stone with a date 5-26-1860 carved on it. Has several stone markers and 3 engraved markers. Cemetery is next to Cockerham Family cemetery and some Kennedy family members are buried there.


Kennedy, Churchill, Jr. (b. - d. )
Kennedy, Elizabeth (b. 7 Apr 1812 - d. 26 Feb 1903)

Kennedy, John (b. 20 Apr 1800 - d. )
Husband of Elizabeth Kennedy

Kennedy, Susan Creed (b. Abt 1829 - d. 15 Nov 1903)
age 74 - "Sleep Mother Dear and take your rest, God called you home, He thought it best"
Web page updated 14 July 2016
Index of All Cemeteries
Alphabetical Index of All Burials
Previous Page