Index of All Cemeteries
Alphabetical Index of All Burials
Previous Page
Use the following to search across all the cemeteries listed.
Example: "Smith, Roger" (yes, use the quotes)
145 KORNER'S GROVE PRIMITIVE BAPTIST CHURCH CEMETERY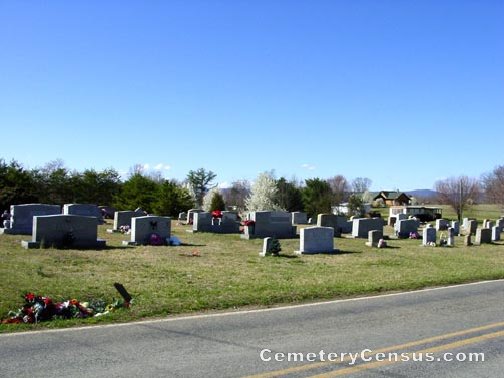 Location - McBride Rd (Flat Rock Community), Mt. Airy, Surry Co., NC.

Coordinates: 36d 32m 09.5s N; 80d 33m 32.0s W Click here for Google maps

Directions: From intersection of Renfro and East Pine St in Mt. Airy, go east on E. Pine St (NC Hwy 103) 2.3 miles and turn left on McBride Rd (there is a Neighbors Convenience store on the right corner). Go 2.1 miles on McBride Rd and the cemetery is on the left. The Church is on the right across McBride Rd from the cemetery.

View of the church.

Surveyed by Andy Hennis on April 6, 2006.

Also known as: Pedigo Cemetery.
Township or district: Mt. Airy.
Public or Private: Public Access.
GPS Accuracy (ft.): 15.
Elevation above sea level (ft.): 1290.

Burials survey in July 2012.


Arnder, Edgar Franklin (b. 21 Dec 1930 - d. 26 Mar 1965)
Arnder, June Faye (b. 2 Jan 1942 - d. 5 Jul 1942)
Arnder, Leila May Jefferson (b. 26 Aug 1915 - d. 3 Jun 2001)
Arnder, Paul James (b. 23 May 1908 - d. 5 Feb 1985)
Arnder, Robert Edgar (b. 20 Apr 1907 - d. 6 Jun 1969)
Arnder, Susan Jathina Gates (b. 17 Jul 1910 - d. 4 Mar 2001)
Arrington, Aldie Roscoe (b. 25 Sep 1916 - d. 17 Oct 1990)
Arrington, Emma Hooker Joyce (b. 21 May 1868 - d. 16 Aug 1931)
Arrington, Myrtice Flippin (b. 21 Sep 1914 - d. 5 Jan 1963)
Beasley, Bettie Elizabeth Beasley (b. 1 Apr 1881 - d. 24 Dec 1961)
Beasley, Calvin Jessie (b. 1 Oct 1911 - d. 22 Jan 1974)
Beasley, Carl Ray (b. 17 Feb 1942 - d. 15 Jul 1942)
Beasley, Elder John Walter (b. 16 Jul 1879 - d. 22 Jan 1967)
Beasley, Grace Mamie Hill (b. 22 Feb 1911 - d. 6 Mar 1992)
Beasley, Harry Lee (b. 19 Dec 1931 - d. 26 Jan 1933)
Beasley, Infant Daughter (b. 12 Jan 1935 - d. 12 Jan 1935)
Beasley, James Arthur (b. 29 Jul 1901 - d. 27 Jan 1967)
Beasley, James L (b. 11 Feb 1917 - d. 15 May 1919)
Beasley, John (b. 18 Nov 1856 - d. 15 Nov 1937)
Beasley, John Vester (b. 20 Sep 1909 - d. 18 Mar 1970)
Beasley, Lewis (b. 16 Feb 1916 - d. 15 May 1919)
Beasley, Lillie Mae Flippen (b. 29 Jul 1910 - d. 3 Mar 2009)
Beasley, Macy M (b. 5 Aug 1933 - d. 2 Feb 1935)
Beasley, Maggie Lee Lawson (b. 29 Aug 1897 - d. 11 Apr 1987)
Beasley, Mamie E. (b. 11 Oct 1926 - d. 4 Aug 1927)
Beasley, Melvin Newson (b. 27 Oct 1905 - d. 11 Apr 1988)
Beasley, Nancy Elizabeth "Babe" Owens (b. 18 May 1858 - d. 27 Mar 1929)
Beasley, Robert Moyer "Bob" (b. 15 Oct 1883 - d. 30 Apr 1920)
Beasley, Samantha Ella Harris (b. 24 Dec 1884 - d. 12 Jan 1941)
Belton, Annie King (b. 8 Jul 1873 - d. 3 Mar 1954)
Belton, Ben McKinley (b. 17 Oct 1897 - d. 9 Feb 1931)
Belton, Bertie Elizabeth Beasley (b. 7 Nov 1907 - d. 3 Nov 1969)
Belton, Elder Johnie Roosevelt (b. 16 Jan 1930 - d. 16 Apr 2011)
Belton, Garland Roosevelt "Rosie" (b. 19 Jul 1905 - d. 14 Mar 1990)
Belton, Hassel Lee (b. Sep 1928 - d. 13 Feb 1931)
Belton, Jimmie Gale (b. 2 Oct 1953 - d. 11 Nov 1953)
Belton, Jo Ann Hawks (b. 23 Jan 1932 - d. 13 Mar 2007)
Belton, L. Caneon (b. 6 May 1903 - d. 31 May 1971)
Belton, Phillip Euel (b. 6 Apr 1866 - d. 29 May 1952)
Bennett, Ethel Mae (b. 26 Sep 1926 - d. 14 Jun 1942)
Bennett, John A. (b. 18 Nov 1858 - d. 28 Oct 1931)
Bennett, Roy L (b. 1 Oct 1912 - d. 2 Dec 1980)
Bennett, Sam (b. 1909 - d. 20 May 1927)
Bobbitt, Norman (b. 8 Mar 1885 - d. 15 Jun 1960)
Bobbitt, Rosie J. (b. 7 Aug 1901 - d. 29 Dec 1965)
Boles, Charlie James (b. 14 Apr 1924 - d. 5 Jun 1997)
Boles, Cora Alice (b. 26 Jun 1883 - d. 15 Sep 1945)
Boles, Joe Franklin (b. 11 Oct 1895 - d. 31 Dec 1961)
Boles, Sadie Parcilla Joyce (b. 9 Dec 1894 - d. 15 Jun 1979)
Boles, Vivie Mae McCreary (b. 5 Mar 1926 - d. 23 Aug 2011)
Bowles, Martha J. Adkerson (b. 1856 - d. 16 Jul 1926)
Bowman, Agnes (b. 8 May 1930 - d. 24 Feb 1934)
Bowman, Billy Gray (b. 12 Nov 1938 - d. 24 Jun 1995)
Bowman, Corby Lee (b. 16 Aug 1912 - d. 2 Dec 1975)
Bowman, Corlet Ray (b. 15 Nov 1915 - d. 5 Mar 1971)
Bowman, Curtis T (b. 19 Oct 1935 - d. 28 Jun 2008)
Bowman, Denny Gray (b. 29 Jun 1959 - d. 11 Nov 1986)
Bowman, Emma (b. 16 Jul 1908 - d. 9 Feb 1964)
Bowman, Ima Maude (b. 26 Apr 1918 - d. 19 Mar 1975)
Bowman, Infant Boy (b. unknown - d. unknown)
Bowman, Jathina Bowman (b. 11 Jul 1875 - d. 21 Jan 1964)
Bowman, Joe (b. 1920 - d. 30 Sep 1931)
Bowman, Lila (b. 17 Jun 1880 - d. 4 Nov 1964)
Bowman, Lonie C (b. 2 Aug 1908 - d. 8 Jun 1985)
Bowman, Lou Ida (b. 14 Jun 1920 - d. 13 Apr 1986)
Bowman, Louella Geraldine Hiatt (b. 31 Jul 1939 - d. 19 Apr 2000)
Bowman, Lynette Denise (b. 2 Aug 1961 - d. 1 Feb 1963)
Bowman, Mary Belle Goins (b. 8 Apr 1897 - d. 31 Aug 2002)
Bowman, Myrtle (b. 8 Sep 1922 - d. 27 Dec 1924)
Bowman, Ruth Bowman (b. 8 Jul 1872 - d. 28 Jan 1944)
Bowman, Shirley D (b. 21 Nov 1941 - d. 29 Mar 2012)
Bowman, Vergie Marie (b. 29 Sep 1914 - d. 6 Jul 2000)
Bowman, William Lee (b. 8 Dec 1897 - d. 10 Dec 1959)
Burkhart, Jack Lonnie, Jr (b. 12 Aug 1950 - d. 3 Jul 1986)
Burkhart, Jason Todd (b. 25 Mar 1976 - d. 16 Nov 2010)
Calloway, Garland Everett (b. 10 Jun 1889 - d. 20 May 1957)
Calloway, Martha Jane Cole (b. 28 Aug 1895 - d. 30 Nov 1963)
Carter, Lucy Ellen Hooker (b. 8 Sep 1878 - d. 31 Jan 1946)
Chandler, Albert Lee (b. 31 Oct 1925 - d. 19 Jan 1965)
Chandler, Archie (b. 12 Jul 1928 - d. 10 Oct 1932)
Cockerham, Alice Atkinson (b. 8 Aug 1914 - d. 12 Aug 1998)
Cockerham, Andy Franklin (b. 12 Jun 1912 - d. 5 Jul 1964)
Cockerham, Benjamin Harrison (b. 24 Mar 1889 - d. 3 Mar 1974)
Cockerham, Fannie E. Fulk (b. 16 Oct 1910 - d. 16 Jul 2002)
Cockerham, Grady Sanders (b. 14 Jun 1915 - d. 24 Oct 1988)
Cockerham, Lula Ida Smith (b. 24 Jan 1888 - d. 16 Jun 1976)
Cole, Daisy M (b. 12 May 1903 - d. 28 Dec 1971)
Cole, George (b. 12 Mar 1899 - d. 1 Dec 1923)
Cole, Infant Girl (b. 31 Jul 1931 - d. 31 Jul 1931)
Cole, James (b. 1858 - d. 1921)
Cole, James Roy (b. 11 Jan 1910 - d. 10 Oct 1939)
Cole, Jim (b. 1857 - d. 7 Aug 1924)
Cole, John (b. 27 Apr 1883 - d. 30 Jan 1966)
Cole, Martha Jane Goins (b. 1862 - d. 1948)
Cole, Reid John, Jr (b. 22 Jun 1929 - d. 30 Dec 1973)
Cole, Reid M (b. 1 Apr 1892 - d. 30 Sep 1952)
Cole, Riedy Martin (b. 1892 - d. 1975)
Cox, Dewey F. (b. 1901 - d. 1947)
Cox, Perry Wilkes (b. 1879 - d. 1947)
Cox, Robert F (b. 1869 - d. 1954)
Cruise, Roger William (b. 14 Jul 1943 - d. 8 Aug 1943)
Davis, Infant Son (b. 2 Sep 1929 - d. 2 Sep 1929)
Deatherage, James Edward (b. 25 Jun 1937 - d. 21 May 1938)
Deatherage, Rebecca Ann (b. 2 Jul 1944 - d. 2 Jul 1944)
Deatherage, Reece Ann Goins (b. 11 Mar 1896 - d. 16 Sep 1938)
Deatherage, Robert Lee (b. 30 Mar 1888 - d. 3 Jun 1942)
DeFrancis, Martha Thurman (b. 26 Jun 1888 - d. 12 Mar 1942)
Draughn, Clarence Paul (b. 14 Aug 1929 - d. 14 Dec 1999)
Draughn, Rachel Irone Williams (b. 26 Jun 1912 - d. 7 Mar 2004)
Draughn, Viola Williams (b. 9 Feb 1908 - d. 30 Jul 1926)
Draughn, William Junior (b. 10 May 1928 - d. 10 May 1928)
Draughn, William Russell (b. 27 May 1905 - d. 27 Nov 1991)
Draughn, William Russell, Jr (b. 10 May 1928 - d. 10 May 1928)
Duncan, Emily (b. 1849 - d. 19 Jun 1942)
Everhart, Rauz William (b. 1859 - d. 2 Feb 1924)
Faw, Edith Faye (b. 23 Jun 1943 - d. 24 Nov 1996)
Faw, Lillian Bowman (b. 30 Mar 1912 - d. 24 Jun 1991)
Faw, Reid Howard (b. 12 Sep 1912 - d. 25 Dec 1989)
Flippen, Joe Taylor (b. 6 Apr 1864 - d. 1 Apr 1960)
Flippen, Pennie Boles (b. 11 May 1876 - d. 9 Oct 1957)
Flippin, Alvin Cecil (b. 3 Jun 1935 - d. 17 May 1972)
Flippin, Curtis Ray (b. 14 Sep 1914 - d. 13 Oct 1992)
Flippin, Delpinnie Elizabeth "Pinnie" Boles (b. 11 May 1876 - d. 9 Oct 1957)
Flippin, Edith Virginia Scott (b. 5 Apr 1906 - d. 15 Mar 1994)
Flippin, Emmitt Melvin (b. 25 Jan 1903 - d. 26 Feb 1983)
Flippin, Infant Boy (b. unknown - d. unknown)
Flippin, Joseph Taylor "Joe" (b. 6 Apr 1864 - d. 1 Apr 1960)
Flippin, Lovill Melvin (b. 17 Jan 1928 - d. 8 Oct 1928)
Flippin, Mandy Elizabeth (b. 30 Jul 1933 - d. 20 Oct 1939)
Flippin, Margaret Syvellon Belton (b. 9 Nov 1927 - d. 13 Apr 1985)
Fulk, Edith Beasley (b. 9 Feb 1921 - d. 11 Mar 1995)
Fulk, J. Frank (b. 15 May 1885 - d. 25 Jun 1968)
Fulk, John Franklin (b. 1 Mar 1919 - d. 24 Oct 1994)
Fulk, John M. (b. 15 May 1857 - d. 6 May 1934)
Fulk, Nancy Freedle (b. 5 May 1856 - d. 5 May 1919)
Fulk, Sallie M. (b. 28 Jun 1892 - d. 7 Sep 1958)
Fulk, Sis Combs (b. 7 Nov 1853 - d. 9 Dec 1938)
Gammons, Abe (b. 27 Apr 1874 - d. 9 Jul 1957)
Gammons, Annie Mae (b. 4 Sep 1923 - d. 2 Oct 1955)
Gammons, Arlys Winfrey (b. 8 Jul 1930 - d. 7 Apr 1932)
Gammons, Billy Abraham (b. 15 Jun 1931 - d. 4 Feb 1962)
Gammons, Dorthy Mae (b. 23 May 1914 - d. 7 May 1931)
Gammons, Effie Flippin (b. 10 Apr 1897 - d. 7 May 1985)
Gammons, Emily Lawson (b. 1878 - d. 13 Oct 1923)
Gammons, Henry Ellis (b. 27 Jul 1902 - d. 15 Feb 1962)
Gammons, Joseph "Joe" (b. 23 Dec 1906 - d. 17 Dec 1977)
Gammons, Lelia Cole (b. 10 Sep 1901 - d. 3 Dec 1977)
Gammons, Louis Ray (b. 18 Jun 1934 - d. 7 Sep 1935)
Gammons, Nancy Hallie (b. 1906 - d. 3 Jan 1984)
Gammons, Posey Lester (b. 14 May 1911 - d. 10 Oct 1943)
Gammons, Ruby Ellen (b. 23 Jul 1942 - d. 8 Apr 1943)
Gammons, Theaters Abe (b. 10 Feb 1899 - d. 17 Sep 1972)
Gammons, Thelemer Irine (b. 16 Nov 1925 - d. 6 Sep 1926)
Gammons, William R. (b. 12 Apr 1919 - d. 10 Aug 1919)
Gates, Alma Virginia (b. 25 Feb 1924 - d. 16 Mar 1924)
Gates, Bertha Utt (b. 8 Apr 1888 - d. 20 Oct 1941)
Gates, Charles Solmon "Charlie" (b. 19 Aug 1858 - d. 13 Dec 1941)
Gates, Clisba Silas (b. 17 Jul 1910 - d. 9 Sep 1993)
Gates, Ida Boles (b. 16 Apr 1882 - d. 12 Jan 1955)
Gates, Infant Girl (b. 27 Apr 1922 - d. 27 Apr 1922)
Gates, Tyler J. (b. 4 Mar 1866 - d. 7 Jan 1942)
Gates, Tyler J. (b. 11 Jan 1924 - d. 19 Jul 1924)
George, Richard Leo (b. 15 Apr 1938 - d. 12 Nov 1979)
Goad, Edward Franklin (b. 5 Jan 1906 - d. 2 May 1982)
Goad, Sarah Nunn (b. 12 Sep 1870 - d. 19 Feb 1962)
Goin, Doskia Ayers (b. 7 Apr 1899 - d. 9 Apr 1974)
Goins, Arthur L (b. 24 Oct 1911 - d. 16 Sep 1968)
Goins, David Allen (b. 27 Sep 1888 - d. 4 Mar 1966)
Goins, Ellen (b. 26 Mar 1886 - d. 19 Nov 1977)
Goins, Harrison Edward (b. 15 Mar 1919 - d. 4 Dec 1937)
Goins, Lonie Byrd (b. 9 Sep 1887 - d. 23 Jan 1991)
Goins, Reid Sanders (b. 22 Mar 1877 - d. 10 Apr 1961)
Goins, Sam A (b. 9 Aug 1884 - d. 4 Mar 1976)
Goins, Vester L (b. 16 Mar 1915 - d. 11 Sep 1989)
Greene, Joseph Ray "Joe" (b. 16 Jun 1948 - d. 14 Jul 2008)
Greene, Mary Frances Boles (b. 22 Apr 1922 - d. 15 Jul 2007)
Greene, Miles Wilson (b. 11 Jul 1944 - d. 10 Jan 1994)
Gunnell, Johnny Walter (b. 27 Apr 1923 - d. 7 Jul 1923)
Gunnell, Nannie Elizabeth Beasley (b. 3 Jun 1886 - d. 21 Jan 1966)
Gunnell, Rufus Samuel "Sam" (b. 29 May 1890 - d. 5 Feb 1977)
Gunter, Nina Lee Hill (b. 19 Sep 1910 - d. 12 Mar 1978)
Gunter, Rufus Layfayette (b. 7 Jan 1921 - d. 28 Nov 1991)
Handy, Ocie Belle (b. 19 Mar 1935 - d. 9 Jan 2002)
Harold, Burney R. (b. 9 Dec 1946 - d. 5 Jan 1947)
Harrell, Alice S. (b. 16 Aug 1928 - d. 11 Jun 2000)
Harrell, Arthur Ott (b. 20 Dec 1890 - d. 4 Jun 1961)
Harrell, Clyde Thomas (b. 14 Jan 1932 - d. 2 Aug 1997)
Harrell, Criss Columbus (b. 27 Nov 1894 - d. 24 Jul 1979)
Harrell, Elmo (b. 23 Mar 1929 - d. 16 Aug 1991)
Harrell, Fannie E, V. (b. 1900 - d. 1976)
Harrell, James (b. 4 Jun 1853 - d. 12 Sep 1923)
Harrell, Jim (b. 12 Feb 1942 - d. 22 Feb 1942)
Harrell, Joseph (b. 1 Apr 1921 - d. 18 May 1969)
Harrell, Lacie H (b. 1 Dec 1904 - d. 14 Oct 1988)
Harrell, Loretta Lynne (b. 6 Oct 1980 - d. 7 Mar 1981)
Harrell, Martha Amburn (b. 11 Dec 1857 - d. 16 Apr 1928)
Harrell, Michael Joseph (b. 28 Oct 1970 - d. 18 May 2008)
Harrell, Tony Clyde (b. 2 May 1963 - d. 15 Feb 1970)
Heath, Mary Ethel (b. 22 Mar 1932 - d. 17 Jan 1933)
Hemmings, Phoebe Young (b. 1911 - d. 2004)
Hensley, Elsie K (b. 11 Mar 1912 - d. 21 Sep 2000)
Hensley, Rosa Vipperman (b. 11 Apr 1890 - d. 3 Sep 1972)
Hensley, Walter (b. 6 Aug 1885 - d. 1 Jun 1971)
Hensley, Willie F (b. 18 Oct 1907 - d. 16 Dec 1983)
Herrell, Charlie Thomas (b. 30 Sep 1888 - d. 12 Jan 1952)
Herrell, James (b. 4 Jun 1871 - d. 12 Sep 1923)
Hiatt, Jesse (b. 1 Apr 1892 - d. 20 Nov 1972)
Hiatt, Mindy (b. 22 Feb 1919 - d. 22 Feb 1997)
Hicks, Herman Taylor (b. 23 Aug 1923 - d. 12 Sep 1994)
Hicks, Millie Payne (b. 23 Dec 1904 - d. 17 Feb 1975)
Hicks, Shirley Ann (b. 27 Jan 1939 - d. 4 May 1939)
Hill, Helen Jane Willard (b. 29 Feb 1953 - d. 5 Aug 1985)
Hill, Sander M (b. 1 Mar 1884 - d. 29 May 1962)
Hill, Stella Virginia (b. 1 May 1917 - d. 16 Dec 2006)
Hill, Susan Moorefield (b. 15 Jul 1884 - d. 27 Aug 1970)
Hill, William Roscoe (b. 31 Dec 1913 - d. 14 Oct 1964)
Hooker, Claud (b. 29 Aug 1916 - d. 9 Jun 1927)
Hooker, Infant Boy (b. 12 Feb 1926 - d. 12 Feb 1926)
Jarrell, John S. (b. 28 Nov 1926 - d. 30 Nov 1926)
Jefferson, Albert (b. 16 Dec 1917 - d. 31 May 1919)
Jefferson, Daniel Edgar (b. 5 Sep 1889 - d. 14 Dec 1987)
Jefferson, Mecie Jane Bouldin (b. 2 Aug 1879 - d. 7 May 1931)
Jefferson, Pearlie Anna Hutchens (b. 26 Jun 1918 - d. 26 Nov 1990)
Jefferson, Rollie Andres (b. 13 Jun 1913 - d. 3 Dec 1914)
Jefferson, Roy (b. 27 Nov 1919 - d. 15 Oct 1979)
Jefferson, Roy Jarvis (b. 20 Sep 1936 - d. 20 Dec 1936)
Jefferson, Vester (b. 27 Nov 1919 - d. 10 Mar 1921)
Johnson, James J. (b. 13 Oct 1916 - d. 13 Dec 1940)
Johnson, Octavia (b. 2 Mar 1927 - d. 12 Feb 1930)
Jones, Anna B. McMillian (b. 17 Jul 1915 - d. 9 Oct 2011)
Jones, Carenia (b. 8 Dec 1907 - d. 17 Jan 1986)
Jones, Charlie Monroe (b. 25 Jan 1876 - d. 14 Jan 1954)
Jones, Everett (b. 21 Aug 1909 - d. 10 Mar 1998)
Jones, Jackelene (b. 21 Jan 1931 - d. 22 Jun 1931)
Jones, Ruth Burkhart (b. 25 Apr 1874 - d. 3 Jul 1952)
Joyce, Emma Hooker (b. 21 Mar 1868 - d. 16 Aug 1931)
Joyce, John B. (b. 8 May 1909 - d. 19 Jan 1984)
Joyce, Melvin Samuel (b. 8 Feb 1906 - d. 16 May 1962)
Joyce, Samuel I (b. 30 Aug 1860 - d. 6 Jun 1927)
King, Curtis Wayne (b. 26 Sep 1947 - d. 10 Nov 2005)
King, Myrtle Irene Combs (b. 11 Jul 1911 - d. 13 Jan 1989)
King, Paul Rufus (b. 8 Apr 1909 - d. 28 May 1982)
Lambert, Georgia C (b. 5 Aug 1923 - d. 24 Feb 2000)
Lawrence, Keith Robert (b. 1 Jul 1935 - d. 29 Jul 1981)
Lawrence, Rita Faye (b. 30 Nov 1961 - d. 30 Nov 1961)
Lawson, Abe Stuart (b. 11 May 1876 - d. 16 May 1950)
Lawson, Catherine (b. 17 Feb 1926 - d. 3 Jun 1927)
Lawson, Dock (b. 23 Apr 1876 - d. 11 Mar 1955)
Lawson, Evelin F. Goin (b. 25 Oct 1875 - d. 24 Jul 1975)
Lawson, Iona P. (b. 17 Mar 1907 - d. 5 Jun 1998)
Lawson, Joseph R. (b. 5 May 1911 - d. 19 Jul 1935)
Lawson, Lula (b. 1 May 1874 - d. 29 Nov 1946)
Ledford, Billie (b. 17 Feb 1936 - d. 26 Mar 1936)
Ledford, Edward F (b. 10 Jun 1889 - d. 1 Nov 1969)
Ledford, Eva Hall (b. 16 Oct 1899 - d. 11 Jan 1960)
Ledford, Hallie L. (b. 3 May 1907 - d. 26 Oct 1920)
Ledford, Henry Solomon "Doc" (b. 1860 - d. 24 Aug 1928)
Ledford, Infant Boy (b. 29 Sep 1922 - d. 29 Sep 1922)
Ledford, Jack (b. 18 Jun 1924 - d. 14 May 1925)
Ledford, James Elmore (b. 2 Jun 1941 - d. 3 Sep 1976)
Ledford, Mary W. (b. 25 Jul 1908 - d. 7 Feb 1959)
Ledford, Ruth Ellen Gammons (b. 27 Jun 1872 - d. 15 Jan 1930)
Ledford, William Henry (b. 3 Sep 1901 - d. 8 Mar 1958)
Leftwich, Jackson Pearly (b. 12 Oct 1904 - d. 14 Dec 1962)
Leftwich, Ollie I. Jones (b. 11 Jul 1907 - d. 9 Jan 1982)
Lynch, Brooksie S (b. 10 Sep 1916 - d. 22 Jul 1995)
Lynch, T. Claude (b. 8 Apr 1910 - d. 18 Apr 1983)
Lynch, T. Worth (b. 26 Aug 1945 - d. 21 Jun 1975)
Mabe, Annie Thomas (b. 1887 - d. 21 Jun 1917)
Marshall, Betty Jean Gammons (b. 7 Apr 1938 - d. 9 Jun 2011)
Martin, George Nathaniel (b. 23 Dec 1863 - d. 8 Jul 1934)
Martin, Laura Savannah Hill (b. 25 May 1866 - d. 23 Feb 1938)
Matthews, Gladys C (b. 6 Sep 1930 - d. 29 Dec 2003)
McBride, Benson Boss (b. 25 Oct 1902 - d. 3 Mar 1947)
McBride, Carl (b. 17 May 1913 - d. 22 Nov 1964)
McBride, Clenard Ray (b. 25 Jun 1944 - d. 20 Nov 1971)
McBride, Gladys Slate (b. 19 Jul 1905 - d. 18 Jun 1982)
McBride, Hattie Mae Young (b. 3 Mar 1914 - d. 27 Jan 2005)
McBride, Infant Son (b. 1 Nov 1946 - d. 1 Nov 1946)
McBride, James Millard (b. 18 Mar 1928 - d. 5 Sep 2010)
McBride, John Edward (b. 2 Feb 1870 - d. 3 Nov 1945)
McBride, Kate Sutphin (b. 6 Sep 1910 - d. 28 Dec 2011)
McBride, Lillie Ann (b. 12 Sep 1899 - d. 16 Dec 1986)
McBride, Louemma Lynch (b. 13 Feb 1874 - d. 2 Jan 1953)
McBride, Mary Norman (b. 20 Apr 1870 - d. 24 Jan 1945)
McBride, Millard Caleb (b. 12 Apr 1904 - d. 11 Nov 1958)
McBride, Orbie Edward "Aubrey" (b. 5 Sep 1933 - d. 31 May 2008)
McBride, Terry R. (b. 13 Mar 1901 - d. 30 May 1966)
McBride, Wade H (b. 1 Oct 1897 - d. 21 Jul 1988)
McBride, William Charlie (b. 30 Jul 1865 - d. 21 Jun 1966)
McHone, Emma Savannah Owen (b. 2 Feb 1864 - d. 12 Sep 1941)
Mondie, Brent E (b. 9 Mar 1958 - d. 9 Mar 1985)
Morrison, Jettie Taylor (b. 4 Jul 1871 - d. 20 Apr 1948)
Morrison, Jim S. (b. 10 Aug 1886 - d. 26 Sep 1937)
Newgent, David (b. 13 Feb 1906 - d. 13 Mar 1920)
Newgent, Infant Boy (b. 12 Aug 1926 - d. 12 Aug 1926)
Newgent, Jessie F. (b. 1922 - d. 1922)
Newgent, Katheryn (b. 1914 - d. 2000)
Newgent, Mary Alice Combs (b. 15 Apr 1887 - d. 14 Aug 1955)
Newgent, Mary Lou (b. 1917 - d. 1991)
Newgent, Rachel Frances Jackson (b. 5 Oct 1852 - d. 3 Jun 1929)
Newgent, William Franklin (b. 12 Jun 1880 - d. 9 Mar 1949)
Nichols, Mary Arlene (b. 21 Aug 1929 - d. 8 Apr 2002)
Niston, Frances Louise (b. 21 Jan 1942 - d. 6 Feb 1942)
Norman, Caleb F. (b. 6 Jun 1879 - d. 11 Jun 1960)
Norman, Daisy Wilkes (b. 13 Jul 1884 - d. 16 Aug 1972)
Nunn, Deborah Sue (b. 15 Feb 1953 - d. 17 Aug 2003)
Nunn, Lucy Ella Gammons (b. 10 Aug 1918 - d. 11 Aug 1991)
Pack, Ellen Heath (b. 14 Jul 1920 - d. 4 Jan 1936)
Pack, Gracie Duncan (b. 15 May 1887 - d. 1 Jul 1957)
Pack, Herbert "Jerry" (b. 28 Oct 1921 - d. 2 Dec 2001)
Pack, James Patterson (b. 8 May 1899 - d. 3 Jun 1992)
Pack, Lillie Maude (b. 12 Oct 1898 - d. 21 Aug 1968)
Pack, William (b. 25 Apr 1890 - d. 31 Mar 1944)
Parker, Infant Boy (b. 4 May 1927 - d. 4 May 1927)
Parker, Minnie Rowena Slate (b. 30 Sep 1898 - d. 1 Jan 1965)
Payne, Clara Jo (b. 9 Aug 1941 - d. 9 Aug 1941)
Payne, Elizabeth (b. 13 Sep 1906 - d. 8 Sep 1926)
Payne, Evelyn Willard (b. 25 May 1922 - d. 31 Jul 1970)
Payne, Frances Phillips (b. 26 Sep 1944 - d. 12 Apr 1999)
Payne, Lula Mae Combs (b. 1 May 1882 - d. 21 Sep 1958)
Payne, Raymond (b. 23 Apr 1919 - d. 5 May 1919)
Payne, Roy (b. 23 Apr 1919 - d. 1 May 1919)
Payne, William "Jack" (b. 12 Oct 1915 - d. 8 Nov 1999)
Payne, William Haywood (b. 9 Jul 1942 - d. 24 Apr 1965)
Payne, William Jack Billy (b. 10 Mar 1882 - d. 3 Jan 1970)
Phillips, Mecie N. (b. 1908 - d. 2001)
Queen, Crancy (b. 1875 - d. 1939)
Queen, Lula (b. 1884 - d. 1947)
Queen, Sidney C. (b. 2 Aug 1900 - d. 14 Jan 1971)
Reynolds, Ella Harrell (b. 20 Apr 1896 - d. 23 Jan 1969)
Reynolds, Emma Pruitt (b. 14 Jul 1893 - d. 4 Sep 1940)
Reynolds, Newell (b. 15 Feb 1857 - d. 11 Feb 1934)
Reynolds, Reid (b. 28 Nov 1888 - d. Sep 1961)
Reynolds, Sarah Pruitt (b. 23 Dec 1870 - d. 6 Jun 1936)
Shaw, Larmie Sawyers (b. 25 Oct 1927 - d. 19 Dec 1968)
Shaw, Randel Jahue (b. 21 Mar 1923 - d. 14 Nov 2002)
Shelton, Birdie U. (b. 18 Aug 1912 - d. 24 Oct 2003)
Shelton, Bryon Sidney (b. 29 Mar 1923 - d. 29 Jun 1979)
Shelton, Esther Thomas (b. 8 Sep 1888 - d. 29 Sep 1997)
Shelton, Glenn W. (b. 19 Jan 1913 - d. 8 Apr 1959)
Shelton, Infant Boy (b. 3 Mar 1922 - d. 11 Mar 1922)
Shelton, Thomas Clifford (b. 29 Apr 1917 - d. 29 May 1989)
Shelton, Will H. (b. 30 May 1881 - d. 12 Dec 1931)
Shinault, Marvin H (b. 17 Mar 1927 - d. 15 Sep 2005)
Shinault, Virginia Deatherage (b. 5 May 1920 - d. 17 Jun 1974)
Short, Infant Boy (b. 20 Dec 1936 - d. 20 Dec 1936)
Short, Infant Boy (b. 31 May 1935 - d. 1 Jun 1935)
Slate, Alex (b. 31 Mar 1864 - d. 9 Jan 1939)
Slate, Eva Williams (b. 26 Oct 1918 - d. 11 May 1970)
Slate, Jim (b. 20 Apr 1911 - d. 30 Aug 1988)
Slate, Lucy E (b. 8 Sep 1878 - d. 31 Jan 1946)
Slate, Ricky A (b. 11 Mar 1956 - d. 4 Nov 1992)
Stephens, John R. (b. 14 Jun 1874 - d. 28 Dec 1960)
Stephens, Rosa Beasley (b. 10 May 1875 - d. 21 Jun 1923)
Stephens, Tesha Rogers (b. 1844 - d. 27 Mar 1924)
Stevens, Claude James (b. 2 Mar 1921 - d. 4 Jun 2002)
Stevens, Leonard (b. 1881 - d. 14 Jan 1934)
Stevens, Lillie Combs (b. 18 Mar 1891 - d. 28 Feb 1963)
Stevens, Nellie C. (b. 10 Oct 1925 - d. 9 Nov 2006)
Stevens, Rosa Lee Harris (b. 4 Dec 1881 - d. 23 Mar 1969)
Stevens, William Preston (b. 24 Dec 1871 - d. 26 Jan 1947)
Stewart, Zuby Chandler (b. 31 Mar 1901 - d. 9 Apr 1981)
Summers, Earl R (b. 4 Jul 1927 - d. 4 Jun 1987)
Thomas, Eliza White (b. 25 Apr 1856 - d. 17 Apr 1929)
Thomas, John T. (b. 17 Apr 1843 - d. 8 Dec 1924)
Thomas, Lee Roy (b. 14 Feb 1945 - d. 21 Oct 1945)
Thomas, Levi Samuel (b. 5 Nov 1934 - d. 16 May 1935)
Thomas, Nathan (b. 1871 - d. 18 Nov 1936)
Throckmorton, George Washington (b. 24 Jun 1905 - d. 27 Jan 1984)
Throckmorton, J. Henry (b. 16 Jun 1915 - d. 5 Feb 1939)
Throckmorton, Letty Jane Bowles (b. 10 Feb 1880 - d. 7 Jan 1956)
Throckmorton, Mossie Combs (b. 23 Sep 1910 - d. 30 Jan 1985)
Throckmorton, Robert Thomas "Bob" (b. 24 Feb 1868 - d. 20 Mar 1947)
Throckmorton, Robert Tom (b. 9 Apr 1910 - d. 12 Jun 1944)
Tickle, Danny Ray (b. 24 Nov 1954 - d. 27 Nov 1954)
Tickle, Franklin Howard (b. 24 Jun 1913 - d. 6 May 1965)
Tuggle, Jim (b. 1891 - d. 19 Jun 1941)
Turner, Hazel C (b. 13 Mar 1916 - d. 21 Mar 1993)
Weatherspoon, Archie (b. 12 Oct 1857 - d. 23 May 1946)
Weatherspoon, Mynerva Shelton (b. 6 Nov 1860 - d. 5 Aug 1948)
Weddle, Bertha Ardella Horton (b. 5 Sep 1905 - d. 8 Feb 2001)
Weddle, John Daniel (b. 25 Oct 1887 - d. 26 Feb 1972)
Westmoreland, Pansy Everhart (b. 21 May 1934 - d. 8 Sep 1975)
Whitaker, Curtis H (b. 19 Aug 1920 - d. 9 Nov 1995)
Whitaker, Hattie V. (b. 2 Jan 1918 - d. 26 Sep 1990)
Willard, Deborah A (b. 28 Nov 1950 - d. 3 Feb 2003)
Williams, Elsie (b. 25 Feb 1907 - d. 13 Feb 1938)
Williams, Ida Beasley (b. 16 May 1877 - d. 24 Apr 1939)
Williams, Ida Mae Overby (b. 19 Oct 1903 - d. 10 Jul 1941)
Williams, James Roma (b. 14 Apr 1899 - d. 2 Aug 1982)
Williams, John E. (b. 6 Jul 1870 - d. 7 Aug 1927)
Williams, Martha (b. 17 Mar 1887 - d. 2 Aug 1944)
Williams, Martha Jane (b. 21 Sep 1903 - d. 30 Apr 1980)
Williams, Sam (b. 10 Sep 1903 - d. 6 Mar 1924)
Williams, Thomas Howard (b. 14 Apr 1923 - d. 26 May 1952)
Wilson, A. Earnest (b. 12 May 1896 - d. 19 Sep 1968)
Wilson, Bessie G. (b. 7 Nov 1923 - d. 28 Apr 1930)
Wilson, Ida A. (b. 4 Oct 1886 - d. 8 Jun 1958)
Witherspoon, Minerva Shelton (b. 16 Nov 1860 - d. 5 Aug 1948)
Wolfe, Pauline (b. 31 Aug 1928 - d. 6 Aug 1929)
Young, Aileen S (b. 1920 - d. 1993)
Young, Betty Burkhart (b. 20 Sep 1875 - d. 27 Jan 1955)
Young, John Daniel (b. 26 Aug 1956 - d. 10 Jan 1986)
Young, Marvin G. (b. 9 Jun 1917 - d. 21 Jun 1980)
Young, Marvin Garland (b. 28 Nov 1978 - d. 27 Apr 1998)
Young, William Wiley (b. 30 Dec 1877 - d. 2 Feb 1952)
Web page updated 9 February 2017
Index of All Cemeteries
Alphabetical Index of All Burials
Previous Page