Index of All Cemeteries
Alphabetical Index of All Burials
Previous Page
Use the following to search across all the cemeteries listed.
Example: "Smith, Roger" (yes, use the quotes)
142 JONES-COCKERHAM FAMILIES CEMETERY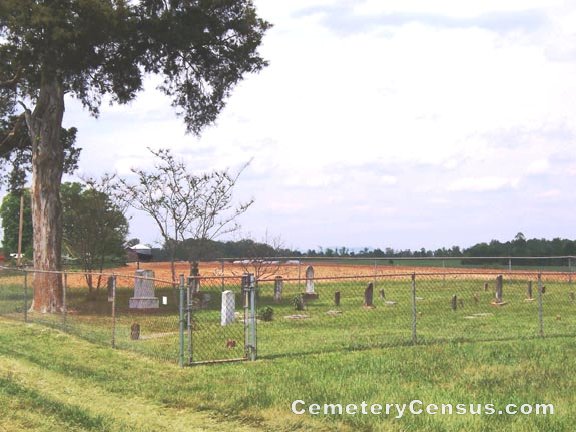 Location - Thompson Farm Lane, Elkin, Surry Co., NC.

Coordinates: 36d 20m 22.3s N; 80d 47m 57.4s W Click here for Google maps

Directions: From intersection of Hwy 21 Business and Hwy 21 Bypass, take Poplar Springs Rd east for 5.6 miles and turn right on Bessie's Chapel Church Rd. Follow it for 0.3 mile and turn left on Thompson Farm Lane. Follow that road for 0.4 mile past a new house and several farm buildings. The lane takes a left turn at end of a field and cemetery is on right.

Surveyed by Joe Hicks on October 1, 2006.
Township or district: Elkin.
Public or Private: Private property.
GPS Accuracy (ft.): 16.
Elevation above sea level (ft.): 1167.
Surry County Parcel Number: 4964-00-97-7199.

Survey by Ronnie W. Thompson in February 2014. Click here for Ronnie's survey.

Mr Ronnie Thompson maintains this cemetery and has personal knowledge about the burials that has passed down through family traditions. Six of the burials (*) were relocated from a graveyard about 2.5 miles due south in the vicinity of Popular Springs Rd and Pine Log Rd and Mitchells River during the construction of I-77 in the late 1960s early 1970s.


Cockerham, David * (b. 25 Nov 1763 - d. 26 May 1856)
Husband of Mary Ann Burch Cockerham. Capt. Freeman's Co., Revolutionary War.

Cockerham, Elizabeth Williams * (b. 17 Dec 1798 - d. 20 Feb 1857)
Wife of Elder Pleasant Burch Cockerham

Cockerham, Emily Thompson * (b. 1820 - d. 1860)
Wife of John E. Cockerham. Mother of Jessie Kimbrough Cockerham.

Cockerham, Jessie Kimbrough "Kimber" (b. 9 Oct 1845 - d. 20 Mar 1932)
Husband of Julia Ann Roberts Cockerham and Mary Elizabeth Ida White Cockerham. Son of John E. Cockerham. North Carolina, Pvt. Co. H, 54th Regiment, N.C. Infantry, CSA

Cockerham, John E. (b. 9 Mar 1818 - d. 6 Dec 1861)
Husband of Emily Thompson Cockerham. Son of Pleasant Burch Cockerham and Elizabeth Williams Cockerham. Co. B, 21st Regiment, N.C. Troops, CSA. (This is a memorial grave - he died in the Civil War at Shenandoah Valley VA and his burial site was never found)

Cockerham, Mary Ann Burch * (b. 1765 - d. 4 May 1842)
Wife of David Cockerham. Daughter of John Burch and Charity Woodson Burch.

Cockerham, Nancy Melvina (b. 6 Jul 1843 - d. 14 Jul 1904)
Wife of J. K. Cockerham. Daughter of Ambrose Jones and Nancy Jones.

Cockerham, P. K. (b. 8 May 1874 - d. 18 Apr 1891)
Son of Jessie Kimbrough Cockerham and Julia Ann Roberts Cockerham.

Cockerham, Pleasant Burch (Elder) * (b. 29 May 1791 - d. 10 Jun 1854)
Husband of Elizabeth Williams Cockerham. Son of David Cockerham and Mary Ann Burch Cockerham.

Cockerham, Sallie * (b. 1842 - d. 1860)
Daughter of John E. Cockerham and Emily Thompson Cockerham.

Dobbins, King F. (b. 25 Sep 1891 - d. 19 Nov 1892)
Son of T.A. Dobbins and N.A. Dobbins.

Jones, Ambrose (b. 1 Jan 1799 - d. 16 Jan 1881)

Jones, Linda B. (b. 7 May 1834 - d. 18 May 1872)
Daughter of Ambrose Jones and Nancy Jones.

Jones, Martha Evaline (b. 14 Sep 1830 - d. 20 Apr 1891)
Daughter of Ambrose Jones and Nancy Jones.

Jones, Nancy (b. 30 Apr 1800 - d. 22 Aug 1877)

Phillips, Nancy (b. 8 Jul 1825 - d. 25 Jan 1829)

Southard, Morning (b. 1793 - d. 24 Sep 1883)
Wife of Joab Southard, married 2 Sep 1813. Daughter of Obediah Johnson Snow and Abigail Riggs Snow. (name on grave marker is MORING; name on pension application is MOURNING; other records suggest name is MORNING). (JOAB is the husband name on the grave marker. JOB is the name most frequently used in census and military records).

Unknown, Unknown (b. Unknown - d. Unknown)

Venable, Fannie (b. Unknown - d. Unknown)

Venable, Jimmy (b. Unknown - d. Unknown)

Venable, Lela (b. Unknown - d. Unknown)

Venable, Mary (b. Unknown - d. Unknown)
Web page updated 14 July 2016
Index of All Cemeteries
Alphabetical Index of All Burials
Previous Page