Index of All Cemeteries
Alphabetical Index of All Burials
Previous Page
Use the following to search across all the cemeteries listed.
Example: "Smith, Roger" (yes, use the quotes)
141 KIDD FAMILY CEMETERY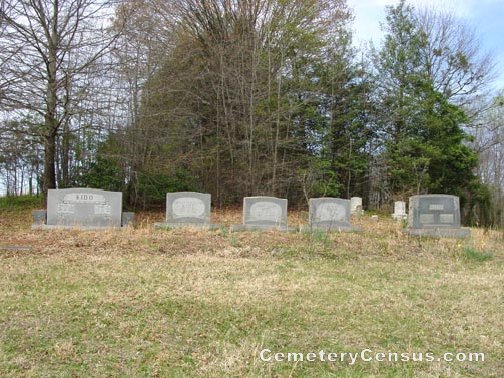 Location - Nile Lane, Dobson, Surry Co., NC.

Coordinates: 36d 23m 04.2s N; 80d 40m 50.7s W Click here for Google maps

Directions: From intersection of US Hwy 601 and Turkey Ford Rd in Dobson, go east on Turkey Ford Rd for 1.7 miles and turn left on Nile Lane. The cemetery is on a knoll behind the first building immediately on the left. Access on Nile Lane is through private property.

Surveyed by Andy Hennis on April 6, 2006.
Township or district: Dobson.
Public or Private: Private property.
GPS Accuracy (ft.): 12.
Elevation above sea level (ft.): 1115.
Surry County Parcel Number: 5906-00-52-2919.


Kidd, Allen Jr (b. 3 Apr 1849 - d. 4 Mar 1942)
Husband of Lucinda Golding, m. 19 Nov 1879 in Surry - Son of Allen Kidd Sr and Nancy Smith

Kidd, Grover Cleveland (b. 13 Apr 1893 - d. 18 Oct 1982)
Husband of Myrtle R. Lawson and son of Allen Kidd Jr and Lucinda Golding

Kidd, John Allen (b. 13 Jul 1901 - d. 12 Feb 1977)

Kidd, Lee Roy (b. 24 Jul 1882 - d. 1 Feb 1964)
Son of Allen Kidd Jr and Lucinda Golding

Kidd, Lucinda Golding (b. 12 Oct 1859 - d. 13 Apr 1948)
Wife of Allen Kidd and daughter of Abner Golding and Deborah Wright (surname Golding is also found as Golden)

Kidd, Mary Jane Hamlin (b. 30 Jan 1898 - d. 23 Jan 1984)
Wife of Walter Coax Kidd and daughter of Stephen Crowley Hamlin and Martha W. Davis

Kidd, N. P. (b. 15 Jun 1884 - d. 18 Jan 1894)
Child of Allen Kidd Jr and Lucinda Golding

Kidd, R. E. (b. 15 Aug 1880 - d. 12 May 1882)
Child of Allen Kidd Jr and Lucinda Golding

Kidd, Walter Coax (b. 20 Feb 1895 - d. 22 Sep 1985)
Husband of Mary Jane Hamlin and son of Allen Kidd Jr and Lucinda Golding - Pvt, US Army WW I
Web page updated 14 July 2016
Index of All Cemeteries
Alphabetical Index of All Burials
Previous Page