Index of All Cemeteries
Alphabetical Index of All Burials
Previous Page
Use the following to search across all the cemeteries listed.
Example: "Smith, Roger" (yes, use the quotes)
138 JOHNSON FAMILY CEMETERY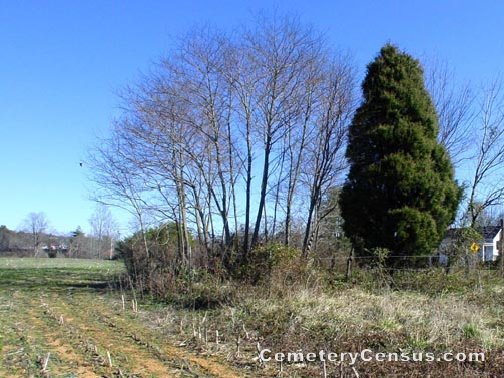 Location - NC Hwy 89 W (W. Pine St.), Mt. Airy, Surry Co., NC.

Coordinates: 36d 30m 13.5s N; 80d 40m 11.4s W Click here for Google maps

Directions: From intersection of US Hwy 52 N and NC Hwy 89 W (W. Pine St) in Mt. Airy, go west on W. Pine St for 2.65 miles. Cemetery is located on the right in a small grove of trees about ten feet off Hwy. It is between Stewart's Creek and North Surry High School on an 8.4 acre private tract which is sometimes plowed and sometimes planted in corn.

View #2 of the cemetery. View #3 of the cemetery.

Surveyed by Andy Hennis on April 6, 2006.
Township or district: Stewart's Creek.
Public or Private: Private property.
GPS Accuracy (ft.): 14.
Elevation above sea level (ft.): 1075.
Status of cemetery: Abandoned.
Surry County Parcel Number: 5000-00-96-0916.

There is a barbed-wire fence surrounding the cemetery and on 3-4-06 was dense with foliage. Felix Johnson, son of William and Letitia Johnson, (b. Oct 5, 1820, d. Feb 6, 1894) and his wife, Rachel Elizabeth Phillips, b. Aug 22, 1838, d. May 14, 1880; Mary H. Johnson, b. Dec 18, 1834, d. May 15, 1880 ("By grace you are saved"); William Johnson, b. Aug 23, 1792, d. June 23, 1868; Letitia Phillips Johnson, b. Nov 25, 1791, d. Sep 5, 1871; John T. Johnson, b. Aug 23, 1831, d. Oct 4, 1892 ("Asleep in Jesus"); and Margaret G. Johnson, b. Oct 4, 1833, d. Aug 6, 1875 ("All is well")..


Johnson, Felix (b. 5 Oct 1820 - d. 6 Feb 1894)
Husband of Rachael E. Johnson
Husband of Margaret G. Johnson
Aged 75 yrs 9 mos 17 days
Web page updated 14 July 2016
Index of All Cemeteries
Alphabetical Index of All Burials
Previous Page