Index of All Cemeteries
Alphabetical Index of All Burials
Previous Page
Use the following to search across all the cemeteries listed.
Example: "Smith, Roger" (yes, use the quotes)
136 MAYS, JOHN JACK CEMETERY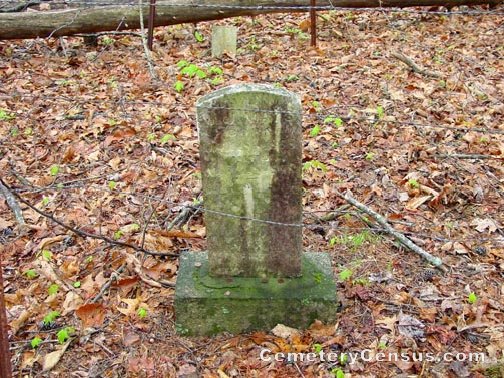 Location - Off River Rd, Dobson, Surry Co., NC.

Coordinates: 36d 24m 36.8s N; 80d 51m 46.4s W Click here for Google maps

Directions: From intersection of Main St and Kapp St (Old Courthouse Square) in Dobson, go west on Kapp St (changes to Zephyr Rd) for 5.5 miles. Then turn right on Kapps Mill Rd and go 1.85 miles till it dead ends. Then turn right on River Rd and go 2 miles to the entrance to the Mitchell River Game Land on the left. Then go .4 mile to an old trail or wagon road on the left. It is marked by eight vertical metal pipes or angle iron. Walk the trail until the grave site appears on the left.

Starting point to the cemetery. View of base of grave marker with coins.

Surveyed by Andy Hennis on April 7, 2006.
Township or district: Bryan.
Public or Private: Private property.
GPS Accuracy (ft.): 15.
Elevation above sea level (ft.): 1394.
Status of cemetery: Abandoned.

It is located on a 132 acre private tract of land and the cemetery is a fairly long walk. The stone reads as follows: J. J. Mays, b. Oct 18, 1858, d. Nov 11, 1898. (John Jack Mays was the last man hung in Surry County)..


Mays, John Jack (b. 18 Oct 1858 - d. 11 Nov 1898)
Last man hung in Surry County. Now for the reat of the story:
..This story concerns Martha Thompson Higgins and her Husband Sam Higgins. During the Civil War a lot of the folks in the mountains of NC did not support either side and just wanted to be left alone. The Home Guard was active in Surry County and a lot of men that were not serving were picked up by the Home Guard, Sam Higgins being one of them. He was placed in the jail in Dodson until he was turned over to the Confederate Army for service. In 1864 Sam was killed in action in Virginia and his body was never brought home.
..Sam and Martha had one son and Martha continued to look after the farm with the help of her son and a neighbor, John Jack Mayes. In the spring of 1898 her home was found to be engulfed in flames. Her son was living in Winston-Salem at the time and he was sent for. When the ashes had cooled enough for a search, the body of Martha Higgins was found in the ashes. Martha was buried the day she was found in the Thompson Cemetery.
..Martha kept her money in jars under the rocks in the fire place. Her son searched but could not find the money. Surry County Sheriff Davis went to the John Jack Mayes home and upon questioning Mayes, Mayes told the Sheriff where the money could be found and the money was recovered. Mayes was arrested, tried and hung for the murder of Martha Higgins. Some said he was guilty, some said he was not. He denied the killing and said he only took the money and did no harm to Martha.
..John Jack Mayes hanging drew 20,000 spectators to Dobson and he was the last man to be hung by the Sheriff in Surry County. He is buried in #136 John Jack Mayes Cemetery and is the only person to have been buried there. (source: Michael Frye 2012)
Web page updated 14 July 2016
Index of All Cemeteries
Alphabetical Index of All Burials
Previous Page