Index of All Cemeteries
Alphabetical Index of All Burials
Previous Page
Use the following to search across all the cemeteries listed.
Example: "Smith, Roger" (yes, use the quotes)
129 HIATT, JAMES MONROE MEMORIAL CEMETERY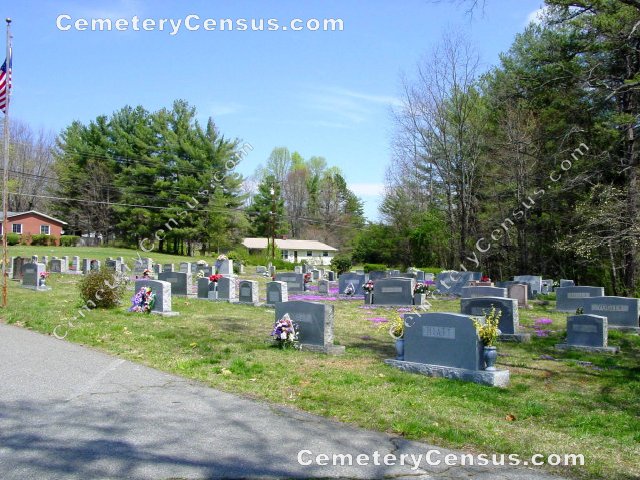 Location: NC Highway 89 East (Westfield Rd) (Sheltontown Community), Mt. Airy, Surry Co., NC.

Coordinates: 36d 29m 37.6s N; 80d 33m 07.8s W Click here for Google maps

Directions: From intersection of US Hwy 52 Business (S. Main St) and NC Hwy 89 E (Westfield Rd) in Mt. Airy, go east on Westfield Rd for 2.2 miles and cemetery is on the right.

View #2 of the cemetery.

Surveyed by Andy Hennis on April 6, 2006.

Also known as: Hiatt Memorial Cemetery and Old Mormon Cemetery.
Township or district: Mt. Airy.
Public or Private: Private property.
GPS Accuracy (ft.): 13.
Elevation above sea level (ft.): 1275.

Surveyed by Harold and Paulette Logan in 1974-75 (but never published) Research was done on some of those found in the Old Mormon Cemetery. This information has been added.

Some photographs by Wilma Hiatt. This is a partial listing.


Allen, William A. (b. 25 Oct 1874 - d. 13 Jan 1951)
Atkins, Dolly Dione (b. 14 Aug 1974 - d. 14 Jun 1975)
Daughter of Broadus and Ethel Atkins

Atkins, Ollie May (b. 17 May 1887 - d. 22 Aug 1964)
Wife of Samuel Walter Atkins

Atkins, Samuel Walter (b. 1 Jan 1881 - d. 23 Oct 1963)
Husband of Ollie May Atkins

Brinkley, Helen Virginia (b. 15 Mar 1918 - d. 27 Dec 1918)
Daughter of James W and Selena J Brinkley

Brinkley, James William (b. 9 Mar 1881 - d. 8 Mar 1963)
Married 14 Feb 1903 to Selena Jane Brinkley. son of William M and Charlotte Forkner Brinkley

Brinkley, Selena Jane (b. 5 Jun 1885 - d. 30 Mar 1962)
Married 14 Feb 1903 to James William Brinkley. Daughter of Robert W. and Frances P Brinkley

Brinkley, William Martin (b. 30 Sep 1837 - d. 3 Dec 1927)
Married 29 Apr 1858 to Rebecca Hiatt Brinkley. Married 4 Mar 1880 to Charlotte F. son of Thomas C and Phebe D Brinkley

Bryant, Ade Lee (b. 17 Sep 1886 - d. 20 Jul 1957)

Bryant, W. Monro (b. 28 Jan 1923 - d. 13 Feb 1923)
next to Bryant Headstone - footstone with dates

Bryant, Walter E. (b. 21 Mar 1891 - d. )
Husband of Ade Lee Bryant

Bryant, Walter L. (b. 3 Nov 1920 - d. 20 Jan 1923)

Chappell, James Merlin (b. 5 Nov 1879 - d. 19 Nov 1956)

Chappell, John Gaston (b. 16 Apr 1905 - d. 11 Aug 1954)

Chappell, Merlin T. (b. 10 Aug 1913 - d. 5 Oct 1920)
son of J.M. and SM Chappel

Chappell, Robert Calvin (b. 8 May 1908 - d. 9 Sep 1926)

Chappell, Sarah M. Jones (b. 21 Mar 1883 - d. 19 Feb 1957)

Cook, Coralie H. (b. 4 Apr 1914 - d. 7 Jul 1945)

Cook, Coralie H. (b. 23 Apr 1944 - d. 23 Apr 1944)
Daughter of Coralie H. Cook

Cook, Infant daughter (b. 23 Apr 1944 - d. 23 Apr 1944)

Creed, Bertha M. (b. 28 Dec 1891 - d. 18 Jan 1918)

Creed, Ruby M. (b. 8 Sep 1931 - d. 6 Jan 1932)
Daughter of B.F. and M.E. Creed

Creek, Robert F. (b. 24 Feb 1897 - d. 9 Sep 1931)
Husband of Bertha M. Creed

Edwards, Arvin E. (b. 20 Dec 1925 - d. 15 Mar 1964)
Married 11 Nov 1944 to Pauline H. Edwards

Edwards, Pauline H. (b. 11 Nov 1925 - d. )
Married 11 Nov 1944 to Arvin E. Edwards

Fulk, Claude (b. 1 Apr 1903 - d. 24 Oct 1935)
son of Mr. and Mrs. W. C. Fulk

Hawks, Lester W. (b. 18 May 1898 - d. 22 Mar 1966)
(death may be 24 Mar 1966)

Hawks, Lula A. (b. 24 May 1900 - d. 20 Jun 1942)

Hiatt, Allen L. (b. 12 Nov 1918 - d. 12 Nov 1918)
son of Jeanettie Moss and Jesse Lee Hiatt

Hiatt, Callie F. (b. 15 Nov 1903 - d. 26 Dec 1918)
Daughter of James Monroe and Nancy Ann Inman Hiatt

Hiatt, Cora Della (b. 1 Jul 1914 - d. 19 Apr 1915)
Daughter of Wilford and Effie Ann Simmons Hiatt

Hiatt, David L. (b. 1 Mar 1900 - d. )
Married 6 Jan 1922 to Ethel M. Puckett Hiatt. son of J. Monroe Hiatt and Nancy A. I. Hiatt

Hiatt, Effie Ann Simmons (b. 24 Apr 1892 - d. 14 Nov 1975)
Married 24 Dec 1911 to Wilford Hiatt. Daughter of Benjamin M Simmons and Mary Cook Simmons

Hiatt, Effie Jo (b. 3 Feb 1941 - d. 17 Oct 1941)
Daughter of Lester Lafayette Hiatt and Ruth Ann Willard Hiatt

Hiatt, Ethel Mene Puckett (b. 28 Dec 1898 - d. 20 Aug 1969)
Married 6 Jan 1922 to David L. Hiatt. Daughter of Paola Puckett and Mary Belle Shelton Puckett

Hiatt, Floyd Avery (b. 13 Dec 1960 - d. 13 Dec 1960)
Son of Wilbur and Ara Jean Hiatt

Hiatt, Hazel E. (b. 13 Sep 1927 - d. 26 Jan 1946)
Daughter of Lunie Alma Hiatt and Sarah Frances Terrell Hiatt

Hiatt, Henry H. (b. - d. 26 Dec 1937)

Hiatt, Jacob Franklin (b. 6 Feb 1870 - d. 24 Jul 1941)
Husband of Mary M. Hiatt. son of Nathan Hiatt and Lurana Taylor Hiatt

Hiatt, James Monroe (b. 23 Jun 1872 - d. 24 Jul 1941)
Husband of 1) Nancy Ann Inman (m. 22 Feb 1899 in Surry), 2) Louisa Frances Sanders (m. 16 Jul 1922 in Surry), 3) Mary Edna Ennis - son of Jesse Lafayette Hiatt and Susan Midkiff

Hiatt, Jenettie M. Moss (b. 14 Oct 1890 - d. 25 Dec 1931)

Hiatt, Jesse Lafayette (b. 30 Apr 1851 - d. 18 Apr 1929)
Husband of Susan Midkiff, m. 9 Nov 1871 in Surry - son of William Hiatt and Mary Taylor

Hiatt, Johnnie Eugene (b. 19 Oct 1923 - d. 8 Aug 1931)
son of Albert and Macy Hiatt

Hiatt, Joseph M. (b. 12 Jul 1866 - d. 28 Nov 1948)
Husband of Louisa J. Hiatt

Hiatt, Lacy Franklin (b. 20 Sep 1901 - d. 24 Dec 1918)
Daughter of James Monroe and Nancy Hiatt

Hiatt, Louisa Frances Sanders (b. 10 Sep 1870 - d. 2 Sep 1938)
2nd wife of James Monroe Hiatt - daughter of Samuel Henry Sanders and Elizabeth Jane Haymore

Hiatt, Louisa J. (b. 23 Dec 1852 - d. 17 Dec 1934)

Hiatt, Lunie A. (b. 19 Aug 1903 - d. 23 Jun 1975)
age 71 yrs 10 mos. 4 days. Married 21 Feb 1925 to Sarah Frances Terrell Hiatt

Hiatt, Macy A. (b. 11 Jan 1905 - d. )
Wife of Maurice Albert Hiatt. Daughter of Don Hasten Franklin and Mary E Shelton Laster

Hiatt, Mary Malissia Atkins (b. 15 Apr 1873 - d. )
Wife of Jacob Franklin Hiatt. Daughter of Samuel Atkins and Ollie May Atkins

Hiatt, Maurice Albert (b. 6 Mar 1906 - d. )
Husband of Macy A. Hiatt. son of James Monroe Hiatt and Nancy Ann Inman Hiatt

Hiatt, Nancy Ann Inman (b. 15 Jan 1888 - d. 20 Dec 1921)
1st Wife of James Monroe Hiatt - daughter of John Wesley Childs Inman and Frances Jane Chilton

Hiatt, Retta H. (b. 30 Sep 1881 - d. 25 Dec 1943)

Hiatt, Roy Lafayette (b. 27 Apr 1947 - d. 27 Apr 1947)
Son of Lester Lafayette Hiatt and Ruth Ann Willard Hiatt

Hiatt, Susan Midkiff (b. 8 Mar 1857 - d. 18 Feb 1936)
Wife of Jesse Lafayette Hiatt - m. 9 Nov 1871 to Jesse Lafayette Hiatt - Born in Davidson Co, NC and daughter of Ephraim Midkiff and Lucy Ann Forkner

Hiatt, Wilford (b. 23 Jan 1893 - d. )
Husband of Effie Ann Simmons Hiatt

Hiatt, Zeb. V. (b. 7 Feb 1894 - d. 27 Oct 1919)
son of Jacob Franklin Hiatt and Mary Malissia Atkins Hiatt

Hodges, Edward W. (b. 17 Dec 1923 - d. 23 Oct 1946)

Inman, Sarah Alice Shelton (b. 1 Apr 1867 - d. 17 Nov 1957)

Jennings, Robert Allen (b. 22 Oct 1964 - d. 22 Oct 1964)
Son of Val John and Nancy Draughn Jennings

Johnson, Charles E. (b. 9 Mar 1947 - d. 29 Dec 1965)
Married 26 Nov 1965 to Mary P. Johnson. son of Howard W Johnson and Cornelia Johnson

Johnson, Cornelia Alice Hiatt (b. 25 Mar 1916 - d. )
Wife of Howard W. Johnson

Johnson, Howard W. (b. 14 Jun 1909 - d. 25 Dec 1966)
Married 3 Dec 1832 to Cornelia Johnson. son of Wilford Johnson and Effie Ann Simmons Hiatt

Johnson, Mary Kathryn Pentz (b. 28 Jul 1943 - d. )
Married 26 Nov 1965 to Charles E. Johnson

Johnson, Ronald W. (b. 6 May 1939 - d. 3 Feb 1951)
son of Howard William Johnson and Corneila Alice Hiatt Johnson

Jones, Arlis Clinton (b. 16 Nov 1920 - d. 16 Nov 1920)
Infant of Carva and Annie Jones

Jones, Calvin Jex (b. 7 Jul 1891 - d. 19 Feb 1969)
Married 15 Aug 1915 to Laura Ada Haynes Jones

Jones, Carva B. (b. 28 May 1896 - d. 16 Jul 1964)
Married 4 Jan 1919 to Saddie Ann C. Jones

Jones, Dortha Jane (b. 21 Feb 1928 - d. 21 Feb 1928)
Daughter of Calvin and Ada H. Jones

Jones, Ernestine (b. 6 Jan 1935 - d. 6 Jan 1935)
Infant of Carva and Annie Jones

Jones, Jacqueline (b. 6 Jan 1935 - d. 6 Jan 1935)
Infant of Carva and Annie Jones

Jones, John H. (b. 18 Mar 1856 - d. 10 Jun 1937)

Jones, Larua Ada Haynes (b. 5 Aug 1895 - d. 12 Jan 1969)
Married 15 Aug 1915 to Calvin Jex Jones

Jones, Laura Ada (b. 19 Sep 1925 - d. 19 Sep 1925)
Daughter of Calvin and Laura Ada Haynes Jones

Jones, Saddie Ann C. (b. 25 Sep 1898 - d. )
Married 4 Jan 1919 to Carva B. Jones

Jones, Susan E. (b. 19 Jul 1916 - d. 19 Jul 1916)
Daughter of Calvin and Lasura Ada Haynes Jones

Jones, Susan E. Dean (b. 11 Jul 1859 - d. 25 Sep 1953)

Laster, Mary S. (b. 16 Jul 1869 - d. 14 Feb 1960)

Lawrence, Joseph M. (b. 18 Sep 1916 - d. 26 May 1919)
Son of J.S. and C.A. Lawrence

Logan, Carol Ann (b. 5 Mar 1967 - d. 5 Mar 1967)
Daughter of Harold Karl and Paulette Seivers Logan

Marion, Emma V. Jones (b. 16 Feb 1894 - d. 16 Jan 1946)

Marion, John Wm. (b. 12 Feb 1895 - d. 29 Mar 1966)
Husband of Emma V. Jones Marion

McGee, Maynard (Mike) (b. 4 Oct 1956 - d. 14 Aug 1975)
age 18 yrs 10 mos 10 days (No headstone)

McGee, Myrtle M. (b. 11 Dec 1913 - d. )

McGee, Paul R. (b. 11 Nov 1905 - d. 30 Dec 1969)
Husband of Myrtle M. McGee

Mosley, Carl Randle (b. 26 Aug 1965 - d. 26 Aug 1965)

Parker, James H. (b. 10 Arp 1875 - d. 4 Aug 1944)

Parker, Jonathan M. (b. 22 Jul 1922 - d. 25 Nov 1944)

Parker, Martha (b. 12 Dec 1877 - d. 22 Nov 1918)

Puckett, Joseph A. (b. 1 May 1909 - d. 14 Dec 1971)

Puckett, Mary Belle Shelton (b. 10 Oct 1882 - d. 30 Oct 1973)
age 91 yrs 0 mos 20 days. wife of Paola Puckett

Puckett, Orson P. (b. 9 Feb 1903 - d. 21 Jan 1964)

Puckett, Paola (b. 1 Jun 1874 - d. 7 Aug 1934)
Wife of Mary Belle Shelton Puckett. son of Ephraim and Millie Montgomery Puckett

Seivers, Micahel Phillip Jr. (b. 31 Dec 1975 - d. 31 Dec 1975)
son of Michael Phillip Seivers Sr. and Patricia Pearson Seivers

Shelton, Frances (b. 31 Oct 1937 - d. 5 Feb 1940)

Shelton, James M. (b. 12 Aug 1860 - d. 5 Mar 1939)
Husband of Martha H. Shelton

Shelton, Martha H. (b. 28 Oct 1865 - d. 25 Apr 1940)

Shelton, Ramey (b. 21 Sep 1903 - d. 28 Aug 1950)

Shelton, Wilford (b. 10 Oct 1900 - d. 7 Jan 1923)

Simmons, Isaiah (b. 23 Aug 1882 - d. 11 Mar 1969)
Husband of Susan L. Simmons

Simmons, Susan L. (b. 14 Dec 1889 - d. 7 May 1917)

Spencer, Annie Lee Fleeman (b. 6 Feb 1900 - d. 5 Oct 1965)

Stevens, A. Frank (b. 29 Jul 1910 - d. 15 Jan 1971)
Married 23 Mar 1937 to Gladys E. Stevens

Stevens, Gladys (b. 16 Nov 1910 - d. )
Married 23 Mar 1937 to A. Frank Stevens

Stevens, Margaret Cleo (b. 20 Apr 1927 - d. 3 Apr 1936)
Daughter of W.R. and Etta Stevens

Taylor, Donald Germa (b. 12 Feb 1927 - d. 9 Oct 1961)

Taylor, Germa C. (b. 25 Jul 1893 - d. 24 Feb 1962)

Taylor, Tony Arlo (b. 28 Aug 1941 - d. 14 Dec 1941)
Web page created 20 September 2011
Index of All Cemeteries
Alphabetical Index of All Burials
Previous Page