Index of All Cemeteries
Alphabetical Index of All Burials
Previous Page
Use the following to search across all the cemeteries listed.
Example: "Smith, Roger" (yes, use the quotes)
125 COPELAND, ISAAC FAMILY CEMETERY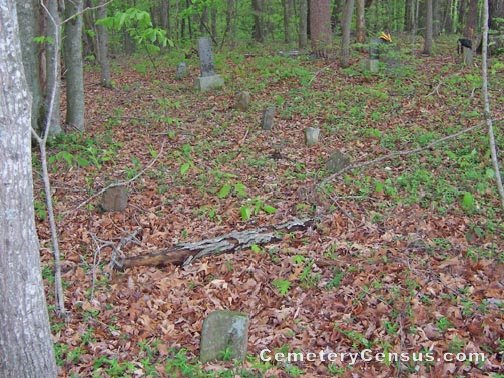 Location - Corder Lane, Eldora, Surry Co., NC.

Coordinates: 36d 22m 22.6s N; 80d 38m 41.9s W Click here for Google maps

Directions: From intersection US Hwy 601 and NC Hwy 268, take Hwy 268 east for 4 miles then turn left on N. Copeland School Rd (which turns into SImpson Mill Rd) and go 3 miles and turn right on Corder Lane (a one lane private drive). Follow this road to the end and you will be at the residence. Cemetery is found by following a trail marked by old tobacco burners to the top of a hill past a swimming pool on the right. It sits in a grove of trees.

Surveyed by Joe Hicks on April 6, 2006.
Township or district: Eldora.
Public or Private: Private property.
GPS Accuracy (ft.): 15.
Elevation above sea level (ft.): 1201.
Surry County Parcel Number: 5915-00-58-3364.

Note: There is a large Rottweiler Dog that might greet you so I suggest calling in advance. This property was once part of the 1,000 + acres of Issac Copeland for which the community of Copeland was named. Several field rock stones and about four marked ones. Names on marked stones are: Elizabeth Winfrey Copeland Badgett, also her husbands stone James Badgett, Robert Brinkley, R. M. Brinkley, C. J. Brinkley, 2 small stones with only initials of RCB and RWB. Believe these are part of the Brinkleys. Phone: 336-374-3200..


Badgett, Elizabeth Winfrey Copeland (b. - d. )
Wife of James Badgett. married 4 Oct 1845.

Badgett, James (b. - d. )
Husband of Elizabeth Winfrey Copeland Badgett

Brinkley, ?? (b. - d. )
(could not make out first name or dates)

Brinkley, C. J. (b. - d. )

Brinkley, R. M. (b. - d. )

Brinkley, Robert (b. - d. )
Web page updated 14 July 2016
Index of All Cemeteries
Alphabetical Index of All Burials
Previous Page