Index of All Cemeteries
Alphabetical Index of All Burials
Previous Page
Use the following to search across all the cemeteries listed.
Example: "Smith, Roger" (yes, use the quotes)
120 HYATT-KEY-DOHERTY CEMETERY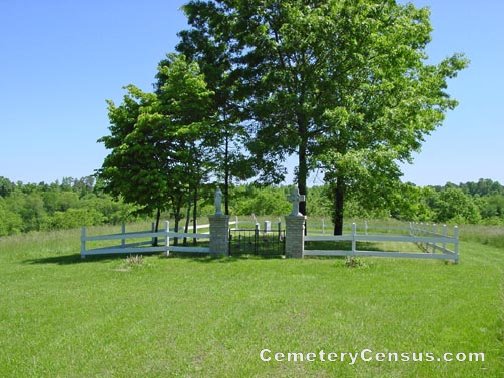 Location - Green Meadow Lane, Ararat, Surry Co., NC.

Coordinates: 36d 22m 46.2s N; 80d 34m 57.2s W Click here for Google maps

Directions: From intersection of US Hwy 52 and 601 in Mt. Airy, go south on US Hwy 601 (Rockford St) for 1.35 miles and turn left on Old US Hwy 601. Go 1.7 miles on Old US Hwy 601 and turn left on Siloam Rd (SR 1003) and go 4.2 miles and turn left on Ararat Rd. Then go 2.2 miles on Ararat Rd and turn right on Green Meadow Lane, a gravel road. The cemetery is in a field behind a home at the intersection of Green Meadow Lane and Pearman Lane.

Surveyed by Andy Hennis on May 6, 2006.
Township or district: Eldora.
Public or Private: Private property.
GPS Accuracy (ft.): 12.
Elevation above sea level (ft.): 1040.
Surry County Parcel Number: 5936-00-30-9961.

The cemetery has been restored by the property owners and is in good condition. Occupants are as follows: Sam Jackson Hyatt, b. Sept 28, 1884, d. June 19, 1961; Molly Susan Hyatt, b. Mar 4, 1882, d. Mar 5, 1906; Lida Emely Hyatt, b. Jan 31, 1859, d. Mar 4, 1906; L. A. Key, b. July 6, 1815, d. Mar 22, 1889; Elizabeth T. Key, wife of L. A. Key, b. Mar 6, 1815, d. Nov. 5, 1899; and Alvin J. Doherty, b. Jan 22, 1932, d. Apr 4, 2004..


Wife of L.A. Key. Age 84 yrs 7 mos 29 days.

Key, L. A. (b. 6 Jul 1815 - d. 22 Mar 1889)
Husband of Elizabeth T. Key. Age 73 yrs 6 mos 16 days.
Web page updated 14 July 2016
Index of All Cemeteries
Alphabetical Index of All Burials
Previous Page