Index of All Cemeteries
Alphabetical Index of All Burials
Previous Page
Use the following to search across all the cemeteries listed.
Example: "Smith, Roger" (yes, use the quotes)
118 COCKERHAM, HUGHS FAMILY CEMETERY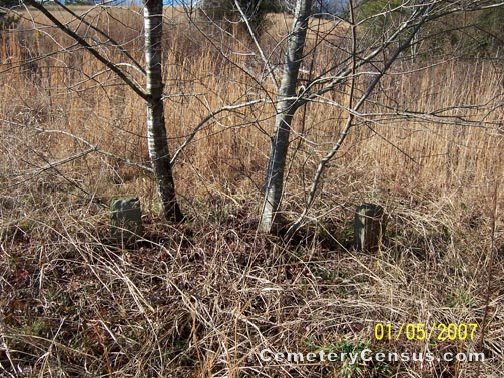 Location - Off Wayne Marshall Rd (SR 1166), Elkin, Surry Co., NC.

Coordinates: 36d 18m 43.7s N; 80d 46m 40.6s W Click here for Google maps

Directions: From intersection of NC Hwy 21 Business and Hwy 21 in Elkin, take Poplar Springs Rd (SR 1001) east for 4.7 miles and turn right on Joe Layne Mill Rd (SR 1121). Then go 1.2 miles and turn left on Wayne Marshall Road (SR 1166) . Follow this road for .8 mile until it dead ends. Then there will be an older frame house at the end of the road on the right at about 1:00 o'clock position. Facing East, the cemetery is at about the 11:00 position from where one would exit their vehicle. It is between two old tobacco barns.

Closeup view of a fieldstone.

Surveyed by Joe Hicks on January 1, 2007.
Township or district: Marsh.
Public or Private: Private property.
GPS Accuracy (ft.): 19.
Elevation above sea level (ft.): 973.
Surry County Parcel Number: 4973-00-57-5225.

Three field stone markers. Family history list occupants as: Hughs Cockerham, wife Nancy Roberts and their daughter Mary Cockerham. Sensitive to visits. Ask permission and the owner will go with visitor to cemetery..


Cockerham, Hughs (b. 1797 - d. )
Husband of Nancy Roberts, m. 29 Dec 1831

Cockerham, Mary (b. 19 Feb 1828 - d. Aft 1850)
Daughter of Hughs Cockerham and Nancy Roberts. d. 1850's age 17 to 20 years). She was killed by a falling tree.

Cockerham, Nancy Roberts (b. 24 Sep 1803 - d. )
Wife of Hughs Cockerham (her surname may be Fulks)
Web page updated 14 July 2016
Index of All Cemeteries
Alphabetical Index of All Burials
Previous Page