Index of All Cemeteries
Alphabetical Index of All Burials
Previous Page
Use the following to search across all the cemeteries listed.
Example: "Smith, Roger" (yes, use the quotes)
117 HOLLYWOOD CEMETERY &nbsp- &nbsp Surname starts with A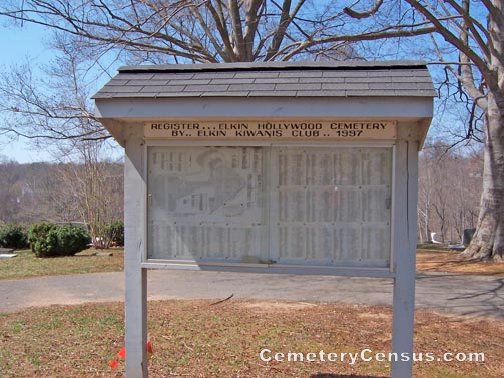 Location - North Main Street, Elkin, Surry Co., NC.

Coordinates: 36d 15m 05.3s N; 80d 51m 05.1s W Click here for Google maps

Directions: From intersection of Main St and N. Bridge St in Elkin, go north on N. Bridge St for about .5 mile and cemetery is on the left after you pass Church St.

View #2 of the cemetery. View #3 of the cemetery. View #4 of the cemetery. View #5 of the cemetery.

Surveyed by Joe Hicks on April 6, 2006.
Township or district: Elkin.
Public or Private: Public Access.
GPS Accuracy (ft.): 15.
Elevation above sea level (ft.): 1014.
Surry County Parcel Number: 4951-10-35-3646.

Please do not copy this data and post to other cemetery sites. Although facts like births and deaths are not copyrighted, genealogy integrity suggests you give reference sources of the data. Any photos provided "ARE" copyrighted so do not copy and post or use them without the owner's permission.

The list of burials was located by Joe Hicks of Elkin, NC who volunteers with the Surry County Genealogical Assn in finding old cemeteries. He found it at the Town of Elkin Parks and Recreation Department and was in the form of an Excel spreadsheet dated 9 Mar 2009, which is a public record. Some duplicate data has been removed and some spelling errors have been corrected, but this list is not complete and no attempt has been made to verify the section and plot numbers with the deceased. It is unknown if the Town of Elkin has made any updates to this Excel list since 2009.

Some data on the burials has been added by Bob Carter in October 2010 and may include some names of parents or spouses if they could be obtained from death, marriage, or obituary records. Actual names and dates are shown if the grave had just the initials or only the year was given. Some records marked with "X" are from death records but not on the original Excel file. As with any research, if you notice factual errors please send an email for a correction.

This data is a work in progress and may be updated periodically.


Abernethy, Beulah Olivia Womble (b. 8 Jul 1890 - d. 29 Nov 1969)
Wife of Joseph Graham Abernethy - Daughter of Cornelius Wilson Womble and Della Snipes. 1934 Addition. 19

Abernethy, Joseph Graham (b. 29 Feb 1888 - d. 24 Apr 1955)
Husband of Beulah Olivia Womble - Son of James Abernethy and Ella Cline. 1934 Addition. 19

Adams, Argie W. (b. 30 May 1906 - d. )

Adams, Faye Blackburn (b. 4 Feb 1928 - d. 27 Oct 1998)

Adams, George Eugene (b. 10 May 1904 - d. 16 Jan 1975)
Son of George Stoneman Adams and Ludie Casstevens. 1968 Addition. 31

Adams, Rebecca Ann (b. 19 May 1948 - d. 1 Sep 2003)

Adams, Virginia P. (b. 4 Nov 1909 - d. 14 Oct 1970)

Adams, William T. (b. 15 May 1907 - d. )

Adelade, Margaret (b. 22 Jul 1918 - d. 17 Nov 1920)

Adkins, Allen Hassell (b. 4 Dec 1925 - d. 24 Feb 1989)
Husband of Anne Sutherland - Son of Henry Ellis Adkins and Lottie Looney. 1934 Addition. 152

Aldridge, Gregory Scott (b. 10 Jul 1959 - d. 12 Jul 1959)
Son of Dale Aldridge and Nancy Carrol Gambill. Section E. 2

Aldridge, Janie Marion (b. 28 Jun 1921 - d. 28 Jul 1921)
Daughter of Leslie Aldridge and Myrtle Smith. Section E. 2

Aldridge, Leslie E. (b. 17 Nov 1892 - d. 15 Mar 1942)
Husband of Myrtle Smith - Son of W. G. Aldridge and Ida. Section E. 2

Aldridge, Ruth (b. 17 Sep 1919 - d. 2 Jan 1921)
Daughter of Leslie Aldridge and Myrtle Smith. Section E. 2

Alexander, Susan Elizabeth Shepherd (b. 20 Sep 1838 - d. 24 Jan 1915)
Daughter of James Shepherd (VA) and Nancy Creswell. Section B. 11

Alexander, Thomas C. (b. - d. 27 Apr 1920)
Age 83y,1m,1d - Born in Rowan Co, NC and parents unknown. Section B. 11

Allen, Cynthia Bethea (b. 7 Nov 1902 - d. 3 Feb 1995)
Wife of William Marion Allen. 1934 Addition. 82

Allen, Cynthia D. (b. 17 Jul 1929 - d. 10 Mar 1971)

Allen, Faith E. (b. 24 Jul 1888 - d. 15 Dec 1971)
Daughter of John Henry Allen and Mary Jane Casstevens. Section F. 17

Allen, John Henry (b. 9 Dec 1861 - d. 28 Feb 1929)
Husband of Mary Jane Casstevens, m. 4 Oct 1884 in Yadkin Co, NC - Son of William and Faitha Allen. Section F. 17

Allen, Joseph H. (b. 8 Nov 1903 - d. 6 Nov 1933)
Son of John Henry Allen and Mary Jane Casstevens. Section F. 17

Allen, Lindon M. (b. 19 Feb 1901 - d. 5 Sep 1936)
Son of John Henry Allen and Mary Jane Casstevens. Section F. 17

Allen, Mary Jane Casstevens (b. 23 Sep 1864 - d. 6 Nov 1933)
Wife of John Henry Allen - Daughter of Thomas D. Casstevens and Elizabeth Hill. Section F. 17

Allen, William Marion (b. 28 Jun 1898 - d. 24 Mar 1988)
Husband of Cynthia Bethea - Son of John Henry Allen and Mary Jane Casstevens. 1934 Addition. 82

Altemueller, Baby (b. 12 May 1967 - d. 12 May 1967)

Amburn, Catherine (b. 24 Dec 1912 - d. 20 May 2007)

Amburn, James Franklin Sr (b. 8 Sep 1910 - d. 14 Jul 2003)

Anderson, Bertha (b. 1 Jul 1904 - d. 26 Dec 1970)

Anderson, E. B. (b. - d. )

Anderson, George (b. - d. )

Anderson, Hillary S. (b. 4 Feb 1902 - d. 25 Nov 1946)

Anderson, Linda Kay (b. 7 Aug 1952 - d. 12 Jan 1953)
Daughter of Raymond R. Anderson and Mary Linda Spann. 1934 Addition. 87

Andrew, Silas (b. 1 Jan 1905 - d. 18 Jan 1999)

Armfield, Anna W. (b. 25 Sep 1886 - d. 6 Jun 1919)

Armfield, Charlie Gray (b. 9 Aug 1887 - d. 1 Mar 1949)
Husband of Mattie Elizabeth Paul - Son of Robert E. Armfield and Alice Gray. Section G. 12

Armfield, Mattie Elizabeth Paul (b. 27 Jun 1898 - d. 9 Oct 1990)
Wife of Charles Gray Armfield - Daughter of William Edmund Paul and Etta Ophelia Ring. Section G. 12

Armfield, Robert G. (b. 10 Jul 1914 - d. 8 Jul 1917)

Arnold, Alice (b. 2 Feb 1876 - d. 1 Jan 1941)

Arnold, Hosea L. (b. 19 Dec 1896 - d. 8 Dec 1971)

Arnold, J. W. (b. 13 Feb 1905 - d. 29 Apr 1905)

Arnold, Maude (b. 17 Jul 1898 - d. 14 May 1978)

Arnold, Ralph W (b. 6 Mar 1912 - d. 17 Sep 1936)

Arnold, Rosa H. (b. 12 Sep 1914 - d. 26 Sep 1995)

Arnold, Sidney A. (b. 10 Mar 1874 - d. 12 Dec 1944)

Arnold, Sidney F. (b. 10 Apr 1906 - d. 10 May 1910)

Ashby, Charles Gladstone (b. 19 Nov 1903 - d. 24 Dec 1963)
Husband of Elizabeth Strowd - Son of Thomas B. Ashby and Myrtle Ross. 1957 Addition. 35

Ashby, Elizabeth Strowd (b. 10 Jun 1902 - d. 15 Jul 1988)
Wife of Charles Gladstone Ashby - Daughter of Robert Lee Strowd and Fannie Headen. 1957 Addition. 35

Ashman, Ann (b. - d. )

Ashman, Ron (b. - d. )

Atkins, Charles E. (b. 6 Jun 1921 - d. 12 Apr 1981)

Atkins, Mabel K. (b. 28 Nov 1923 - d. 3 Sep 1985)

Atkinson, Dick (b. 3 Sep 1947 - d. 4 Aug 2005)

Atkinson, Frank B. Sr (b. 14 May 1905 - d. 27 Jun 1982)

Atkinson, Geneva M. (b. 4 Jan 1920 - d. 23 Nov 1990)

Atkinson, Goldie W. (b. 31 Oct 1907 - d. 10 Oct 1996)

Atkinson, Jasper S. (b. 30 Dec 1876 - d. 22 Mar 1971)

Atkinson, Joseph R. (b. 18 Aug 1906 - d. 27 Feb 1908)

Atkinson, Louise Hess (b. 3 Feb 1916 - d. 15 Mar 1998)

Atkinson, May B. (b. 31 Jan 1880 - d. 5 Oct 1952)

Atkinson, Samuel M. Jr (b. 19 Sep 1948 - d. 13 Apr 1980)

Atkinson, Samuel M. Sr (b. 7 Feb 1914 - d. 26 Sep 1995)

Atkinson, Sara L. (b. 18 Dec 1917 - d. 16 May 1937)

Atwell, John T. (b. 2 Apr 1934 - d. 6 Aug 1972)
Web page updated 14 July 2016
Index of All Cemeteries
Alphabetical Index of All Burials
Previous Page