Index of All Cemeteries
Alphabetical Index of All Burials
Previous Page
Use the following to search across all the cemeteries listed.
Example: "Smith, Roger" (yes, use the quotes)
109 HOLYFIELD, HENRY HARDIN CEMETERY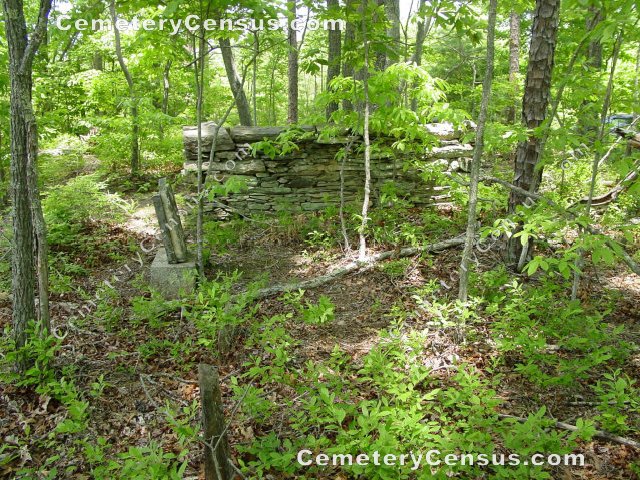 Location - Off Hardin Holyfield Rd, Dobson, Surry Co., NC.

Coordinates: 36d 17m 39.6s N; 80d 39m 02.9s W Click here for Google maps

Directions: From intersection of NC Hwy 268 and Rockford Rd in Dobson, go south on Rockford Rd for 2.9 miles and turn left on Hardin Holyfield Rd (which is in a curve and easily passed). Go .8 mile on Hardin Holyfield Rd and turn right on a dirt road immediately before reaching a driveway to a log home on the right. Go down this dirt road for .6 mile and the cemetery is in the woods on the right.

View #2 of the cemetery. View #3 of the cemetery.

Surveyed by Andy Hennis on June 6, 2006.
Township or district: Rockford.
Public or Private: Private property.
GPS Accuracy (ft.): 15.
Elevation above sea level (ft.): 1010.
Status of cemetery: Abandoned.
Surry County Parcel Number: 5913-00-40-5212.

There are several field stones and the following somewhat legible ones: James Holyfield (dates not legible); Infant son of H. F. and R. J. Snow, Feb ?, 188?; Dillard, son of P. H. and Maggie Snow, born Aug 16, 1883, died ??? 30, 1890; Terrell Snow, 1819 - 1895; Caroline Snow, 1818 - 1887. Terrell and Caroline share same headstone. A Masonic emblem is over Terrell's name. This cemetery is on a private 72 acre tract of land that has several deer blinds used for hunting. Do not recommend anyone going to this cemetery during deer season. Partway down the dirt road is a gate which was open at the time of this documentation. The dirt road is not in good condition and an old vehicle or 4-wheel drive is highly recommended. Stay on the main dirt road as there are several offshoots..


Holyfield, James (b. - d. )
Snow, Caroline (b. 1818 - d. 1887)

Snow, Dillard (b. 16 Aug 1883 - d. 30 Oct 1890)
son of P.H. and Maggie Snow

Snow, Infant (b. - d. 1 Feb 1882)
son of H.F. and R.J. Snow

Snow, Terrell (b. 1819 - d. 1885)
Web page updated 14 July 2016
Index of All Cemeteries
Alphabetical Index of All Burials
Previous Page