Index of All Cemeteries
Alphabetical Index of All Burials
Previous Page
Use the following to search across all the cemeteries listed.
Example: "Smith, Roger" (yes, use the quotes)
107 HARRELL-LEWIS FAMILY CEMETERY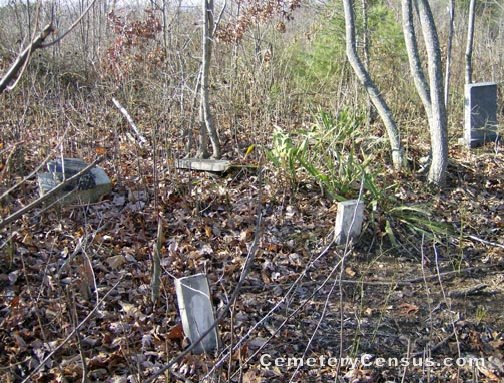 Location - 801 block of Turner Mountain Rd, Mt. Airy, Surry Co., NC.

Coordinates: 36d 24m 51.8s N; 80d 39m 41.7s W Click here for Google maps

Directions: From intersection of US Hwy 52 and 601 in Mt. Airy, go south on US Hwy 601 (Rockford St) for 1.35 miles and turn left on Old US Hwy 601. Then go 3.2 miles and turn left on Fireside Lane. Then go .3 mile on Fireside Lane and turn right on Turner Mtn Rd and go 1.5 miles to a dirt road on the right that leads partway up the mountain. As of May 2006, one would need a high frame, four wheel drive vehicle to go this rough road. Otherwise walk up to the end of the road and then walk about 250' through thick sapling and brier growth to the right to get to the cemetery. It is doubtful one would find it without a GPS unit or local guide.

View #2 of the cemetery. View #3 of the cemetery. View #4 of the cemetery.

Surveyed by Andy Hennis on May 1, 2006.
Township or district: Dobson.
Public or Private: Private property.
GPS Accuracy (ft.): 12.
Elevation above sea level (ft.): 1300.
Status of cemetery: Abandoned.
Surry County Parcel Number: 5917-00-13-5410 (Parcel ID may change due to auctioning of sub-divided lots on May 20, 2006).

There are a few unmarked field stones. Legible stones are as follows: W. M. Lewis, b. Jan 22, 1825, d. Mar 9, 1905; Elizabeth C. (or E.), wife of W. T. Lewis, b. ??? 31, 1800 or 1830, d. Oct 20, 19?? (stone is broken); twin sons of J. M. and M. P. Harrell, born and died Nov 23, 1900; and Sattie E. (the rest is not legible)..


Harrell, Infant (b. 2 Nov 1906 - d. 2 Nov 1906)
son of J.M. and M.P. Harrell
twin sons of J.M. and M.P. Harrell
daughter of ?? and ?? Harrell
(marker is broken and obscured)
Web page updated 14 July 2016
Index of All Cemeteries
Alphabetical Index of All Burials
Previous Page