Index of All Cemeteries
Alphabetical Index of All Burials
Previous Page
Use the following to search across all the cemeteries listed.
Example: "Smith, Roger" (yes, use the quotes)
086 FRIENDLY CHAPEL CHURCH CEMETERY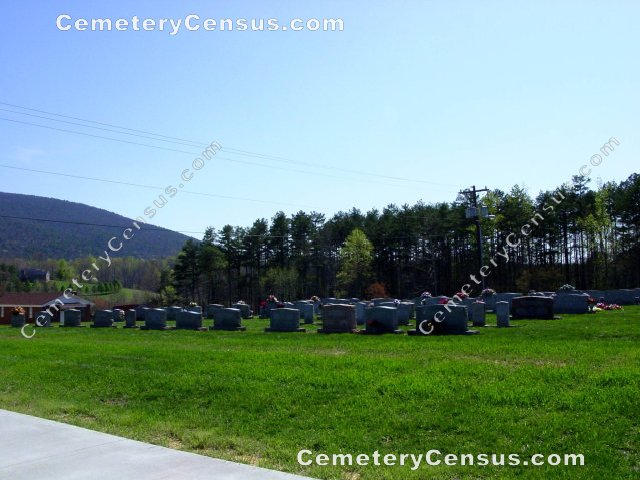 Location - Friendly Chapel Ch Rd, Pilot Mtn., Surry Co., NC.

Coordinates: 36d 21m 48.7s N; 80d 28m 53.8s W Click here for Google maps

Directions: From intersection of US Hwy 52 and NC Hwy 268, get on US Hwy 52 South bound ramp and "immediately" turn right on Black Mtn Rd for .6 mile bearing left on Friendly Chapel Church Rd. Church and cemetery are .25 mile on right.

View of the church.

Photographed and surveyed by Jack Luffman on October 14, 2010.

Surveyed by Andy Hennis on April 6, 2006.
Township or district: Pilot.
Public or Private: Public Access.
GPS Accuracy (ft.): 11.
Elevation above sea level (ft.): 1055.

336-368-4735.


Adams, Roxie Gunter (b. 22 Sep 1931 - d. 18 Mar 1994)
Wife of Roy Manuel Adams. Married 5 Dec 1945. Row 7
Husband of Roxie Gunter Adams. Row 7
Wife of Jay Thomas Angel. Row 4
Husband of Betty Jean Sams Angel. Row 4
Wife of Millard F. Arnder. Married 20 Nov 1942 Our Children: Frank, Mildred, Christine, Shirlene, Donnie, Ronald. Backside of marker. Row 5
Husband of Mary Lee Ashburn. Row 8
Wife of Edwin "Ed" Ashburn. Row 8
Loving Father of Max Ray Baker, Sr. and Marilyn Baker Mears. Row 4
Wife of John "Buddy" Beasley. Row 6
Husband of Earlis McKinney Beasley. Row 6
Wife of Joseph Bennett. Married 13 Apr 1944. Row 10
Husband of Almeta Odom Bennett. PFC US ARMY WW-II PURPLE HEART Military marker. Row 10
Husband of Edna L. Branch. Row 6
Wife of Rev. Ed Branch. Row 6
Husband of L. Christine Bryant. Row 10
Wife of Clayton A. Bryant. Row 10
Our Beloved Brother. Row 4
Husband of Minnie L. Chilton. Row 6
Husband of Vera Gammons. Row 9
Wife of Emmitt A. Chilton. Row 6
Wife of Jimmy Ray Chilton. Married 24 Oct 1958. Row 9
Husband of Stella Simmons Coins. Row 7
Wife of Hillery Leftwich Coins. Row 7
Wife of Victor G. Collins. Row 3
Husband of Maude S. Collins. The Wrecker Man Has Gone To Be With Jesus. Row 6
Wife of Campbell W. Collins. A Loving Wife and Mother. Row 6
Husband of Aleene E. Collins. Row 3
Wife of William C. Creasy. Row 3
Infant Son of Brent and Brenda Crissman. Row 2
Infant Daughter of Brent and Brenda Crissman. Row 2
We Miss You Mom Dad Cynthia Amy Ricky. Row 6
Wife of Verlin J. Dickens. Row 8
Wife of Simon L. Duncan. Row 3
Husband of Gertie W. Duncan. Row 3
Wife of William Ray Edwards. Row 7
Husband of Mary P. Edwards. Row 7
Wife of W. Herman Emerson. Row 3
Husband of Eva B. Emerson. Row 3
Husband and Father. Row 4
Husband of Ruth Turney Gammons. Row 7
Wife of Posie Gray Gammons. Married 21 Dec 1957. Row 7
Husband of Susie M. Goins. Row 7
Wife of S. P. "Sam" Goins. Row 7
Husband of Shirley F. Hiatt Death Is Not Extinguishing The Light It Is Putting Out the Lamp because Dawn Has Come. Row 4
Wife of Griffith M. Hiatt. Row 4
Husband of Elsie F. Hiatt. Row 4
Wife of Colan L. Hiatt. Married 3 Jan 1954. Row 4
Husband of Louise S. Hicks. Row 8
Wife of James Franklin Hicks. Row 9
Husband of Frances Sawyers Hicks. Row 9
Wife of Dillard W. Hicks. Row 8
Husband of Lucy S. Hooker. NORTH CAROLINA PFC US ARMY WW-II Military marker. Row 1
Wife of Herman Joe Hooker. Row 1
Husband of Hazel Goin Hunter. Row 7
Wife of Curtis Lee Hunter. Row 7
Husband of Nora N. Inman. Row 1
Wife of David A. Inman. Row 1
Wife of James L. Inman. Row 1
Wife of John H. Jessup. Row 1
Husband of Hessie H. Jessup. Row 1
Husband of Georgie Ella Johnston. Row 5
Wife of Billy Gray Johnston Sr.. Row 5
Wife of David R. Key. Row 1
Husband of Cleo M. Key. Row 1
Husband of Pauline Montgomery Lane. Row 8
Wife of Gurnie Robert Lane. Row 8
Wife of Rev. Odell Lawson. Row 1
Husband of Annie Lawson. Row 1
Wife of James Sidney Mabe. Row 9
Husband of Betty Pruitt Mabe. Row 9
Daughter of Larry Gray Marsh and Betty Ann Stanley Marsh. Row 2
Husband of Iris Goins Marsh. Row 5
Wife of H. C. (Jack) Marsh. Row 5
Wife of Larry Gray Marsh. Row 5
Husband of 1) Betty Ann Stanley Marsh and 2) Joyce Inman Marsh. Row 5
Husband of Vinia Marsh. Row 1
Wife of Vernon H. Marsh. Row 1
Wife of Ellis Mayes. Wed 6 May 1947. Row 7
Husband of Dorothy Mayes. Row 7
Wife of W. Henry Mays. Row 5
Husband of Pauline J. Mays. Row 5
An Inspiration To All Who Knew Her. Row 4
Wife of Larry R. Midkiff. Row 9
Husband of Delane D. Midkiff. An Inspiration to All Who Knew Him. SP5 US ARMY VIETNAM Military marker. Row 9
Wife of Harvey Lewell Mullins. Married 19 Oct 1950. We Dearly Love Each Other. Backside of marker. Row 8
Wife of W. Clay Nixon. Row 3
Husband of Stella B. (Nanny) Nixon. Row 3
Husband of Louise Oliver Parker. Row 7
Son of Verlon and Julia Parker. Row 2
Wife of Rev. Edward Parker. Row 7
Infant Son of Verlon and Julia Parker. Row 2
Husband of Linda Lee M. Pike. Row 8
Wife of Howard P. Pike Jr.. Row 8
Wife of Fred J. Pratt. Row 9
Wife of David Preston Quesenberry. Married 11 Nov 1958. Row 7
Husband of Daisy Lee Wood Reid PFC US ARMY WW II. Row 4
Husband of Ruby L. Sawyers. Row 4
Wife of J. Aubrey Sawyers. Row 4
Husband of Ilene Briggs Setliff. Row 4
Wife of Henry Amick Setliff. Married 18 Nov 1978. Row 4
Husband of Willie Mae Mayes Shaw. Row 8
Wife of John Galen Shaw. Row 8
Wife of Joe C. Shinault. Row 1
Husband of Hester A. Shinault. Row 1
Husband of Nora Fulk Simmons. Row 10
Wife of Joe Bill Simmons. Row 10
Wife of Junior Willie Simpson. Row 3
Wife of Louie Nathan Slater, Sr.. Row 7
Husband of Judy Kaye Tilley. Row 4
Husband of Shirley W. Tilley. Row 9
Wife of Clarence Woodrow Tilley Jr. Beloved Brother and Sister. Row 4
Wife of Clarence W. Tilley, Sr.. Row 3
Wife of Franklin D. Tilley. Row 9
Devoted Christian Loving Daddy And Papa. Row 5
funeral home marker. Row 3
Wife of Leonard E. Vernon. Row 5
Husband of Terry M. Williams. Row 3
Wife of Danny R. Williams. Married 5 Aug 1978. Row 3
Wife of Will Yates. Wed 24 Dec 1931. Row 6
Husband of Alvirda Hicks Yates. Row 6
Web page updated 14 July 2016
Index of All Cemeteries
Alphabetical Index of All Burials
Previous Page