Index of All Cemeteries
Alphabetical Index of All Burials
Previous Page
Use the following to search across all the cemeteries listed.
Example: "Smith, Roger" (yes, use the quotes)
084 FORKNER CEMETERY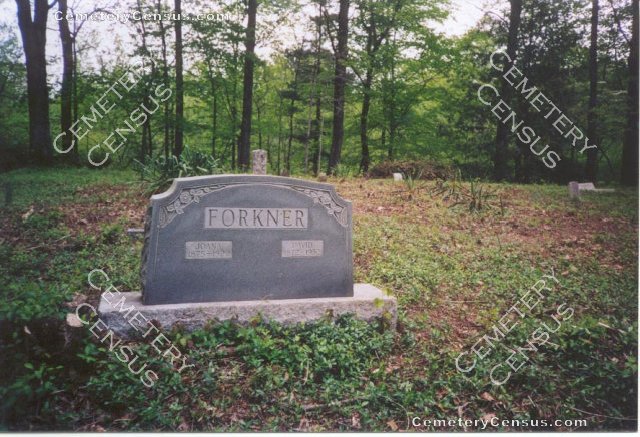 Location - Town Lane, Mt. Airy, Surry Co., NC.

Coordinates: 36d 29m 54.5s N; 80d 33m 46.6s W Click here for Google maps

Directions: From intersection of US Hwy 52 Business (S. Main St) and NC Hwy 89 East (Westfield Rd), go east on NC Hwy 89 to Brenda Drive on the left. Turn left on Brenda Drive and go to McGee St. Turn left on McGee St, then right on Town Lane and go to last house on the right. Get permission to park in driveway (Marshall name on the mailbox). Walk straight down steep hill (was a road at one time) and bear to the left along bushes and woods. Stay close to fence/pasture on the left and go to end of fence, then climb up hill into the back of the cemetery.

Surveyed by Wilma Hiatt on May 4, 2006.
Township or district: Mt. Airy.
Public or Private: Private property.
GPS Accuracy (ft.): 8.
Elevation above sea level (ft.): 1126.

At one time it was on the Hunter Farm Property (Westfield Road) and they would let you drive through the pasture to the cemetery (and not have to go through the woods).

Photographs by Wilma Hiatt in 2006. Lucy Midkiff photograph by Daniel Loftis in June 2011.


Combs, Eli W. (b. 1850 - d. 1913)
Husband of 1) Milley Ann Forkner, m. 1 May 1876 in Surry and 2) Jennie, m. 14 Nov 1900

Combs, Milley Ann Forkner (b. 1847 - d. 1900)

Combs, Willi (b. 1890 - d. 1906)
Son of Eli W. Combs and Milley Ann Forkner

Forkner, J. David (b. 1872 - d. 15 Dec 1932)
Husband of Joana O. Laster, m. 10 Aug 1899 in Surry

Forkner, Joana O. "Jana" Laster (b. 1875 - d. 8 Aug 1922)
Wife of David Forkner and daughter of John W. Laster and Martha Jane Wall

Forkner, Samuel (b. - d. )
No dates - Co A, 2nd NC Infantry

Longridge, David (b. 1854 - d. 1941)

Longridge, Kate (b. 1876 - d. 1940)

Midkiff, Ephraim (b. Abt 1817 - d. 4 Feb 1896)
Husband of Lucy Ann Forkner, m. 2 Nov 1847 in Surry. Grave not shown but dates are from ancestral research.

Midkiff, Lucy Ann Forkner (b. 27 Jan 1824 - d. 18 Mar 1885)
Wife of Ephraim Midkiff and daughter of James Forkner and Millie Harris. Can't read dates on stone, but these dates are from ancestral research. Older photo.
Web page updated 14 July 2016
Index of All Cemeteries
Alphabetical Index of All Burials
Previous Page