Index of All Cemeteries
Alphabetical Index of All Burials
Previous Page
Use the following to search across all the cemeteries listed.
Example: "Smith, Roger" (yes, use the quotes)
076 FAIRVIEW BAPTIST CHURCH CEMETERY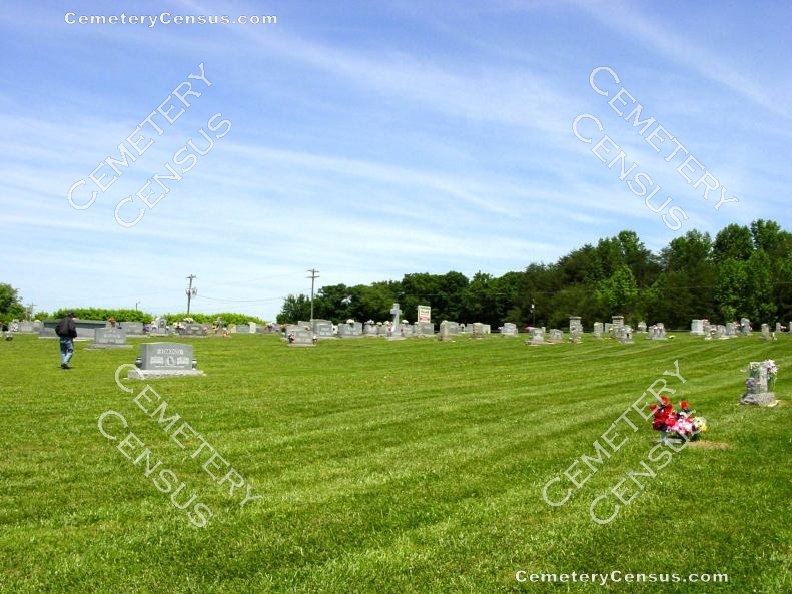 Location: 7659 NC Hwy 268, east of Fairview Crossroads, Fairview, Surry Co., NC.

Coordinates: 36d 19m 40.0s N; 80d 43m 05.1s W Click here for Google maps

Directions: From intersection of US Hwy 601 and NC Hwy 268 in Dobson (Fairview Crossroads), go east on NC Hwy 268 for .1 mile. Cemetery and church are on right.

View of the church.

Surveyed by Andy Hennis on May 6, 2006.
Township or district: Marsh.
Public or Private: Public Access.
GPS Accuracy (ft.): 12.
Elevation above sea level (ft.): 1122.
Surry County Parcel Number: 4994-00-32-7561.

336-386-4714.

Surveyed and photographed by Jack Luffman on November 5, 2009, beginning with the row closest to the church and going from left to right in each row.


Alberty, Eliza P. (b. 3 Dec 1875 - d. 5 Jul 1952)
Wife of Winston L. Alberty. Row 25
Husband of Jessie J. Alberty. Row25
Wife of Thelmore C. Alberty. Row 22
Husband of Virginia Irene Bullin Alberty Married Dec 27, 1986. Row 25
Wife of Floyd A. Alberty. Row 25
Husband of Ida Shackleford "Peggy" Alberty. Row 22
Wife of Warren F. Alberty. Eastern Star. Alberty Family marker. Row 25
Mason. Husband of Eliza P. Alberty. Row 25
Wife of Fay A. Anthony. Row 6
Husband of Etta B. Anthony. Row 6
Wife of Troy McKinley Atkins Married Sep 24, 1949. Row 14
Wife of Louis Atkins. Row 6
Wife of Lemuel W. Atkins Married Feb 5, 1933. Row 28
Husband of L. Etacie Atkins. Row 28
Wife of James M. Atkins. Row 28
Husband of Hessie H. Atkins. Row 28
Husband of Elizabeth Atkins. Row6
Wife of Robert L. Atkins. Row 6
Husband of Carrie Wolfe Atkins. Atkins Family marker. N.C. SC3 USNR WW II. Row 28
Husband of Mary E. Atkins. Row 6
son of Mr. and Mrs. A. V. Ayers. Row 11
Triplets of Mr. and Mrs. George Ball. Row 7
Wife of Robert Rufus Bledsoe. Row 24
Husband of Gladys Corder Bledsoe. Row 24
Husband of Lizzie Bray. Row 17
Wife of Crawley Bray. Row 17
Husband of Fairy H. Brendle. Row 42
Wife of Arvil M. Brendle. Row 4
son of J. C. and Cassie Brendle. Row 25
Wife of Arvil Brendle. Row 25
Daughter of F. H. and M. L. Brendle. Row 25
Wife of Grant Brendle. Row 25
Husband of Mildred W. Brindle. Row 25
Wife of Fountain H. Brindle. Row 25
Wife of Howard Brindle. Row 11
Wife of Allen E. Brown. Row 8
Husband of Vickie White. Row 22
Wife of James C. Calhoun. Row 22
Husband of Myrtle White Carter. Row 18
Wife of Milas Ray Carter. Row 18
Husband of Manervia L. Chrismon. Row 6
Wife of Carl R. Chrismon. Row 6
Wife of William Wyatt Church S SGT US Army AIR FORCES WW II Military marker. Row14
Husband of Va. Irene White Church Married Mar 22, 1947. Row 14
Husband of Vertie S. Coe. Row 22
Wife of Arlis M. Coe Married Aug 17, 1940. Row 22
Husband of Mary Etta Collins. Row 6
Wife of Danuel B. Collins. Row 6
Daughter of D. B. and M. E. Collins. Row 6
Husband of Judy E. Byrd. Row 18
Wife of Jimmie C. Combs, Jr. Married 12 Dec 1988. Row 18
Wife of John H. Corder. Row 24
Wife of Grady C. Corder. Row 24
N.C. CPL US Army WW I. Row 10
Wife of Walter Corder. Row 24
Vet. Of World War II. Row 10
Husband of Josie P. Corder. Row 24
Husband of Cora Lee Corder. Row 24
Son of Gilmer and Josie Corder. Row 24
Husband of Lola S. Corder. Row 24
Husband of Alice Lee Corder. Row 24
Wife of Gilmer Corder. Row 24
Wife of John A. Corder. Row 24
Husband of Ella L. Corder. Row 24
Wife of Robert Dixon Davis. Row 2
Wife of Clay Monroe Davis. Row 3
Wife of Will A. Davis. Row 15
Husband of Treva Corder Davis. Row 17
Wife of Oliver Leonard Davis. Row 17
Husband of Lottie W. Davis. Row 15
Wife of Ralph S. Dobbins. Closeup of inscription. Row 23
Husband of Irene Haynes Dobbins. Closeup of inscription. S2 US NAVY WW II. Row 23
Husband of Vena W. Draughn. marker listing children of Kelly and Vena Draughn: Vickie, Joy, Terri, Lisha, Robert, Lorri. Row 8
Wife of Kelly R. Draughn Married Mar 9, 1946. Row 8
Husband of Mattie White Durham. Row 23
Wife of James Daniel Durham Married Oct 29, 1945. Row 23
Wife of Wendell Edmonds. Row 11
Husband of Opal Edmonds. Row 11
Husband of Hattie W. Fowler. Row 18
Wife of James A. Fowler Married Jul 19, 1952. Row 2
Wife of Alex Fowler Married Dec 22, 1928. Row 18
Husband of Frances C. Fowler. Row 2
Wife of W. H. Fowler. Row18
Wife of Louie S. Gray. Row 17
Husband of Edith W. Gray. Row 17
Wife of Daniel L. Griner. Row 26
Husband of Myrtle B. Hardy. Row 14
Wife of Claude Hardy. Row 14
Husband of Mittie Harris. Row 26
Wife of John F. Harris. Row 26
Husband of Lelia Dinkins Haynes. Haynes Family marker. PVT US Army WW I. Row 23
Daughter of John S. and Mary Frances Haynes. Haynes Family marker. Row 23
Wife of R. O. "Ott" Haynes. Row 28
Wife of Davis M. Haynes. Row 14
Husband of Maude Atkins Haynes. Row 28
Wife of C. Leo Haynes. Row 22
Husband of Texas S. Hemric. Hemric Family marker. NC COX US NAVY WW II. Row 22
son of Carl D. and Texas V. Hemric B. and D. Jul 23, 1934. Row 22
Wife of J. Alvin Hodges. Row 23
Husband of Bertha W. Hodges. Row 23
Husband of Lorene White Holyfield. Row 23
Wife of George N. Holyfield Wed May 10, 1952. Row 23
Funeral home marker. Row 7
Husband of Clyde Cockerham Humphries. Row 7
Wife of Charlie Cooper Humphries. Row 7
Funeral Home Marker. Row 4
Husband of Rosa Maria Jimenez. Row 1
Wife of Jose A. Jimenez Married Jan 30, 1984. Row 1
Husband of Mallie W. Johnson. Row 17
Wife of Dillard I. Johnson Married May 15, 1917. Row 17
Husband of Myrtle R. Lewis PFC US Army AIR FORCES WW II Military marker. Row 18
Wife of Kermit Leo Lewis. Row 18
Husband of Norma V. Linville. Row 15
Wife of Oscar H. Linville. Row 11
Wife of Alfred M. Linville. Row 15
Husband of Lillian H. Linville. Row 11
Son of James W. and Dorothy W. Mooney. Row 6
Wife of James W. Mooney. Row 5
Son of Dewey and Martha Mooney. Row 14
Wife of H. C. Mooney. Row 14
Husband of Frances H. Mooney. Row 14
Husband of Dorothy W. Mooney. Row 5
Wife of Taft William Moser Married Apr 11, 1981. Row 2
Wife of Ernest L. Moser. Row 11
Husband of Ann Davis Moser. Row 2
Husband of Sarah Louise Norman. Row 15
Wife of Lawrence Phillip Norman. Row 15
Wife of Sam H. O'Neal. Row 20
Husband of Lucille "Cille" O'Neal HA2 US NAVY WW II. Military marker. Row 20
Husband of Minnie May Orr. Row 6
Wife of Charlie Orr. Row 6
Wife of Glenn T. Phillips. Row 15
Wife of Roy W. Phillips. Row 15
Husband of Edna Venable Phillips TEC 5 US Army WW II Purple Heart Military marker. Row 15
Husband of Sarah Spencer Phillips. Row 16
son of R. W. and Etta Phillips Jun 3, 1931. Row 15
Wife of Vernie Alvin Phillips. Row 16
Husband of Ruth A. Phillips. Row 26
Husband of Etta M. Phillips. Row 15
Daughter of H. B. and S. E. Phillips. Row 16
Wife of Henry Brady Phillips. Row 16
Husband of Opal Anthony Phillips. Row 16
Wife of John Richard Pilson. Row 25
Husband of Ila Alberty Pilson. Row 25
Husband of Alas P. Poindexter. Row 11
Wife of A. L. Poindexter. Row 11
Wife of William E. "Bill" Poindexter Wed Feb 27, 1959. Row 27
Wife of John L. Poindexter. Row 11
Husband of Fern Snow Poindexter TEC 4 US Army WW II Military marker. Row 22
Wife of Clarence Fred Poindexter. Row 22
Husband of Sandy L. Poindexter. Row 11
Husband of Louisia E. White Poindexter. Row 22
Husband of Lucinda Poindexter. Row 23
Husband of Martha M. Poindexter Mason. Row 19
Husband of Clara Snow Poindexter. Row 11
Wife of J. H. Poindexter. Row 22
Wife of J R. Poindexter. Row 23
Wife of Ralph Poindexter. Row 25
Wife of Jno. H. Poindexter. Row 19
Husband of Mae B. Poindexter. Row 25
Wife of Fronnie J. Poindexter. Row 11
Wife of William Lee Poindexter. Row 11
Husband of Betty G. Disher Poindexter. PFC US ARM WW II Bronze Star Military marker. Row 27
Husband of Sarah M. Poindexter. Row 11
Wife of Jim Dan Reece. Row 28
Wife of Horace J. Sawyers. Row 5
Husband of Helen L. Sawyers. Row 5
Husband of Georgia W. Simpson. Simpson Family marker. TEC 4 US Army WW II. Row 20
Husband of Eva Adams Snow. Row 6
Wife of C. Roosevelt Snow Married Apr 4, 1926. Row 6
Husband of Lois J. Snow. Row 5
Wife of Woodrow Snow. Row 16
Wife of Fred R. Snow. Row 5
Daughter of Cleve and Ethel Snow. Row 16
Husband of Edith Badgett Snow. Snow Family marker. PFC US Army WW II. Row 14
Wife of James A. Sprinkle Married Aug 26, 1949. Sprinkle Family marker. Row 9
Husband of Carolyn Elmore Sprinkle. Sprinkle Family marker. SP3 US Army. Row 9
Husband of Nancy Crissmon Stanley. Row 4
Wife of Bill Stanley Married Oct 10, 1953. Row 4
G. M. 1-C U.S. Navy. Row 26
Husband of Dorothy S. Terrell. Row 14
Wife of Dave Terrell. Row 14
funeral home marker - unreadable. Row 8
funeral home marker - unreadable. Row 8
planted field rock. Row 21
planted stone labeled M. D. R. died Feb 3, 1943. Row 19
Wife of Jesse A. Vernon. Row 24
Wife of Robert T. Vestal. Row 6
Husband of Betty A. Vestal. Row 6
Husband of Ruth Evans White. Row 23
Wife of Lincoln White. Row 18
Husband of Nancy B. White. Row 20
Husband of Edna C. White. Row 17
Wife of Goman W. White. Row 17
Wife of Charlie C. White. Row 17
Wife of Robert White Married 1882. Row 7
Husband of Marie Hinson White SGT US Army WW II Purple Heart Military marker. Row 18, 186
Husband of Annie Stanley White. White Family marker. SN 34-867-026, 1060 A.A.F. WW II. Row 19
Son of J. L. and Minnie White. Row 18
Wife of Rev. C. Clifford White. Row 10
Daughter of Mr. and Mrs. J. E. White. Row 16
Husband of Cleetie M. White. Row 17
Husband of Minnie Key White. Row 18
Husband of Pearl Phillips White NC PVT US Army WW I Military marker. Row 16
Husband of Freeda S. White. White Family marker. CPL US Army Air Forces WW II. Row 22
Wife of Rufus J. White. Row 20
Husband of Annie Delanie Nance White. White Family marker. Row 24
Wife of Carvle G. White. Row 18
Husband of Addie White. Row 18
Wife of Farris Lester White. Row 18
Husband of Jeannean Moore White. White Family marker. Row 25
Wife of Sandy E. White Married Dec 19, 1945. Row 20
Wife of W. Henderson White. Row 17
Wife of J. Lloyd White. Row 18
Wife of Bruce M. White. Row 20
Wife of James Emery White Married Oct 23, 1921. Row 16
Husband of Gladys M. White. Row 10
Son of Marvin William and Jeannean White. Row 25
Wife of Adam G. White. Row 23
Husband of Mary Lee White S. SGT US Army WW II Military marker. Row 20, 214
Wife of John Clarence White. Row 23
Wife of Charles E. White, Sr. Row 4
Husband of Matilda D. Wilmoth White. Row 17
Wife of Howard H. Wilmoth. Row 21
Wife of Robert Wilmoth. Row 15
Wife of Hobert Wilmoth. Row 22
Husband of Annie Wilmoth. Row 22
Husband of Alice E. Wilmoth. Row 21
Husband of Maude S. Row 21
Son of Mr. and Mrs. Howard Wilmoth. Row 21
Husband of Eulala Harbour Wilmoth. Wilmoth Family marker. NC PVT US Army WW I. Row 19
Wife of J. Delbert Wilmoth. Row 21
Husband of Alma Riggs. Row 15
Husband of Lillian D. Wilmoth. Wilmoth Family marker. NC PFC US Army WW I. Row 21
Wife of Raymond M. Wolfe. Row 23
Husband of Maude E. Wolfe. Row 23
Son of Roscoe and Nora Wood. Row 13
Daughter of J. R. and Nora Wood. Row 13
Wife of Phola C. Wood. Row 17
son of J. R. and N. L. Wood. Row 13
Husband of Sarah Frances Stanley Wood. Row 8
Wife of Walter R. Wood. Row 8
N. C. S. SGT Army AIR FORCES WW II. Row 13
Husband of Bonnie G. Wood. Row 17
Wife of James Wood. Row 8
Husband of Myrtle P. Wood. Row 8
Wife of James Carl Woodring. Row 17
Husband of Gladys J. Woodring PVT US Army WW II Military marker. Row 17, 173
Web page created 2 September 2011
Index of All Cemeteries
Alphabetical Index of All Burials
Previous Page