Index of All Cemeteries
Alphabetical Index of All Burials
Previous Page
Use the following to search across all the cemeteries listed.
Example: "Smith, Roger" (yes, use the quotes)
071 EAST ELKIN FULL GOSPEL CHURCH and CEMETERY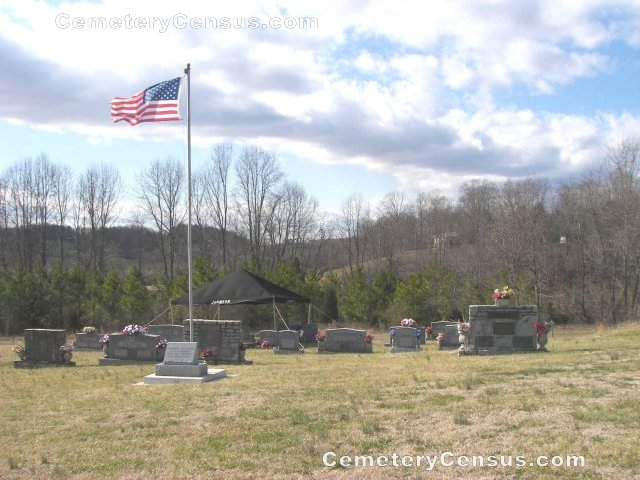 Location - NC Hwy 268 East, East Elkin, Surry Co., NC.

Coordinates: 36d 15m 16.9s N; 80d 48m 00.3s W Click here for Google maps

Directions: From Elkin, take Hwy 268 E for 2.8 miles. Cemetery is on right.

View of the church. View of the church cornerstone. Memorial to Veterans.

Surveyed and photographed by Jack Luffman on November 2, 2009.

Surveyed by Joe Hicks on April 6, 2006.
Township or district: Elkin.
Public or Private: Public Access.
GPS Accuracy (ft.): 18.
Elevation above sea level (ft.): 932.
Surry County Parcel Number: 4961-00-96-1389.

Childress, Nixon, Martin, Gilliam, Cheek.


Andrews, Flora V. (b. 16 Sep 1925 - d. 15 Apr 2005)
Wife of Samuel H. Andrews. Row 2
Husband of Flora V. Andrews. US Army WW II Purple Heart Military marker. Row 2
Wife of Cletus C. Anthony. Row 3
Husband of Ruth P. Ashley. Row 3
Wife of Harvey L. Ashley. Row 3
Wife of George A. Brown. Row 3
Husband of Bertha A. Mackie Brown. Row 3
Wife of Max Eddie Cheek. Row 4
Wife of Porter G. Childress. Row 1
Husband of Mattie Ford Childress. Row 1
Wife of Woodrow Dewain Cornett. Row 4
Husband of Kathryn Louise Cornett. Row 4
Wife of Mack McKinley Ford. Row 1
Husband of Adrenna McCann. Row 1
Wife of Hazel A. Jenkins. Row 2
Husband of Ennis Luffman Jenkins. Row 2
Wife of Jack B. Martin. Row 1
Husband of Betty Ford Martin. SSGT US Air Force Vietnam Military marker. Row 1
Wife of William S. Martin. Row 4
Husband of Ollie Cleo Martin. Row 4
Wife of Roy C. Nixon. Row 4
Husband of Frances R. Nixon. Row 4
Wife of Ottis J. Snow Married May 19, 1928. Row 3
Husband of Bessie F. Snow. Row 3
Husband of Winnie S. Vestal. Row 1
Wife of Ray W. Vestal. Row 1
Husband of Thelma Nay Ford. Row 2
Wife of Herbert Earl Walters. Row 2
Web page updated 14 July 2016
Index of All Cemeteries
Alphabetical Index of All Burials
Previous Page