Index of All Cemeteries
Alphabetical Index of All Burials
Previous Page
Use the following to search across all the cemeteries listed.
Example: "Smith, Roger" (yes, use the quotes)
069 DUNBAR CEMETERY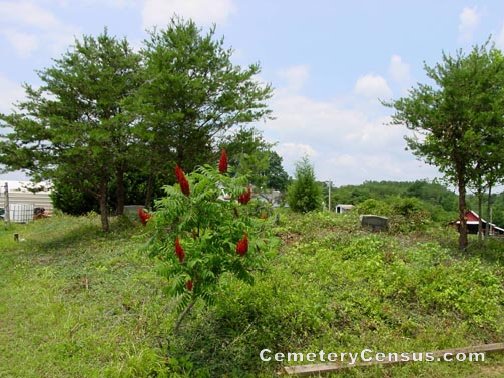 Location - Off Adventure Trail, Mt. Airy, Surry Co., NC.

Coordinates: 36d 28m 08.4s N; 80d 39m 24.6s W Click here for Google maps

Directions: From intersection of US Hwy 52 and 601 (Rockford St) in Mt. Airy, go south on Rockford St for 2.2 miles. Then right on McKinney Rd and then right on Adventure Trail. Cemetery is behind a utility shed behind the first home on the right.

View #2 of the cemetery. View #3 of the cemetery.

Surveyed by Andy Hennis on June 29, 2006.
Township or district: Mt. Airy.
Public or Private: Private property.
GPS Accuracy (ft.): 12.
Elevation above sea level (ft.): 1122.
Surry County Parcel Number: 5919-00-23-7603.

Legible stones in this cemetery are as follows: Mary, Wife of ???? Dunbar, b. Apr 21, 1851, d. ??? 26(?), 1875; Henry Dunbar, b. Jan 30, 1871, d. Jul 27, 1934; Ada C. Dunbar, b. Aug 16, 1873, d. Dec 10, 1959 (Henry and Ada share the same stone); Howard Henry Dunbar, b. 1911, d. 1945; Edgar Allen Dunbar, b. Nov 11, 1928, d. Feb 21, 1930; Bettie Hodges Williams, b. Nov 18, 1862, d. Nov 14, 1950; Rebecca, Wife of T. R. Hodges, b. Mar 19, 1822, d. Aug 16, 1899 (Bettie and Rebecca share the same stone); Robert L. Caudle, b. May 11, 1911, d. Feb 25, 1959; Leavie Dunbar Caudle, b. Jul 4, 1908, d. Feb 3, 1939 (Robert and Leavie share the same stone)..


Caudle, Leavie Dunbar (b. 4 Jul 1908 - d. 3 Feb 1939)
Husband of Leavie Dunbar Caudle
Wife of T.R. Hodges. on same stone with Bettie Hodges Williams.
on same stone with Rebecca Hodges
Web page updated 14 July 2016
Index of All Cemeteries
Alphabetical Index of All Burials
Previous Page