Index of All Cemeteries
Alphabetical Index of All Burials
Previous Page
Use the following to search across all the cemeteries listed.
Example: "Smith, Roger" (yes, use the quotes)
068 DOVER BAPTIST CHURCH CEMETERY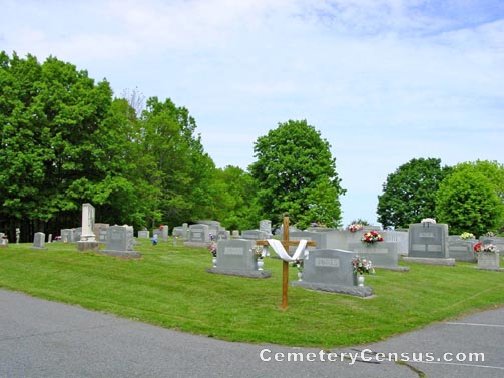 Location - 541 Dover Ch Rd, Mt. Airy, Surry Co., NC.

Coordinates: 36d 26m 15.6s N; 80d 38m 14.6s W Click here for Google maps

Directions: From intersection of US Hwy 52 and 601 in Mt. Airy, go south on US Hwy 601 (Rockford St) for 1.35 miles and turn left on Old US Hwy 601. Go 2.3 miles on Old US Hwy 601 and turn left on Simpson Mill Rd. Go about .25 miles on Simpson Mill Rd and turn left on Dover Church Rd. Go .15 mile to Church and cemetery on the left.

View of the church.

Surveyed by Andy Hennis on April 6, 2006.
Township or district: Eldora.
Public or Private: Public Access.
GPS Accuracy (ft.): 11.
Elevation above sea level (ft.): 1235.

336-786-2522.
Partial burials survey in 2012.


Atkins, Herbert Monroe (b. 20 Feb 1907 - d. 9 Feb 1971)
Badgett, Annie Taylor (b. 8 Sep 1915 - d. 9 Nov 2010)
Blue, Jennie Jackson (b. 14 Apr 1888 - d. 12 Dec 1917)
Creed, Easter E. Draughn (b. 17 Jan 1854 - d. 18 Apr 1941)
Creed, Ernestine Hanks (b. 8 Dec 1911 - d. 9 May 1967)
Creed, James M. (b. 1852 - d. 1 May 1930)
Creed, Richard Z. (b. 25 Jan 1893 - d. 3 Dec 1972)
Creed, Rosa Virginia Sexton (b. 24 Mar 1934 - d. 28 Jan 2012)
Culler, Mary Jane McMillian (b. 6 Sep 1890 - d. 14 Nov 1969)
Danley, Herman Elzevan (b. 30 Jan 1915 - d. 28 Jun 1975)
Doby, Diane Michelle (b. 16 Jan 1971 - d. 16 Jan 1971)
Draughn, Cleo Johnson (b. 11 Feb 1858 - d. 4 Jan 1948)
Draughn, Ella Slaydon (b. 10 May 1892 - d. 10 Sep 1970)
Draughn, Gratsie Herman (b. 29 Jan 1920 - d. 27 Mar 1966)
Draughn, Hazel Virginia Marshall (b. ??? 26 1915 - d. 29 May 2009)
Draughn, Infant Boy (b. 26 Mar 1919 - d. 26 Mar 1919)
Draughn, James David (Rev.) (b. 5 Dec 1845 - d. 19 Jan 1914)
Draughn, Lester (b. 28 Oct 1885 - d. 28 Oct 1914)
Draughn, Otis Millard (b. 22 Jul 1884 - d. 2 May 1959)
Draughn, Rosa E. (b. 29 Mar 1923 - d. 2 Apr 1923)
Draughn, Sarah Elizabeth Draughn (b. 27 Feb 1861 - d. 7 Mar 1944)
Draughon, Barbara Edwards (b. 25 Nov 1949 - d. 13 Jun 2002)
Draughon, Benjamin Edgar (b. 8 Oct 1892 - d. 28 May 1976)
Fletcher, Lois Aline Brintle (b. 9 Nov 1924 - d. 11 Dec 2004)
Hennings, Martha (b. 22 Jul 1832 - d. 6 Feb 1916)
Jackson, Jobe (b. 11 Mar 1849 - d. 15 Apr 1935)
Jackson, Winnie Nichols (b. 11 Oct 1855 - d. 8 Feb 1946)
Jones, Cinnie Draughn (b. 5 Jun 1875 - d. 4 Mar 1962)
Jones, Infant Girl (b. 14 Dec 1930 - d. 14 Dec 1930)
Jones, Rachel (b. 8 Aug 1886 - d. 15 Oct 1913)
Jones, Thomas J. (b. 9 Jul 1869 - d. 28 Jun 1935)
Kallam, Annie Elizabeth Draughn (b. 20 Aug 1880 - d. 6 Aug 1965)
Kallam, Lemuel W. (b. 23 Jul 1884 - d. 18 Jan 1933)
Kallam, Lilla Gray (b. 24 Dec 1914 - d. 15 Dec 1916)
Kallam, Robert (b. 4 Nov 1918 - d. 12 Sep 1927)
Kennidy, Henry James (b. 13 Aug 1933 - d. 16 Jan 1936)
Key, Andy Martin (b. 3 Jan 1860 - d. 15 Aug 1942)
Key, Henry Rufus (b. 9 Sep 1881 - d. 4 Sep 1960)
Key, John Samuel (b. 6 May 1890 - d. 7 Jul 1975)
Key, Lara Columbia Brintle (b. 13 Jun 1862 - d. 22 Jun 1930)
Key, Maude Creed (b. 18 Mar 1890 - d. 8 Dec 1967)
Kidd, Billy Gray (b. 12 Aug 1940 - d. 29 Dec 2011)
Kidd, James Elmer (b. 3 Nov 1912 - d. 5 Dec 1971)
Kidd, Minnie Frances Jones (b. 17 Dec 1914 - d. 1 Jan 1986)
Lane, Nora Erskine Todd (b. 15 Oct 1889 - d. 15 Aug 1965)
Miller, Gregory Lee (b. 20 Jan 1969 - d. 23 Jan 1969)
Nichols, Dudley (b. 1784 - d. 1885)
Nichols, Sarah E "Sally" Bingham Parsons (b. 1795 - d. 1863)
Peele, Infant Boy (b. 20 May 1920 - d. 20 May 1920)
Potts, Amos (b. 1 Mar 1847 - d. 15 Jan 1926)
Potts, Cathy Jane (b. 26 Apr 1959 - d. 10 Jun 1959)
Potts, Frank (b. Dec 1877 - d. 6 Aug 1934)
Potts, James Green (b. 31 May 1937 - d. 13 Sep 1975)
Potts, Mary L. Creed (b. 21 Jul 1881 - d. 8 Jul 1930)
Potts, Montgomery Vestal (b. 1 Jan 1883 - d. 9 Jan 1959)
Potts, Ruth E. Draughn (b. 16 Dec 1847 - d. 29 Dec 1935)
Potts, Ruth Gertrude (b. 4 Mar 1912 - d. 18 May 1971)
Potts, Will Richard (b. 8 Nov 1890 - d. 30 Oct 1964)
Shackelford, Mary A. Jones (b. 8 Apr 1865 - d. 22 Jun 1916)
Shelton, Bernie Ellis (b. 31 Jul 1912 - d. 3 Sep 1974)
Smith, Maude Emma (b. 4 Apr 1931 - d. 28 Jun 1931)
Snow, Larry Gray (b. 23 Sep 1965 - d. 4 Oct 1965)
Sutphin, Infant Girl (b. 28 Feb 1929 - d. 28 Feb 1929)
Sutphin, Josie Marie (b. 23 Nov 1919 - d. 15 Mar 2008)
Sutphin, Rowdy (b. 11 Jul 1895 - d. 16 Nov 1962)
Tilley, James Oliver (b. 21 Jan 1871 - d. 3 Mar 1938)
Tolbert, Ralph William (b. 26 Nov 1930 - d. 28 Jun 1969)
White, Howard Bishop (b. 12 Oct 1914 - d. 4 Mar 1975)
Web page updated 14 July 2016
Index of All Cemeteries
Alphabetical Index of All Burials
Previous Page