Index of All Cemeteries
Alphabetical Index of All Burials
Previous Page
Use the following to search across all the cemeteries listed.
Example: "Smith, Roger" (yes, use the quotes)
066 DOSS CEMETERY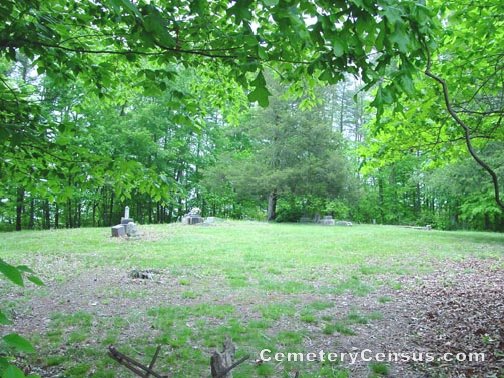 Location - Doss Rd, Mt. Airy, Surry Co., NC.

Coordinates: 36d 27m 19.2s N; 80d 36m 47.3s W Click here for Google maps

Directions: From intersection of US Hwy 52 and 601 in Mt. Airy, go south on US Hwy 601 (Rockford St) for .7 mile and turn left on Edgewood Drive. Follow Edgewood Drive for .3 mile and turn right on Park Drive. Go 1.2 miles on Park Drive and turn right on Doss Rd. Go .6 mile to the cemetery on the right.

Surveyed by Andy Hennis on May 6, 2006.
Township or district: Mt. Airy.
Public or Private: Private property.
GPS Accuracy (ft.): 12.
Elevation above sea level (ft.): 1188.
Status of cemetery: May be abandoned.
Surry County Parcel Number: 5928-00-47-6264.

Surnames buried here are Blackburn, Doss, Fletcher, Kallam, Marshall, Martin, McKinney, and Roberts. The cemetery is not overgrown and it appears to have been mowed (May 2006); however, it does appear it has been vandalized.

Burials survey by Perry Creed, updated by Wilma Hiatt in April 2006.


Blackburn, Hulet (b. 1801 - d. 1870)
Blackburn, Mary Matilda (b. 1824 - d. 1875)
Doss, Jesse W (b. 16 Nov 1828 - d. 22 Oct 1855)
Doss, John M (b. 12 Aug 1832 - d. 3 Sep 1915)
Doss, Lemuel (b. Abt 1787 - d. 11 Nov 1872)

Doss, Mary M (b. 17 Jan 1850 - d. 14 May 1918)

Doss, Sarah (b. Abt 1797 - d. 1879)

Fletcher, John Henry (b. 27 Feb 1857 - d. 21 Jan 1927)

Fletcher, Nancy Jane (b. 10 Mar 1861 - d. 1 Jun 1932)

Kallam, C C (b. 19 Oct 1848 - d. 14 Jun 1922)

Marshall, Sarah L (b. 1870 - d. 1917)

Marshall, W Lindsay (b. 1877 - d. 1932)

Martin, Susan (b. 22 Feb 1843 - d. 12 Apr 1912)

McKinney, Annie Elizabeth (b. 22 Dec 1891 - d. 22 Jun 1892)

McKinney, Cora Jennings (b. 3 Oct 1886 - d. 20 Jan 1981)
Wife of William Cleveland McKinney

McKinney, Elizabeth "Bettie" Fulton (b. 27 Jan 1848 - d. 29 May 1932)

McKinney, Infant (b. - d. )
Infant son of Willis E. and Mollie McKinney; no dates

McKinney, Jessie Kathrine (b. 13 Aug 1927 - d. 5 Oct 1936)

McKinney, Permelia Doss (b. 6 Dec 1821 - d. 15 Jul 1915)
Wife of G. E. McKinney; his burial unknown

McKinney, Sarah (b. - d. 2 Feb 1921)

McKinney, William Cleveland (b. 15 Dec 1879 - d. 17 Jan 1952)
Husband of Cora Jennings; son of G. E. McKinney and Permelia Doss

McKinney, Willis E (b. 20 Jul 1863 - d. 12 Feb 1953)
Husband of Mollie; her burial unknown; son of G. E. McKinney and Permelia Doss

McKinney, Winston (b. 15 Jan 1849 - d. 19 Apr 1923)
Husband of Elizabeth Fulton

Roberts, Charity Custis Kallam (b. 18 Jul 1886 - d. 12 Oct 1961)
Wife of Thomas Logan Roberts; he buried at Roberts-Fleming Cemetery, Surry County, NC
Web page updated 14 July 2016
Index of All Cemeteries
Alphabetical Index of All Burials
Previous Page