Index of All Cemeteries
Alphabetical Index of All Burials
Previous Page
Use the following to search across all the cemeteries listed.
Example: "Smith, Roger" (yes, use the quotes)
062 ELDRIDGE, DANIEL - MCMICKLE FAMILY CEMETERY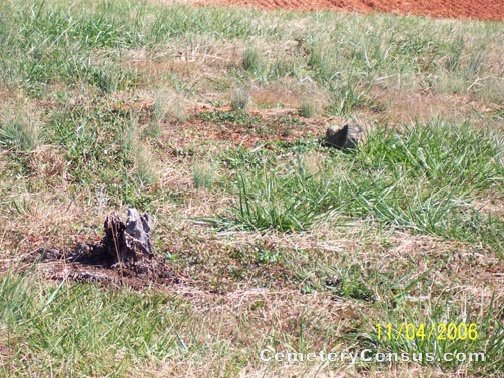 Location - Hinson Rd, Elkin, Surry Co., NC.

Coordinates: 36d 18m 51.2s N; 80d 49m 23.2s W Click here for Google maps

Directions: From Hwy 21 North (Business) and Hwy 21 Bypass where it intersects with Poplar Springs Rd East, take Poplar Springs Rd east for 2.4 miles and then turn left on Hinson Rd and go .4 miles. Cemetery is on the right side of a new home and is about 1,000 yards from home.

View #2 of the cemetery.

Surveyed by Joe Hicks on October 1, 2006.
Township or district: Elkin.
Public or Private: Private property.
GPS Accuracy (ft.): 15.
Elevation above sea level (ft.): 1170.
Status of cemetery: Clean and maintained.
Surry County Parcel Number: 4963-00-28-8815.

There are only field stone markers here. But at least five people are reportedly buried here.


Eldridge, Daniel A. (b. 1830 - d. 1877)
Husband of Mary Ann McMickle, m. 7 Aug 1854 in Surry.

Eldridge, Mary Ann McMickle (b. 1835 - d. 1900)
Wife of Daniel A. Eldridge and daughter of Gideon J. McMickle and Sarah Cockerham.

McMickle, Gideon J. (b. 1811 - d. Aft 1880)
Husband of 1) Sarah Cockerham, m. 16 Dec 1831 in Surry and 2) Sarah Greenwood, m. 10 Apr 1837 in Surry.

McMickle, Sarah Cockerham (b. Unknown - d. 1835)
1st Wife of Gideon J. McMickle

McMickle, Sarah Greenwood (b. Abt 1814 - d. Aft 1860)
2nd Wife of Gideon J. McMickle - died bet 1860 - 1870
Web page updated 14 July 2016
Index of All Cemeteries
Alphabetical Index of All Burials
Previous Page