Index of All Cemeteries
Alphabetical Index of All Burials
Previous Page
Use the following to search across all the cemeteries listed.
Example: "Smith, Roger" (yes, use the quotes)
059 CROSSROADS MISSIONARY BAPTIST CHURCH CEMETERY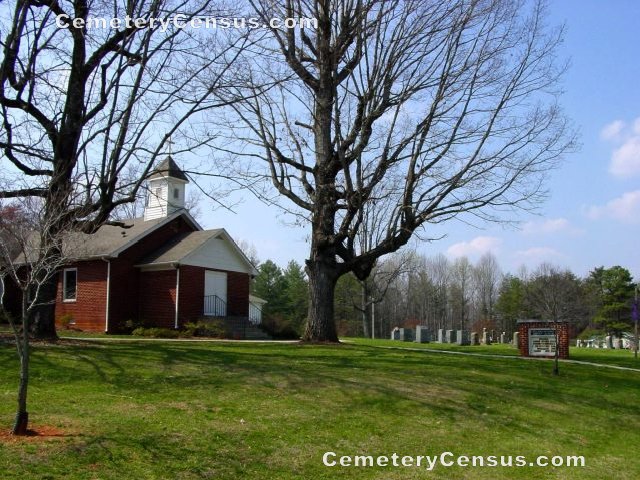 Location - Corner of Cross Rds Ch Rd and Reely Cook Rd, Dobson, Surry Co., NC.

Coordinates: 36d 25m 16.6s N; 80d 48m 20.7s W Click here for Google maps

Directions: From the stop light at the intersection of Main St and Kapp St (Old Courthouse Square) in Dobson, go west on Kapp St (changes to Zephyr Rd) for 4.5 miles to a fork and take a right on Crossroads Church Rd (SR 1338). Then go 1.8 miles and church and cemetery are on the left at Reely Cook Rd.

View of the church.

Surveyed by Andy Hennis on April 8, 2006.
Township or district: Dobson.
Public or Private: Public Access.
GPS Accuracy (ft.): 14.
Elevation above sea level (ft.): 1402.

Photographed and inventoried by Jack Luffman on November 8, 2009, starting with the row next to the road. Some additional data such as maiden names of spouses, spelling out of names where initials were shown, and marriage dates was provided by Bob Carter through his personal research.


Adams, Almeda F. (b. 24 Nov 1874 - d. 29 Mar 1960)
Son of Jacob and S. F. Beamer. Row 7
N C PVC US Army WW II Husband of Ruby F. Brindle. Brindle Family marker. Row 10
age 1m 8d and son of B. W. and Annie Callaway. Row 1
Wife of James "Jim" Cave. Row 11
Daughter of Thomas and Lillie Collins. Row 1
Husband of Peggy Gentry. Comer Family marker. MOMM 2 US Navy WW II. Row 11
Wife of Henry Porter Comer, daughter of Early and Zephyr Gentry. Comer Family marker. Row 11
Husband of Vergie Viola Riggan Cook. Cook Family marker. Row 8
Son of J. C. and Minnie Cook. Row 8
Husband of Sarah Elizabeth Whitaker Cook. Row 2
Husband of Minnie Cook. Row 8
Wife of Rev. L. M. Cook. Row 2
Wife of J. C. Cook. Row 8
Wife of Reely F. Cook. Row 10
Husband of Myrtle R. Cook. Row 10
Husband of Mary W. Cook. Row 2
Husband of Nina Mae Collins Cook. Cook Family marker. Row 1
Wife of John Frank Cook. Row 2
Infant child of Mr. and Mrs. C. N. Cooke. Row 1
Husband of Bettie Creed, married 17 Apr 1890. Row 6
Wife of Aaron E. Creed. Row 6
Husband of Patty Wall Edmonds. Edmonds Family marker U. S. ARMY. Row 11
Wife of Rufus S. Edmonds. Row 10
Husband of Lou Ada K. Edmonds. Row 10
Husband of Wanda D. York Fortner. Row 7
Wife of Donald Wayne Fortner. Row 7
Son of Joseph H. Fulk and Sarah Allen Gentry. Row 6
Husband of Nancy B. Fulk, son of Joseph H. Fulk and Sarah Allen Gentry. Row 6
Husband of Sarah Allen Gentry Fulk, married 23 Jan 1869. Row 6
Wife of Joseph H. Fulk. Row 6
Daughter of Early and Zephyr Gentry. Row 1
Wife of Early F. Gentry. Row 1
Husband of Amy Pearl Gilley. Row 2
Wife of A. Alfred Gilley. Row 2
Son of A. Alfred and Amy Pearl Gilley. Row 2
Son of A. Alfred and Amy Pearl Gilley. Row 2
Wife of William E. Haymore. Row 7
Husband of Eliza Nancy Snow Haymore. married 19 Mar 1893. Mason. Haymore Family marker. Row 6
Daughter of Jessie Franklin Haymore and Eliza Nancy Snow. Row 6
Daughter of Jessie Franklin Haymore and Eliza Nancy Snow. Row 6
son of Britain Haymore and Mary Polly Taylor Husband of Elizabeth Venable Haymore. Row 7
Daughter of Mr. and Mrs. John A. Hiatt. Row 1
Husband of Kate E. Hiatt. Row 1
Wife of John Alex Hiatt. Row 1
Wife of Robert William Hiatt. Row 1
Husband of Mittie Ellen Hiatt. Row 1
Wife of Joseph Isaacs. Row 3
stone in ground only. Row 3
stone in ground only. Row 3
Husband of Elizabeth Nichols Isaacs, married 24 Dec 1885. Row 3
Husband of Mary Jane Money, married 18 Sep 1873. Row 6
age 28 Wife of John S. Jervis. Row 6
Husband of Mildred E. Lawrence PFC US Army Air Corps WW II. Row 10
Wife of Bud L. Lawrence, Jr.. Row 10
Wife of Phillip Ray Mayes, married 20 Jun 1959. Row 11
Husband of Leila Ann Sprinkle. Row 11
Husband of Mary Jane Thompson McMickle, married 8 Jan 1873. Row 8
Husband of Mary H. McMickle. Row 8
stone unreadable Wife of John J. McMickle. Row 8
Wife of Columbus Franklin McMickle. Row 8
Wife of Walter H. Nations Married Jul 16, 1938. Row 8
Husband of Ocie H. Nations. Row 8
Husband of Nancy Franklin, married 3 Apr 1852 - was b. abt 1809 from census records. Row 3
Possibly the Wife of Jefferson Nichols. Row 3
Possibly the daughter of Jefferson and Nancy Nichols. Row 3
Daughter of Nathan J. Nixon and and Stacie G. Spainhour Nixon. Row 6
Daughter of Early and Ora Ellen Norman NM. Row 3
Husband of Velna Mounce Riggan. Row 7
Son of Columbus Franklin Riggan and Velna Arlene Mounce Riggan. SGT US Army, Korea Military marker. Row 7
Wife of Columbus Thompson Riggan and daughter of William E. Haymore and Elizabeth Venable. Row 6
Wife of Royal Wade Riggan. Row 7
Son of Columbus Franklin Riggan and Velna Arlene Mounce. Row 7
Husband of Mildred Lineberger Riggan. Row 7
Son of Columbus Franklin Riggan and Velna Arlene Mounce Riggan. Row 7
Wife of Columbus Franklin Riggan. Row 7
Wife of Billy Jack Spicer. Row 4
Husband of Wanda H. Sprinkle, son of Culbert and Magdalene Sprinkle. Footstone marker. Row 6
Wife of Billy Guy Sprinkle, daughter of Roy Cleveland Haymore and Stella Lucille Marion, married 20 Jan 1961. Footstone marker. Row 6
1st Wife of Joseph Columbus Steele, married 1 Jan 1877. Row 7
Son of Joseph Columbus Steele and Aley Ellen Haymore. Row 7
Son of Joseph Columbus and Julina Steele. Row 7
Husband of Maggie Ophelia Wilson SGT US Army. Row 4
Husband of Mary Lucy McMickle Thompson. Row 7
Daughter of Dr. Kimbrough Thompson and Mary Lucy McMickle Thompson. Row 7
Son of Dr. Kimbrough Thompson and Mary Lucy McMickle Thompson. Row 7
Wife of Dr. Kimbrough Thompson. Row 7
Son of Dr. Kimbrough Thompson and Mary Lucy McMickle Thompson. Row 7
stone in ground labeled C. S.. Row 7
stone in ground labeled L. S.. Row 7
Husband of Susie Anna Coe Wall. Row 12
Wife of Caleb Anderson Wall. Row 12
Wife of Van Gentry Whitaker. Row 11
Husband of Elaine Phyllis Wilmoth Whitaker. Row 11
Wife of Rufus J. Wilmoth. Row 10
Wife of Larry D. Wilmoth, married 5 Oct 1957. Row 4
Husband of Jo Ann Nations Wilmoth. Row 4
Husband of Eva Hudson Wilmoth. Row 10
Web page updated 14 July 2016
Index of All Cemeteries
Alphabetical Index of All Burials
Previous Page