Index of All Cemeteries
Alphabetical Index of All Burials
Previous Page
Use the following to search across all the cemeteries listed.
Example: "Smith, Roger" (yes, use the quotes)
058 CRITZ FAMILY CEMETERY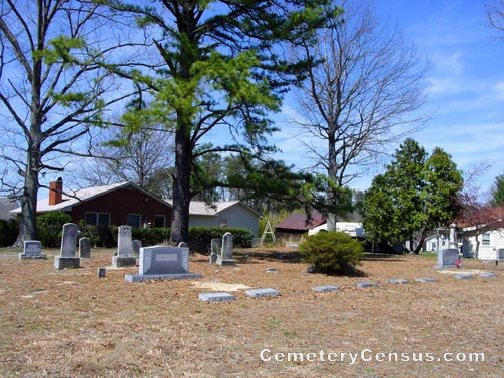 Location - corner of South Franklin Rd and Calvary Drive, Mt. Airy, Surry Co., NC.

Coordinates: 36d 29m 45.6s N; 80d 38m 02.1s W Click here for Google maps

Directions: From intersection of US Hwy 52 N and NC Hwy 89 W in Mt. Airy, go .7 mile to the stop light in Toast. Turn left on S. Franklin Rd and go .4 mile. Cemetery is on the right at Calvary Drive.

Surveyed by Andy Hennis on April 7, 2006.
Township or district: Mt. Airy.
Public or Private: Private property.
GPS Accuracy (ft.): 12.
Elevation above sea level (ft.): 1130.

Jesse Lafayette Bunker, son of Chang and Adelaide Bunker, is buried here. He was born April 7, 1861 and died June 9, 1909. Fred M. Bunker is also buried here. He was born May 10, 1886 and died Nov 16, 1966.
Some photographs provided by Charles Crabtree in 2009.


Bunker, Fred M. (b. 10 May 1886 - d. 16 Nov 1966)
Bunker, Jesse Lafayette (b. 7 Apr 1861 - d. 9 Jun 1909)
son of Chang and Adelaide Bunker
daughter of W.E. and M.J. Cranford
Wife of Samuel D. Critz. Aged 66 yrs 1 mo 17 days.
on marker with Infant Critz
on marker with Fred E. Critz
son of Sam and Elizabeth Crirtz
Wife of Zeb Critz. "Happily married 45 years"
daughrter of Samuel and Evaline Critz
Husband of Elizabeth H. Critz
Husband of Mary Celia Critz
Web page updated 14 July 2016
Index of All Cemeteries
Alphabetical Index of All Burials
Previous Page