Index of All Cemeteries
Alphabetical Index of All Burials
Previous Page
Use the following to search across all the cemeteries listed.
Example: "Smith, Roger" (yes, use the quotes)
048 COBLER CEMETERY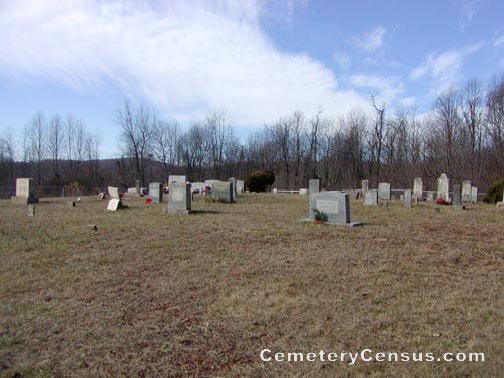 Location - Tom Cook Rd, Westfield, Surry Co., NC.

Coordinates: 36d 29m 53.8s N; 80d 29m 06.8s W Click here for Google maps

Directions: From intersection of S. Main St (US Hwy 52 Business) and Westfield Rd (NC Hwy 89 E) in Mt. Airy, go east on Westfield Rd for 6.9 miles, then right on Tom Cook Rd, then go .3 miles and cemetery is on the right in an enclosed chain link fence, just after a mobile home park.

View of the cemetery sign. Another view of the cemetery.

Surveyed by Bob Carter on January 1, 2007.
Township or district: Westfield.
Public or Private: Private property.
GPS Accuracy (ft.): 17.
Elevation above sea level (ft.): 1390.
Status of cemetery: Currently maintained.

336-366-4107, or 336-366-3200.

Burials survey by Norma Haymore Bowen on September 22, 1997.


Arrington, C Ethel (b. 5 Jan 1913 - d. 4 Feb 1913)
daughter of JD and Ziporah Arrington

Arrington, Constine L (b. 30 Jan 1857 - d. 6 May 1943)

Arrington, Grover T (b. 4 Dec 1914 - d. 18 Nov 1915)
son of JD and Ziporah Arrington

Arrington, Infant (b. 4 May 1899 - d. 4 May 1899)
daughter of CL and MA Arrington

Arrington, Infant (b. 24 May 1895 - d. 24 May 1895)
daughter of CL and MA Arrington

Arrington, Infant (b. 22 Sep 1893 - d. 22 Sep 1893)
daughter of CL and MA Arrington

Arrington, Infant (b. 27 Oct 1915 - d. 27 Oct 1915)
daughter of Roy and Mattie Arrington

Arrington, Martha A (b. 29 May 1862 - d. 12 Apr 1926)

Belton, Howard E (b. 20 Dec 1913 - d. 24 May 1994)

Cobbler, James E (b. 10 Mar 1882 - d. 16 Nov 1924)

Cobbler, Mary M (b. 31 Jul 1883 - d. 6 Jul 1935)

Cobler, Betty (b. - d. )

Cobler, Blanch A (b. 11 Jan 1850 - d. 1 Dec 1927)
Wife of James K Polk Cobler

Cobler, Fredrick (b. 13 Jul 1803 - d. 11 Sep 1877)
Husband of Matilda Cobler

Cobler, Gaston William (b. 15 Apr 1914 - d. 20 Dec 1982)

Cobler, Hilrey Murfed (b. 4 Feb 1891 - d. 15 Dec 1910)

Cobler, Infant (b. 12 Jun 1893 - d. 15 Jul 1893)

Cobler, Infants (b. - d. )
children of W Yancey and Laura N Cobler

Cobler, James K Polk (b. 3 Apr 1845 - d. 13 Aug 1937)
Husband of Blanch A. Cobler

Cobler, Laura N (b. 12 Jul 1894 - d. 26 Nov 1976)

Cobler, Matilda (b. 1802 - d. 11 May 1890)

Cobler, Nellie Ann (b. 3 May 1926 - d. 19 Dec 1943)
daughter of Mr and Mrs.WY Cobler

Cobler, Ruby Haynes (b. 9 Apr 1914 - d. 13 Jan 1993)

Cobler, Sammie Green (b. 16 Feb 1881 - d. 10 Oct 1882)

Cobler, Thomas (b. - d. )

Cobler, W Yancey (b. 1 May 1889 - d. 17 Jan 1979)
Husband of Laura N. Cobler

Collins, Clinton H (b. 26 Sep 1910 - d. 11 Aug 1997)

Collins, Violet V (b. 23 May 1869 - d. 17 Oct 1931)

Cook, Edgar Lee (b. 24 Apr 1895 - d. 15 Nov 1917)

Cook, Gideon S (b. 25 Apr 1852 - d. 3 Feb 1920)

Cook, J A (b. 12 Sep 1877 - d. 26 Mar 1964)

Cook, John M (b. 24 Mar 1859 - d. 10 Apr 1930)

Cook, Lottie T (b. 3 Jun 1889 - d. 25 Jan 1933)

Cook, Nancy J (b. 14 Oct 1865 - d. 21 Aug 1936)

Cooke, Able Z (b. 15 Apr 1864 - d. 18 Aug 1931)

Cooke, Nancy E (b. 22 Nov 1870 - d. 24 Apr 1950)

East, Vera (b. 14 Nov 1913 - d. 16 Oct 1914)
daughter of RH andNina East

Hiatt, Infant (b. - d. )
child of Jacob T and Mary Hiatt

Hiatt, Infant (b. 19 Jul 1920 - d. 19 Jul 1920)
daughter of A L and MA Hiatt

Hiatt, Infant (b. 13 Jan 1926 - d. 13 Jan 1926)

Hiatt, Infant (b. - d. )
child of Jacob T and Mary Hiatt

Hiatt, Jessie F (b. 13 Oct 1921 - d. 1 Feb 1928)

Inman, Albert H (b. 26 Oct 1869 - d. 13 Oct 1951)

Inman, Lupency (b. 16 May 1865 - d. 27 Sep 1926)

Johnson, Daisy Smart (b. 1891 - d. 1922)

Ledford, Raymond Eugene (b. 19 Jun 1980 - d. 27 Sep 1996)

Love, Iverl (b. 16 Dec 1908 - d. 29 Jun 1909)

Love, Mary E (b. 23 Sep 1885 - d. 27 Jun 1909)

McMillon, Beulah (b. 1921 - d. 1996)

Owens, Burley D (b. May 1915 - d. Nov 1918)

Owens, Calvin (b. 1926 - d. 1996)

Owens, Infant (b. 7 Nov 1941 - d. 7 Nov 1941)
daughter of Mr and Mrs. James E Owens

Reynolds, Evelyn (b. 27 Jan 1941 - d. 2 Jun 1941)
daughter of Mr and Mrs. B C Reynolds

Ring, Maria Miller (b. 22 Feb 1846 - d. 16 Aug 1889)
Wife of Frederick Sandford Ring

Shelton, Huldie Lee (b. 30 May 1908 - d. 13 Dec 1915)

Shelton, Infant (b. - d. 1915)

Shelton, Infant (b. - d. 1915)

Taylor, Frank (b. 1864 - d. 1949)

Taylor, James W (b. 15 Sep 1889 - d. 13 Apr 1917)

Vaughn, Zora (b. 5 Mar 1889 - d. 16 Sep 1911)

Wood, Anderson (b. 25 Sep 1874 - d. 21 Nov 1937)

Wood, Elizabeth (b. 18 Jun 1858 - d. 6 Jun 1938)

Wood, John W (b. 28 Jun 1825 - d. 23 Apr 1918)
Web page updated 14 July 2016
Index of All Cemeteries
Alphabetical Index of All Burials
Previous Page