Index of All Cemeteries
Alphabetical Index of All Burials
Previous Page
Use the following to search across all the cemeteries listed.
Example: "Smith, Roger" (yes, use the quotes)
042 CHANDLER-HUDSON CEMETERY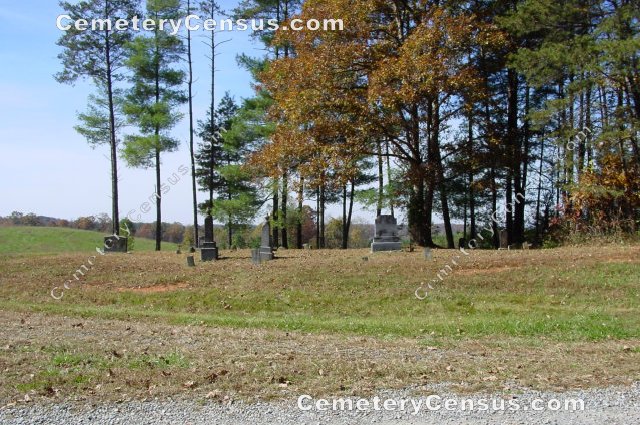 Location - Old Colonial Trail, Dobson, Surry Co., NC.

Coordinates: 36d 16m 24.0s N; 80d 41m 11.0s W Click here for Google maps

Directions: From intersection of NC Hwy 268 and Rockford Rd, go south on Rockford Rd and turn right on Buck Ford Rd. Follow Buck Ford Rd and turn left on Old Colonial Trail (gravel). Cemetery is about 300 yards beyond locked cable gate at the end of a pine grove on the right.

Another view of the cemetery.

Surveyed by Andy and Connie Hennis October 31, 2003.
Township or district: Rockford.
Public or Private: Private property.
Surry County Parcel Number: 5902-00-22-2447.

Legible stones are: Grover, son of W. A. C. and N.?. Jones, b. Oct ?, 1888, d. Aug ?, 1904; A. J. Chandler, b. Apr 3, 1866, d. Dec 11, 1926; Charlie, son of A. J. and Mary Chandler, b. 1890, d. 1890, Age 24 D; Mary L., wife of A. J. Chandler, b. Jan 10, 1861, d. June 1, 1918; Oscar F. Colson, Co. I, 4th ME Inf; Terri Hardy, mother of W. Tom Hardy, b. Jun 15, 1869, d. Aug 24, 1907; Nancy E. McGee Hudson, b. Mar 29, 1880, d. Apr 5, 1956; James William Hudson, b. Nov 14, 1876, d. Sep 24, 1937 (Nancy and James share same headstone); Mariah Davenport, b. Dec 17, 1858, d. Nov 4, 1926; Edd C. Davenport, b. June 7, 1854, d. Unknown (Mariah and Edd share the same headstone and a Masonic emblem is over Edd's name)..


Chandler, Andrew Jackson (b. 3 Apr 1866 - d. 11 Dec 1926)
Husband of Mary L. Tilley - "Our loved one"
Son of Andrew Jackson Chandler and Mary L. Tilley - age 24 days. "Budded on earth to bloom in heaven."
Wife of Andrew Jackson Chandler. Aged 57 yrs 5 mo 21 days - daughter of Drury and Letitia Tilley
Co. I, 4th ME Infantry (No dates on stone but taken from death record: b. Abt 1834, d. 16 Oct 1915 of Chronic Bright's Disease
Husband of Mariah Chandler, m. 24 Dec 1876 in Surry - no death date but died after 1910 and has a Masonic emblem - Son of Absalom Davenport and Rebecca Nichols
Wife of Edmond Calvin Davenport - daughter of Pleasant Henderson Chandler and Nancy Vernon
Husband of Nancy E. McGee, m. 6 Mar 1887 in Surry
Wife of James William Hudson
Son of William A. Clay Jones and Nannie E. Chandler
Web page updated 14 July 2016
Index of All Cemeteries
Alphabetical Index of All Burials
Previous Page