Index of All Cemeteries
Alphabetical Index of All Burials
Previous Page
Use the following to search across all the cemeteries listed.
Example: "Smith, Roger" (yes, use the quotes)
041 CENTRAL VIEW MISSIONARY BAPTIST CHURCH CEMETERY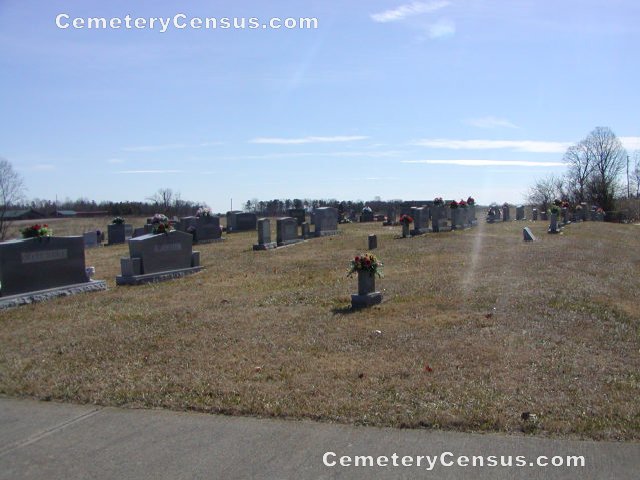 Location - White Dirt Rd, Dobson, Surry Co., NC.

Coordinates: 36d 25m 38.0s N; 80d 46m 16.2s W Click here for Google maps

Directions: From downtown Dobson, take Business 601 east about .75 mile and turn left on Prison Camp Rd. Follow Prison Camp Rd for about 4 miles and turn left on White Dirt Rd. Go 1 mile and cemetery is on the right across from church.

Another view of the cemetery. View of the church. View of the cemetery sign.

Surveyed by Wilma Hiatt on April 27, 2006.
Township or district: Dobson.
Public or Private: Public Access.
GPS Accuracy (ft.): 18.
Elevation above sea level (ft.): 1292.

Veterans Memorial Stone. Flag Raised 3 July 1999.

Surveyed and photographed by Jack Luffman on 14 April 2010.


Autrey, Nancy Margaret Jarvis (b. 16 Mar 1930 - d. 29 Jun 2006)

Blevins, James Martin "Marty" (b. 26 Jun 1962 - d. 26 Jan 1980)

Blevins, Joyce M. (b. 7 May 1943 - d. Reserved)
Wife of Samuel J. Blevins. Married 12 May 1961. Row 1

Blevins, Samuel J. (b. 16 Sep 1939 - d. 10 Mar 2007)
Husband of Joyce M. Blevins. Row 1

Brooks, Bertha Florence (b. 7 Jun 1914 - d. 11 Feb 1915)

Brooks, Cora K. (b. 18 Oct 1927 - d. Reserved)
Wife of John H. Brooks. Row 2

Brooks, Dora B. (b. 5 Mar 1885 - d. 20 Jan 1960)

Brooks, Jennie W. (b. 1882 - d. 28 Feb 1911)

Brooks, John H. (b. 14 Apr 1926 - d. 1 Feb 1987)
Husband of Cora K. Brooks. Row 2

Brooks, Maudie E. (b. 29 Jun 1896 - d. 29 Jul 1971)
Wife of Tyra C. Brooks. Row 2

Brooks, Tyra C. (b. 15 Jun 1893 - d. 21 Jul 1982)
Husband of Maudie E. Brooks. Row 2

Brooks, unknown (b. - d. )

Brooks, unknown (b. - d. )

Brooks, W. C. (b. 22 May 1885 - d. 2 Aug 1975)

Carpenter, Joshua W. (b. 21 Aug 1915 - d. 6 May 1979)

Carpenter, Lillie B. (b. 3 Jul 1915 - d. 29 Apr 1996)
Wife of Joshua W. Carpenter. Row 4

Cave, Alice S. (b. 8 Mar 1935 - d. Reserved)
Wife of Elwood J. Cave. Row 1

Cave, Bessie Hudson (b. 8 Jul 1899 - d. 29 Dec 1992)
Wife of Thomas Richard Hudson. Row 1

Cave, Brenda Sue (b. 9 Mar 1958 - d. 22 Mar 2004)

Cave, Ella Hudson (b. 1906 - d. 1996)
Wife of Judge Manley Cave. Row 5

Cave, Elwood Jackson (b. 26 May 1931 - d. 28 Nov 2002)

Cave, Gary Lane (b. 25 Sep 1966 - d. 26 Sep 1966)

Cave, Herman R. (b. 11 Jun 1928 - d. 28 Oct 2000)
Husband of Pauline H. Cave. Married 4 Nov 1950. CPL US ARMY KOREAN WAR Military marker. Row 6

Cave, Infant (b. 30 Jul 1937 - d. 30 Jul 1937)
Son of J. M. and Ella Cave. Row 5

Cave, Infant (b. - d. )
Infant son of T. R. Cave. Row 1

Cave, Jasper R. (b. 22 Oct 1933 - d. 11 Nov 2007)
Husband of Virginia F. "Jenny" Cave. Row 9

Cave, Judge Manley (b. 1906 - d. 1971)
Husband of Ella Hudson Cave. Row 5

Cave, Manley "Sonny" Jr (b. 21 Jan 1943 - d. Reserved)
Husband of Brenda Sue Cave. Row 5

Cave, Mary H. "Mickey" (b. 25 Jul 1934 - d. 19 Feb 1988)
Wife of William Odis Cave. Row 3

Cave, Mary Y. (b. 3 Mar 1940 - d. Reserved)
Wife of Tommy C. Cave. Row 8

Cave, Pauline H. (b. 30 Jan 1932 - d. 20 Sep 2003)
Wife of Herman R. Cave. Married 4 Nov 1950. Row 6

Cave, Richard Hawkins (b. 9 Mar 1929 - d. 16 Feb 1992)
Space on stone for spouse, but no name engraved. Row 1

Cave, Thomas Richard (b. 20 Oct 1881 - d. 22 Mar 1956)
Husband of Bessie Hudson. Row 1

Cave, Tommy C. (b. 2 Feb 1938 - d. Reserved)
Husband of Mary Y. Cave. Row 8

Cave, Virginia F. "Jenny" (b. 27 May 1933 - d. Reserved)
Wife of Jasper R. Cave. Row 9

Cave, William Odis (b. 30 Mar 1931 - d. 25 Aug 1992)
Husband of Mary H. "Mickey" Cave. Row 3

Freeman, Annie Creed (b. 9 Aug 1892 - d. 1 Jan 1981)
Wife of James H. "Jim" Freeman. Row 3

Freeman, Blanche Viola (b. 20 Aug 1909 - d. 11 Jun 1911)

Freeman, James H. "Jim" (b. 26 Oct 1890 - d. 1 Jan 1973)
Husband of Annie Creed Freeman. Row 3

Freeman, Mary Blanche (b. 14 Jan 1894 - d. 28 Apr 1920)

Gillespie, Myrtle H. (b. 27 Feb 1911 - d. 30 May 2000)
Wife of Wesley O. Gillespie. Row 1

Gillespie, Wesley O. (b. 20 Jul 1912 - d. 3 Jan 1975)
Husband of Myrtle H. Gillespie. Row 1

Hall, Mary Emma (b. 8 Jun 1880 - d. 20 Apr 1917)

Hall, William Archie (b. 1874 - d. 1947)

Haynes, Allison Tracey (b. 26 Oct 1974 - d. 22 Jan 1975)

Hodges, Batie T. (b. 1896 - d. 1960)
Husband of Lucy H. Hodges. Row 6

Hodges, Betty Lavern (b. 15 Oct 1933 - d. 30 May 1980)
Wife of Harold Monroe Hodges. Row 1

Hodges, Daniel Thomas (b. 4 Sep 1898 - d. 23 Oct 1936)

Hodges, Deborah Lynn (b. 26 Dec 1961 - d. 27 Dec 1961)
Dau. of Dewey Lee and Frances Hodges. Row 2

Hodges, Dewey L. (b. 11 Oct 1942 - d. Reserved)
Husband of Frances W. Hodges. Row 2

Hodges, Edna B. (b. 7 Feb 1913 - d. 29 Jun 2003)
Wife of Lonzie V. Hodges. Married 8 July 1937. Row 1

Hodges, Eli (b. 27 Apr 1861 - d. 7 Feb 1925)

Hodges, Frances Seal (b. 21 Jan 1932 - d. Reserved)
Wife of Wesley Edward Hodges. Row 3

Hodges, Frances W. (b. 28 Mar 1943 - d. Reserved)
Wife of Dewey L. Hodges. Married 17 Aug 1960. Row 2

Hodges, Harold Monroe (b. 15 Mar 1929 - d. 9 Nov 2006)

Hodges, Infant (b. 21 Jul 1982 - d. 21 Jul 1982)
Daughter of Jeff and Kristy Hodges. Row 1

Hodges, James S. (b. 17 Apr 1920 - d. 22 Aug 1920)
Son of B. T. and Lucy Hodges. Row 6

Hodges, Johnny Ray (b. 13 Feb 1958 - d. 20 Jun 1972)

Hodges, Judy Dean (b. 20 Jun 1955 - d. 17 Aug 1958)

Hodges, Lonzie V. (b. 7 Aug 1910 - d. 6 Sep 1999)
Husband of Edna B. Hodges. Row 1

Hodges, Lucy H. (b. 1896 - d. 1971)
Wife of Batie T. Hodges. Row 6

Hodges, Mary Nations (b. 24 Dec 1872 - d. 14 Apr 1965)
Wife of Nathan Silas Hodges. Row 9

Hodges, Nathan Silas (b. 21 Nov 1864 - d. 9 Feb 1936)
Husband of Mary Nations Hodges. Row 9

Hodges, Opal Harris (b. 6 Jan 1926 - d. Reserved)
Wife of William "Bill" Hodges. Row 2

Hodges, Ronnie E. (b. 17 Mar 1950 - d. 18 Dec 1968)

Hodges, Thelma Lou (b. 25 Sep 1918 - d. 15 Jul 1930)
Daughter of B. T. and Lucy Hodges. Row 6

Hodges, Wesley Edward (b. 27 Jun 1930 - d. 11 May 2000)
Husband of Frances Seal Hodges. Row 3

Hodges, William "Bill" (b. 4 May 1924 - d. 6 Oct 1989)
Husband of Opal Harris Hodges. Row 2

Hudson, Evelyn W. (b. 1 Aug 1945 - d. Reserved)
Wife of Mallory J. Hudson. Married 23 Nov 1963. Row 2

Hudson, Henry (b. 14 Oct 1922 - d. 2 Mar 2002)

Hudson, Jane Coe (b. 12 May 1871 - d. 26 Nov 1939)
Wife of William Riley Hudson. Row 1

Hudson, Leannah W. (b. 13 Oct 1903 - d. 30 Jul 1990)
Wife of Mallory W. Hudson. Row 1

Hudson, Loraine H. (b. 8 Feb 1931 - d. Reserved)
Wife of Henry Hudson. Closeup of inscription. Row 1

Hudson, Mallory J. (b. 21 Nov 1941 - d. 23 Sep 1996)
Husband of Evelyn W. Hudson. Row 2

Hudson, Mallory W. (b. 20 Oct 1897 - d. 29 Jun 1972)
Husband of Leannah W. Hudson. Row 1

Hudson, William Riley (b. 9 Feb 1871 - d. 8 Jul 1954)
Husband of Jane Coe Hudson. Row 1

Jarvis, Charlie L. (b. 17 Aug 1872 - d. 17 Feb 1953)
Husband of Nora Eva Jarvis. Row 8

Jarvis, Emma Lou (b. 16 Aug 1908 - d. 5 Jun 2008)
Sister of Mary Ruth Jarvis. Row 8

Jarvis, Henry (b. 1874 - d. 1950)

Jarvis, Jas. M. (b. 28 Feb 1847 - d. 30 Nov 1919)
Husband of Mary Jane Jarvis. Row 8

Jarvis, John Allen (b. 4 Aug 1970 - d. 7 Apr 2007)
Space on stone for spouse, but no name engraved. Row 8

Jarvis, Lillie H. (b. 10 Nov 1908 - d. 15 Dec 1996)
Wife of Walter C. Jarvis. Row 1

Jarvis, Mallie (b. 1891 - d. 1963)
Wife of Steve Jarvis. Row 7

Jarvis, Mary Jane (b. 14 Jul 1848 - d. 22 May 1920)
Wife of J. M. Jarvis. Row 8

Jarvis, Mary Ruth (b. 10 Apr 1902 - d. 14 Jul 1974)
Sister of Emma Lou Jarvis. Row 8

Jarvis, Nora Eva (b. 11 Jun 1872 - d. 26 Jul 1941)
Wife of Charlie l. Jarvis. Row 8

Jarvis, Sharon O. (b. 23 Jan 1946 - d. Reserved)
Wife of Steve S. Jarvis. Row 7

Jarvis, Steve (b. 1889 - d. 1951)
Husband of Mallie Jarvis. Row 7

Jarvis, Steve S. (b. 4 May 1932 - d. 3 Dec 1996)

Jarvis, Steve Smith Jr. (b. 7 Jun 1965 - d. 31 Jul 1996)

Jarvis, Walter C. (b. 10 Jan 1911 - d. 13 Jan 2000)
Husband of Lillie H. Jarvis. Row 1

Jennart, Frederick William (b. 30 Jul 1915 - d. 29 Apr 1993)
Husband of Jane Jarvis Jennart. Mason. US AIR FORCE WW II Military marker. Row 7

Jennart, Jane Jarvis (b. 20 Oct 1921 - d. Reserved)
Wife of Frederick William Jennart. Eastern Star. Row 7

Johnson, Billy Beau (b. 3 Apr 1978 - d. 3 Apr 1978)
Son of Jimmy and Lydia C. Johnson. Row 1

Johnson, Geneva B. Freeman Shew (b. 1922 - d. 2004)
Wife of (1) Loyd S. Shew and (2) Harley E. Johnson. Row 2

Johnson, Harley Estel (b. 1925 - d. 2001)
Husband (2) of Geneva B. Freeman Shew Johnson. S1 US NAVY WW II Military marker. Row 2

Leonard, Carl Woodrow "Woody" (b. 28 Oct 1912 - d. Reserved)

Leonard, Dorothy Marie Marion "Dotty" (b. 25 Feb 1921 - d. Reserved)

Llewellyn, Glenn D. (b. 21 Oct 1924 - d. 23 Oct 1944)
CO. E., 29TH DIV., 116TH INF. KILLED IN ACTION IN GERMANY. Row 5

Llewellyn, Henry (b. 29 Jun 1895 - d. 26 Dec 1973)
Husband of Nina L. Llewellyn. Row 5

Llewellyn, Myrtle B. (b. 1 Jan 1921 - d. Reserved)
Wife of Thomas F. Llewellyn. Closeup of marker. Row 5

Llewellyn, Nina L. (b. 7 Apr 1899 - d. 16 May 1981)
Wife of Henry Llewellyn. Row 5

Llewellyn, Thomas F. (b. 19 Mar 1919 - d. 23 Feb 1980)

Marion, S. Jeanette (b. 1904 - d. 1928)

McCormick, Penny Lee Poindexter (b. 24 Nov 1963 - d. 26 Aug 1987)

Mitchell, J. Wilson (b. 2 May 1895 - d. 3 Feb 1979)
Husband of Rosella D. Mitchell. Row 3

Mitchell, James "Jim" (b. 12 Jan 1919 - d. 22 Mar 2002)
Husband of Velna H. Mitchell. Row 3

Mitchell, Rosella D. (b. 9 Apr 1894 - d. 2 Apr 1978)
Wife of J. Wilson Mitchell. Row 3

Mitchell, Velna H. (b. 12 Dec 1921 - d. Reserved)
Wife of James "Jim" Mitchell. Married 25 Feb 1939. Row 3

Mitchell, Warren E. (b. 17 Nov 1920 - d. 11 Sep 1982)

Money, Ada Johnson (b. 19 Mar 1927 - d. 18 Jan 1991)
Wife of Finley B. Money. Row 4

Money, Alice Norman (b. 21 Aug 1885 - d. 24 Apr 1960)

Money, Annie (b. - d. )

Money, David (b. - d. )

Money, Finley B. (b. 10 Feb 1927 - d. 13 Jan 1993)

Money, Stellar (b. - d. )

Moore, Columbus F. (b. 1869 - d. 1934)

Moore, Mittie E. (b. 1876 - d. 1953)

Pack, Ann Goings (b. 22 Aug 1939 - d. Reserved)
Wife of Carl Marion Pack. Row 1

Pack, Carl Marion (b. 6 Nov 1931 - d. 19 Dec 1999)
Husband of Ann Goings Pack. Row 1

Park, Mamie J. (b. 11 Jun 1886 - d. 11 Feb 1963)

Peterman, Kathleen Jarvis (b. 10 Dec 1922 - d. 26 Feb 2002)

Poindexter, H. Dean (b. 10 Nov 1938 - d. Reserved)
Husband of Wanda L. Poindexter. Row 2

Poindexter, Wanda L. (b. 18 Aug 1941 - d. 24 Dec 2003)
Wife of H. Dean Poindexter. Row 2

Preslar, Dovie Ella (b. 14 Mar 1910 - d. 15 Sep 2000)

Riggan, Hattie C. (b. 3 Jul 1935 - d. 15 Apr 1981)
Wife of Johnny M. Riggan. Row 5

Riggan, Johnny M. (b. 24 Nov 1928 - d. 30 Nov 1989)
Husband of Hattie C. Riggan. Row 5

Schaeffer, Gilbert H. (b. 6 Aug 1905 - d. 2 Sep 1983)
Husband of Sallie H. Schaeffer. Row 2

Schaeffer, Sallie H. (b. 4 Apr 1910 - d. 24 Aug 1984)
Wife of Gilbert H. Schaeffer. Row 2

Seal, Arabella (b. 15 Oct 1925 - d. 24 Mar 1987)
Wife of Clarence Seal. Row 1

Seal, Arnold C. (b. 1 Dec 1929 - d. 30 Sep 2008)
Husband of Norma S. Seal. Row 5

Seal, Carroll Dean (b. 28 Jan 1941 - d. 6 Mar 1973)
Husband of Patsy Bobbitt Seal. Row 4

Seal, Clarence (b. 7 Jul 1924 - d. 6 Oct 1988)
Husband of Arabella Seal. Row 1

Seal, Della J. (b. 1904 - d. 1994)
Wife of Oscar Seal. Row 4

Seal, Norma S. (b. 10 Nov 1930 - d. Reserved)
Wife of Arnold C. Seal. Row 5

Seal, Oscar (b. 1898 - d. 1987)
Husband of Della J. Seal. Row 4

Seal, Patsy Bobbitt (b. 14 Dec 1946 - d. Reserved)
Wife of Carroll Dean Seal. Row 4

Shackelford, Lula A. Snow (b. 6 Nov 1897 - d. 6 May 1989)
Wife of Merimoun Vance Shackelford. Row 5

Shackelford, Merimoun Vance (b. 5 Oct 1884 - d. 2 Feb 1963)
Husband of Lula A. Snow Shackelford. Row 5

Shelton, Arnold F. (b. 4 Apr 1925 - d. 17 Apr 1996)
Husband of Nesa L. Shelton. Row 1

Shelton, Nesa L. (b. 17 Nov 1927 - d. Reserved)
Wife of Arnold F. Shelton. Row 1

Shew, Hazel (b. 24 Jul 1926 - d. 5 Feb 2008)
Wife of Noah Shew. Married 11 Mar 1944. Row 2

Shew, Linda E. (b. 22 Mar 1952 - d. Reserved)
Wife of Noah Grey Shew. Married 12 July 1971. Row 2

Shew, Loyd S. (b. 1917 - d. 1961)
Husband (1) of Geneva B. Freeman Shew Johnson. Row 2

Shew, Noah (b. 23 Aug 1923 - d. 3 Feb 1985)

Shew, Noah Grey (b. 13 May 1949 - d. 8 Aug 2002)

Slate, Ola B. (b. 7 Mar 1920 - d. 9 Feb 1978)

Smith, Ethel H. (b. 1901 - d. 1972)
Wife of Walter C. Smith. Row 3

Smith, Nancy Charlene (b. 25 Sep 1945 - d. 16 Nov 1948)

Smith, Walter C. (b. 1883 - d. 1957)
Husband of Ethel H. Smith. Row 3

Sparger, Infant (b. 16 Oct 1915 - d. 16 Oct 1915)
Daughter of L. R. and S. A. Sparger. Row 5

Sparger, Leroy (b. 5 Nov 1926 - d. 17 Jan 1929)
Son of L. R. and S. A. Sparger. Row 5

Sprinkle, Billy L. (b. 10 Feb 1934 - d. 12 Jan 1966)
NORTH CAROLINA PFC US ARMY. Row 5

Sprinkle, Elizabeth Jarvis (b. 17 Nov 1900 - d. 17 Jun 1993)

Sprinkle, Floyd (b. 23 Apr 1903 - d. 26 Nov 1954)

Unknown, Infant (b. - d. )
Stone labeled INFANT DAUGHTER. Row 2

Whitaker, Charlie C. (b. 24 Nov 1914 - d. 25 Jan 1961)

White, M. Jacqueline "Jackie" (b. 17 Dec 1934 - d. 13 Jan 2004)

Wimbley, Herbert F. (b. 13 Jun 1924 - d. 24 Oct 1988)
Husband of Imo Jane Wimbley. Wimbley Family marker. US ARMY WW II. Row 5

Wimbley, Imo Jane (b. 22 Aug 1929 - d. Reserved)

Woodle, Emmett Ivan (b. 9 May 1916 - d. 14 Jan 2009)
Husband of Launa M. Cave Woodle. Row 1

Woodle, Launa M. Cave (b. 14 Jan 1919 - d. 7 Oct 2009)
Wife of Emmett Ivan Woodle. Married 25 Oct 1936. Row 1
Web page updated 14 July 2016
Index of All Cemeteries
Alphabetical Index of All Burials
Previous Page