Index of All Cemeteries
Alphabetical Index of All Burials
Previous Page
Use the following to search across all the cemeteries listed.
Example: "Smith, Roger" (yes, use the quotes)
037 DENNY, CAREY BIRD CEMETERY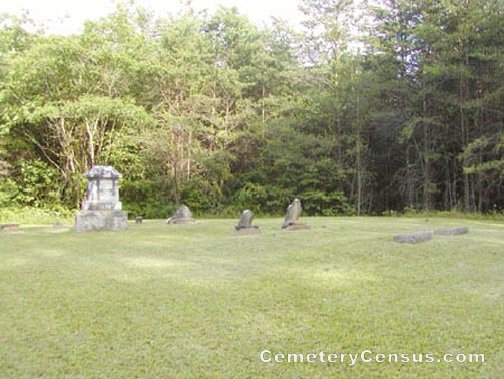 Location - Burge Rd, Pilot Mountain, Surry Co., NC.

Coordinates: 36d 21m 29.4s N; 80d 31m 03.8s W Click here for Google maps

Directions: From intersection of US Hwy 52 and NC Hwy 268 in Pilot Mtn, go west on NC Hwy 268 for 1.50 miles and turn left on Burge Rd. Follow Burge Rd for 1.1 miles and cemetery is on right close to the road.

Surveyed by Bob Carter on April 6, 2006.

Also known as: C. B. Denny Cemetery.
Township or district: Siloam.
Public or Private: Private property.
Elevation above sea level (ft.): 1078.

Graves are of Carey Bird Denny and his family. Not well kept, but not overgrown.

Burials survey by Bob Carter in December 2004. Updated in August 2009.


Ashburn, Letha Faith Denny (b. 21 Nov 1869 - d. 7 Dec 1896)
1st Wife of Millard Quince Ashburn, m. 10-14-1891 and daughter of Carey Bird Denny and Ellen Amelia Gordon. Millard was son of Denson A. Ashburn and Lucinda Elizabeth Shore and he married 2) Lucy Jackson, 6-4-1899, who was daughter of Jacob S. Jackson and Letitia Tucker - Millard's burial is unknown.

Ashburn, Maud E. (b. 11 Apr 1894 - d. 1896)
daughter of Millard Quince Ashburn and Letha Faith Denny

Denny, Carey Bird (b. 23 Jan 1846 - d. 21 Jan 1921)
Husband of Ellen Amelia Gordon, m. 12-25-1866 - son of Joel Denny and Nancy Boaz Jones

Denny, Ellen Amelia Gordon (b. 15 Oct 1842 - d. 5 Dec 1928)
Wife of Elder Carey Bird Denny - death record shows as daughter of what appears to be Devar Gordon and Elizabeth Davis. Unknown if her father is Dault Gordon

Denny, Infant (b. - d. )
son of Gid and Lucy A. Denny, no dates - this could be a child of George Denny and Lucy Ann Key, both of whom are buried at Ararat Cedar Hills PB Church

Denny, Infant (b. 1895 - d. 1895)
son of Cleo and Lucy A. Denny - this could be child of George Denny and Lucy Ann Key, both of whom are buried at Ararat Cedar Hills PB Church

Denny, Josephine (b. 27 Nov 1867 - d. 27 Oct 1890)
daughter of Carey Bird Denny and Ellen Amelia Gordon

McKinney, Connie B (b. 7 Apr 1906 - d. 2 Jun 1906)
son of James Brison McKinney Ada Denny

McKinney, Hoyal "Hoyt" Webb (b. 15 Apr 1907 - d. 16 Oct 1927)
son of James Brison McKinney Ada Denny - death record shows he died on 10-15-1927
Web page updated 14 July 2016
Index of All Cemeteries
Alphabetical Index of All Burials
Previous Page