Index of All Cemeteries
Alphabetical Index of All Burials
Previous Page
Use the following to search across all the cemeteries listed.
Example: "Smith, Roger" (yes, use the quotes)
036 CUNDIFF, C.C. CEMETERY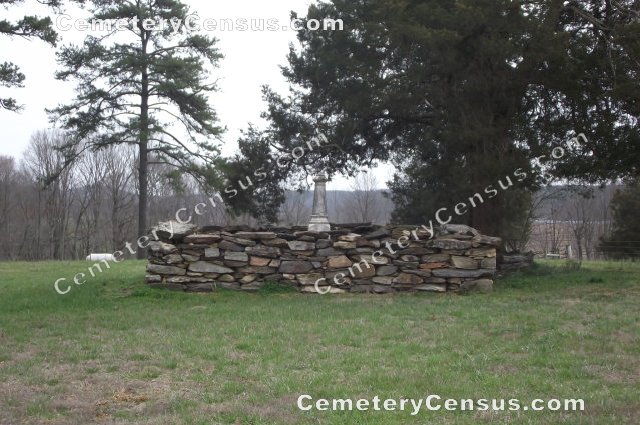 Location - Siloam/River Run Rd, Siloam, Surry Co., NC.

Coordinates: 36d 17m 02.5s N; 80d 35m 11.3s W Click here for Google maps

Directions: From intersection of Siloam Rd and Siloam/River Run Rd in Siloam (at the Yadkin River), go West on Siloam/River Run Rd for 1.4 miles. Look for road sign of Long Dusty Lane on the right, and then immediately turn left into a small drive. Cemetery is visible on the left in a small river slate wall.

Grave of Charles L. Crissman (b. 9-6-1776, d. 8-27-1836) is outside of the wall.

View of CC Cundiff Homestead. View of Historical marker.

Surveyed by Bob Carter on May 6, 2006 and again in March 2012 with photos taken.

Also known as: Cundiff-Crissman Cemetery.
Township or district: Siloam.
Public or Private: Private property.
Elevation above sea level (ft.): 895.
Status of cemetery: Appeared to be abandoned in 2006, but was cleaned and appears maintained in March 2012.

Graves of C. C. Cundiff, his wife Sarah, and two children are within a small wall of river rocks and the area is on the National Register of Historic Places. Has been some recent cutting down of trees on the land and the old homestead is in poor condition.


Crissman, Charles L. (b. 6 Sep 1776 - d. 27 Aug 1836)
Born near Philadelphia, PA. Husband of Susannah M. Carter, married 4 Sep 1800 in PA.
Born in Bedford, VA. Husband of 1) Sarah D. and 2) Mary Ann Barr, married 12 Nov 1876 in Surry.
Wife of Christopher Columbus Cundiff - born in Bedford County, VA - parents unknown.
Son of Christopher Columbus Cundiff and Sarah D. - unable to read name.
Child of Christopher Columbus Cundiff and Sarah D. - dates appear to be 1820s; unable to read name.
Web page updated 14 July 2016
Index of All Cemeteries
Alphabetical Index of All Burials
Previous Page