Index of All Cemeteries
Alphabetical Index of All Burials
Previous Page
Use the following to search across all the cemeteries listed.
Example: "Smith, Roger" (yes, use the quotes)
030 BOWMAN FAMILY CEMETERY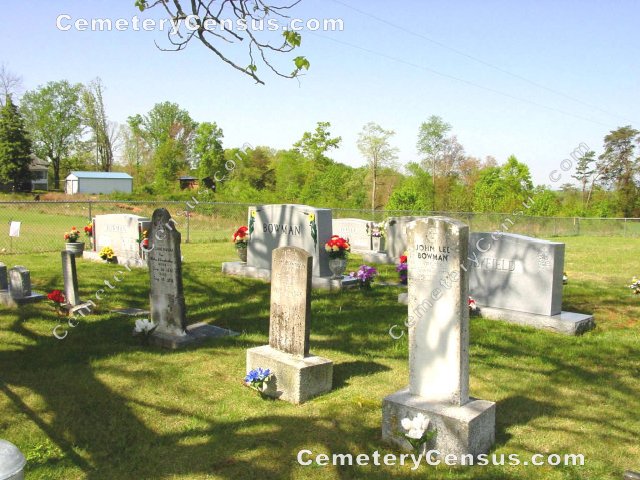 Location - Siloam Rd, Ararat, Surry Co., NC.

Coordinates: 36d 22m 24.4s N; 80d 37m 35.5s W Click here for Google maps

Directions: From intersection of US Hwy 52 and 601 in Mt. Airy, go south on US Hwy 601 (Rockford St) for 1.35 miles and turn left on Old US Hwy 601. Go 1.7 miles and turn left on Siloam Rd. Then go 5.9 miles and cemetery will be on the right. Is surrounded by a 4 ft. chain link fence and gates are locked.

Surveyed by Andy Hennis on April 1, 2006.
Township or district: Eldora.
Public or Private: Private property.
GPS Accuracy (ft.): 11.
Elevation above sea level (ft.): 1050.
Status of cemetery: Well maintained.
Surry County Parcel Number: 5925-00-08-9762.

GPS reading was taken from the center of the roadside fence. Most gravestones can be read from outside the fence.

Photographed and surveyed by Jack Luffman on 26 May 2011.

The cemetery was the scene of an accident several months ago - all stones but one were destroyed. The cemetery has been restored by John and Gaynell Lewis who maintain it beautifully.


Atkins, Otis Junior (b. 27 Oct 1947 - d. 27 Oct 1947)
Our Mother and Grandmother. Row 1
Wife of Willis Monroe Bowman. Row 2
Husband of Minnie Bowman. This is the only stone not damaged by the wreck. SGT Central Officers Training School. Row 1
Daughter of G. W. and R. B. Bowman. Row 1
Wife of John Lee Bowman. Row 1
Husband of Ollie Mae Bowman. Bowman Family. PVT US Army WW-II. Row 3
Husband of Etheleen Tilley Bowman. Pvt US Army WW-II Military marker. Row 2
Husband of Connie B. Bowman Holyfield. Holyfield Family. PFC US Army WW-II. Row 3
Wife of Moir Boyles Turney. Row 3
Husband of Mary Angeleen Turney. Row 3
Web page updated 14 July 2016
Index of All Cemeteries
Alphabetical Index of All Burials
Previous Page