Index of All Cemeteries
Alphabetical Index of All Burials
Previous Page
Use the following to search across all the cemeteries listed.
Example: "Smith, Roger" (yes, use the quotes)
029 BLUES GROVE BAPTIST CHURCH CEMETERY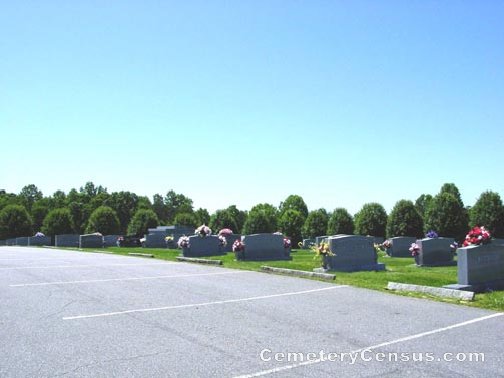 Location: 3069 Red Brush Rd, Mt. Airy, Surry Co., NC.

Coordinates: 36d 26m 17.6s N; 80d 42m 21.0s W Click here for Google maps

Directions: From intersection of US Hwy 52 N and NC Hwy 89 W (W. Pine St) in Mt. Airy, go .7 mile to the stoplight in Toast and turn left on S. Franklin Rd. Go one block to the next stoplight and turn right on Toast Rd. Then go .7 mile and turn left on Red Brush Rd and go 7 miles and church and cemetery will be on the left. Church is on the corner of Red Brush and Fish River Church Rds.

View of the church. View of the church sign.

Surveyed by Andy Hennis on May 6, 2006.
Township or district: Dobson.
Public or Private: Public Access.
GPS Accuracy (ft.): 9.
Elevation above sea level (ft.): 1050.
Surry County Parcel Number: 4998-00-82-2735.

Phone: 336-320-2895.

Some photographs provided by Charles Crabtree in 2009.
Surveyed and photographed by Jack Luffman in September 2010.


Atkinson, Annie Haynes (b. 4 Oct 1924 - d. 14 Oct 2005)
Wife of Jesse F. "Skipper" Atkinson. Married 9 Oct 1943. Row 14
Husband of Hessie E. Atkinson. Row 4
Wife of Frank A. Atkinson. Row 4
Wife of William C. Atkinson. Row 13
Husband of Ila W. Atkinson. Row 13
Wife of Floyd A. Badgett. Row 8
Husband of Lula P. Badgett. Row 3
Wife of W. Ivan Badgett. Married 6 Dec 1939. Row 8
Husband of Anna A. Badgett. Row 8
Husband of Ollie V. Badgett. Row 3
Husband of Mary E. Badgett. Row 10
Wife of Claude H. Badgett. Row 3
Wife of Joseph W. Badgett. Married 8 Jan 1911. Row 10
Wife of George H. Badgett. Row 3
Husband of Ella A. Badgett. Row 8
Husband of Greta Hall Blue. Row 10
Wife of Edwin Martin Blue. Married 9 Nov 1951. Row 10
Wife of William Neal Branch. Row 12
Husband of Patricia Smith Branch. Row 7
Wife of W. Ray Branch. Married 16 Oct 1945. Row 1
Husband of Mearl T. Branch. Row 4
Wife of William Claude Branch. Married 10 Nov 1943. Row 4
Wife of Glenn A. Branch. Row 4
Wife of W. Fletcher Branch. Row 4
Wife of Curtis J. "Gabby" Branch. Married 23 Dec 1967. Row 7
Husband of Nannie A Branch. Row 4
Husband of Edna Haynes Branch. Row 1
Husband of Lina Mae Branch. Row 4
Husband of Betty Fearrington Branch. Row 12
Husband of Maude B. Brindle. PFC US MARINE CORPS WW-II Military marker. Row 5
Wife of Arthur F. Brindle. Row 5
Wife of Timothy Ray Burton. Married 12 June 1987. Row 7
Husband of Pamela B. Burton. Row 7
Wife of Preston E. Carpenter. Row 8
Husband of Mary Stella B. Coble. Row 4
Wife of Kermit J. Coble. Married 11 June 1943. Row 4
Wife of Lacy H. Dollyhigh. Row 11
Husband of Janette B. Dollyhigh. Row 11
Husband of Mamie T. Dollyhigh. Row 6
Wife of Lester M. Dollyhigh. Row 6
Husband of Connie Nichols Draughn. T SGT US ARMY WW-II Military marker. Row 1
Wife of Frank Ottis Draughn. Married 53 years. Row 2
Wife of Archie Lee Draughn. Row 1
Husband of Bessie Marsh Draughn. Married 53 years. PFC US ARMY WW-II Military marker. Row 2
Wife of Marvin S. Draughon. Row 9
Husband of Frances A. Freeman. Row 8
Wife of DeWitt Freeman. Row 8
Wife of Robert H. Gooch. Row 13
Husband of Mary P. Gooch. Row 13
Husband of Gracie Mae Gordon. Row 12
Husband of Ruby E. Hall. Row 8
Wife of Clinton D. Hall. Married 26 Dec 1965. Row 8
Husband of Lula S. Haymore. Row 3
Husband of Ruth B. Haymore. Row 13
Wife of Ellis W. Haymore. Married 31 July 1943. Row 3
Son of Mr. and Mrs. Loyd Haymore. Behind church
Wife of Loyd "Bud" Haymore. Row 13
Wife of Roger D. Hodges. Row 8
Husband of Mildred B. Johnson. Row 11
Wife of Michael Ray Johnson. Row 14
Husband of Mary McHone Johnson. Row 14
Wife of King Brady Johnson. Row 14
Husband of Karen Montgomery Johnson. Row 14
Wife of Eugene B. Johnson. Row 11
Husband of Mary Frances B. Joyce. Row 9
Wife of Fletcher "Red" Joyce. Row 9
NORTH CAROLINA PVT 56 PIONEER INF. Behind church
Wife of Herman Edward Marion. Row 14
Stone is located as if this person is buried with Herman Edward Marion and Avis Bowlin Marion. Row 14
Husband of Avis Bowlin Marion. Row 14
Wife of McKinley McCraw. Row 4
Husband of Lizzie A. McCraw. Row 4
Wife of Samuel C. McCreary. SGT US MARINE CORPS WW-II Military marker. Row 6
Husband of Celia D. McCreary. Row 6
Husband of Lela M. McHone. Row 14
Wife of Jack G. McHone. Row 14
Wife of Jacob B. Mitchell. Behind church
Husband of Alice H. Mitchell. Behind church
Son of J. P. and Alice Mitchell. Behind church
Wife of William L. "Billy" Nations. Row 6
Husband of Polly M. Nations. Row 6
Wife of Gray Donald Nichols. Row 6
Husband of Frankie Ann Moore Nichols. Row 6
Infant son of Mr. and Mrs. Ernest Nichols. Row 5
Wife of Rev. Earnest Y. Nichols. Row 5
Husband of Nannie Lena Peele. Row 13
Wife of Howard Y. Peele. Row 13
Wife of Raymond E. Rayley. Row 15
Husband of Evelyn M. Todd Rayley. Row 15
Husband of Nancy Riggs. Behind church
Wife of George W. Riggs. Behind church
Wife of Paul E. Riggs. Row 12
Husband of Onita B. Riggs. Row 12
Husband of Jo Ann Simpson. Row 9
Wife of James Ray Simpson. Row 9
Husband of Martha P. Tilley. Behind church
Wife of Dixie Tilley. Behind church
Wife of Wilbur Lee Tolbert. Row 11
Husband of Betty Marie Tolbert. Row 11
Husband of Mary J. Watson. Row 7
Wife of Dixie A. Watson. Row 7
Wife of Robert Wayne Whitaker. Married 3 July 1952. Row 11
Husband of Margie D. Whitaker. Row 11
Web page created 2 September 2011
Index of All Cemeteries
Alphabetical Index of All Burials
Previous Page