Index of All Cemeteries
Alphabetical Index of All Burials
Previous Page
Use the following to search across all the cemeteries listed.
Example: "Smith, Roger" (yes, use the quotes)
028 BLUE RIDGE BAPTIST CHURCH CEMETERY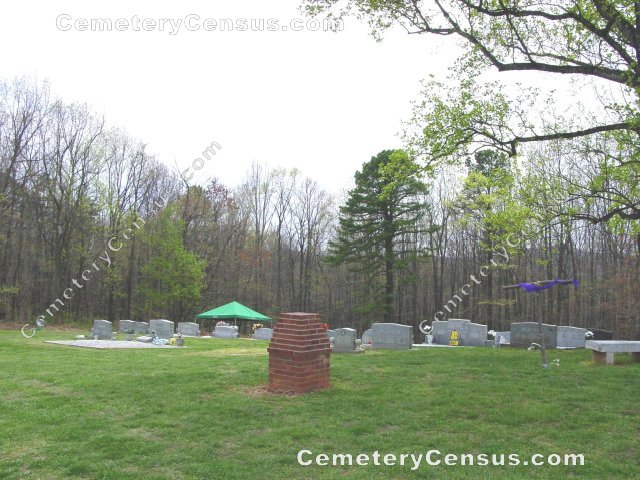 Location - 3500 Block of Pine Ridge Rd, Low Gap, Surry Co., NC.

Coordinates: 36d 32m 56.7s N; 80d 46m 21.9s W Click here for Google maps

Directions: From intersection of US Hwy 52 N and NC Hwy 89 W (W. Pine Street) in Mt. Airy, go west on W. Pine St for 4.4 miles and turn right on Maple Grove Church Rd, then go 4.5 miles and turn right on Pine Ridge Rd, then go 1.4 miles and cemetery and church are on the left.

View of the church. View of the church sign.

Photographed and surveyed by Jack Luffman on 19 Nov 2010,

Surveyed by Andy Hennis on April 1, 2006.
Township or district: Stewart's Creek.
Public or Private: Public Access.
GPS Accuracy (ft.): 10.
Elevation above sea level (ft.): 1485.


Bryant, J. Courtland (b. 16 Apr 1925 - d. 30 Oct 1984)
Husband of Wanda S. Bryant. Row 2
Wife of J. Courtland Bryant. Row 2
A1C US AIR FORCE KOREA. Row 5
US MARINE CORPS KOREA. Row 5
Wife of James E. Cockerham. Row 4
Husband of Beatrice T. Draughn. Row 3
Surname only listed. Row 11
Infant Son of Kenneth Goins and Susan Lee. Row 1
Husband of Vickie Puckett Hall. Row 7
Wife of Danny Michael Hall. Married 25 June 1983. Row 7
Husband of Jane J. Hawks. Row 1
Wife of Billy R. Hawks. Married 22 Nov 1961. Row 1
Wife of William Swanson Hawks. Row 1
Husband of Mary Bet Puckett Hawks. Row 1
Wife of Jack Hodges Sr. Row 1
Husband of Faye J. Hodges. Row 1
Wife of Robert Wade Horton. Married 8 June 1963. Row 1
Husband of Peggy Bowman Horton. Row 1
Husband of Mary Lou Puckett Jarrell. Row 6
Wife of Grover Quincy Jarrell. Row 6
Husband of Venus Slate Jones. Row 9
Wife of John P. Jones. Married 4 Oct 1975. Row 6
Husband of Deborah Jo Jones. Row 6
Wife of William Edward Jones. Row 10
Wife of Bobby Ray Jones. Row 9
Husband of Joy York Jones. Row 10
Wife of Robert W. King. Row 2
Husband of Hazel B. King. Row 2
Wife of Thomas R. Ledford. Row 13
Husband of Barbara J. Ledford. Row 13
Husband of Mary L. C. McBride. Row 13
Wife of Larry W. McBride. Row 13
Husband of Peggy Greene Moore. Row 3
Wife of Charles D. Moore. Married 23 Nov 1958. Row 3
Husband of Louise M. Payne. Row 5
Husband of Connie T. Puckett. Row 6
Wife of Claude "Bud" Puckett. Row 6
Husband of Jessie S. Puckett. Row 7
Wife of John Puckett. Row 5
Wife of Dennis C. Puckett. Row 7
Husband of Eliza Senter Puckett. Row 5
Wife of Raymond R. Robertson. Married 26 Oct 1959. Row 12
Husband of Cheryl S. Robertson. Row 12
Wife of Thomas P. Senter. Row 8
Husband of Maude P. Senter. Row 8
monument with name Chad only. Row 1
Wife of Charles T. Wright. Row 11
Husband of Betty T. Wright. Row 11
Web page updated 14 July 2016
Index of All Cemeteries
Alphabetical Index of All Burials
Previous Page