Index of All Cemeteries
Alphabetical Index of All Burials
Previous Page
Use the following to search across all the cemeteries listed.
Example: "Smith, Roger" (yes, use the quotes)
021 BESSIES CHAPEL BAPTIST CHURCH CEMETERY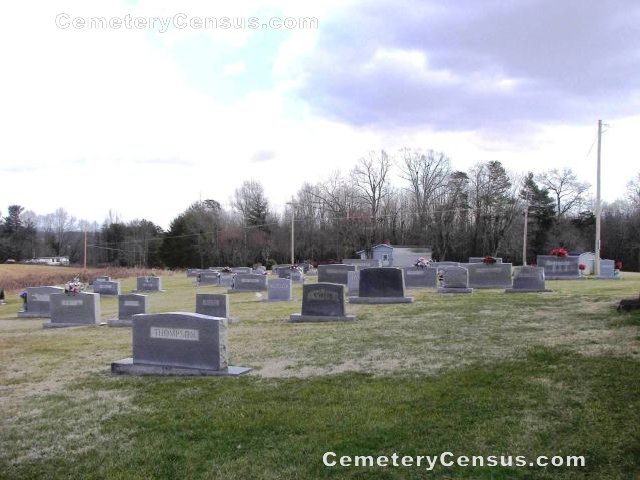 Location - Poplar Springs Rd, Elkin, Surry Co., NC.

Coordinates: 36d 19m 58.8s N; 80d 48m 01.6s W Click here for Google maps

Directions: From intersection of Hwy 21 Business at Hwy 21 By-pass, go north on Hwy 21 and turn right on Poplar Springs Rd and go about 6 miles. Cemetery is on the right just behind the church.

View of the church. Complete survey of all burials and pictures taken by Jack Luffman in July 2008. Graves were surveyed by row beginning at a point nearest Bessie Chapel Church Road.

Surveyed by Joe Hicks on April 6, 2006.
Township or district: Marsh.
Public or Private: Public Access.
GPS Accuracy (ft.): 15.
Elevation above sea level (ft.): 1204.
Surry County Parcel Number: 4964-00-94-6897.

Southards, Garvy and Emily Southard, Thompson.


Anthony, Diana Holder (b. 14 Feb 1948 - d. reserved)
Wife of Unknown Anthony - Daughter of Rufus Quinton Holder and Minnie Leila Dockery. Row 23
Infant son of Pete and Gail Atkinson. Row 18
Husband of Rosa Nevada Venable. Row 17
Wife of James Rowan Baker. Row 17
Husband of Phosie Holder. Row 5
Husband of Rose Ann F. Cockerham. Row 5
Wife of James Elmer Cockerham. Row 11
Son of Elmer Daniel Cockerham and Mary Dudley. Row 11
Wife of Jesse Kimbrough Cockerham. Row 11
Son of Elmer Daniel Cockerham and Sally Eulitt. Row 11
Husband of Bertha L. Mounce. Twin to Mamie Florence Cockerham Thompson. Son of Jessie Kimber Cockerham and Mary Elizabeth "Ida" White Snow. Row 11
Wife of Avery V. Cockerham. Row 5
Wife of Avery Vance Cockerham III. Row 5
Husband of Versa Comer. Row 16
Wife of Hubert C. Collins - Daughter of Ephraim Cleveland Dezern and Vertie Delanie Cockerham Row 13
Wife of Arvil Dewitt Collins. Row 16
Wife of Charlie Lee Cook. Row 9
Husband of Betty S. Cook - SFC US Army, Korea and Vietnam Military marker. Row 9
Husband of Vertie Delanie Cockerham - Son of Ephraim H. Dezern and Pheby Ann Holder. Row 6
Wife of Foley Montgomery Dezern - married 2 Apr 1938. Daughter of Richard Evans and Vallie White Row 1
Husband of Elsie Evans Dezern - Son of Ephraim Cleveland Dezern and Vertie Delanie Cockerham Row 1
Husband of Ruth Nichols and unknown Marion - Son of Ephraim Cleveland Dezern and Vertie Delanie Cockerham - TEC 5 US Army WW-II Military marker. Row 7
Husband of Margaret Jane Crissman. Row 6
Wife of Ephraim Cleveland Dezern - Daughter of Robert Cockerham and Frances J. Stanley. Row 6
ARM3 US Navy WW-II Military marker. - Son of Gilmer Dobbins and Ada Dockery. Row 2
Wife of William Verlin Holder. Row 15
Wife of Raymond V. Holder. Row 15
Wife of Roger J. Holder - married 8 Apr 1938. Row 5
Son of Rufus Quentin Holder and Minnie Leila Dockery. Row 23
Husband of Lillian S. Holder. Row 22
Wife of Fred Aubrey Holder. Row 22
Wife of Rufus Quentin Holder. Row 23
Husband of Elsie W. Holder. Row 5
Husband of Minnie Leila Dockery - Son of William Verlin Holder and Bessie Tucker - TEC 4 US Army, WW-II - Purple Heart, Battle of the Bulge Military marker. Row 23
Husband of Bessie Tucker. Row 15
Killed on Dobbins Mill Road by drunk driver. Row 5
Wife of Lonnie Jones Hutchens - married 18 Jun 1948. - she remarried to unknown France. Row 5
Wife of Willie Gray Hutchens. Row 5
Husband of Rosabell S. Hutchens. Row 5
Wife of Robert M. Jennings. Row 13
Husband of Ina S. Jennings. Row 13
Husband of Myrtle Fowler. Row 18
Wife of Charlie Lee Key. Row 18
Husband of Viola W. Martin. Row 6
Wife of Walter Willis Martin. Row 4
Wife of Ernest M. Martin. Row 6
Husband of Mabel K. Mooney - Son of James Mooney and Della U. Hudson. Row 19
Wife of Hardin C. Mooney. Row 19
Husband of Nell Josephine Wall. Row 3
Wife of Kearney G. Mounce - married 13 Apr 1940. - Daughter of A.C. Wall and Alice Ray. Row 3
Wife of Vernel J. Nance. Row 13
Husband of Irene W. Nance. Row 13
Daughter of Rufus Quentin Holder and Minnie Leila Dockery. Row 23
Wife of Reuben S. Renegar. Row 16
Husband of Sally S. Reynolds - Son of Theodore and Ruth Reynolds. Row 9
Wife of Earl F. Reynolds. Row 9
Husband of Fairy S. Southard - Masonic emblem. Row 6
Wife of Larry R. Southard. Row 24
Wife of Charlie Braxton Southard. Row 9
Husband of Callie Wall. Row 9
Husband of Edith Key - Masonic emblem. Row 7
Wife of Clyde Swanson Southard - Daughter of Charles Andrew Key and Clarney Dockery. Row 7
Wife of Garvey Braxton Southard - Daughter of W. V. and Bessie T. Holder. Row 9
Wife of B. Talmage Southard. Row 6
Husband of Emily Holder - US Army WW-II Military marker - obit shows DOB as 22 Aug, 1918 - Son of Charles Braxton Southard and Callie Wall Row 9
Son of Jim and Faye Southard. Row 7
Wife of Roy M. Southard - married 3 Jul 1954. Row 9
Husband of Betty H. Southard. Row 24
Wife of Sebastian C. Southard. Row 7
Wife of Alfred R. Southard. Row 24
Son of Alfred R. Southard and Lucille Dockery Footstone. Row 24
Husband of Vera Baker - Son of Charlie Southard and Callie Wall. Row 17
Wife of Wilbur P. Southard - Daughter of Claude E. White and Lottie Johnson. Row 12
Son of Clyde Swanson Southard and Edith Key - AN US Navy Military marker. Row 7
Husband of Jerry C. Southard - PFC US Army - Korea Military marker - Son of Charlie Braxton Southard and Callie Wall. Row 9
Husband of Loree H. Southard. Row 7
Wife of Philip Claude Southard. Row 17
Daughter of Garvey Braxton and Emily Holder. Row 9
Husband of Posy Violet White. Row 12
Wife of James Bobby Stanley. Row 21
Wife of Roy T. Stanley. Row 21
Husband of Mirtie D. Stanley. Row 21
Wife of Marvin L. Stanley. Row 21
Husband of Dorothy Southard. T-Sgt. US Army Air Force WW-II Military marker - Son of Marvin Stanley and Myrtle Dobbins Row 20
Husband of Helen B. Stanley. Row 21
Wife of Kenny Winfield Steele Daughter of Avery Vance Cockerham and Flora Southard. Row 12
Daughter of Kennie Winfield Steele and Alma Cockerham. Row 12
Husband of Alma Cockerham. Row 12
Son of Kennie Winfield Steele and Alma Cockerham. Row 12
Husband of Pearl C. Thompson. Row 14
Husband of Mamie Florence Cockerham. Row 10
Wife of Joseph Douglas Thompson. Twin to James Elmer Cockerham. Daughter of Jessie Kimber Cockerham and Mary Elizabeth "Ida" White Snow. Row 10
Wife of B. Horton Thompson. Row 14
Wife of Edward James Wagoner - Beloved Wife and Mother - Daughter of Arthur Southard and Ethel Williamson Row 3
Beloved Mother - Daughter of Edward James Wagoner and Sybil Southard. Row 3
Husband of Alice R. Wall. Masonic emblem. Row 4
Wife of Admer C. Wall. Row 4
Husband of Julia Elizabeth Thompson - TEC 5 US Army WW-II Military marker. Row 10
Husband of Helen Louise Dezern. Row 1
Wife of Henry F. Wall - married 1 Apr 1944. Daughter of Gilmer Dobbins and Ada Dockery. Row 2
Husband of Nell Hazel Mounce - Son of William Henry Harrison Wall and Lucinda Draughn. Row 20
Husband of Mary L. Wall. Row 9
Wife of Charles L. Wall - Daughter of Foley Montgomery Dezern and Elise Evans. Row 1
Husband of Fairy Dobbins. Row 2
Wife of Billey Sunday Wall - married 6 Mar 1948. Row 10
Wife of George M. Wall. Row 9
Wife of Gaither Thomas Wall - Daughter of Preston Lindsay Mounce and Cordelia Alice Whitaker Row 20
Husband of Vernice H. Wall - SGT US Army WW-II Purple Heart Military marker. Row 8
Son of Henry F. Wall and Fairy Dobbins Wall. Row 2
Wife of Ray Clifford Wall. Row 8
Wife of Joseph Houston Whitaker. Row 4
Wife of Drew Roosevelt White. Row 13
Husband of Corena D. White - Son of Drury White and Plutina Holyfield. Row 13
Son of Drew Roosevelt White and Corena D. White. Row 13
Wife of George W. Wilmoth. Closeup of inscription. Row 10
Husband of Betty Ruth Wilmoth. Closeup of inscription. Row 10
Web page updated 14 July 2016
Index of All Cemeteries
Alphabetical Index of All Burials
Previous Page