Index of All Cemeteries
Alphabetical Index of All Burials
Previous Page
Use the following to search across all the cemeteries listed.
Example: "Smith, Roger" (yes, use the quotes)
013 AXOM-SETLIFF-WHITE-LUNDY FAMILY CEMETERY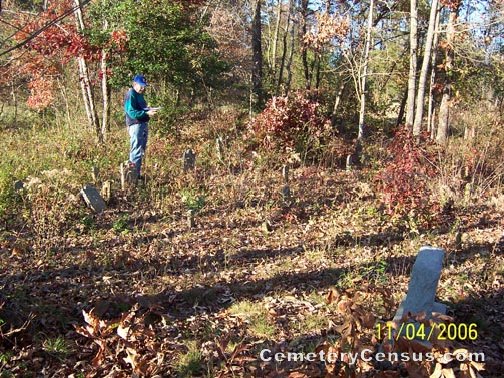 Location - Gilliam Rd (SR 1113), Little Richmond, Surry Co., NC.

Coordinates: 36d 18m 05.1s N; 80d 44m 10.7s W Click here for Google maps

Directions: From intersection of NC Hwy 268 East and US 601 (Fairview Crossroads), go west on Hwy 268 about 1.5 - 2 miles, then left on Gilliam Rd and go .4 mile to end at an old farmhouse on the right. Park and walk past house and between some old farm sheds following a farm trail past a dam of a farm irrigation pond to a patch of trees in the edge of a field. Distance from house to cemetery is about .5 mile.

View #2 of cemetery. View #3 of cemetery.

Surveyed by Joe Hicks on October 1, 2006.
Township or district: Marsh.
Public or Private: Private property.
GPS Accuracy (ft.): 16.
Elevation above sea level (ft.): 1044.
Status of cemetery: Fair.
Surry County Parcel Number: 4983-00-73-0443.

Cemetery is in wooded area. Some broken stones and field stone markers. Martin Axom (b. 06-10-1804, d. 01-02-1873) and wife Susanna Lundy (b. 12-13-1798, d. 04-10-1879); M. C. Anthony and wife Susan Hardin White (b. Dec. 1825, d. 1850), Issac Lundy (b. 04-11-1823, d. 06-30-1840), John Axom (b. 1787, d. 1833) wife Nancy Axom (b. 1783, d. 1854).

Burials survey by Norma Axsom Zanetti on June 24, 1998.


Anthony, Martin Columbus (b. 2 Jun 1850 - d. 2 Nov 1936)
Husband of Sussen (Susan) Axsom

Anthony, Sussen (Susan) E. Axsom (b. 16 Apr 1852 - d. 12 Jul 1888)
Wife of M.C. Anthony grand-daughter of Martin Axsom

Axsom, Abraham Setliff (b. 29 Oct 1854 - d. 11 Oct 1856)
son of Joseph H. Axsom, Jr.; grand-son of Joseph H. Axsom, Sr.

Axsom, Martin (b. 10 Jun 1804 - d. 2 Jan 1873)
Husband of Susanna Lundy Axsom. son of Joseph H. Axsom, Sr.

Axsom, Nancy (b. 6 Feb 1783 - d. 24 Dec 1854)
Wife of Joseph H. Axsom, Sr.

Axsom, Susanna Lundy (b. 13 Dec 1798 - d. 10 Apr 1879)

Lundy, Isaac (b. 11 Apr 1823 - d. 30 Jun 1840)

White, Harden (b. 9 Dec 1825 - d. 7 Nov 1850)
Husband of Nancy B. Axsom
Web page updated 14 July 2016
Index of All Cemeteries
Alphabetical Index of All Burials
Previous Page