Index of All Cemeteries
Alphabetical Index of All Burials
Previous Page
Use the following to search across all the cemeteries listed.
Example: "Smith, Roger" (yes, use the quotes)
012 AXOM-ANTHONY-ROBERTS FAMILY CEMETERY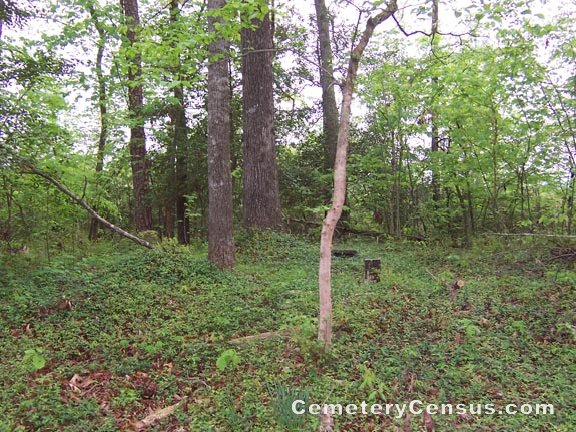 Location - Off (SR 1121) 690 Joe Layne Mill Rd, Little Richmond, Surry Co., NC.

Coordinates: 36d 18m 22.4s N; 80d 46m 17.7s W Click here for Google maps

Directions: From intersection of US Hwy 601 and NC Hwy 268 (Fairview Crossroads), go west on Hwy 268 for about 3 miles and turn right on Joe Layne Mill road (just past Little Richmond Baptist Church). Then go 1.1 miles and after crossing a creek and going up a hill there is a green and white open ended hay storage building on the left. Immediately on the right side of the road is a dirt lane that goes past a fence line. Follow this road for .2 mile to a mobile home on right. Will need to walk from there following along the fence and past a horse barn to a wooded area approx 400 yards from house.

View #2 of the cemetery.

Surveyed by Joe Hicks on October 1, 2006.
Township or district: Marsh.
Public or Private: Private property.
GPS Accuracy (ft.): 19.
Elevation above sea level (ft.): 1096.
Status of cemetery: Abandoned.
Surry County Parcel Number: 4973-00-83-6603.

Stones have a lot of damage from being tipped over and being in a shaded area constantly causes mold deposits on stone. Names: Nelia wife of J. S Layne (b. 10-14-1872, d. 07-26-1897), Bertha d/o P. G. and E. J. Layne (b. 01-15-1883, d. 1884), Emma Setliff wife of BW Snow (b. 1862, d. 12-09-1895), Polly Bray (b. 06-09-1829, d. 03-29-1884) husband Oliver Bray (b. 05-18-1824, d. 07-29-1891), Mary E. Layne (b. 01-22-??, d. 10-05-1892), Joseph Axom (d. 09-14-1896), Mary Axom wife of Joseph (b. 08-06-1812, d. 07-30-1900), Josey son of J M and N J Axom (b. 11-05-1875, d. 10-07-1877), Joseph John Setliff (b. 05-30-1782, d. 05-24-1870, Ann Setliff w/o John Setliff (b. 11-21-1791, d. 08-24-1865), there are lots of unmarked stones and a list that I have found list more names of Roberts, Anthony's, Sgt. Henry C. Anthony a Civil War Veteran, Co-A, 28th NC Inf, CSA. Somewhat sensitive to visits.


Anthony, Henry C. (b. - d. )
Sgt. Henry C. Anthony a Civil War Veteran, Co-A, 28th NC Inf, CSA.

Axom, Joseph (b. - d. 14 Sep 1896)

Axom, Josey (b. 5 Nov 1875 - d. 7 Oct 1877)
son of J.M. and N.J. Axom

Axom, Mary (b. 6 Aug 1812 - d. 30 Jul 1900)

Bray, Oliver (b. 18 May 1824 - d. 29 Jul 1891)

Bray, Polly (b. 9 Jun 1829 - d. 29 Mar 1884)

Layne, Bertha (b. 15 Jan 1883 - d. 1884)
daughter of P.G. and E.J. Layne

Layne, Mary E. (b. 22 Jan ???? - d. 5 Oct 1892)

Layne, Nelia (b. 14 Oct 1872 - d. 26 Jul 1897)

Setliff, Ann (b. 21 Nov 1791 - d. 24 Aug 1865)
Wife of Joseph John Setliff

Setliff, Joseph John (b. 30 May 1782 - d. 24 May 1870)

Snow, Emma Setliff (b. 1862 - d. 9 Dec 1895)
Web page updated 14 July 2016
Index of All Cemeteries
Alphabetical Index of All Burials
Previous Page