Index of All Cemeteries
Alphabetical Index of All Burials
Previous Page
Use the following to search across all the cemeteries listed.
Example: "Smith, Roger" (yes, use the quotes)
005 ANTIOCH BAPTIST CHURCH CEMETERY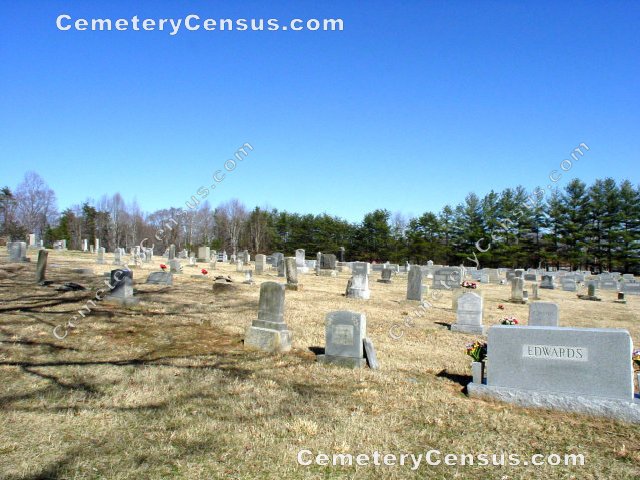 Location - Corner of NC Hwy 89 W (W. Pine St.) and Antioch Avenue, Mt. Airy, Surry Co., NC.

Coordinates: 36d 30m 14.0s N; 80d 41m 03.0s W Click here for Google maps

Directions: From intersection of US Hwy 52 N and NC Hwy 89 W in Mt. Airy, go west on NC Hwy 89 for 3.55 miles. Turn right on Antioch Avenue and cemetery will be on the right. The church is on the left.

View of the church. View of church sign.

Surveyed by Andy Hennis on April 1, 2006.
Township or district: Stewart's Creek.
Public or Private: Public Access.
GPS Accuracy (ft.): 14.
Elevation above sea level (ft.): 1230.

Burials survey and photos by Phyllis and Jim Snow in May 2011. Updated in June 2012.


Adkins, Andy (b. Feb 1918 - d. 7 Jun 1918)
Allen, Emmett Oscar (b. 25 May 1904 - d. 8 Feb 1995)
Allen, Rena (b. 19 May 1906 - d. 20 May 1984)
Allred, Add Bunker (b. 11 Jun 1869 - d. 10 Sep 1948)
Allred, Bessie Brown (b. 30 Nov 1896 - d. 27 Jan 1975)
Allred, Caleb H (b. 22 Nov 1894 - d. 3 Jun 1953)
Allred, Everett (b. 22 Jun 1904 - d. 9 Feb 1911)
Allred, Fannie Ada Snow (b. 18 Jan 1875 - d. 23 Jun 1959)
Allred, Flora Woodruff (b. 15 Oct 1878 - d. 25 Mar 1966)
Allred, George (b. 11 Jun 1858 - d. 9 Nov 1930)
Allred, Hiram H (b. 9 Feb 1907 - d. 14 Apr 1992)
Allred, Hiram V. (b. 8 Apr 1821 - d. 2 Mar 1914)
Allred, Hiram Vestal, Jr (b. 24 Oct 1872 - d. 4 Dec 1965)
Allred, Infant Boy (b. 27 Jan 1933 - d. 4 Feb 1933)
Allred, John Dee (b. 19 Dec 1909 - d. 12 Nov 1975)
Allred, Joseph J. (b. 15 Oct 1856 - d. 3 Mar 1937)
Allred, Louisa Johnson (b. 27 Feb 1858 - d. 25 Dec 1947)
Allred, Lucy Josephine Davenport (b. 16 Mar 1911 - d. 7 Jan 2003)
Allred, Mary V (b. 18 Feb 1884 - d. 13 Nov 1902)
Allred, Nancy Helen (b. 14 Dec 1933 - d. 14 Dec 1933)
Allred, Patrick Cleveland (b. 18 Feb 1884 - d. 10 Jan 1923)
Allred, Sarah "Sallie" Sawyers (b. 15 Jan 1832 - d. 19 Nov 1928)
Allred, Virgil H. (b. 14 Jun 1898 - d. 5 Sep 1921)
Ayers, Martha Patricia Whitaker (b. 16 Jul 1828 - d. 8 Feb 1901)
Barker, Horatio Constantine "Conse" (b. 19 Oct 1858 - d. 3 Apr 1907)
Barker, Mary Jane (b. 27 Dec 1859 - d. 24 Dec 1922)
Beamer, Alpha Nuckolls (b. 27 Nov 1911 - d. 26 Jul 1986)
Beamer, Annie Johnson (b. 1893 - d. 1976)
Beamer, Cana L. (b. 2 May 1872 - d. 18 Mar 1942)
Beamer, Caroline (b. 1850 - d. 25 Sep 1923)
Beamer, Claude (b. 1 Dec 1887 - d. 13 Jan 1919)
Beamer, Curry B (b. 18 Dec 1876 - d. 19 Sep 1956)
Beamer, Dollie Dawson (b. 1 Oct 1878 - d. 20 Jan 1959)
Beamer, Edwin P (b. 10 Jun 1916 - d. 19 Nov 1972)
Beamer, Elizabeth "Betty" Freeman (b. 1853 - d. 9 Aug 1928)
Beamer, Elsie Southern (b. 5 Jan 1897 - d. 22 Jan 1914)
Beamer, Ethel Daniel (b. 22 Apr 1910 - d. 14 Sep 2006)
Beamer, George (b. 15 May 1903 - d. 15 Sep 1905)
Beamer, George Boston (b. 7 Sep 1910 - d. 21 Oct 1988)
Beamer, Grace (b. 3 May 1913 - d. 14 Jan 1992)
Beamer, Hasten (b. 8 Aug 1939 - d. 15 May 1872)
Beamer, Henry Rex (b. 2 Dec 1928 - d. 25 Jul 1959)
Beamer, Infant Son (b. 12 Oct 1944 - d. 12 Oct 1944)
Beamer, James C. (b. 15 Mar 1850 - d. 25 Mar 1923)
Beamer, Jennie Jones (b. 25 Feb 1878 - d. 24 Apr 1952)
Beamer, Jesse L (b. 1879 - d. 1955)
Beamer, Johnnie Woltz (b. 26 Feb 1902 - d. 24 Mar 1902)
Beamer, Julia Gardner B (b. 2 Oct 1877 - d. 25 May 1916)
Beamer, Kenneth Kyle (b. 26 Jan 1936 - d. 30 Aug 1964)
Beamer, Kitty McMickle (b. 15 Nov 1877 - d. 11 Sep 1966)
Beamer, L. D. (b. 1862 - d. 12 Dec 1922)
Beamer, Laura Jones (b. 28 Jun 1874 - d. 11 Feb 1945)
Beamer, Lucy P. Hatcher (b. 24 Sep 1845 - d. 1 Feb 1920)
Beamer, Lula Amburn B (b. 26 May 1886 - d. 1 Oct 1945)
Beamer, Luther Wellington (b. 14 Sep 1877 - d. 11 Apr 1952)
Beamer, Mary Bryan (b. 14 Nov 1914 - d. 1 May 1985)
Beamer, Mary H (b. 16 Jan 1868 - d. 1 Jul 1903)
Beamer, Mint (b. 1855 - d. 15 Jan 1919)
Beamer, Nancy Hampton (b. 9 Nov 1901 - d. 17 Nov 2003)
Beamer, Peter Robert "Pete" (b. 30 Jun 1860 - d. 23 Jan 1938)
Beamer, Roy Benjamin (b. 15 Dec 1915 - d. 7 Jan 1916)
Beamer, Roy E. (b. 6 Jan 1917 - d. 16 Jan 1919)
Beamer, Ruben Cincinnati (b. 4 May 1882 - d. 29 Jan 1963)
Beamer, Sallie Booker (b. 11 Sep 1863 - d. 5 Jan 1935)
Beamer, Samuel Frank (b. 17 Oct 1910 - d. 24 Jun 1989)
Beamer, Sarah (b. Apr 1866 - d. 4 Feb 1940)
Beamer, Terry Fulton (b. 20 Jul 1899 - d. 18 Feb 1992)
Beamer, William H. (Rev.) (b. 6 Apr 1844 - d. 6 Jul 1915)
Belton, Flavius Edward (b. 12 Apr 1877 - d. 5 Nov 1919)
Belton, Sallie Holder (b. 1878 - d. 29 Mar 1918)
Benge, Virginia C (b. 1933 - d. 1988)
Booth, Jerry Wayne (b. 12 Sep 1947 - d. 22 Jun 1983)
Bowman, Amos H (b. 29 Jan 1905 - d. 13 Jan 1977)
Bowman, Donnie Y (b. 12 Sep 1895 - d. 30 Mar 1976)
Bowman, John D (b. 21 Dec 1926 - d. 22 Mar 2009)
Bowman, John Elton (b. 10 Apr 1933 - d. 23 Feb 2009)
Bowman, Robert C (b. 22 May 1935 - d. 12 Oct 1980)
Bowman, Roger Dale (b. 29 Oct 1954 - d. 6 Sep 1984)
Branch, Isaac Webb (b. 21 Jul 1913 - d. 30 Jul 1962)
Branch, Ocie Tate (b. 23 Apr 1908 - d. 19 Nov 1952)
Breit, Mary Beamer (b. 19 Oct 1904 - d. 31 Aug 1995)
Brinkley, Gladys Mae Hodges (b. 12 Jun 1914 - d. 18 Jan 1942)
Bunker, Charity Emma Snow (b. 22 Jan 1900 - d. 17 Sep 1995)
Bunker, Christopher Lee (b. 15 Jan 1883 - d. 24 Feb 1972)
Bunker, Christopher Wren (b. 8 Apr 1845 - d. 2 Apr 1932)
Bunker, Mary E. Haynes (b. 12 Jul 1850 - d. 8 Nov 1948)
Bunton, Gary Michael (b. 15 Oct 1948 - d. 12 Aug 2002)
Butcher, Adolphus Winfield "Winnie" (b. 16 Dec 1879 - d. 12 Jul 1969)
Husband of Louiseanna A. Moser - Son of James Butcher and Elizabeth Rebecca Melton

Butcher, Charlie Hamby (b. 31 Jan 1910 - d. 8 Nov 1967)
Son of Adolphus Winfield Butcher and Louiseanna A. Moser - NC TEC-5, US Army WW-II

Butcher, Edgar Rufus (b. 31 Jan 1910 - d. 8 Nov 1967)

Butcher, Edgar Rufus (b. 19 May 1903 - d. 27 Jan 1985)
Husband of Etta Snow - Son of Adolphus Winfield Butcher and Louiseanna A. Moser

Butcher, Hattie Etta Snow (b. 1 Mar 1914 - d. Reserved)
Wife of Edgar Rufus Butcher - Daughter of Byrd Snow and Phylenia Frances Golding

Butcher, Infant Daughter (b. 18 Feb 1949 - d. 18 Feb 1949)

Butcher, Louiseanna A. Moser (b. 7 Jan 1880 - d. 7 Jan 1943)
Wife of Adolphus Winfield Butcher - Daughter of Gabriel Moser and Emeline Carlisle

Butcher, Oscar Woodrow (b. 28 Jun 1920 - d. 15 Jul 1955)
Son of Adolphus Winfield Butcher and Louiseanna A. Moser - NC SF2, USNR WW-II

Carlisle, David Lee (b. 25 Jul 1946 - d. 26 Oct 1988)

Carpenter, Henry Ford (b. 30 May 1909 - d. 11 Jul 1979)

Chappell, Infant Girl (b. 16 May 1924 - d. 16 May 1924)

Chappell, Leanner B "Lena" (b. 17 Apr 1915 - d. 21 Dec 1920)

Chappell, Romel Edgar (b. 9 Mar 1921 - d. 3 Dec 1923)

Cobler, Nellie Creed (b. 7 Oct 1912 - d. 23 Jan 1938)
1st Wife of Gaston William Cobler

Cockerham, Bernie (b. 6 Apr 1907 - d. 14 Feb 1926)

Cockerham, Ella Mae (b. 22 Sep 1933 - d. 18 Oct 1934)
Daughter of Kelly Roosevelt and Maggie A. Cockerham

Cockerham, Maggie (b. 14 Mar 1912 - d. 23 Jun 1984)
Daughter of William Raleigh Cockerham and Myrtle Felts

Cockerham, Myrtle Felts (b. 2 Oct 1890 - d. 15 Feb 1926)
Wife of William Raleigh Cockerham

Cockerham, William Raleigh (b. 12 Dec 1881 - d. 14 Jul 1957)
Husband of Myrtle Felts - Son of Lemuel Cockerham and Mildred Flippen

Coe, Ethel W (b. 15 May 1918 - d. 21 May 2003)

Coe, Ules B (b. 4 May 1912 - d. 26 Sep 1995)

Collins, Brenda Ann (b. 9 Apr 1950 - d. 30 Jan 1980)

Cook, Gertrude East (b. 24 May 1914 - d. 21 Dec 1914)

Cook, Mary Elizabeth East (b. 3 Oct 1888 - d. 24 Sep 1914)

Council, Minnie Herring (b. 9 Jun 1884 - d. 10 Aug 1957)

Creed, Anthony Layne (b. 4 Nov 1959 - d. 19 Aug 2006)
Son of George Whitford and Nancy Lorene Moore

Creed, Ella C. Tickle (b. 23 Jul 1890 - d. 28 Oct 1980)
Wife of Logan Austin Creed - Daughter of Lindsay Tickle and Martha Dunbar

Creed, George Whitford "Joe" (b. 14 May 1940 - d. 27 Jan 2006)
Husband of Nancy Lorene Moore and married 17 Aug 1958

Creed, Infant Girl (b. 19 Apr 1928 - d. 22 Jun 1928)

Creed, Leva (b. 23 Jan 1920 - d. 3 Apr 1939)

Creed, Logan Austin (b. 28 Jul 1892 - d. 6 Sep 1959)
Husband of Ella Tickle, married 9 Apr 1911 - Son of Martin Creed and Frances York

Creed, Martin (b. 1852 - d. 15 Oct 1932)
Husband of Laura York, married 4 Mar 1880 - Son of King Creed and Sally Hodge

Creed, Nancy Lorene Moore (b. 26 Apr 1941 - d. Reserved)
Wife of George Whitford Creed (children were Layne, Scott, Renee, Ramona and Velvet)

Creed, Ramona Lynn (b. 16 Mar 1967 - d. 16 Mar 1967)
Daughter of George Whitford Creed and Nancy Lorene Moore

Creed, Rosie Ann Berrier-Butcher (b. 24 May 1921 - d. 22 May 2011)

Creed, Sam Frank (b. 27 Mar 1920 - d. 8 Oct 2006)
Husband of Rosie Ann Berrier Butcher - Son of Roscoe Creed and Effie Dawson

Creed, Samirah Haymore (b. 19 Aug 1871 - d. 9 Jul 1959)

Critz, Johnson (b. 16 Nov 1899 - d. 28 Sep 1937)

Critz, Joseph Emory (b. 22 May 1900 - d. 5 Jan 1973)

Critz, Lucinda L. Johnson (b. 22 Jan 1868 - d. 27 Mar 1916)

Critz, Walter A (b. 28 Apr 1867 - d. 16 Feb 1957)

Danley, Irvin (b. 27 Apr 1912 - d. 19 Jun 1915)

Davis, Ada Mae White (b. 30 Sep 1893 - d. 10 Oct 1972)

Davis, Bobbie Dale Rose (b. 30 Oct 1948 - d. 1 Mar 2010)

Davis, David (b. 16 Jul 1912 - d. 19 Aug 1912)

Davis, Della (b. 10 May 1889 - d. 6 Apr 1918)

Davis, Emily B (b. 1831 - d. 1906)

Davis, Howard Nelson (b. 22 Oct 1936 - d. 2 Oct 1999)

Davis, Infant Boy (b. 2 Apr 1924 - d. 13 Apr 1924)

Davis, Infant Boy (b. 12 Feb 1918 - d. 23 Feb 1918)

Davis, Jonathan F (b. 1868 - d. 1903)

Davis, Robert W. "Will" (b. 2 Jul 1870 - d. 19 Nov 1958)

Davis, Thomas (b. 1875 - d. 1901)

Dawson, Arthur Marvin (b. 1 Jul 1904 - d. 15 Dec 1962)

Dawson, Eli L (b. 10 Dec 1884 - d. 2 Jul 1963)

Dawson, Frank C (b. 1 Nov 1907 - d. 7 Jul 1980)

Dawson, Robert Franklin (b. 29 Jan 1872 - d. 25 Dec 1942)

Dawson, Sally York (b. 11 Sep 1868 - d. 17 Jan 1966)

Dawson, Susie F (b. 22 Aug 1905 - d. 20 Jan 1993)

Dawson, Thelma J (b. 5 Sep 1909 - d. 17 Feb 1998)

Dean, Lillie Galyean (b. 18 Jan 1909 - d. 21 Jul 1959)
Daughter of William M. and Minnie E. (Snow) Galyean

DeHaven, Clarence Edward (b. 18 Jan 1914 - d. 3 Nov 1990)

DeHaven, Emma Hall (b. 14 Jan 1883 - d. 16 Nov 1962)

DeHaven, Reva Lara Hall (b. 20 Nov 1919 - d. 8 Aug 1983)

Dickens, Lillian Marie W (b. 14 Sep 1910 - d. 28 Jun 1983)

Dickens, Schyler Esilas (b. 25 Dec 1904 - d. 21 Dec 1959)

Dollyhigh, Coleen Huffman (b. 6 Jul 1932 - d. 22 Mar 2008)

Dollyhigh, Ervin Gray (b. 8 Nov 1929 - d. 27 Feb 1986)

Dollyhigh, Infant (b. 16 Feb 1984 - d. 16 Feb 1984)

Dollyhigh, Isa E (b. 8 Feb 1963 - d. 22 Mar 2008)

Doss, Jennie Lynn Pardue (b. 16 Sep 1895 - d. 3 Jun 1945)

East, Alex (b. 9 Jun 1886 - d. 10 Oct 1933)

East, Alice E (b. 12 Apr 1864 - d. 31 Aug 1933)

East, Edna P. (b. 29 Jul 1898 - d. 5 Jun 1917)

East, Elizabeth Seal (b. Jul 1815 - d. unknown)

East, Ernest Howard (b. 11 Jun 1911 - d. 7 Feb 1925)

East, Infant Boy (b. 27 Jun 1915 - d. 30 Jun 1915)

East, Infant Girl (b. 23 Apr 1914 - d. 17 May 1914)

East, James H (b. 29 Sep 1860 - d. 11 Dec 1925)

East, James H (b. 13 Apr 1927 - d. 9 Sep 1932)

East, Lucille Sparger (b. 7 Nov 1898 - d. 27 Sep 1991)

East, Marvin M. (b. 9 Jun 1916 - d. 5 Dec 1918)

East, Reuben Columbus (b. Feb 1877 - d. Nov 1913)

East, Sally (b. 27 Jul 1851 - d. 26 Dec 1933)

East, Sarah Hickman (b. 1856 - d. 11 Jan 1928)

East, Thomas A. (b. 19 Jun 1893 - d. 5 Sep 1988)

East, William R (b. 10 Sep 1820 - d. 9 Aug 1893)

East, William Theodore (b. 16 Feb 1901 - d. 11 Nov 1918)

Easter, Louise N (b. 1 May 1920 - d. 3 Dec 1986)

Easter, Roscoe A (b. 13 Mar 1909 - d. 18 Dec 2005)

Edwards, Arlene Hooker (b. 1 Sep 1922 - d. 25 Jul 1999)

Edwards, Charlie Cassell (b. 5 Dec 1879 - d. 31 May 1940)

Edwards, Infant Son (b. 2 Feb 1941 - d. 3 Feb 1941)

Edwards, Jessie Edgar (b. 31 Jul 1916 - d. 4 Jan 2002)

Edwards, Lala Mae "Lola" Berrier (b. 6 Jun 1916 - d. 18 Jun 2004)

Edwards, Lessie Mae Marshall (b. 2 Jan 1907 - d. 26 Sep 1993)

Edwards, Lula Mae Hodges (b. 15 Sep 1884 - d. 13 May 1929)

Edwards, Payton Rowe (b. 14 Mar 1919 - d. 24 Jun 1966)

Edwards, Shirley Ann Smith (b. 9 Sep 1936 - d. 3 Apr 2010)

Edwards, Walter (b. 13 Apr 1921 - d. 26 Jan 1922)

Edwards, William H (b. 14 Nov 1909 - d. 26 Apr 1979)

Elliot, Mary (b. 6 May 1824 - d. 15 Aug 1852)

Fain, Amos H (b. 15 Jul 1905 - d. 13 Oct 1932)

Fain, Columbus Fleenoy (b. 18 Aug 1884 - d. 5 Aug 1962)

Fain, Infant Sons (b. unknown - d. unknown)

Fain, Mary Elizabeth Hooker (b. 26 Aug 1892 - d. 17 Jul 1927)

Fain, Wanda Elizabeth (b. 29 Apr 1949 - d. 20 Feb 1953)

Fallenstein, Ellen E. Tickle (b. 21 Aug 1858 - d. 20 Apr 1916)

Fallenstein, Frank Theodore (b. 21 Jun 1858 - d. 15 Oct 1929)

Felts, Charles Glenn (b. 19 Jul 1907 - d. 26 Apr 1966)

Felts, Nell Pardue (b. 23 Dec 1898 - d. 7 May 1978)

Felts, Rosie Holder (b. 15 Aug 1870 - d. 2 Jul 1945)

Felts, Washington Monroe (b. 11 Nov 1870 - d. 1 Jun 1943)

Felts, William R (b. 17 Nov 1897 - d. 1 Oct 1948)

Fleming, Marlene (b. 24 Jan 1947 - d. 12 Dec 2010)

Fleming, Nina Mae Dawson (b. 4 Apr 1929 - d. 4 Mar 2008)

Fleming, Ray Worrell "Doug" (b. 28 Nov 1927 - d. 25 Apr 1973)

Foster, Thomas David (b. 25 Jul 1902 - d. 2 Dec 1973)

Franklin, Alice McGee (b. 20 Apr 1881 - d. 4 Jul 1926)

Franklin, Jay Whitlock (b. 20 Jun 1881 - d. 22 Aug 1958)

Franklin, Lee Fries (b. 19 Nov 1888 - d. 6 Jan 1953)

Galyean, Bobby Gene (b. 25 Sep 1936 - d. 28 Sep 2002)

Galyean, Grover C (b. 9 Nov 1911 - d. 9 Feb 1913)
son of William M. and Minnie E. (Snow) Galyean

Galyean, James E (b. 21 Oct 1916 - d. 17 Oct 1918)
son of William M. and Minnie E. (Snow) Galyean

Galyean, Minnie Ellen Snow (b. 21 Nov 1886 - d. 31 Oct 1977)
Wife of William M. Galyean. daughter of John Henry and Jane (Payne) Snow

Galyean, Sharon Mary Smoot (b. 28 Jul 1941 - d. 10 May 2004)

Galyean, William M (b. 15 Oct 1886 - d. 22 Jul 1930)
Husband of Minnie E. Snow Galyean. son of Houston and Temperence "Tempy" (Snow) Galyean

Galyean, William Robert (b. 9 Dec 1919 - d. 17 Nov 1967)
Son of William M. and Minnie E. (Snow) Galyean

Gardner, Giles Quentin (b. 7 Jan 1928 - d. 2 Oct 2002)

Gardner, Harley Laten (b. 4 Jan 1924 - d. 25 Jan 1994)

Garrett, Cody Anthony (b. 27 Mar 1997 - d. 31 Mar 1997)

George, Clifford Barney (b. 10 Feb 1950 - d. 1 Jan 1988)

Gibson, Baxter Thomas (b. 17 Mar 1918 - d. 27 Jul 1967)

Gibson, Ethel Louise Sain (b. 22 Aug 1915 - d. 9 Aug 1995)

Gibson, John Oland (b. 18 Dec 1876 - d. 24 Sep 1971)

Gibson, Lula Creed (b. 18 Jun 1887 - d. 7 May 1960)

Gilbert, Mary Jane (b. 10 Aug 1965 - d. 12 Aug 1965)

Goins, Michael Shane (b. 6 Jul 1979 - d. 3 Aug 2010)

Golding, Hazel Smith (b. 21 Nov 1927 - d. 29 Jan 1977)
Wife of Loyd Estes Golding - Daughter of Roby Smith and Sarah Golding

Golding, Loyd Estes (b. 7 Apr 1911 - d. 2 Sep 1998)
Husband of Hazel Smith Golding

Goodman, Hugh N (b. 7 Apr 1941 - d. 7 Apr 1941)

Goodman, Lessie Nichols (b. 27 Dec 1912 - d. 8 Apr 1941)

Gordon, Curtis Weldon (b. 15 Nov 1937 - d. 27 Jul 2006)

Gordon, Permelia J. Caudle (b. 16 Oct 1868 - d. 11 Aug 1929)

Gordon, William R. (b. 25 Dec 1866 - d. 11 Sep 1943)

Griffith, Dolly Younger (b. 11 Mar 1901 - d. 20 Jun 1932)

Griffith, Edd (b. 1865 - d. 12 Jan 1934)

Gunter, Alice May Long (b. 21 Jun 1916 - d. 20 Mar 1977)

Gunter, Charles Oscar (b. 3 Feb 1943 - d. 20 Jan 2009)

Gunter, James William (b. 7 May 1907 - d. 10 Sep 2000)

Gunter, Mable Louise (b. 5 Jul 1935 - d. 18 Aug 1935)

Gunter, Victor Oscar (b. 2 Jun 1914 - d. 23 Sep 2003)

Gunter, Virginia (b. 5 Jul 1935 - d. 18 Aug 1935)

Gunter, Zelma Jane Sawyers (b. 15 Oct 1911 - d. 20 Nov 2010)

Gwyn, Almeda Johnson (b. 20 Mar 1872 - d. 20 Jan 1962)

Gwyn, Jess Davis (b. 1 May 1897 - d. 13 Aug 1967)

Gwyn, John Martin (b. 5 Sep 1893 - d. 13 Nov 1935)

Gwyn, John Martin, Jr (b. 20 Jun 1924 - d. 27 Feb 1986)

Gwyn, Lillian Gordon (b. 13 Oct 1897 - d. 24 Sep 1973)

Gwyn, Margie A Holder (b. 10 Dec 1903 - d. 12 Aug 1938)

Gwyn, Sarah Emma Beamer (b. 9 Nov 1902 - d. 22 Dec 1966)

Hall, Arzina Golding (b. 22 Mar 1872 - d. 3 Sep 1921)

Hall, Gordon T (b. 16 May 1892 - d. 24 Jan 1958)

Hall, Jesse E (b. 1857 - d. 1922)

Hall, Mamie H (b. 4 Oct 1893 - d. 26 Apr 1962)

Hall, Nancy Ella Weddle (b. 19 Aug 1890 - d. 29 Jun 1973)

Hall, Nancy Harriett Edwards (b. 1859 - d. 1933)

Hall, Sarah J (b. 4 Nov 1877 - d. 8 Aug 1935)

Hall, Wyatt (b. 2 Aug 1885 - d. 23 Nov 1954)

Hampton, Juliet (b. 20 Jun 1891 - d. 16 Jul 1891)

Hanks, Fannie Harris (b. 28 Mar 1888 - d. 23 Dec 1960)

Hardy, Bertha Hawks (b. 4 Jan 1936 - d. 25 Jun 2000)

Hardy, J. C. "Doc" (b. 24 Mar 1892 - d. 22 Jul 1930)
Husband of Ollie Fulp, married 30 Dec 1916

Hardy, Mitchell Gray (b. 28 Aug 1954 - d. 16 Jun 1986)
Son of Otis Gray Hardy and Bertha Hawks - died in Supply, Brunswick Co, NC

Hardy, Otis Gray (b. 13 Aug 1928 - d. 9 Aug 1965)
Husband of Bertha Hawks - Son of J. C. "Doc" Hardy and Ollie Fulp

Harold, Clemmie Lois Hauser (b. 9 Dec 1912 - d. 8 Aug 1969)

Harold, Fogle Corby (b. 27 Aug 1908 - d. 8 Feb 1971)

Harrell, Beatrice Fain (b. 16 Mar 1913 - d. 11 May 2003)

Harrell, Mary C. (b. 15 May 1932 - d. 5 Sep 1932)

Harrell, Walter Madison (b. 4 Jun 1907 - d. 10 Apr 1985)

Harris, James Elias (b. 24 Mar 1855 - d. 12 Jan 1938)

Harris, Virginia Holder (b. 18 Aug 1918 - d. 19 Mar 1979)

Hatcher, Daniel Green (b. 25 Feb 1833 - d. 24 Mar 1899)

Hatcher, Grover (b. 1 Mar 1886 - d. 20 Feb 1913)

Hatcher, Virginia H. Clark (b. 12 Jan 1842 - d. 26 Feb 1921)

Hauser, Bessie Mae (b. 6 Nov 1903 - d. 24 Jan 1979)

Hauser, Clarence Paul (b. 4 Feb 1927 - d. 18 Jan 1935)

Hauser, Cletus Edward "Pete" (b. 1 Jan 1912 - d. 24 Dec 1969)

Hauser, Esker Raymond (b. 31 Jan 1910 - d. 11 Nov 1957)

Hauser, Fannie Hayzee (b. 10 Aug 1882 - d. 23 Aug 1943)

Hauser, Infant Son (b. 28 Mar 1908 - d. 3 Apr 1908)

Hauser, Leonard (b. 31 Jul 1925 - d. 26 Apr 1935)

Hauser, Molly Sue Jennings (b. 13 Sep 1900 - d. 24 Feb 1977)

Hauser, Thomas Leonard (b. 14 Jun 1880 - d. 2 Sep 1956)

Hawks, Clarence Harold (b. 3 Jul 1919 - d. 17 Mar 2002)

Hawks, Dinah C (b. 8 Nov 1900 - d. 11 Feb 1986)

Hawks, Garley C (b. 23 Jul 1898 - d. 20 Apr 1970)

Hawks, Hobert Loman (b. 11 Jul 1920 - d. 21 Feb 2006)

Hawks, Lona Bell (b. 13 Feb 1889 - d. 15 Feb 1920)

Hawks, Minnie Hodges (b. 19 Dec 1893 - d. 13 May 1918)

Hawks, Sena Wright (b. 5 Nov 1937 - d. 22 Mar 1991)

Hayes, Danny Luther (b. 14 Oct 1949 - d. 27 Jul 2000)

Haymore, Cassandra Ann (b. 2 Sep 1880 - d. 29 Jul 1904)

Haymore, Granville (b. 19 Sep 1878 - d. 10 May 1902)

Haymore, Hastton (b. May 22 - d. 30 Mar 1907)

Haymore, Martha Cordelia "Delia" Page (b. 23 Sep 1874 - d. 4 Feb 1946)

Haymore, Sallie Marion (b. 22 May 1840 - d. 22 Jan 1919)

Haymore, Thompson Robert (b. 23 Jan 1867 - d. 20 Jun 1937)

Haymore, William (b. 20 Feb 1809 - d. 6 Aug 1905)

Haynes, Andy Winston (b. 16 May 1881 - d. 24 Oct 1906)

Haynes, Kathy Sue (b. 11 Jan 1961 - d. 25 Aug 1978)

Haynes, Lena Viola (b. 9 Apr 1914 - d. 1 Jan 1987)

Haynes, Princess Young (b. 1886 - d. 28 Feb 1931)

Haynes, Robert William (b. 3 Dec 1877 - d. 7 May 1968)

Hayzee, John (b. 2 Jan 1845 - d. 14 Jun 1944)

Herring, Henry H (b. 1 May 1836 - d. 18 Sep 1904)

Herring, Mary Lettitia (b. 27 Sep 1877 - d. 16 Jun 1887)

Herring, Mildred Johnson (b. 27 Mar 1836 - d. 6 Jun 1915)

Hiatt, Walter Cleveland "Junior", Jr (b. 20 Sep 1930 - d. 4 May 2006)

Hill, Bettie Puckett (b. 20 Mar 1918 - d. 6 Jun 2010)

Hill, Clarence (Rev.) (b. 6 Apr 1935 - d. 12 Oct 1991)

Hill, Criscilla "Siller" Beasley (b. 6 Mar 1876 - d. 15 Aug 1963)

Hill, Earl David (b. 27 Oct 1912 - d. 26 Feb 1989)

Hill, Ella Maude Holder (b. 30 Nov 1915 - d. 14 Feb 2006)

Hill, Ethel Lelia (b. 24 Mar 1902 - d. 6 Jan 1986)

Hill, Harold David (b. 14 Oct 1944 - d. 20 Oct 1944)

Hill, Infant (b. 23 Jan 1939 - d. 23 Jan 1939)

Hill, James Everett (b. 22 Jun 1876 - d. 28 Jul 1964)

Hill, John Zeb (b. 11 Jun 1903 - d. 6 Apr 1970)

Hill, Ola Blanche Huie (b. 17 May 1907 - d. 26 May 1995)

Hill, Walter Reid (b. 26 Nov 1898 - d. 26 Apr 1992)

Hill, Willie Moore (b. 7 Aug 1910 - d. 26 Feb 2000)

Hill, Wolsie York (b. 18 Oct 1908 - d. 24 Jul 1998)

Hodge, Eugene (b. 18 Oct 1864 - d. 10 Aug 1934)

Hodge, Frankie Terry (b. Apr 1932 - d. 3 Jun 1932)

Hodge, Harvey Eugene (b. 9 Sep 1930 - d. 21 May 1991)

Hodge, Heather Jean (b. 18 Feb 1975 - d. 18 Feb 1975)

Hodge, Infant Boy (b. 27 Apr 1941 - d. 27 Apr 1941)

Hodge, Jessie (b. 29 Mar 1891 - d. 29 May 1964)

Hodge, Joanna Jean (b. 31 Oct 1977 - d. 31 Oct 1977)

Hodge, John W (b. 2 Aug 1902 - d. 29 Oct 1958)

Hodge, Lettie Underwood (b. 24 Apr 1933 - d. 1 Oct 1999)

Hodge, Luther (b. 7 Jul 1891 - d. 12 Jan 1957)

Hodge, Mattie Mae (b. 15 Feb 1876 - d. 28 Jul 1952)

Hodge, Maude B (b. 25 Jul 1907 - d. 22 Oct 1988)

Hodge, Moyer Clifton (b. 17 Jul 1925 - d. 9 Aug 1990)

Hodge, Roy A. (b. 31 Dec 1909 - d. 5 Jan 1939)

Hodge, Sarah Elizabeth (b. 20 May 1871 - d. 22 Jul 1950)

Hodges, Ada Alice (b. 30 Dec 1908 - d. 10 Oct 1998)

Hodges, Babe (b. 18 Oct 1864 - d. 12 Aug 1934)

Hodges, Betty Jean Burdge (b. 8 Jul 1932 - d. 22 Sep 1978)

Hodges, Carsanie Sparks (b. 13 Feb 1874 - d. 25 Jun 1945)

Hodges, Emma C (b. 10 Jul 1874 - d. 26 May 1918)

Hodges, Emmitt Edgar (b. 8 Aug 1872 - d. 21 Jan 1941)

Hodges, Fletcher Eugene (b. 27 Sep 1916 - d. 5 Nov 1916)

Hodges, Fred (b. 14 Sep 1890 - d. 6 Oct 1959)

Hodges, Glenn Hasten (b. 11 Mar 1920 - d. 21 Apr 1995)

Hodges, Grace C (b. 17 May 1918 - d. 24 Jan 1997)

Hodges, Gurney William (b. 1919 - d. 1977)

Hodges, Halsie Virginia (b. 7 Feb 1916 - d. 24 Jun 1916)

Hodges, Hattie Golden Pike (b. 8 Oct 1909 - d. 15 Apr 1996)

Hodges, Ila G (b. 4 Feb 1896 - d. 4 Dec 1900)

Hodges, Infant Boy (b. 3 Jul 1921 - d. 5 Jul 1921)

Hodges, Infants (b. 4 Apr 1939 - d. 4 Apr 1939)

Hodges, James E (b. 25 Mar 1898 - d. 23 Jul 1902)

Hodges, James Floyd (b. 1897 - d. 1968)

Hodges, Jesse E (b. 10 Sep 1890 - d. 29 May 1964)

Hodges, Laura E (b. 1900 - d. 1980)

Hodges, Laura Edwards (b. 10 Jul 1876 - d. 29 Oct 1938)

Hodges, Lula Elizabeth Hodges (b. 23 May 1900 - d. 16 Jan 1944)

Hodges, Lura Alice Gardner (b. 20 Oct 1879 - d. 13 Jul 1963)

Hodges, Luther (b. 7 Jul 1891 - d. 12 Jan 1957)

Hodges, Martha E (b. 20 May 1837 - d. 14 Mar 1910)

Hodges, Mary Beamer (b. 20 Mar 1894 - d. 22 May 1916)

Hodges, Matilda Griffin (b. 1874 - d. 29 Jul 1928)

Hodges, R L (b. 2 Dec 1868 - d. 9 Apr 1929)

Hodges, Roy Alden (b. 31 Dec 1909 - d. 4 Jan 1939)

Hodges, Sarah Elizabeth "Betty" (b. 20 May 1871 - d. 22 Jul 1950)

Hodges, Siney E (b. 4 Oct 1899 - d. 19 Nov 1918)

Hodges, Tobitha E Sutphin (b. 27 Sep 1876 - d. 15 Oct 1953)

Hodges, Walter E (b. 2 Apr 1910 - d. 9 Sep 1984)

Hodges, Walter V (b. 1880 - d. 1909)

Hodges, Wiley Johnson (b. 29 Jul 1860 - d. 11 Mar 1949)

Hodges, Willis W (b. 2 Sep 1870 - d. 15 Aug 1942)

Holder, Alex (b. 14 Jun 1884 - d. 19 Jul 1957)

Holder, Annie Maude Surratt (b. 5 Jul 1910 - d. 5 Jun 2002)

Holder, Bessie York (b. 7 May 1888 - d. 30 Oct 1983)

Holder, Celia (b. 1850 - d. 28 Apr 1908)

Holder, Charlie Franklin (b. 5 Jun 1887 - d. 22 Jan 1941)

Holder, Charlie Franklin (b. 26 Feb 1935 - d. 17 Oct 1999)

Holder, Cleve (b. 6 Oct 1906 - d. 4 Nov 1931)

Holder, Coy D (b. 22 Jun 1911 - d. 17 Jan 2004)

Holder, Dave M. (b. 4 Apr 1880 - d. 31 Jul 1938)

Holder, David Ray (b. 29 May 1922 - d. 19 Jul 1965)

Holder, Fred Davis (b. 23 Aug 1938 - d. 24 Jan 2001)

Holder, Hazel M "Zella Lee" (b. 1 Jul 1930 - d. 3 Dec 1994)

Holder, Infant Boy (b. 8 May 1933 - d. 10 May 1933)

Holder, James Franklin (b. 2 Dec 1908 - d. 29 Sep 1973)

Holder, James M (b. 15 May 1896 - d. 1910)

Holder, James Madison (b. 28 Feb 1842 - d. 3 Oct 1925)

Holder, Joe (b. 1889 - d. 13 Feb 1916)

Holder, Joseph Arnold (b. 11 Aug 1904 - d. 10 Jun 1984)

Holder, Lala Beamer (b. 7 Jul 1908 - d. 8 Aug 1993)

Holder, Lavern (b. 20 Oct 1938 - d. 19 Nov 1940)

Holder, Lula Byrd (b. 26 Apr 1884 - d. 22 Jul 1972)

Holder, Mary Emma Butcher (b. 29 Jun 1913 - d. 30 Jun 2008)

Holder, Mona Ann (b. 16 Sep 1933 - d. 16 Jun 2005)

Holder, Nora Jane Shelton (b. 20 Jul 1878 - d. 1 Apr 1949)

Holder, Ora Lee (b. 25 Sep 1906 - d. 30 May 1963)

Holder, Stella Mae (b. 1 Sep 1913 - d. 6 Oct 1987)

Holder, Tiney Elizabeth Boles (b. 13 Dec 1886 - d. 12 Oct 1962)

Holder, Wilson (b. 9 Sep 1918 - d. 4 Mar 1920)

Honaker, Lena Creed (b. 1 Nov 1925 - d. 22 Apr 1986)

Honaker, Luther M (b. 5 Jan 1921 - d. 27 Apr 1964)

Hooker, Pencie E Collins (b. 13 Aug 1899 - d. 18 May 1946)

Hooker, William Murphy (b. 14 May 1894 - d. 7 Jun 1946)

Horton, Alice Seal (b. 22 Apr 1912 - d. 22 Sep 2009)

Horton, Foy Clinton (b. 15 Oct 1915 - d. 24 Apr 1931)

Horton, Paul Dean (b. 9 Jan 1962 - d. 8 Nov 1989)

Horton, Troy Edgar (b. 24 Nov 1911 - d. 11 Jul 1993)

Horton, William Lawrence, Sr (Sgt.) (b. 28 Aug 1932 - d. 2 Apr 2002)

Huffman, Callie H (b. 14 Nov 1908 - d. 18 Sep 1997)

Huffman, Daniel Franklin (b. 8 Jul 1907 - d. 6 May 1985)

Huffman, Donald Rex (b. 1 May 1934 - d. 21 Sep 1967)

Huffman, Nell W (b. 21 Sep 1934 - d. 4 Mar 2008)

Huie, Nancy "Nannie" Smoot (b. 29 Nov 1874 - d. 4 Dec 1974)

Hull, Betty Jean Nowlin (b. 7 Dec 1929 - d. 28 Apr 2007)

Hull, Kevin Neil (b. 25 Nov 1977 - d. 29 Jul 2006)

Hull, Mary M (b. unknown - d. Sep 5)

Jarrell, Alma Hancock (b. 20 Feb 1907 - d. 3 Feb 1993)

Jarrell, Ben Alec (b. 26 May 1901 - d. 20 Apr 1997)

Jarrell, Charles Burgess (b. 5 Mar 1937 - d. 31 Jan 2012)

Jarrell, Eula Mae (b. 22 Nov 1932 - d. 16 Mar 1999)

Jarvis, Broadus A "Dick" (b. 20 Feb 1905 - d. 10 Mar 1993)

Jarvis, Marjorie Smith (b. 1 Nov 1907 - d. 30 Jan 1984)

Jessup, James S (b. 13 Jan 1925 - d. 10 Nov 1974)

Jessup, Opal G (b. 8 Dec 1923 - d. 30 Apr 2003)

Johnson, Arlene Davis (b. 25 Jan 1913 - d. 22 Jul 1915)

Johnson, Ella D (b. 26 Jul 1872 - d. 22 May 1951)

Johnson, Foy May (b. 30 Mar 1895 - d. 14 Jul 1922)

Johnson, Grady Elzavan (b. 2 Jul 1920 - d. 12 Sep 2004)

Johnson, Isaac Green (b. 18 Apr 1903 - d. 23 May 1963)

Johnson, James Monroe (b. 3 May 1923 - d. 17 Apr 2011)

Johnson, Joe Bill (b. 14 Jul 1905 - d. 11 Nov 1937)

Johnson, Joseph W. (b. 19 Mar 1861 - d. 13 Jun 1931)

Johnson, Loraine D (b. 19 May 1917 - d. 8 Dec 1942)

Johnson, Lottie Badgett-Allred (b. 27 Mar 1899 - d. 8 Jan 1987)

Johnson, Margaret Elizabeth McHone (b. 10 Sep 1920 - d. 14 Aug 1999)

Johnson, Mary Ann Seal (b. 13 Mar 1895 - d. 2 Dec 1942)

Johnson, Mary B (b. 29 Nov 1896 - d. 29 Mar 1915)

Johnson, Mary S (b. 1908 - d. 1982)

Johnson, Nancy Beamer (b. 13 Feb 1845 - d. 9 Jul 1926)

Johnson, Otis Lee (b. 17 Jan 1933 - d. 7 Mar 1998)

Johnson, Ruby E (b. 28 Sep 1911 - d. 19 Nov 2005)

Johnson, Sarah A. Sparger (b. 13 May 1847 - d. 14 Feb 1930)

Johnson, Wade Hampton (b. 25 Sep 1908 - d. 2 Sep 1995)

Johnson, Walter (b. 27 Mar 1895 - d. 10 Nov 1963)

Jones, Eliza (b. 1840 - d. 1910)

Jones, Francis (b. 1831 - d. 1905)

Jones, Robert H (b. 1869 - d. 1890)

Joyce, Peggy Josephine Holder (b. 24 Jul 1912 - d. 17 Jan 1996)

Key, Davis Leonard (b. 25 Jun 1912 - d. 11 Jan 1987)

Key, James Leonard (b. 25 May 1941 - d. 25 May 1941)

Key, Kenneth Ray (b. 24 Aug 1949 - d. 27 Aug 1949)

Key, Mamie Sue McHone (b. 15 Oct 1913 - d. 24 Apr 1976)

Key, Thelma Irene (b. 25 Mar 1923 - d. 12 Apr 1923)

King, Ann Elizabeth (b. 31 Jan 1948 - d. 23 Jan 2011)

King, Annie May Thacker (b. 25 Mar 1903 - d. 28 Jun 2001)

King, Barnett Grant (b. 26 Apr 1917 - d. 13 Sep 2007)

King, George Wallace (b. 14 Aug 1923 - d. 20 Aug 2009)

King, Linda Edwards (b. 5 Dec 1893 - d. 12 May 1985)

King, Nancy Ila Beamer (b. 10 Feb 1914 - d. 29 Apr 2003)

King, Wilburn P (b. 2 Nov 1901 - d. 14 Oct 1937)

Kreeger, William Edwin (b. 20 Oct 1879 - d. 16 Apr 1956)

Kuykendall, Hazel King (b. 28 Jul 1928 - d. 14 Sep 1997)

Kuykendall, Paul J (b. 25 Sep 1927 - d. 27 Aug 1996)

Kyles, David L (b. 9 Jun 1899 - d. 3 May 1942)

Landham, Patricia Handy (b. 7 Feb 1943 - d. 26 Nov 1994)

Lawson, Alex Dawn (b. 21 Sep 1961 - d. 25 Apr 2003)

LeBeau, Amanda Jarrell (b. 28 Jun 1966 - d. 5 May 2000)

Lee, Caroline Martin (b. 13 Jul 1875 - d. 27 Feb 1958)

Lee, Frances Sanders (b. 10 Jun 1857 - d. 17 May 1903)

Lee, James Bunker (b. 15 Sep 1876 - d. 19 Feb 1951)

Lee, Maude (b. 15 May 1914 - d. 29 Feb 1996)

Lee, Milton (b. 1847 - d. 14 Apr 1917)

Lee, Robert Gray (b. 27 Jun 1910 - d. 17 Dec 1995)

Leitch, Nella Sue (b. 16 Sep 1927 - d. 16 Mar 1929)

Lewis, Helen Sparger (b. 5 Aug 1895 - d. 10 Jul 1991)

Lothian, Callie Gwyn (b. 7 Sep 1919 - d. 11 Mar 2010)

Lothian, George (b. 15 Feb 1914 - d. 24 Oct 1994)

Lovill, Ada Beamer (b. 18 Aug 1904 - d. 1 Jan 1991)

Lovill, Joseph P (b. 21 Mar 1883 - d. 14 Dec 1912)

Lovill, Martha Jones (b. 3 Feb 1856 - d. 22 Jul 1941)

Lovill, Mary Elizabeth (b. 3 Jul 1889 - d. 7 Nov 1979)

Lovill, Robert Cleveland (b. 26 Jul 1927 - d. 5 Dec 1984)

Lovill, Walter Wylie (b. 20 Sep 1853 - d. 18 Jun 1927)

Lovill, Wiley Franklin (b. 28 Oct 1878 - d. 25 Mar 1939)

Lovill, William Joseph (b. 20 Jun 1922 - d. 10 Sep 1951)

Lovill, William Shadrick (b. 5 Dec 1881 - d. 3 Mar 1958)

Lyons, Guy Edward, Jr (b. 28 Jul 1962 - d. 24 Mar 1963)

Mabe, Franklin Donald (b. 23 Feb 1947 - d. 15 May 2005)

Mahone, Agnes (b. 19 Jun 1923 - d. 19 Jun 1923)

Martin, Daniel (b. 15 Jul 1816 - d. 9 Jun 1896)

Martin, Elizabeth (b. 1829 - d. 9 Jun 1905)

Martin, Ila Mae East (b. 11 May 1903 - d. 16 Feb 1972)

Martin, Jim Fleming (b. 9 Apr 1902 - d. 24 Dec 1985)

Martin, Lucy Nirelle Willard (b. 21 Sep 1934 - d. 4 Mar 2008)

Martin, Mattie (b. 3 May 1906 - d. 27 Apr 1915)

Mayse, Calvin (b. 14 Nov 1898 - d. 7 Aug 1954)

Mayse, Emma H (b. 21 May 1905 - d. 23 Dec 1989)

McCormick, Carlie Leonard (b. 28 Mar 1920 - d. 2 Jan 2007)

McCormick, Margie Lou Burcham (b. 2 Feb 1913 - d. 25 Mar 2005)

McCraw, Arless Harper (b. 10 Jul 1928 - d. 19 May 2002)
Husband of Kathleen Smith, married 31 Jul 1948 - Son of John Harper McCraw and Mary Frances Lee

McCraw, Kathleen Smith (b. 18 Feb 1932 - d. Reserved)
Wife of Arless Harper McCraw

McCreary, J. A. F. (b. 5 Jan 1855 - d. 6 Jun 1918)

McCreary, John (b. 22 Jun 1897 - d. 8 Apr 1918)

McCreary, Sibbie McCraw (b. 8 Feb 1890 - d. 27 Oct 1970)

McCreary, William Ed (b. 11 Aug 1890 - d. 3 Sep 1960)

McDowell, Barbara Jean (b. 24 Feb 1934 - d. 24 Feb 1934)

McHone, Agnes (b. 13 Jun 1923 - d. 13 Jun 1923)

McHone, Annie H (b. 25 Apr 1909 - d. 30 May 1984)

McHone, Eldridge (b. 1906 - d. 2 Feb 1918)

McHone, Luther Eugene (b. 3 Jun 1918 - d. 16 Apr 1979)

McHone, Marion M (b. 10 May 1873 - d. 8 Dec 1952)

McHone, Mary Terrell (b. 1 Dec 1917 - d. 17 Mar 2001)

McHone, Matthew Reed (b. 13 Dec 1919 - d. 9 Jan 1988)

McHone, Stella Hall (b. 2 Oct 1880 - d. 31 Dec 1943)

McHone, Ward (b. 7 May 1904 - d. 31 Dec 1975)

McMillan, Colvard L (b. 17 Mar 1928 - d. 4 Apr 1982)

McMillan, Infant Son (b. 24 Feb 1953 - d. 24 Feb 1953)

McMillan, Jane Tate (b. 16 Jul 1918 - d. 19 Jul 2005)

Mell, Juanita Vernon-Miller (b. 1 Jun 1929 - d. 16 Nov 2004)

Meredith, Nancy Tate (b. 1890 - d. 9 Jan 1942)

Michaels, Bernard W, Sr (b. 2 May 1934 - d. 26 Feb 2005)

Midkiff, Mary Lillian (b. 7 Feb 1934 - d. 15 Jun 1986)

Miller, Junior T (b. 11 May 1922 - d. 22 Nov 1989)

Money, Ethel Benge (b. 8 Apr 1908 - d. 6 Jul 1969)

Money, William H (b. 8 Jul 1893 - d. 31 Mar 1994)

Moore, James Woodrow (b. 9 Mar 1913 - d. 2 Nov 1968)

Moore, John Clinton (b. 1 Oct 1910 - d. 18 Aug 1993)

Moore, Maggie R (b. 24 Jan 1915 - d. 25 Mar 2001)

Moore, Sadie McHone (b. 10 May 1912 - d. 11 Jul 1998)

Morris, Helen Lee (b. 25 Feb 1889 - d. 22 Apr 1978)

Moser, Effie Mariah Haymore (b. 2 Mar 1900 - d. 12 Jul 1970)

Moser, James Dallas (b. 22 Sep 1894 - d. 15 Sep 1969)

Moser, Lucy Hazel Tate (b. 2 Apr 1930 - d. 26 May 2000)

Moser, Mary Elizabeth (b. 2 Jan 1990 - d. 11 Nov 2009)

Moser, Thomas Lee (b. 28 Nov 1920 - d. 21 Jun 1979)

Murray, Doris (b. 24 May 1933 - d. 23 Jul 1933)

Murray, Joann (b. 1858 - d. 16 May 1926)

Murray, Robert (b. 5 Dec 1927 - d. 11 Mar 1929)

Neal, Gracie (b. 6 Sep 1931 - d. 8 Jan 1933)

Neal, James Edgar (b. 2 Jul 1896 - d. 22 Mar 1944)

Neal, Sallie Southern (b. 24 Nov 1890 - d. 27 Jun 1969)

Nichols, Ella Davis (b. 29 Jan 1885 - d. 10 Jun 1986)

Nichols, William Edward (b. 12 Sep 1885 - d. 16 Oct 1946)

Norman, Alexander (b. 9 Jan 1856 - d. 15 Sep 1889)

Norman, Celine Hatcher (b. 24 Apr 1855 - d. 24 Sep 1893)

O'Hara, William James (b. 7 May 1926 - d. 31 Mar 1995)

Peele, Lola Nemo Hawks (b. 22 Oct 1928 - d. 10 May 1991)

Peele, William Edgar (b. 3 Aug 1921 - d. 5 Apr 2002)

Pelfrey, Sarah J (b. 15 May 1915 - d. 17 Jun 2006)

Pelfrey, William E (b. 23 Feb 1925 - d. 29 Oct 1988)

Phillips, Allen J (b. 7 Feb 1907 - d. 9 Feb 1951)

Phillips, Arles G (b. 19 Nov 1941 - d. 24 Aug 1981)

Phillips, Della Lou (b. 29 Jun 1913 - d. 4 Dec 1988)

Phillips, E J (b. 10 Jan 1937 - d. 5 May 1987)

Phillips, John Edgar (b. 12 Nov 1902 - d. 29 Nov 1968)

Phillips, John Edgar (b. 12 Nov 1901 - d. 29 Nov 1968)

Phillips, Joseph Eldridge (b. 2 May 1909 - d. 4 Nov 1975)

Phillips, Kenneth Ray (b. 5 Aug 1936 - d. 25 Mar 1993)

Phillips, Margaret East (b. 22 Sep 1873 - d. 3 Oct 1955)

Phillips, Opal L (b. 18 Oct 1922 - d. 15 Jan 1984)

Phillips, Pearlie Edwards (b. 1 Jun 1917 - d. 26 Sep 1994)

Phillips, Thomas W (b. 15 Mar 1914 - d. 30 Dec 1976)

Phillips, Wellington B "Willie" (b. 26 Dec 1869 - d. 1 Dec 1934)

Pike, Clifford E (b. 21 Oct 1935 - d. 3 Sep 1980)

Pike, Michael (b. 22 Sep 1959 - d. 22 Sep 1959)

Pope, Kenneth (b. 23 May 1932 - d. 24 May 1932)

Quesinberry, Gilbert (b. 22 May 1905 - d. 29 Jul 1920)

Rayal, Carol Ann (b. 23 Jan 1941 - d. 12 Feb 1941)

Rayal, Infant Boy (b. 1 Jul 1946 - d. 1 Jul 1946)

Rayal, Jerry Lee (b. 21 Aug 1933 - d. 26 Aug 1933)

Rayl, John Wesley (b. 10 Aug 1939 - d. 9 Sep 1939)

Reece, Bettie Hampton (b. 2 Jan 1860 - d. 17 May 1933)

Reece, I. Wilson (b. 13 Oct 1855 - d. 24 Feb 1941)

Robertson, John (b. 1804 - d. 22 Apr 1880)

Robertson, John K (b. 25 Feb 1835 - d. 8 Nov 1913)

Robertson, Mary Frances McDowell (b. 5 May 1832 - d. 8 Jun 1922)

Robertson, Nannie Willie (b. 24 Nov 1868 - d. 21 Dec 1943)

Royal, Margaret E. (b. 12 Apr 1930 - d. 18 Apr 1930)

Samuel, Sallie Louise Allred (b. 20 Jun 1879 - d. 22 Dec 1963)

Samuel, Thomas G (b. Oct 1868 - d. 29 Jun 1929)

Santos, Jorge Alberto Guerra (b. 20 Jul 1962 - d. 22 Mar 2008)

Sawyers, Calvin Ray (b. 5 May 1932 - d. 27 Aug 2005)

Sawyers, Charles H, Jr (b. 15 Mar 1963 - d. 15 Mar 1963)

Sawyers, Jesse Ray (b. 2 Oct 1956 - d. 2 Mar 1957)

Sawyers, Margaret Gwyn (b. 7 Oct 1925 - d. 15 Jan 1994)

Scott, Don J (b. 6 Apr 1925 - d. 19 May 2002)

Scott, John W (b. 1890 - d. 1962)

Scott, Lela Edmonds (b. 2 Dec 1900 - d. 23 Jun 1969)

Scott, Raymond L (b. 1921 - d. 1926)

Scott, Thomas M. (b. 3 Feb 1855 - d. 19 Sep 1923)

Scott, Zylphia Lowe (b. 1868 - d. 29 Jan 1938)

Seal, Allen (b. 4 Mar 1900 - d. 22 Mar 1959)

Seal, Buford Luther (b. 17 Nov 1925 - d. 8 Oct 2008)

Seal, Drucilla McHone (b. 27 Jan 1871 - d. 28 Jul 1971)

Seal, Elizabeth Hall (b. 17 Jun 1895 - d. 24 Mar 1981)

Seal, Ella Elmira Haymore (b. 21 Oct 1895 - d. 18 Apr 1973)

Seal, Ella Smith (b. 2 Jan 1907 - d. 1 Jan 1977)

Seal, Harold (b. 12 Dec 1948 - d. 26 Oct 1949)

Seal, Hattie Josephine (b. 13 Aug 1917 - d. Reserved)

Seal, Hattie L. East (b. 7 Apr 1871 - d. 24 Jan 1922)

Seal, Infant twin (b. 2 May 1914 - d. 2 May 1914)

Seal, Infant twin (b. 2 May 1914 - d. 2 May 1914)

Seal, Irene Carter (b. 10 Jul 1924 - d. 30 Nov 1959)

Seal, Jackson (b. 24 Jan 1922 - d. 2 Jul 1999)

Seal, Jerry Franklin (b. 13 Sep 1945 - d. 7 Dec 1982)

Seal, Joseph F (b. 15 Dec 1927 - d. 14 Aug 1976)

Seal, Luther M (b. 20 Nov 1891 - d. 16 Jan 1982)

Seal, Mamie Victoria Younger (b. 29 Jan 1891 - d. 22 Jan 1916)

Seal, Nancy F (b. 1825 - d. 1879)

Seal, Newell Benton (b. 5 Sep 1893 - d. 27 Sep 1981)

Seal, Sam, Jr (b. 22 Jul 1902 - d. 9 Jun 1984)

Seal, Thomas Wesley (b. 8 Jun 1906 - d. 3 Jun 1977)

Seal, Virginia Johnson (b. 17 Jan 1915 - d. 19 Jun 2002)

Seal, William Alonzo (b. 10 May 1890 - d. 17 Jan 1934)

Seal, William E (b. 1823 - d. 1867)

Seal, William Samuel (b. 2 Mar 1865 - d. 21 Dec 1962)

Sechrist, Brady H (b. 13 Nov 1946 - d. 30 May 1981)

Shelton, Marie Allred (b. 9 Jul 1921 - d. 18 Apr 2001)

Shinault, Clifton Lee (b. 3 Feb 1932 - d. 22 Mar 1981)

Shinault, Dorothy Dollyhigh (b. 13 May 1932 - d. 7 Jan 1996)

Simmons, Albert (b. 19 Sep 1903 - d. 26 Apr 1982)

Simmons, Edith Ann Sparger (b. 16 Jun 1856 - d. 21 Jan 1932)

Simmons, James (b. 1921 - d. 2001)

Simmons, Quinton (b. unknown - d. 1 Aug 1998)

Simmons, Vera (b. 25 Aug 1913 - d. 5 Jul 1987)

Smith, Bertha May Moser (b. 3 Apr 1895 - d. 16 Jan 1961)

Smith, Danny L (b. 1953 - d. 1985)

Smith, Estel Glenn (b. 30 Apr 1931 - d. 24 Dec 1960)

Smith, Glenn Franklin (b. 1932 - d. 1977)

Smith, Hoseannie (b. 11 Feb 1923 - d. 25 Apr 2000)

Smith, Jackson (b. 20 Mar 1863 - d. 17 Jul 1944)

Smith, Lucinda Fowlkes (b. 20 Mar 1861 - d. 10 Sep 1923)

Smith, Maude Sara (b. 16 Sep 1912 - d. 29 Jul 2006)

Smith, Sarah Jane Tate (b. 25 Sep 1903 - d. 11 Sep 1951)

Smith, Taylor (b. 25 Dec 1891 - d. 22 Apr 1957)

Smith, Troy Porter (b. 20 Feb 1910 - d. 4 Aug 2003)

Smith, William Lee (b. 22 Feb 1908 - d. 3 Jun 1970)

Smoot, Mont O (b. 30 Apr 1911 - d. 16 Jul 1974)

Smoot, Pauline (b. 24 May 1921 - d. 14 Mar 1988)

Smoot, Spec Mont Steven (b. 18 Dec 1949 - d. 1 Jun 1972)

Snow, A Ruth (b. 12 Dec 1896 - d. 27 Mar 1971)

Snow, Abner Lee (b. 23 Sep 1843 - d. 24 Nov 1896)
Husband of Rosa Elizabeth Jones, married 26 Dec 1865

Snow, Freeman (b. 5 Apr 1917 - d. 6 May 1930)

Snow, Frost (b. 14 Nov 1840 - d. 5 Jun 1863)

Snow, Hettie Lee (b. 8 Feb 1895 - d. 22 Sep 1912)

Snow, Rosa Elizabeth Jones (b. 8 Mar 1849 - d. 22 Oct 1911)

Snow, W. Walter (b. 27 Jan 1893 - d. 20 Mar 1973)

Sparger, Callie Gardner (b. 27 May 1896 - d. 17 Dec 1994)

Sparger, Carl Emmett (b. 4 Apr 1903 - d. 19 Dec 1961)

Sparger, Emmett Bynum (b. 30 Oct 1855 - d. 7 Feb 1940)

Sparger, Guy W (b. 25 Feb 1893 - d. 20 Jan 1968)

Sparger, Mollie Johnson (b. 14 Aug 1859 - d. 24 Oct 1938)

Sparks, George W. (b. 18 Nov 1866 - d. 8 Jun 1930)

Spencer, Geneva B (b. 1902 - d. 1993)

Spencer, Infant Boy (b. 6 Apr 1927 - d. 6 Apr 1927)

Spencer, Jesse M (b. 1902 - d. 1987)

Sutphin, Cleda (b. 28 Dec 1895 - d. 28 Sep 1962)

Sutphin, Doma Ann (b. unknown - d. 7 Nov 1992)

Sutphin, Forest V (b. 1912 - d. 1976)

Sutphin, May Pardue (b. 28 Jan 1901 - d. 13 Jun 1966)

Sutphin, Odell (b. 28 Sep 1906 - d. 6 Aug 1987)

Sweatman, Margaret Pardue (b. 30 Oct 1916 - d. 31 May 1950)

Talley, Charles Odas (b. 16 Nov 1882 - d. 21 Nov 1952)

Talley, Martha F Barker (b. 24 Jun 1890 - d. 14 Dec 1981)

Talley, Mary Edith (b. 4 Jun 1912 - d. 3 Oct 1992)

Tate, Charlie Edward (b. 23 Jun 1881 - d. 3 Sep 1963)

Tate, Christopher John (b. 23 Apr 1990 - d. 23 Apr 1990)

Tate, Cody Ray (b. 23 Apr 1990 - d. 23 Apr 1990)

Tate, Emmett (b. 21 May 1943 - d. 10 Jun 1943)

Tate, Ernest W (b. 29 Aug 1913 - d. 10 Sep 1987)

Tate, Frankie King (b. 30 Mar 1909 - d. 30 Mar 1935)

Tate, Fred (b. 1914 - d. 1975)

Tate, Howard (b. 6 Feb 1935 - d. 18 Mar 1935)

Tate, Infant Boy (b. 25 May 1934 - d. 9 Jun 1934)

Tate, John (b. 29 Apr 1912 - d. 5 Nov 1944)

Tate, John D (b. 13 Oct 1935 - d. 27 Mar 1999)

Tate, John Jeffrey (b. 12 Dec 1861 - d. 19 Jan 1935)

Tate, Lettie E (b. 18 Oct 1909 - d. 15 Jan 1983)

Tate, Lisa Michelle (b. 28 Jul 1969 - d. 14 Nov 1970)

Tate, Margaret June (b. 29 Jun 1944 - d. 16 Apr 1947)

Tate, Martha J (b. 13 Apr 1884 - d. 17 Feb 1978)

Tate, Maude Viola Edwards (b. 19 Dec 1913 - d. 9 May 1964)

Tate, Stella S (b. 1914 - d. Reserved)

Tate, Susan Rigney (b. 23 Jun 1871 - d. 21 Jun 1955)

Tate, Wade Franklin (b. 9 Sep 1944 - d. 27 Sep 1972)

Thacker, Willie Jennings (b. 18 Apr 1889 - d. 6 Sep 1953)

Theimer, Lisa Ann (b. 29 Apr 1963 - d. 25 Jan 1977)

Thomas, Carl Junior (b. 5 Sep 1941 - d. 18 Sep 2005)

Thompson, Johnny Edgar (b. 7 Jan 1919 - d. 31 Mar 1996)

Thompson, Rita S (b. 22 May 1922 - d. 27 Dec 2003)

Tickle, James (b. 7 Sep 1842 - d. 1 Mar 1915)

Tickle, Luther Franklin (b. 10 Mar 1881 - d. 25 Sep 1966)

Tickle, Mary Jane McKinney (b. 27 May 1877 - d. 18 Sep 1956)

Tingen, Joseph T (b. 25 Sep 1924 - d. 8 Mar 1967)

Tingen, Virginia Beamer (b. 25 Apr 1921 - d. 22 Aug 2006)

Tolbert, Opal Culler (b. 15 Sep 1922 - d. 1 Jul 2009)

Tucker, Scottie Lee (b. 15 Aug 1974 - d. 10 Nov 1998)

Vernon, Alfred Scales (b. 14 May 1858 - d. 3 Feb 1933)

Vernon, Cennie (b. 24 Jun 1908 - d. 12 Jan 1996)

Vernon, Claude (b. 11 Jun 1907 - d. 24 Apr 1978)

Vernon, Florence M (b. 1904 - d. 1996)

Vernon, Georgia Sue (b. 22 Feb 1938 - d. 13 May 1938)

Vernon, James Clinton (b. 25 Oct 1931 - d. 20 Jan 1935)

Vernon, James D. (b. 10 Nov 1927 - d. 7 Jun 1929)

Vernon, John Luther (b. 29 Sep 1886 - d. 27 Jan 1957)

Vernon, Loyd Victor (b. 6 May 1935 - d. 8 Oct 1936)

Vernon, Mae E. Collins (b. 15 Apr 1898 - d. 25 Oct 1939)

Vernon, Mary Jane Galyean (b. 17 Mar 1869 - d. 29 May 1942)

Vernon, McArthur (b. 15 May 1942 - d. 9 Nov 1942)

Vernon, Thomas J. (b. 7 Jun 1888 - d. 21 Feb 1946)

Vernon, Warren Jefferson (b. 2 Jun 1923 - d. 7 Feb 2001)

Webb, Annie Maude Sparger (b. 10 May 1891 - d. 14 Jul 1959)

Whitaker, Adron (b. 2 May 1940 - d. 2 May 1940)

Whitaker, Jane Stella Phillips (b. 29 Jun 1913 - d. 8 Mar 1991)

Whitaker, Woodrow Wilson (b. 12 Dec 1914 - d. 5 Mar 1968)

Willard, Infant Girl (b. 9 May 1927 - d. 9 May 1927)

Winesett, D A (b. 8 May 1907 - d. 17 Nov 1964)

Winesett, Jettie Patterson (b. 12 Jun 1910 - d. 17 Jul 1997)

Winesett, Randolph Martin (b. 19 Sep 1939 - d. 21 Dec 1939)

Wolfe, Bertha "Bertie" McCann (b. 14 Apr 1891 - d. 8 Aug 1971)

Wolfe, Clinton T. (b. 24 Dec 1913 - d. 26 Oct 1916)

Wolfe, William M. (b. 25 Oct 1871 - d. 16 Sep 1947)

Wood, Sarah Martin (b. 4 Jul 1871 - d. 12 Jan 1944)

Woodruff, Ressie Poole-Carpenter (b. 30 Jan 1912 - d. 7 Oct 1997)

Wright, Betty J. Scott (b. 18 Oct 1880 - d. 24 Feb 1913)

Wright, Maude D (b. 20 Apr 1909 - d. 25 Apr 1969)

Wright, Perry G. (b. 23 Sep 1902 - d. 1 Jul 1980)

Wright, Ulian (b. 23 Feb 1913 - d. 23 Feb 1913)

York, James Luther (b. 2 Dec 1929 - d. 28 Aug 2008)

York, Letitia L (b. 1854 - d. 13 Nov 1885)

Young, Green W. (b. 28 Oct 1859 - d. 16 Oct 1929)

Young, Infant Boy (b. 29 May 1927 - d. 29 May 1927)

Young, Mary Lee Martin (b. 23 Feb 1860 - d. 24 Aug 1933)

Younger, Dolly (b. 11 Mar 1901 - d. 20 Jun 1932)

Younger, Lena E. (b. 1929 - d. 2 Jan 1931)

Younger, Petis P. (b. 22 Nov 1894 - d. 6 Jan 1956)

Ziglar, Ben B (b. 1824 - d. 1910)

Ziglar, Sarah Jane (b. 1850 - d. 1893)
Web page updated 14 July 2016
Index of All Cemeteries
Alphabetical Index of All Burials
Previous Page